This post may contain affiliate links. As an Amazon Associate I earn from qualifying purchases. Please see my disclosure policy for more information.
This Nutella Crepe Cake is such a fun and unusual dessert and is a nice twist on the traditional slice of cake! Its layer upon layer of soft crepes and rich Nutella whipped cream!
Yesterday was World Nutella Day! Sure, it might fall just above Festivus on the list of Silly Made-Up Holidays, but in the end, it's a day that encourages us to eat more Nutella—so let's pretend it's legit and bust out the big Nutella jars!
This year I decided to combine Nutella with one of my other culinary loves: crepes. Obviously Nutella and crepes are a well-loved combination—it's practically the PB&J of the crepe world—so I'm not pretending this is a groundbreaking concept. However, it seemed extra-appropriate since I recently learned that February 2nd is Crepe Day. Two delicious desserts, celebrated just 3 days apart? Don't mind if I do!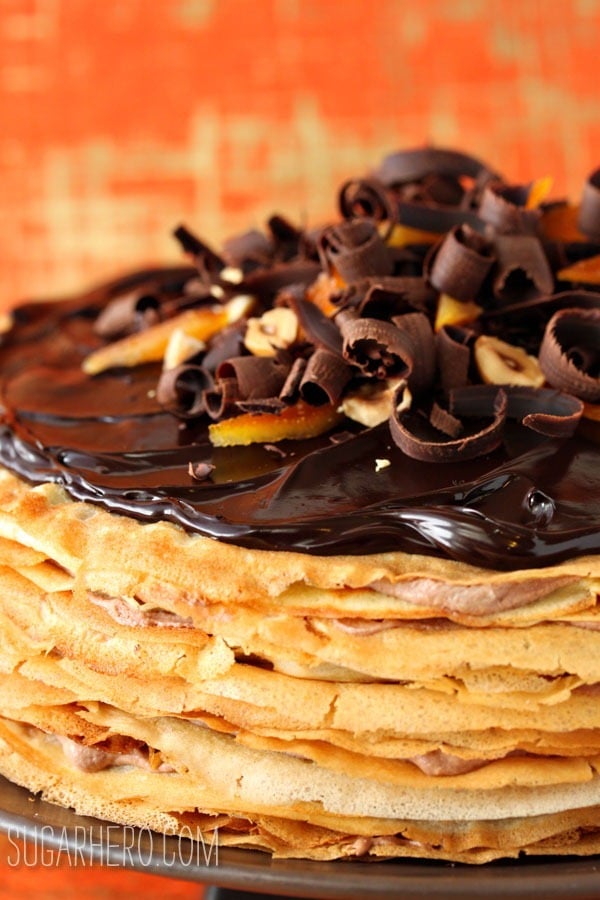 I made a Mille crêpe, or crepe cake, consisting of twenty stacked crepes, layered with a light Nutella cream in between each crepe. Since I love the chocolate-orange combination, I added a touch of orange zest to the crepes, and stirred in a little finely chopped candied orange peel to the Nutella cream. These additions are optional, but I think the fresh citrus taste goes really well with the chocolate and hazelnut.
And what's that mess on top, you ask? Just a delicious jumble of dark chocolate curls, candied orange zest slices, and chopped toasted hazelnuts. No bigs.
The inside view is just as sexy as the outside. Layer upon layer of soft crepes and rich Nutella whipped cream, just begging to be torn into, Godzilla-style.
This was such a fun and unusual dessert—a nice twist on the traditional slice of cake! If you're a crepe lover, you owe it to yourself to make a crepe cake at some point. If I recall correctly, there's a certain romantic holiday coming up soon, and this dessert might be just the thing to cap off a romantic day.
Just can't get enough of that wonderful stuff? Here are a few other Nutella recipes I've made in years past:
🎂More Delicious Desserts
Nutella Hot Chocolate
This Nutella Hot Chocolate is a rich, indulgent sipping chocolate with Nutella mixed right in! It's perfect on its own, or topped with whipped cream and toasted hazelnuts.
Get the recipe!
Chocolate Rasperry Mini Crepe Cakes
These Chocolate Raspberry Mini Crepe Cakes are so beautiful and elegant! Miniature crepes are layered with chocolate and fresh raspberries to make a unique and delicious dessert. 
Get the recipe!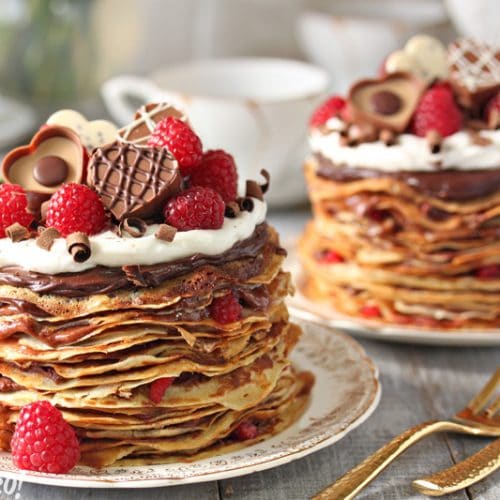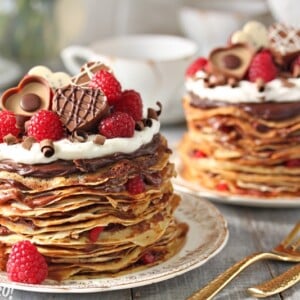 Nutella Crepe Cake
This Nutella Crepe Cake is such a fun and unusual dessert and is a nice twist on the traditional slice of cake! Its layer upon layer of soft crepes and rich Nutella whipped cream!
Ingredients
For the Crepes:
1 1/4

cup

milk

1 1/4

cup

water

4

large eggs

2

cups

all-purpose flour

1/2

tsp

salt

2

tbsp

sugar

2

oz

unsalted butter

,

(4 tbsp), melted

1

orange

,

zested, optional
Instructions
To Make the Crepes:
In the bowl of a large blender, combine all of the ingredients except the orange peel. Mix first on slow speed, and then once everything is incorporated, turn the speed to medium-high. Blend for 10 seconds, then stop and scrape down the sides of the blender with a spatula. Blend for 10 more seconds.

Pour the crepe batter through a strainer into a bowl or other container, and stir in the orange zest, if using. Chill it in the refrigerator for at least 1 hour (overnight is okay.)

Heat a 9 or 10-inch nonstick skillet over medium heat. (A crepe pan makes things extra-easy but definitely isn't necessary.) If your nonstick coating is a little old, add a bit of butter to the pan to make sure the crepes are easy to flip. Pour 1/4 cup of batter into the pan and quickly swirl it around to coat the whole bottom of the pan. The pan should be hot enough that the batter starts to cook immediately once it's swirled, but not so hot that it sizzles on contact and doesn't swirl easily. You'll want to experiment with the first few crepes to discover the right temperature for your particular stove and pan. Cook until the top of the crepe loses its raw shine and it's colored along the edges. Flip the crepe over and cook just until the bottom is set, probably a minute or less.

Slide the crepe out of the pan and onto a plate, and repeat with more batter. This recipe should yield about 20 crepes. Let them cool completely before assembling the crepe cake. They can be made in advance and kept for several days in the refrigerator or freezer if they are well-wrapped. If you are making them advance, stack them with waxed paper between the crepes so they don't stick together.
To Make the Nutella Cream and Assemble:
Chill your mixing bowl and whisk attachment for 15 minutes before you're ready to use them. Pour the cream into the chilled bowl, then sift the cocoa powder into the bowl. Whip on medium speed just until firm peaks form.

Add 1 cup of room temperature Nutella and gently fold it into the cream. It will deflate the cream a bit, so try to be gently so it keeps its volume. If you're using the candied orange peel or orange zest, fold it in at the end.

To assemble the crepe cake, place one crepe on your serving plate. Top the crepe with a generous spoonful of the Nutella cream—1/4 cup should be about right. Spread it out to the edges of the crepe in an even layer, then add another crepe on top, lining up the sides so they're even. Add another 1/4 cup of cream, spread it out, and continue to stack layers of crepes and cream until you've used all the crepes. As you come to the end of the cake, monitor the cream that is left and adjust your usage accordingly.

Before you add the final crepe, spread the top with the remaining Nutella is a thick layer. (It's easier to spread it before it's added on top of the stacked crepes.) If the Nutella is too thick to spread nicely, microwave it briefly in 5 or 10-second increments. Decorate the top with chocolate shavings, toasted nuts, candied orange peel, or anything else. Chill in the refrigerator for 2 hours, to make it easier to slice neatly.

Slice the Nutella Crepe Cake when it is well-chilled. It is best the day it is made, but it can be kept for several days in an airtight container in the refrigerator.
MEASURING TIPS
Our recipes are developed using weight measurements, and we highly recommend using a kitchen scale for baking whenever possible. However, if you prefer to use cups, volume measurements are provided as well. PLEASE NOTE: the adage "8 oz = 1 cup" is NOT true when speaking about weight, so don't be concerned if the measurements don't fit this formula.
Click here to learn more about baking measurements and conversion.
Nutrition
Calories:
984
kcal
|
Carbohydrates:
84
g
|
Protein:
15
g
|
Fat:
65
g
|
Saturated Fat:
46
g
|
Cholesterol:
258
mg
|
Sodium:
391
mg
|
Potassium:
547
mg
|
Fiber:
6
g
|
Sugar:
42
g
|
Vitamin A:
1870
IU
|
Vitamin C:
6
mg
|
Calcium:
228
mg
|
Iron:
5.7
mg
Share by Email
Share on Facebook
Share on Pinterest