This Oatmeal Walnut Butterscotch Pie has a thick, chewy cookie crust made from walnuts, oatmeal, and brown butter. It is filled with rich, fluffy butterscotch mousse. Topped with candied walnuts, and an optional (but oh-so-recommended) topping of whipped cream and caramel.
As usual I have a lot of blah blah and yadda yadda about the recipe down below, but if you're in a pre-Thanksgiving rush and would like me to cut to the chase, here are the bullet points you must know about this gorgeous pie:
A thick, chewy cookie crust made from walnuts, oatmeal, and brown butter.
A filling of rich, fluffy butterscotch mousse.
A scattering of candied walnuts on top, and an optional (but oh-so-recommended) topping of whipped cream and caramel.
Now that you're suitably enticed, read on…
Last week my good friend Sarah over at The Sugar Hit invited me to participate in a new blog series called Blog Talk/Real Talk. I was so honored to be asked, and it was a great opportunity to talk about meta blogging topics like advice to fellow bloggers, things that have changed the way I blog, and other blogging nerdery.
One question she asked me was where my inspiration comes from. If you read the interview, you'll notice that I don't have an eloquent answer (short version: hmm, everywhere?), but one specific thing I mentioned is a game I like to play called "How Can I Turn X into Y?" The basic idea is to take a beloved dessert and try to recreate it in the form of another dessert. That's how I ended up with Dirty Coke Fudge, and the fabulously-named Moon Pie Pie. It's a fun creative challenge, and I'm pretty much guaranteed to love the results, since I already know I love the source material.
All of that was an extreeemely long-winded way of saying that the inspiration for this pie comes from another favorite dessert source: a cookie called the Oatmeal Scotchie. Like the name suggests, they're basically oatmeal cookies with butterscotch chips. Simple, right? But the combination of hearty oatmeal and sweet, rich butterscotch has always appealed to me, and I felt like these flavors were basically begging to be turned into a beautiful pie, perfect for Thanksgiving or any cozy autumn day.
But even after settling on oatmeal and butterscotch, it seemed like my pie was missing one more component to really take it over the top…
Walnuts to the rescue!
This fresh, fragrant nut appear twice in this dessert: toasted and finely chopped walnuts are added to the chewy oatmeal and brown butter cookie crust, while the crispy, caramelized walnuts on top bring some much-needed texture to the pillowy butterscotch mousse. They keep the sweet pie from becoming too cloying and add a hearty, earthy note that makes it irresistible.
Because I never know when to stop, I topped my slices with whipped cream and fleur de sel caramel sauce. But that's really gilding the lily, because it's just as beautiful—and just as delicious—without any other adornments.
I talked last week about my love of nontraditional Thanksgiving desserts, and I want to add this pie to the list of Thanksgiving contenders. If you love chewy oatmeal cookies—and why wouldn't you?—and if you love butterscotch—and how could you not?—and if you love walnuts—and who doesn't?—and if you love all of these things combined and sliced up onto a plate for your eating pleasure, then THIS, my friends, is the Thanksgiving dessert for you!
*Kanye mic drop*
Happy Thanksgiving, all!
💙More Walnut Inspired Desserts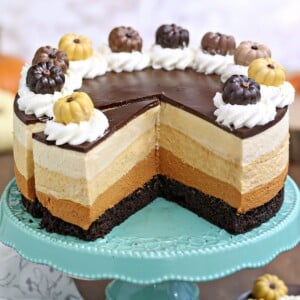 Pumpkin Chocolate Mousse Cake
This Pumpkin Chocolate Mousse Cake is a stunning 4-layer dessert with chocolate cake, cinnamon mousse, pumpkin-butterscotch mousse, and salted caramel mousse! Finished with a layer of shiny chocolate ganache and whipped cream, it's a total show stopper!
View Recipe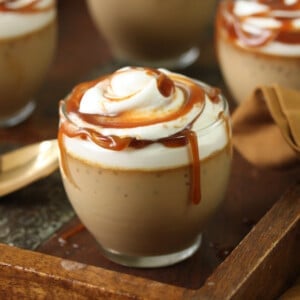 Butterscotch Pots de Creme
These Butterscotch Pots de Creme are an easy and elegant dessert. They're silky smooth and have a deep caramelized sugar flavor that contrasts perfectly with a pinch of crunchy salt on the top.
View Recipe
Oatmeal Walnut Butterscotch Pie
This Oatmeal Walnut Butterscotch Pie has a thick, chewy cookie crust made from walnuts, oatmeal, and brown butter. It is filled with rich, fluffy butterscotch mousse. Topped with candied walnuts, and an optional (but oh-so-recommended) topping of whipped cream and caramel.


Ingredients
For the Oatmeal Walnut Cookie Crust:
For the Candied Walnuts:
2.33

oz

granulated sugar

(1/3 cup)

1

tbsp

water

2

oz

toasted walnut halves

(1/2 cup)
For the Butterscotch Mousse:
9

oz

butterscotch chips (

1 1/2 cups

)

8.66

fl oz

heavy cream

(3/4 cup + 2/3 cup)

, divided use

1/4

tsp

salt

2

tbsp

water
Instructions
To Make the Oatmeal Walnut Cookie Crust:
Place the butter in a small saucepan over medium heat. Allow it to melt and come to a gentle boil. Continue to cook it, stirring occasionally and scraping the bottom of the pan, as it grows darker in color. After about 6-8 minutes it should be golden brown and fragrant, with brown bits on the bottom. Remove the pan from the heat and pour the butter into a large mixing bowl. Let it cool to room temperature.

While you wait for the butter to cool, whisk together the flour, oats, corn starch, baking powder, salt, and cinnamon in a small bowl. Set aside.

Once the butter is cool, add the sugars to the mixing bowl and mix everything together on medium speed until fluffy and well-mixed. Add the egg and vanilla, and mix again. Finally, stop the mixer and add the dry ingredients. Mix together on low just until the drys are nearly incorporated and just a few streaks of flour remain. Add the toasted walnuts, then finish mixing everything with a spatula, scraping the bottom and sides of the bowl.

Spray a deep-dish 10" pie pan with nonstick cooking spray. Press the cookie dough into the pan in a thick, even layer. It should be about 1/2-inch thick. If your pan is of a slightly smaller size, you may want to adjust the amount of cookie dough you use and keep some out so that the crust layer isn't too thick.

If you have the time, refrigerate the crust overnight to get the most optimal texture and flavor. If you don't have time, refrigerate it for at least 1 hour, until firm.

When you're ready to bake, preheat the oven to 350 F and place the pie shell in the freezer to get really cold while the oven preheats. Once preheated, spray the pie lightly with nonstick cooking spray and press foil over the bottom and sides of the pie. Fill the foil-lined shell with beans, rice, or pie weights.

Bake the shell at 350 F for 20 minutes, rotating halfway throughout. Bake it until the sides are light golden and look fairly set. Remove the shell from the oven and carefully remove the foil and beans, and return the pan to the oven. Bake for an additional 12-15 minutes, until the crust is puffed and light golden in the center. If the sides seem to be getting too dark during the baking process, cover them with a ring of foil. Let the crust cool completely before filling.
To Make the Candied Walnuts:
Line a baking sheet with foil and spray the foil with nonstick cooking spray. Combine the sugar and water in a small saucepan over medium-high heat. Stir until the sugar dissolves, then stop stirring. Bring the mixture to a boil and cook it, swirling the pan occasionally, until the sugar syrup is a medium amber and smells like caramelized sugar.

Add the walnuts to the sugar and stir until they're coated. Pour the walnuts out onto the prepared pan and separate them as best you can. Let them cool completely at room temperature until hard.

Once cool, coarsely chop the walnuts and caramel.
To Make the Butterscotch Mousse and Assemble:
Combine the butterscotch chips, 3/4 cup of cream, and salt in a medium saucepan. Place the pan over medium-low heat and warm up the chips, whisking frequently, until they're entirely melted and the mixture is smooth. Pour the butterscotch mixture into a large bowl, and let it cool to warm room temperature, stirring occasionally.

While you wait for the butterscotch mixture to cool, prepare the gelatin. Whisk together the gelatin and the cold water in a small bowl, and set it aside to let the gelatin absorb the water. When the butterscotch is at warm room temperature, microwave the bowl of gelatin for 15 seconds, until it is melted. Whisk the melted gelatin and butterscotch together.

Whip the remaining 2/3 cup heavy cream to firm peaks. Fold half of the whipped cream into the butterscotch, and once it's incorporated, gently fold in the remaining whipped cream. Scrape the mousse into the cookie shell, and spread it into an even layer. Refrigerate the pie for 2 hours, until the mousse is fully set.

Once set, top the mousse with the candied walnuts, whipped cream, caramel sauce, and whatever else you desire! The mousse stays firm at room temperature, so for the best taste and texture (and the easiest time cutting the pie into slices!) let it come to room temperature before serving.
Recipe Notes
If you're short on time, the candied walnuts can be skipped and you can top the pie with plain toasted walnuts instead. The cookie crust can be made in advance and kept, well-wrapped, in the refrigerator for several days, or the freezer for several weeks. The assembled pie (mousse and crust) can also be kept in the refrigerator for several days before serving. Add the candied walnuts and any whipped cream garnishes immediately before serving.
Measuring Tips
Our recipes are developed using weight measurements, and we highly recommend using a kitchen scale for baking whenever possible. However, if you prefer to use cups, volume measurements are provided as well. PLEASE NOTE: the adage "8 oz = 1 cup" is NOT true when speaking about weight, so don't be concerned if the measurements don't fit this formula.
Want to learn more about baking measurements and conversion?
Nutrition
Calories:
513
kcal
|
Carbohydrates:
67
g
|
Protein:
6
g
|
Fat:
26
g
|
Saturated Fat:
13
g
|
Cholesterol:
75
mg
|
Sodium:
266
mg
|
Potassium:
135
mg
|
Fiber:
2
g
|
Sugar:
46
g
|
Vitamin A:
694
IU
|
Vitamin C:
1
mg
|
Calcium:
52
mg
|
Iron:
1
mg
Tried this recipe?
Snap a pic and hashtag it #SugarHero. We love to see your creations on our Instagram @elabau.