So as you might have heard, I have a book coming out in—deep breaths—one week. I'm not quite sure how that happened! It seems like only yesterday I was squeezing into an apron and haulin' my 30-week pregnant self and a whole trunkful of handmade candy to our photoshoots…and now those very same photos grace the pages of a book! It's wild. [Spoiler alert: I'm giving away copies of the book below! Read on…]
Ready to rumble. Black is slimming, right?
To celebrate The Sweet Book of Candy Making, I took my own advice and made some candy. Specifically, Spicy Peanut Butter Toffee. It's on page 74 for you rock stars who have pre-ordered and already received your copy! Love you, mean it.
This isn't your typical toffee made with butter and sugar. The fat in the recipe comes from peanut butter, and instead of toffee's usual hard, crunchy texture it has a light, aerated, crispy texture. In the book I describe it as "similar to the filling of a popular peanut butter candy bar," but we all know that's just highfalutin please-don't-sue-me talk. Just between you and me and the rest of the internet, the crispy peanut filling reminds me of a Butterfingers bar, with better ingredients and without the scary orange color.
I added a little chipotle chili powder to the recipe. I love a hint of spice in my sweets, and the smokiness of the chipotle is wonderful paired with the richness of peanut butter and dark chocolate. If you're sensitive to spice, you can always omit it or try adding a sweet spice, like cinnamon, instead.
The toffee recipe is printed down below, but first I wanted to share a few other ways you might enjoy this toffee—you know, if you get tired of just eating it by the fistful.
Because of the toffee's light and crispy texture, it crumbles fairly easily, and those crumbled toffee pieces make most excellent mix-ins for chocolate clusters.  Coarsely chop the toffee, stir it into a bowl of melted chocolate, then drop spoonfuls of the mixture onto waxed paper. Voila! You've now made two candies for the price of one. Well done you.
I'm even more excited about this next idea. Crumbled Spicy Peanut Butter Toffee is a natural ice cream topper, but why stop there? Pair it with hot fudge sauce, peanut butter sauce, and peanut butter ice cream for a ridiculous—and ridiculously good—Peanut-Chocolate Toffee Sundae.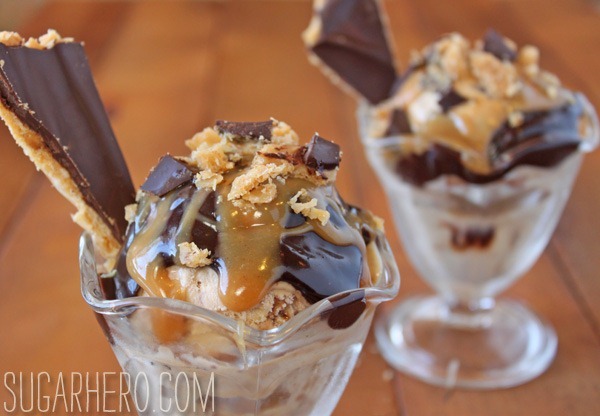 Don't you want to dive in? I'm afraid we ate a rather unhealthy amount of this dessert during the course of the photoshoot this afternoon. It's just too easy! Between the rich ice cream, the crunchy toffee bits, and the warm and gooey sauces, these are seriously dangerous.
I know I'm supposed to be talking up the toffee, but can I take a moment to mention how proud I am of the peanut butter sauce recipe? It turns out making peanut butter sauce is hard! I made five batches in an attempt to get it right. In the course of my experimenting I did ungodly things to peanut butter, things that no innocent eyes should ever have to see. (Pro tip—do not microwave it with condensed milk.) I finally found a recipe I love, that's simple to make and that produces a smooth sauce that glides over ice cream and has a lovely sweet-salty balance. Pure bliss.
But enough about me. Let's talk about you.
GIVEAWAY TIME!
Update 9/3: The giveaway is now closed! Here are your winners, courtesy of Random.org:
Comment # 6:
Good news, Peggy, there is a whole chapter devoted to fruit and nut candies in the book–and of course, many of them involve chocolate.
Comment # 63:
And what do you know, there's a recipe for chocolate-covered cherries in the book as well! It must be fate.
Thank you all for the GREAT comments. I kept reading them and wanting to respond (<–candy nerd) but didn't for fear of messing up the comment numbering and creating a headache for myself come giveaway time. But rest assured that I looooved reading about everyone's favorite candies, and I'll be doing more book giveaways in the future!
Thank you all for the kind words, support, and great comments over the years. I really wish I could give you all a book and a big peanut-chocolate toffee sundae! I hope you'll settle for these recipes, for now…
Print Recipe
Spicy Peanut Butter Toffee
This Spicy Peanut Butter Toffee isn't your typical toffee made with sugar and butter. The fat in the recipe comes from peanut butter, and instead of toffee's usual hard, crunchy texture it has a light, aerated, crispy texture...so yeah, its amazing!
Ingredients
2 2/3

ounces

water

(1/3 cup)

3 2/3

ounces

light corn syrup

(1/3 cup)

7

ounces

granulated sugar

(1 cup)

9 3/4

ounces

crunchy peanut butter

(1 cup)

1/8

teaspoon

baking soda

1/4

teaspoon

chipotle chile powder

4 3/4

ounces

honey-roasted peanuts

(1 cup) coarsely chopped

6

ounces

melted

tempered chocolate (can substitute chocolate candy coating if you don't want to temper)
Instructions
Line a rimmed baking sheet with a nonstick silicone mat or aluminum foil sprayed with nonstick cooking spray.

In a medium saucepan, combine the water, corn syrup, and sugar over medium-high heat. Stir until the sugar dissolves, then wipe down the sides with a wet pastry brush to prevent sugar crystals from forming. Bring the mixture to a boil, and insert a candy thermometer.

Cook the candy, stirring occasionally, until it reaches 305° Fahrenheit (152°C) on the thermometer. Watch carefully--do not overcook! Once at the right temperature, remove the pan from the heat and stir in the peanut butter, baking soda, and chile powder. The baking soda will cause the mixture to bubble up and become very foamy. Once it bubbles up, add the chopped peanuts and stir them in as well.

Scrap the toffee onto the prepared baking sheet and smooth it into a thin, even layer. Let the toffee set at room temperature, for about 45 minutes. Once set, spread the top of the toffee with the tempered milk chocolate and allow the chocolate to set. Break or chop the toffee into small pieces to serve it.

Wrap Spicy Peanut Butter Toffee in plastic wrap and store it in an airtight container at room temperature for up to two weeks.
Nutrition
Calories:
4318
kcal
|
Carbohydrates:
456
g
|
Protein:
111
g
|
Fat:
264
g
|
Saturated Fat:
73
g
|
Sodium:
1540
mg
|
Potassium:
3289
mg
|
Fiber:
38
g
|
Sugar:
390
g
|
Vitamin A:
3
%
|
Calcium:
31.6
%
|
Iron:
84
%
Print Recipe
Peanut Butter Dessert Sauce
This Spicy Peanut Butter Toffee isn't your typical toffee made with sugar and butter. The fat in the recipe comes from peanut butter, and instead of toffee's usual hard, crunchy texture it has a light, aerated, crispy texture...so yeah, its amazing!
Ingredients
6

oz

heavy cream

1/2

cup

peanut butter chips

(3.5 oz)

1/3

cup

peanut butter, not "natural" variety

(3.25 oz)

3

tbsp

light corn syrup

(1.5 oz)

1

tsp

vanilla extract

pinch

salt
Instructions
Combine all ingredients together in a medium saucepan over medium heat.

Heat, whisking frequently, until the peanut butter chips melt and all of the ingredients come together in a smooth sauce. It will be very thin at first.

As the sauce cools to room temperature, it will thicken up. If it gets too thick, simply return it to the heat and whisk until it loosens up. To store, pour it into a bowl or airtight container and press a layer of plastic wrap on top. Keep the peanut butter sauce in the refrigerator.

To reheat after chilling, gently microwave it in 20-second increments until warm and flowing.
Nutrition
Calories:
1398
kcal
|
Carbohydrates:
94
g
|
Protein:
33
g
|
Fat:
105
g
|
Saturated Fat:
54
g
|
Cholesterol:
200
mg
|
Sodium:
537
mg
|
Potassium:
548
mg
|
Fiber:
7
g
|
Sugar:
74
g
|
Vitamin A:
40
%
|
Vitamin C:
1
%
|
Calcium:
11.8
%
|
Iron:
16
%
[Bonus recipe: Hot Fudge Sauce, featured last month. Mm mm good.]