Pumpkin Spice Hot Chocolate Truffles are smooth and creamy chocolate truffles, decorated to look like pumpkins and packed with pumpkin spice flavor! These clever truffles have a secret–when you add them to hot milk, they dissolve and make the most delicious pumpkin spice hot chocolate!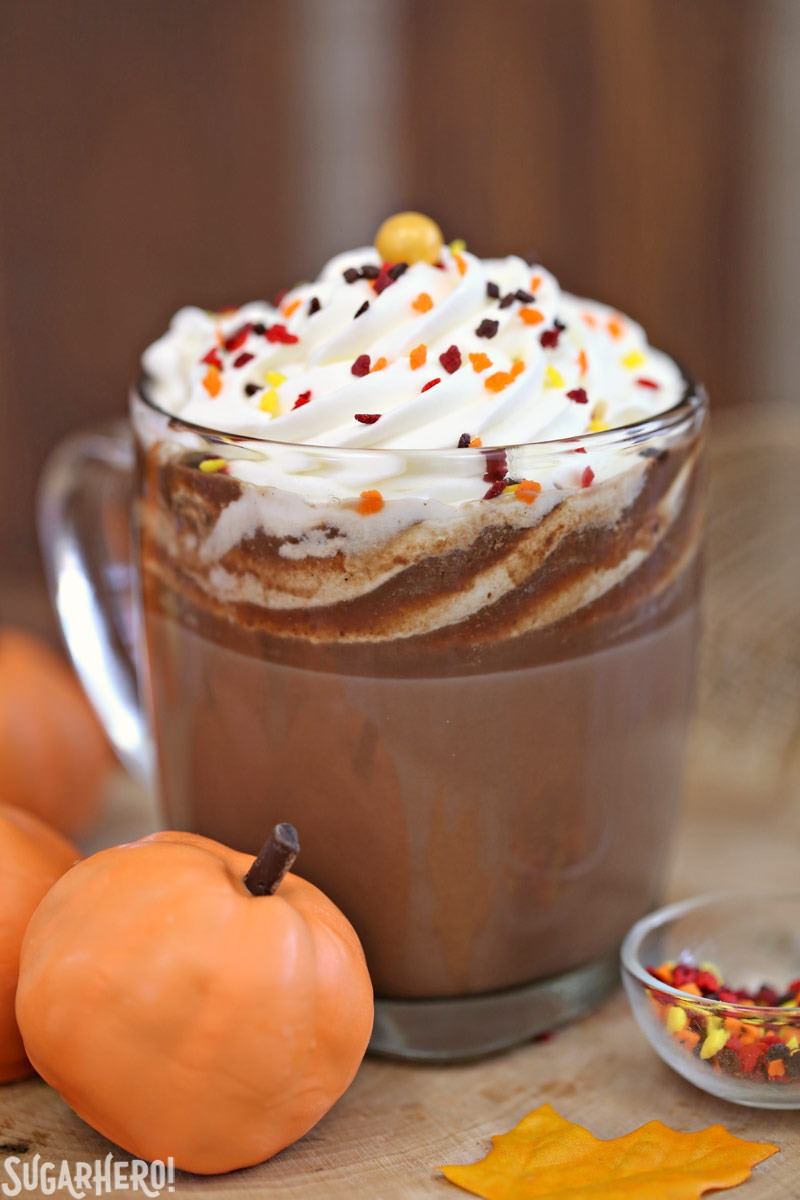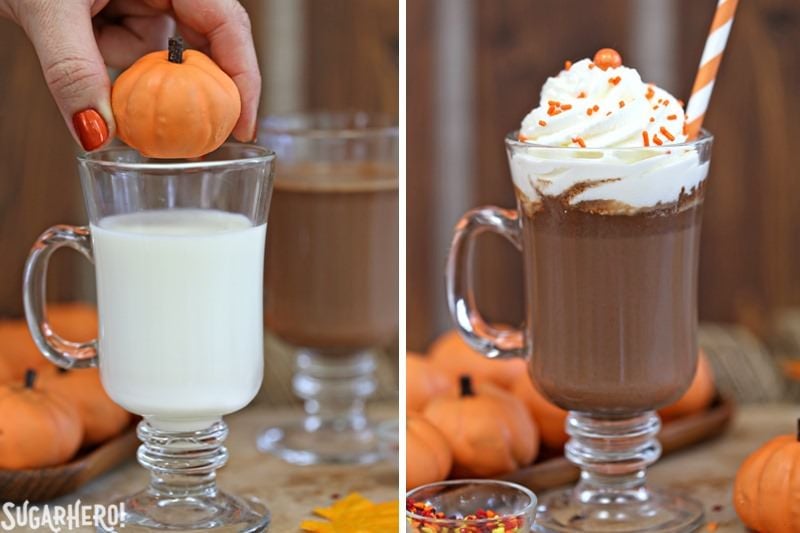 On one hand, it feels a little early in the year to be posting pumpkin recipes.
On the other hand, my local craft stores have had Halloween supplies out for at least a solid month by now, so I'm just trying to keep up with the Michael's and JoAnn's of the world. Also, my family drinks hot chocolate year-round, so this one has been in heavy rotation at our house lately, and you deserve to have the same. Also also, pumpkin spice is freaking delicious and should be an anytime flavor.
In conclusion, we're doing this pumpkin thing, so haters to the left. <——-

These clever little Pumpkin Spice Hot Chocolate Truffles are two desserts in one. They're truffles, yes, filled with pumpkin spice flavor and decorated to look like adorable miniature pumpkins. (pause for squealing here) A whole platter of them, all lined up in cute little rows, would make a perfect fall party treat or edible gift.
But. BUT! Add them to a mug of hot milk, whisk whisk whisk, and you have a delicious cup of pumpkin spice-flavored hot chocolate. Dessert recipes that do double duty? Sign me up!

Making these is surprisingly easy, too! If you can microwave and whisk things, YOU can make them! They get those signature pumpkin ridges from a very fancy tool I call a "wooden skewer," although a long toothpick would work just as well. No fancy-pants equipment here!
In fact, the only "specialty" ingredient I used was some broken bits of chocolate batons for the pumpkin stems, and that's only because I had them left over from the Black Forest Cake I made earlier in the year. You could just as easily cut up a chocolate bar into small shards and use that for the stems instead.
The best way I can think to describe these truffles is COZY. One bite and you'll want to be wearing fuzzy socks in front of a fire, guaranteed. (Bear skin rug entirely optional.)
When you're done stuffing yourself silly with the regular truffles, heat up a glass of milk until it's hot but not boiling. Drop a truffle into the cup, make like Bob Marley and stir it up, little darling, and in a few moments you're holding a rich mug of pumpkin spice hot chocolate! Of course you COULD just drink it plain, but I'd be a bad food blogger if I didn't suggest you top it with a bit of whipped cream or a scoop of vanilla ice cream.
Ready to make some candy magic? Check out the how-to video, then find the printable recipe down below!
Troubleshooting Tip:
Please make sure you are measuring the chocolate by WEIGHT. It calls for 18 oz of chocolate, as measured on a kitchen scale. I'm specifying this because I get a lot of questions about this, especially from Americans who are used to using cup measurements, and who have been taught that 8 oz is 1 cup.
It is true that 8 fluid ounces (of liquid) is 1 cup, but it is NOT true that 1 cup of every substance weighs 8 ounces on the scale. In fact, 1 cup of finely chopped chocolate is about 6 ounces. If you try to make this recipe by measuring the chopped chocolate in cups, using the "1 cup = 8 ounces" rule, you will shortchange the chocolate and end up with a very soft truffle mixture that will be hard to roll.
If you do end up with a ganache that is too soft to roll, you can warm it up and whisk in a few additional ounces of melted chocolate, then let it chill again. Adding more chocolate will firm up the ganache and hopefully save your truffles!
🍁More Pumpkin Desserts You'll Love:
If you love pumpkin as much as I do, check out my collection of pumpkin dessert recipes! Here are just a few of my favorites:
Pumpkin Pie Mousse Cups
Embrace fall flavors with these Pumpkin Pie Mousse Cups! This light and fluffy mousse recipe is made with real pumpkin, for an authentic pumpkin spice taste. It's served in a cute edible pumpkin-shaped bowl, too!
View Recipe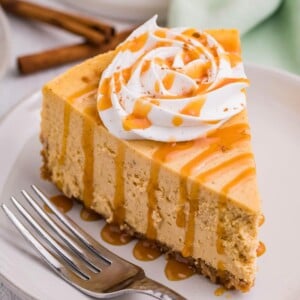 Pumpkin Spice Cheesecake
This Pumpkin Spice Cheesecake is a classic fall dessert. The combination of the crunchy cinnamon graham cracker base and the rich pumpkin cream cheese filling is irresistible. Enjoy it plain, or top it with whipped cream and caramel sauce.
View Recipe
Pumpkin Spice Hot Chocolate Truffles
Pumpkin Spice Hot Chocolate Truffles are two desserts in one! These sweet little truffles look like pumpkins and taste like pumpkin spice-flavored chocolate, but they have a secret: add them to a mug of hot milk, and they turn into hot chocolate! You can also enjoy them on their own, so they truly do double duty in the dessert department.
Instructions
Combine the semi-sweet chocolate, heavy cream, cocoa powder, cinnamon, pumpkin pie spice and vanilla in a large microwave-safe bowl. Microwave on full strength for 1 minute, then whisk well. If any chocolate chunks remain, return to the microwave and heat in 15-second bursts, whisking well after each interval, until the mixture is smooth and shiny. Press a layer of plastic wrap directly on top of the chocolate, and refrigerate the bowl for about 2 hours, until it is firm enough to scoop and roll.

Dust your hands with a light coating of cocoa powder. Use an ice cream scoop to scoop a golf ball-sized ball of chocolate into your hands, and roll it into a smooth, even ball. (If you want to use a scale, each truffle should be about 1.75 oz.) You should get 14 large truffles from the batch.

If the balls are very soft, return them to the refrigerator for 15-20 minutes before proceeding. Otherwise, use a wooden skewer, and press it into the sides of the truffles, giving the sides of the truffle ridges like a pumpkin. Refrigerate if necessary, until the truffles are firm.

Melt the orange candy coating in the microwave, stirring until completely smooth. Press a long toothpick firmly into the top of one of the truffles, and holding it by the toothpick, dip it in the orange candy coating until the truffle is completely covered. Let the excess drip back into the bowl, and gently scrape the bottom of the truffle against the lip of the bowl.

Place the dipped truffle on a baking sheet covered with parchment paper or waxed paper, and gently twist the toothpick to remove it from the truffle. (If necessary, you can hold the truffle down in place with a second toothpick while you twist.) While the coating is still wet, break off a piece of a chocolate baton or a shard of chocolate, and press it into the hole left by the toothpick to be the pumpkin's stem.

Repeat with the remaining truffles, until all are dipped and decorated. Refrigerate the tray briefly to set the orange candy coating, for about 15 minutes.

The truffles can be stored in an airtight container in the refrigerator for up to 2 weeks. For the best taste and texture, serve them at room temperature. To turn them into hot chocolate, heat 8 oz of milk in a mug. Add a pumpkin spice truffle to the hot milk, and whisk until the truffle melts and you have a mug of rich hot chocolate. For the ultimate indulgence, top the hot chocolate with a swirl of whipped cream or a scoop of vanilla ice cream!
Video
Measuring Tips
Our recipes are developed using weight measurements, and we highly recommend using a kitchen scale for baking whenever possible. However, if you prefer to use cups, volume measurements are provided as well. PLEASE NOTE: the adage "8 oz = 1 cup" is NOT true when speaking about weight, so don't be concerned if the measurements don't fit this formula.
Want to learn more about baking measurements and conversion?
Nutrition
Calories:
225
kcal
|
Carbohydrates:
34
g
|
Protein:
2
g
|
Fat:
19
g
|
Saturated Fat:
14
g
|
Cholesterol:
1
mg
|
Sodium:
10
mg
|
Potassium:
195
mg
|
Fiber:
2
g
|
Sugar:
29
g
|
Vitamin A:
15
IU
|
Calcium:
22
mg
|
Iron:
2.2
mg
Tried this recipe?
Snap a pic and hashtag it #SugarHero. We love to see your creations on our Instagram @elabau.