Black Forest Cake is a classic! This cake has alternating layers of chocolate cake and juicy cherry filling, and chocolate "twigs" complete the black forest look!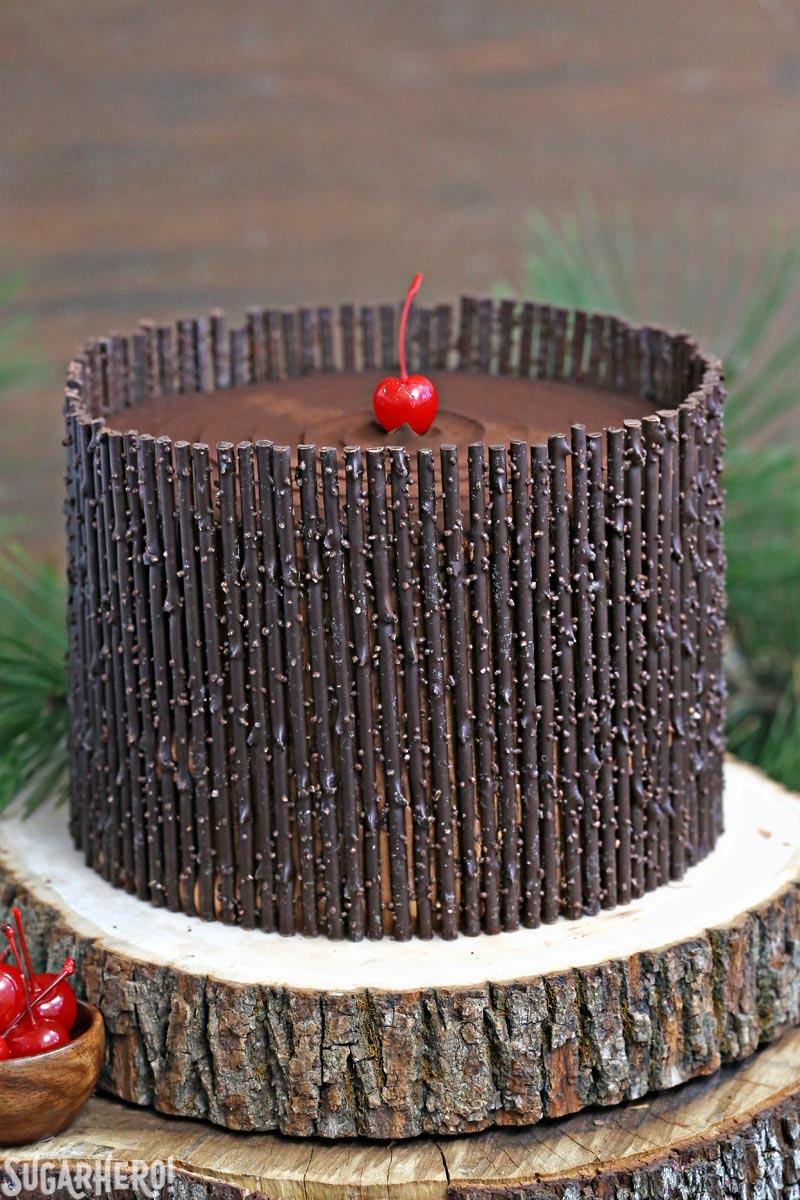 Okay! So it's the second week of January, is it safe to post about cake yet? I mean, healthy eating is great, go team vegetables, woohoo kale, yadda yadda, but we've all got birthdays, right? We all have special occasions and cake-worthy celebrations sometimes? We all need a hit of the sweet stuff now and then, even in the midst of the healthiest eatingest month in all of the calendar, correct? Eeeeeexcellent. *Mr Burns fingers*
Let us proceed.
This cake got its start, like so many of my cakes do, in the aisles of a store…in this case, Cost Plus World Market. While I was looking through their Christmas candy last month, I found some gorgeous glossy dark chocolate twigs from Grand Belgian Chocolate, and I knew they needed—no, they were DESTINED—to be on a cake. The twigs are about 8" long and so very, very pretty. They're shiny, with little nubs of irregularly placed chocolate all along the length of them so that they really do look like bumpy twigs.
Being a very obvious person, I immediately made the leap and knew what I should make. Twigs –> trees –> forest –> black forest cake! There you have it, people. The cunning workings of a mind like a steel trap.
Here's the bad news: I looked for these twigs again at Cost Plus about a week ago, and I couldn't find them. I also can't find them on Amazon (the horror!) or for purchase anywhere online. Fortunately, I think Chocolate Pocky would be a good substitute, and it's pretty easy to find in many large supermarkets. Another fun forest-related decoration would be decorating the cake like a tree stump (like with my Wild Things cake!) but honestly, there's no law that says Black Forest cake has to be so on-the-nose. You can just finish it with chocolate buttercream and it will still be amazing.
Window dressing aside, this cake is really all about the FLAVOR. Chocolate and cherries are a natural match, which is why I think black forest cakes have been so popular for so long. I've seen a lot of different versions of black forest cake. Some involve whipped cream, some involve almond flavor (which I personally looooove) but for this version, I decided to keep it simple: just chocolate cake, chocolate frosting, and cherry goodness.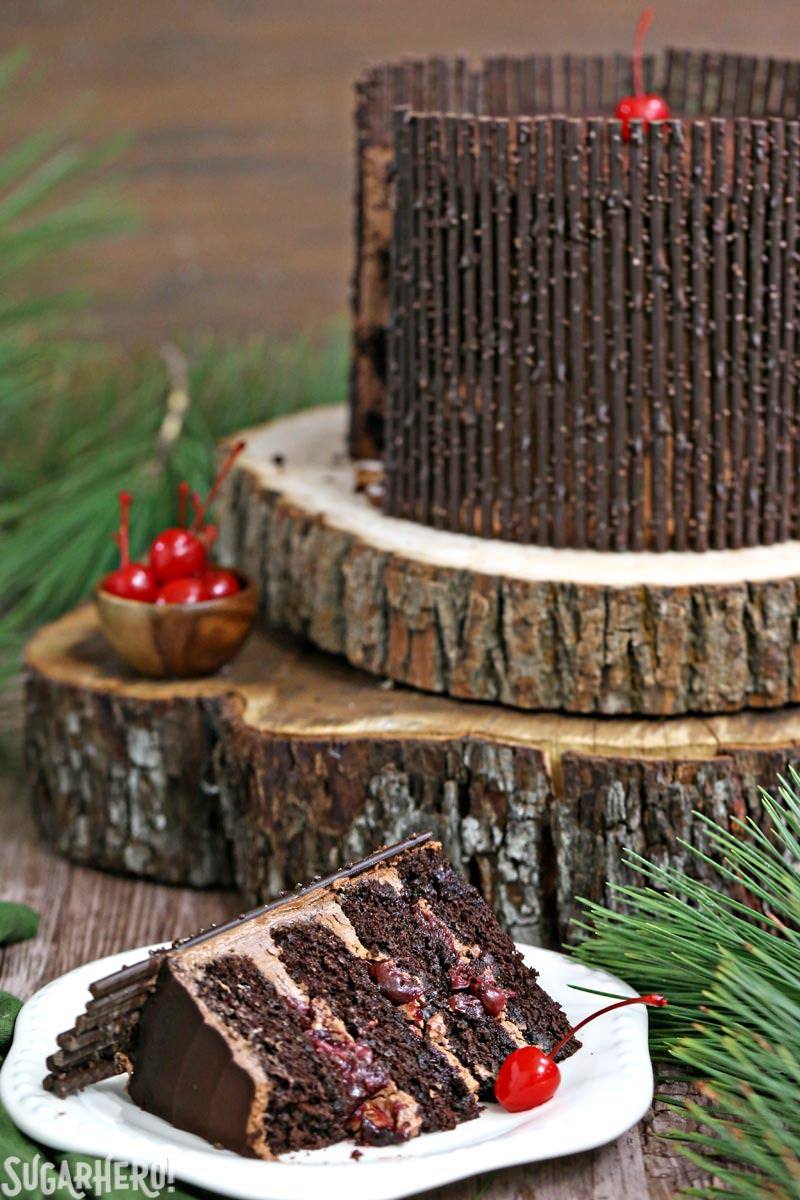 For the cherries, fresh is obviously tops. Fresh is also obviously not so great in the winter months. So if you're reading this when cherries are in season, get pittin' and use fresh cherries! Since I didn't want to spend 1 bajillion dollars on sour, out-of-season cherries, I decided to use canned Morello cherries from Trader Joe's in my filling instead. The Morello cherries are great because—wait for it—they actually taste like cherries! They're not too sweet and have a good, authentic flavor. If you have other canned or jarred cherries you like, feel free to swap those in. Defrosted frozen cherries are also an option. I personally hate most canned cherry pie filling (sooooo sweet!) but if that's your jam, you can use that as well.
You'll notice that I garnished the cake with a maraschino cherry, but didn't put them in the filling. That's because maraschino cherries look amazing and taste like pure sugar. So use them for decorations, yes, but please don't rely on them for fresh cherry flavor!
I also used just a little bit of cherry preserves along with the Morello cherries. I wanted a little more cherry "goop" in the filling, aside from just cherry chunks, but if you like that chunky lifestyle, you can omit the preserves. After a few days, they mostly soaked into the cake layers, producing the world's most perfect moist, cherry-infused chocolate cake (swoon). At the end of the day, the twigs made this cake cute, but the flavors are what make it memorable. It's a classic for a reason! Enjoy!
More Chocolate Cakes You'll Love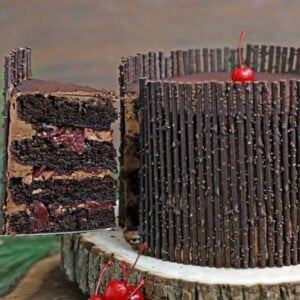 Black Forest Cake
Black Forest Cake is a classic dessert for a reason! This delicious cake has alternating layers of chocolate cake and juicy cherry filling, and chocolate "twigs" complete the black forest look.
Ingredients
For the frosting:
3

fl oz

pasteurized liquid egg whites

12

oz

powdered sugar

(3 cups)

1/4

tsp

salt

12

oz

unsalted butter

at room temperature

1

tbsp

vanilla extract
For the filling and decoration:
2

cups

cherries

chopped, I used jarred Morello cherries

½

cup

cherry preserves

optional

12

oz

chocolate twigs

optional

¼

cup

unsweetened cocoa powder
Instructions
To make the cake:
Line four 8-inch cake pans with parchment and spray with nonstick cooking spray. Preheat the oven to 350 F.

Add the butter and both sugars to the bowl of a large stand mixer fitted with a paddle attachment. Beat them together on medium-high speed, until light and fluffy, about 5 minutes. Add the eggs one at a time, beating well after each addition. Add the vanilla extract, and beat well until everything is fully incorporated.

In a separate bowl, sift together the flour, cocoa powder, baking soda, and salt. With the mixer running on low, add a quarter of the sifted flour mixture. When the flour streaks have almost all disappeared, add a third of the buttermilk to the mixing bowl. When that's incorporated, continue to add the drys and wets in an alternating pattern, ending with the dry ingredients.

When the dry ingredients are nearly incorporated, stop the mixer. Scrape down the bottom and sides of the bowl with a rubber spatula, and finish mixing the cake by hand. Divide the batter between the prepared pans, and smooth it into an even layer. Bake the cakes for 18-20 minutes, until a toothpick inserted into the center comes out with just a few moist crumbs attached. Cool the cakes completely before using.
To make the frosting:
Chop the unsweetened chocolate, and place it in a microwave-safe bowl. Microwave in 30-second increments, stirring after every 30 seconds to prevent overheating. Once the chocolate is melted, let it cool until it is completely room temperature. While it cools, prepare the rest of the frosting.

Combine the whites, powdered sugar, and salt in the bowl of a large stand mixer fitted with a paddle attachment. Mix everything together on low speed, until the sugar is moistened and no dry patches remain. Turn off the mixer, scrape down the sides and bottom of the bowl with a spatula, then turn the mixer to medium speed. Beat on medium for 5 minutes.

After 5 minutes, turn the mixer to medium-low and start adding the softened room temperature butter, 1-2 tablespoons at a time. Once all of the butter is incorporated, add the vanilla extract and mix it in. Stop the mixer and scrape down the bottom and sides once more. Turn the speed to medium and beat the buttercream for 10 minutes. Finally, add the melted and cooled chocolate. Mix on low speed until the chocolate is completely incorporated.
To assemble:
To assemble the cake, place one layer on a cake cardboard, and put it on a cake turntable, if you have one. Place some of the chocolate buttercream in a piping bag fitted with a coupler or large round tip. Pipe a circle around the outside edge of the cake layer, and spread a very thin layer of chocolate frosting inside the piped circle of frosting.

In a small bowl, stir together the chopped cherries and cherry preserves, if using. Spread a third of this mixture inside the piped circle of frosting, and top with a second cake layer. Repeat the frosting, cherry, and cake process until you have added all 4 cake layers.


Spread a very thin layer of chocolate frosting all over the top and sides of the cake—this is the "crumb coat," to lock in any stray crumbs from the cake. Refrigerate the cake briefly, for about 30 minutes, so the crumb coat can firm up.


Spread a thicker layer of frosting along the top and sides of the cake. Take a metal offset spatula, and holding it flat against the outside edge of the cake, start turning the turntable. Hold the spatula against the frosting, and as the cake goes around, gradually start moving the spatula inward, creating a spiral design in the frosting.


If you're using the chocolate twigs, press them against the sides of the cake, firmly embedding them in the frosting. Finally, dust the top of the cake with cocoa powder. It will darken as it sits and absorbs moisture from the buttercream, and will match the color of the dark chocolate twigs. Top the cake with a maraschino cherry, if desired.

Measuring Tips
Our recipes are developed using weight measurements, and we highly recommend using a kitchen scale for baking whenever possible. However, if you prefer to use cups, volume measurements are provided as well. PLEASE NOTE: the adage "8 oz = 1 cup" is NOT true when speaking about weight, so don't be concerned if the measurements don't fit this formula.
Want to learn more about baking measurements and conversion?
Tried this recipe?
Snap a pic and hashtag it #SugarHero. We love to see your creations on our Instagram @elabau.