This Salted Caramel Hot Chocolate is to DIE for! Rich, creamy, with a deep caramelized flavor and a hint of salt, it's addicting and you just may never go back to regular hot chocolate again.
So if last week's Lavender Hot Chocolate was all about treating yo'self –well actually, myself—then this Salted Caramel Hot Chocolate is all about treating the entire freakin' world. Because I'm pretty sure that what the world needs isn't love, sweet love, but chocolate, sweet chocolate. And if that chocolate is mixed with a based of homemade salted caramel sauce? All the better.
Apologies in advance if you're a Starbucks groupie and are hoping for a copycat recipe. I've actually never had their Salted Caramel Hot Chocolate before, so I can't tell you how this one compares. However, I'm betting theirs doesn't start with a pan of caramelized sugar and end with 10 ounces of finely chopped chocolate, so at the risk of tooting my own horn: TOOOOOOOT mine is better TOOOOOOOOOOT!
I used my Salted Caramel Milk recipe as the base for this hot chocolate—I already knew it was the perfect balance of dark caramelized sugar with a hint of salt, so why not try adding handfuls of chopped chocolate and see what happens? Turns out, magic happens. This drink is thick and rich, with the background flavor of smoky caramelized sugar and a savory finish from the salt. I usually add whipped cream for photos but often skip it in my own personal mugs of hot chocolate, but for this recipe, I think the whipped cream topping is practically a necessity—otherwise the chocolate is almost too intense and rich. (Did you ever think you would see me write those words?!)
Speaking of intense and rich, don't be fooled by the ginormous mugs you see in the pictures—those are food styling shenanigans! This is a classic sipping chocolate, and you'll want to serve it in small cups so it's not overwhelming. It's true that Jason was able to pound back a full mug, but I've also seen him eat big slices of layer cake after having thirds at dinner, so he's obviously smuggling a second stomach around or something. For the rest of us mere mortals, we're better off enjoying this drink in more reasonable portions. Besides, the smaller the cups, the more we can justify the whipped cream and caramel on top, right? And, speaking of justification – don't forget you'll need something tasty to dip in this deliciousness like Apple Cider Fritters, Creme Brulee Doughnuts or Big Soft Sugar Cookies.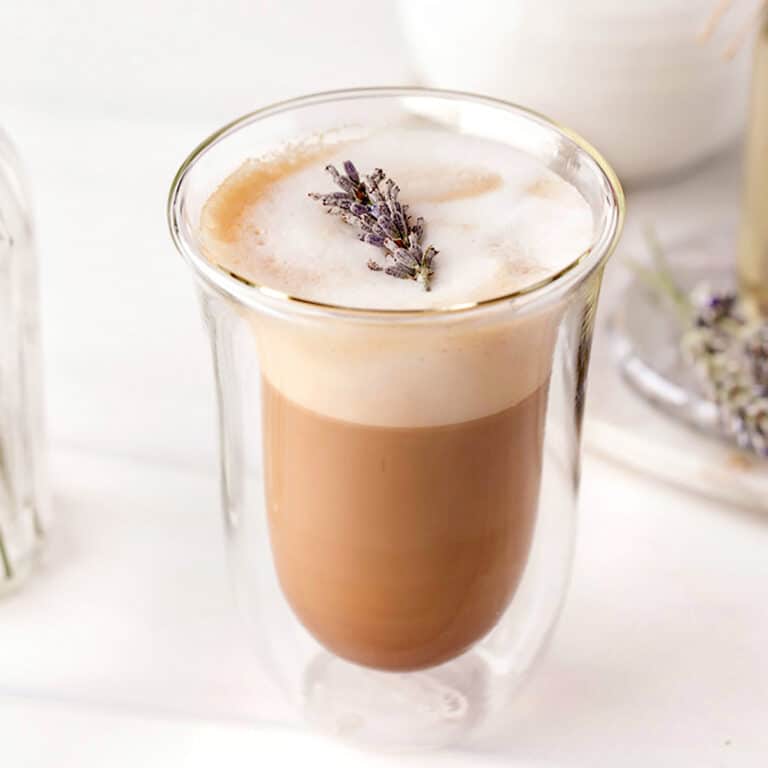 Lavender Latte
Bring the coffeehouse to your house with this homemade lavender latte recipe! You'll be surprised and delighted at how easy it is to make your own delicious lavender coffee at home.
View Recipe
Peppermint Affogato
Looking for an easy holiday dessert? It doesn't get easier than this peppermint affogato! Hot peppermint coffee and cold peppermint ice cream combine to form the most irresistible dessert. Keep these ingredients stocked in your kitchen because you'll want to make this one all season long!
View Recipe
Salted Caramel Hot Chocolate
Make your own salted caramel hot chocolate at home! Salted caramel is the base for this thick homemade hot chocolate. It's incredibly rich and indulgent!
Ingredients
1 1/2

cups

granulated sugar

1/4

tsp

lemon juice

fresh

4 1/2

cups

milk

room temperature, (I used 1%—any fat percentage you enjoy drinking should work)

8

oz

milk chocolate

finely chopped

2

oz

dark chocolate

finely chopped

big pinch of salt

Whipped cream and caramel sauce

to garnish (optional)
Instructions
In a small bowl, rub together the sugar and the lemon juice, until the sugar is damp and fragrant.

Place a medium saucepan over medium heat and let it preheat for several minutes until the pan is hot. Once the saucepan is hot, add the sugar. Begin stirring immediately and continuously. Because the pan was preheated, the sugar will start cooking very quickly. Soon after it liquefies it will start to take on color. Cook, stirring constantly, until it is a medium amber color.

Continue to stir while you stream in the milk. The caramel may seize and form small chunks of sugar, but continue to stir and heat the mixture, and by the time the milk is piping hot, the caramel will have melted and you will have a smooth liquid.

Once the milk is at a simmer (small bubbles forming along the sides of the pan) remove the pan from the heat. Don't let the milk come to a boil! Add the chopped chocolates to the pan and whisk until the mixture is smooth and the chocolate is melted. Add a pinch of salt, taste the milk, and add more salt if desired.

Serve Salted Caramel Hot Chocolate with whipped cream and caramel sauce. It can be made ahead of time and kept in the refrigerator for up to a week. Reheat it in the microwave or on the stove top.
Measuring Tips
Our recipes are developed using weight measurements, and we highly recommend using a kitchen scale for baking whenever possible. However, if you prefer to use cups, volume measurements are provided as well. PLEASE NOTE: the adage "8 oz = 1 cup" is NOT true when speaking about weight, so don't be concerned if the measurements don't fit this formula.
Want to learn more about baking measurements and conversion?
Nutrition
Serving:
8
g
|
Calories:
414
kcal
|
Carbohydrates:
64
g
|
Protein:
5
g
|
Fat:
17
g
|
Saturated Fat:
9
g
|
Cholesterol:
13
mg
|
Sodium:
65
mg
|
Potassium:
314
mg
|
Fiber:
2
g
|
Sugar:
60
g
|
Vitamin A:
220
IU
|
Vitamin C:
0
mg
|
Calcium:
167
mg
|
Iron:
1.7
mg
Tried this recipe?
Snap a pic and hashtag it #SugarHero. We love to see your creations on our Instagram @elabau.