Salted Fudge Brownies are decadent, rich chocolate brownies with an insanely fudgy texture, and the perfect amount of sweet-and-salty flavor!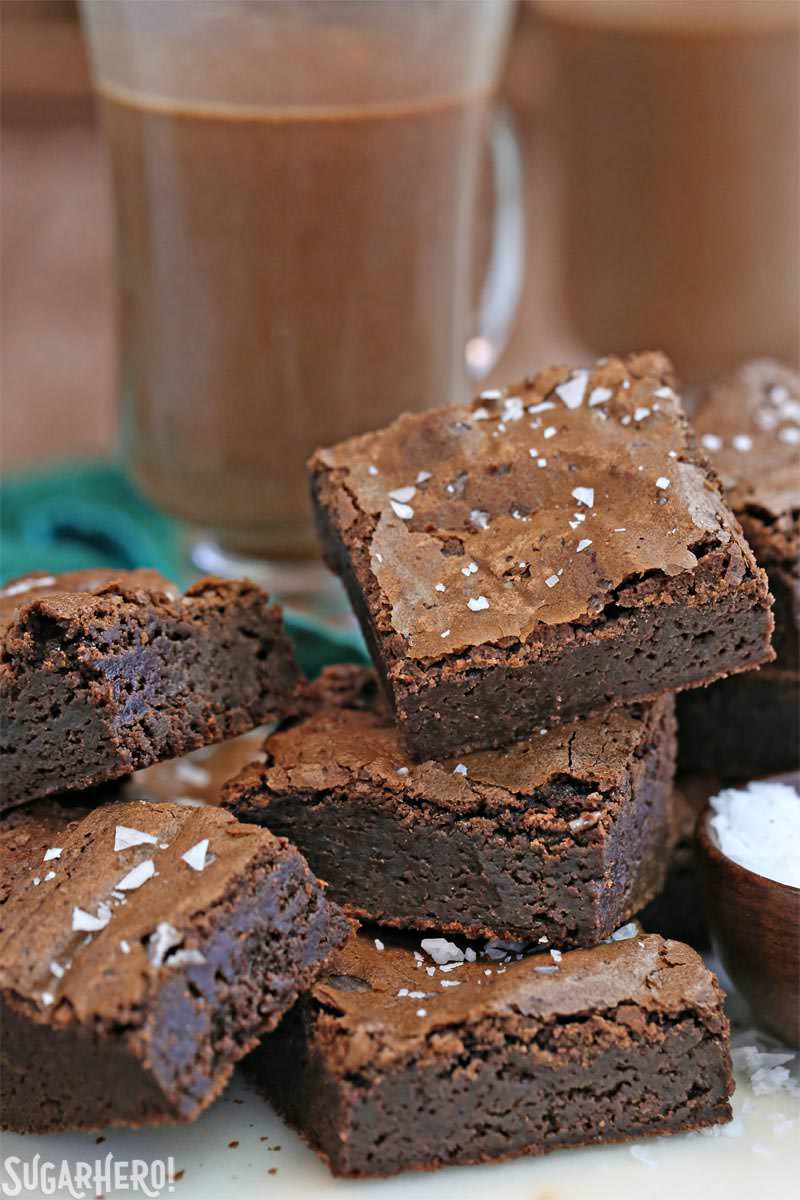 I am always on the hunt for the perfect brownie. Even when I have a recipe I like, the search never stops, because how can I be sure the next brownie I try isn't going to be even BETTER? That's the case with my Ultimate Fudgy Chocolate Brownies. They're a wonderful all-around, go-to brownie for any occasion. But…but…how can I be sure there's not a better brownie out there? Only one way to find out. To the Brownie Laboratory!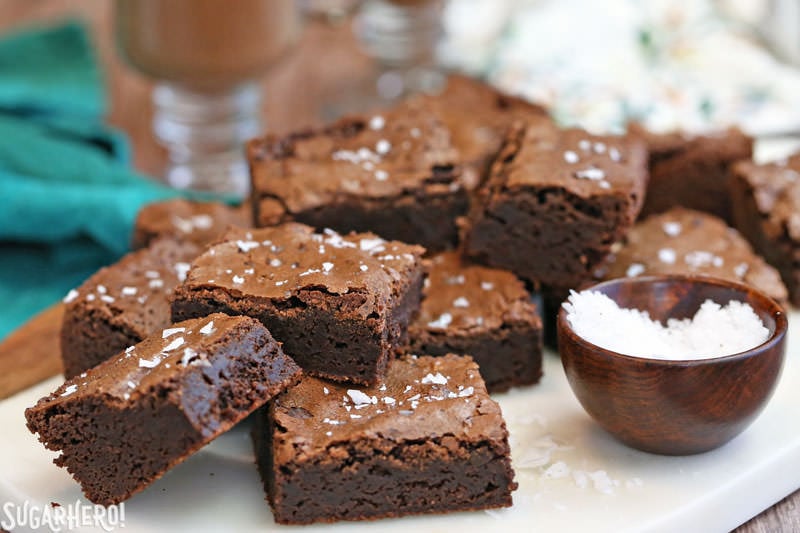 Great news, chocolate fans! Brownie Quest has yielded a new contender. These Salted Fudge Brownies are my gift to those of you who, like me, can never get a brownie fudgy enough. It could be half-raw and oozing in the middle, and I'll think, "It's pretty good…but can't it get more fudgy?!" (Kidding about the raw part, but I assume you know what I mean.)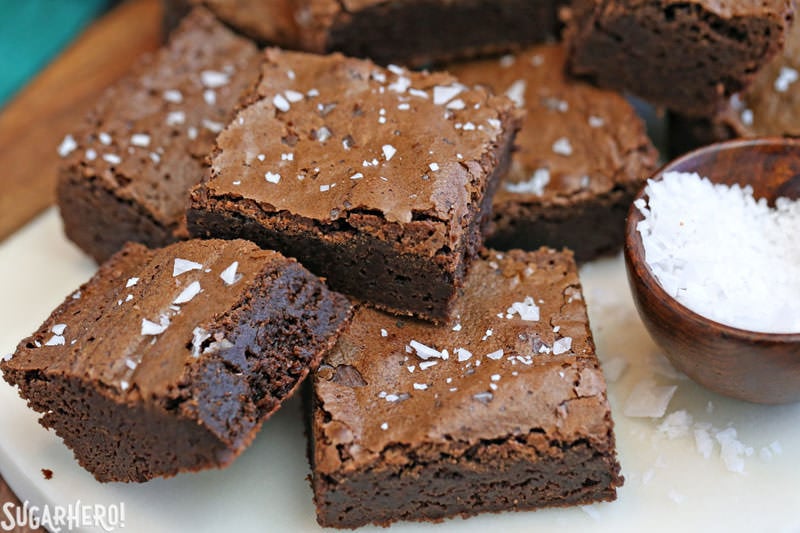 These babies finally answer that question: NO. They cannot possibly be more fudgy. They're decadent and dense and loaded with chocolate flavor. The only thing that saves them from being chocolate overkill is the generous portion of salt in the batter, which cuts through the richness of the chocolate. But the real star is the flaked sea salt on top, a completely necessary component that adds the occasional crunch and pop of pure salty bliss.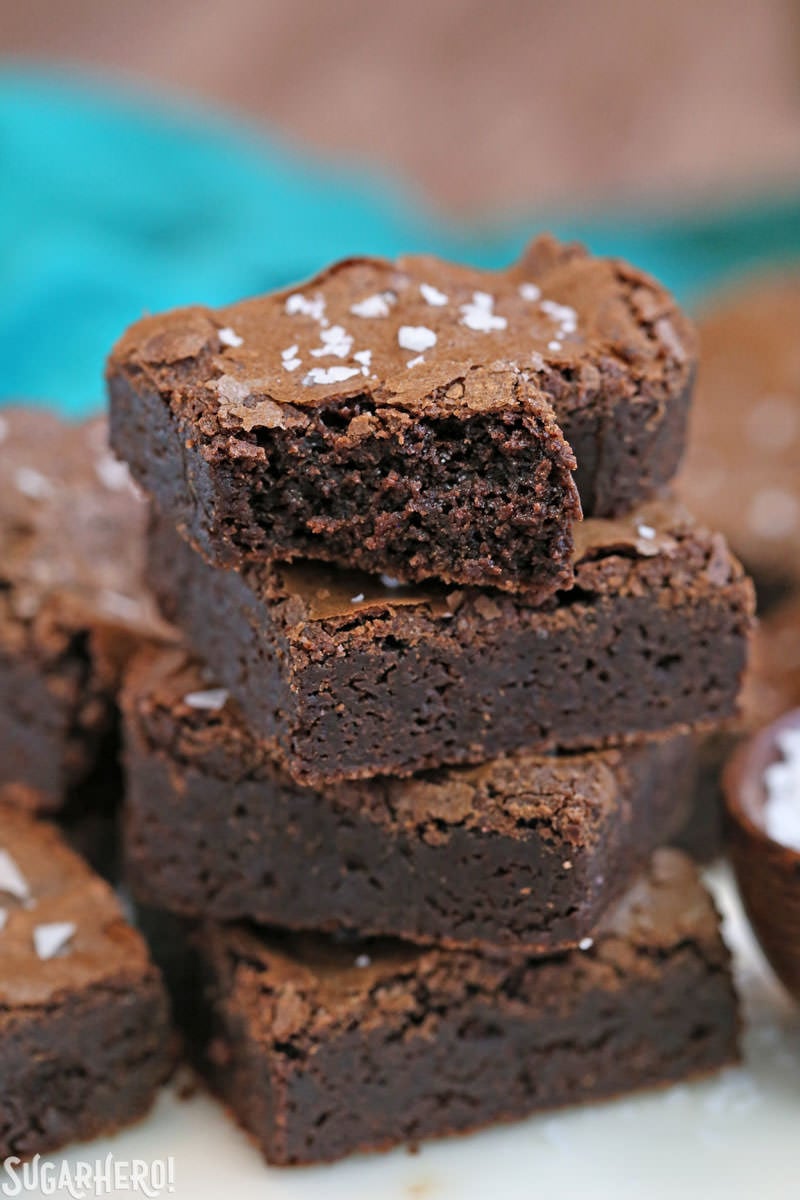 I've actually had this recipe for years, bookmarked as an old favorite, but it got lost in the shuffle of all of the other brownies in my life. I finally took it out for another spin a few weeks ago, and fell in love all over again. It doesn't make the most perfect squares–the top crackles and creases, making it less photogenic than its boxed mix brethren–but one bite of the ultra-fudgy interior and you will never utter the words "boxed brownies" ever again.
💗MORE BAR DESSERTS YOU'LL LOVE
Brown Butter Brownies
Brown butter is the secret ingredient that makes these homemade Brown Butter Brownies insanely rich and delicious! They have a shiny, crackly crust and the deep caramelized flavor of brown butter. If you've never browned butter before, you'll be amazed at how easy and delicious it is!
View Recipe
Cosmic Brownie Mini Cakes
These cute Cosmic Brownie Mini Cakes are layered with rich chocolate frosting and topped with rainbow chips, just like the classic Cosmic Brownies!
View Recipe
Salted Fudge Brownies
Salted Fudge Brownies are decadent, rich chocolate brownies with an insanely fudgy texture, and the perfect amount of sweet-and-salty flavor!
Instructions
Preheat the oven to 350° F. Line a 9×9-inch baking pan with aluminum foil, and spray the foil with cooking spray.

Melt the butter with the unsweetened chocolate in the microwave, stirring occasionally, until the butter and chocolate are entirely melted. Whisk to combine.

Add the sugar and cocoa powder and whisk until they're incorporated. At this point the mixture will look grainy and not very appetizing. Add the eggs one at a time, being sure to whisk well after each addition. With each egg added, the mixture will get smoother and shinier, and after all 3 have been added and the batter has been well-mixed, the graininess should be gone and your brownie mixture should have the texture of chocolate pudding.

Whisk in the vanilla extract, then stir in the flour and fine sea salt until any dry streaks disappear.

Pour the batter into the prepared pan and smooth the surface with a rubber spatula. Sprinkle the remaining large-flaked sea salt over the top of the brownies.

Bake for about 35 minutes, until the edge is set but the center is still a bit soft and a toothpick inserted into the center comes out coated with a little of the batter. Cool at room temperature in the pan for about an hour, then refrigerate just until they are firm.

Lift the brownies from the pan and remove foil. Cut the brownies 16 squares, and just before serving, sprinkle with just a bit more salt for visual appeal.
Measuring Tips
Our recipes are developed using weight measurements, and we highly recommend using a kitchen scale for baking whenever possible. However, if you prefer to use cups, volume measurements are provided as well. PLEASE NOTE: the adage "8 oz = 1 cup" is NOT true when speaking about weight, so don't be concerned if the measurements don't fit this formula.
Want to learn more about baking measurements and conversion?
Nutrition
Calories:
236
kcal
|
Carbohydrates:
33
g
|
Protein:
3
g
|
Fat:
12
g
|
Saturated Fat:
7
g
|
Cholesterol:
54
mg
|
Sodium:
87
mg
|
Potassium:
84
mg
|
Fiber:
2
g
|
Sugar:
25
g
|
Vitamin A:
310
IU
|
Calcium:
15
mg
|
Iron:
1
mg
Tried this recipe?
Snap a pic and hashtag it #SugarHero. We love to see your creations on our Instagram @elabau.