These cute Cosmic Brownie Mini Cakes are layered with rich chocolate frosting and topped with rainbow chips, just like the classic Cosmic Brownies!
So here's what you need to understand about me: I'm an oldest child. When I was growing up, my parents were full steam ahead on healthy eating, early bedtimes, and limited television. Imagine sweet little baby Liz, carrying a wholesome sack lunch to school every day, watching just a bit of educational PBS content now and then, and being tucked into bed by 8:30 every night.
Now, by the time my youngest brother came along, they were exhausted and abandoned their rules, so that lucky dog was basically allowed to do anything—want to eat Cocoa Puffs while watching The Simpsons at 11:30 PM? Sure, why not?! But whatever, I don't still hold a grudge or anything.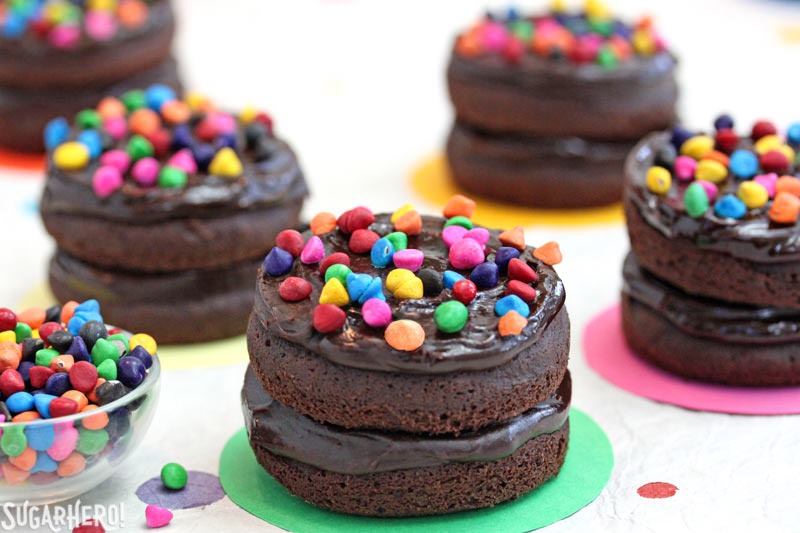 All of that is to say, I was not one of those lucky children bringing Little Debbie or Hostess snack cakes to school in my lunch. It was more like a sandwich, a piece of fruit, and a quarter for milk (and not chocolate milk, no sir). I'd watch my friends unwrap their Twinkies and Ding-Dongs with envy, then go back to my healthy turkey sandwich with a sigh. A psychologist might say that this explains my career in desserts now, but the truth is, I'm less interested in the why, and more interested in the what.
In this case, the WHAT is those gloriously fun and colorful Little Debbie treats known as Cosmic Brownies.
I never tasted cosmic brownies when I was growing up, but that doesn't mean I wasn't obsessed with them just the same. How could I NOT be?! Fudgy brownies, chocolate frosting, and—best of all—a big sprinkling of colorful rainbow chips on top? It's everything I love in a tidy, cellophane-sealed package. Sign me up!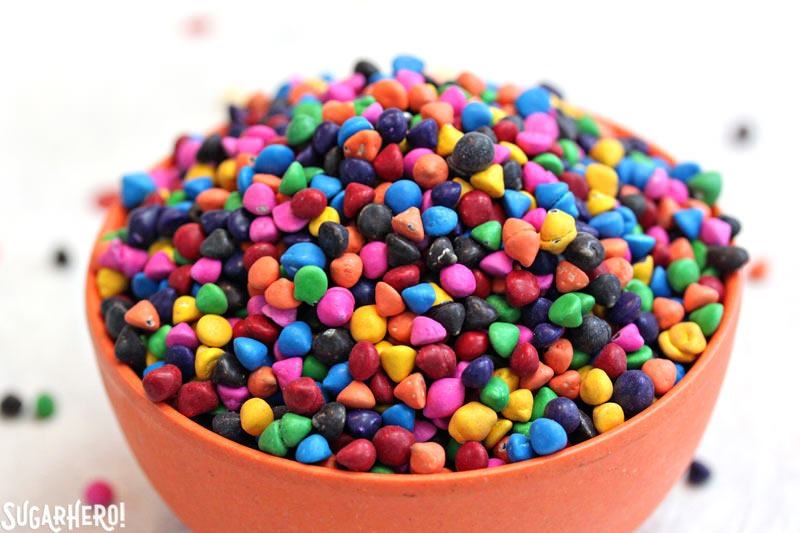 Ever since I bought these rainbow chips, I've wanted to make my own version of Cosmic Brownies. But just sprinkling rainbow chips on top of regular brownies seemed a little anticlimactic, so I gave them a little twist and turned them into mini cakes instead. They're two layers of dark, rich chocolate brownies, topped with a shiny semi-sweet chocolate ganache, and finished with a BIG pinch of crunchy, colorful rainbow chips.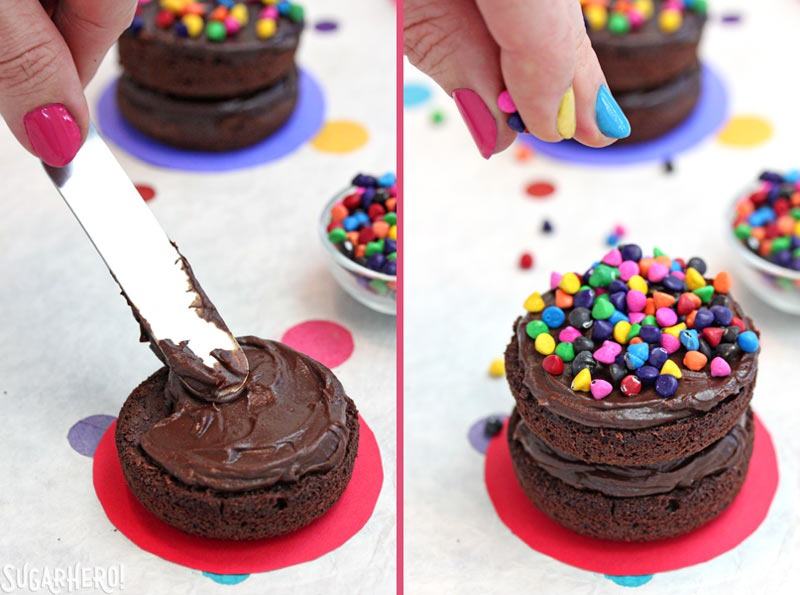 I used this Wilton Spool Cake pan to make these mini cakes—it looks a lot like a muffin pan, but the cavities are a bit larger, and they're straight-sided, so you can make perfectly proportioned mini cakes that stack beautifully. They're actually a great size to make Hostess-style snack cakes, so this is not the end of the "Elizabeth avenges her childhood of healthy eating" storyline! The cake pan is fun, but a muffin pan (or a jumbo muffin pan) would work just as well.
What about you—what favorite childhood treat are you itching to re-create?
🍫More Brownie Recipes to try:
Brown Butter Brownies
Brown butter is the secret ingredient that makes these homemade Brown Butter Brownies insanely rich and delicious! They have a shiny, crackly crust and the deep caramelized flavor of brown butter. If you've never browned butter before, you'll be amazed at how easy and delicious it is!
View Recipe
Cosmic Brownie Mini Cakes
These cute Cosmic Brownie Mini Cakes are layered with rich chocolate frosting and topped with rainbow chips, just like the classic Cosmic Brownies!
Ingredients
For the Frosting and Decorations:
Instructions
To Make the Brownies:
Preheat the oven to 350 F. Spray a

spool cake pan

or muffin pan with nonstick cooking spray.

Whisk together the flour, cocoa, and salt in a small bowl, and set aside.

Combine the butter, both chopped chocolates, and coffee or water in a large microwave-safe bowl. Microwave in 30-second increments, stirring after every 30 seconds, until the butter and chocolates are melted and the mixture is smooth.

Add the granulated sugar, and whisk it in. Whisk in the eggs one at a time, whisking very well after each addition. It should go from a grainy mess to a shiny mixture with the texture and appearance of chocolate pudding.

Add the flour to the bowl, and gently stir it in with a spatula. Use a level cookie scoop to fill each cavity in the pan—don't overfill, since you only want these brownie layers to be about ½-inch tall. Bake them for 9-10 minutes, until a toothpick inserted into the center comes out with just a few moist crumbs attached. (If you are using a muffin pan, you may need to adjust the batter amount and baking time.) If the brownies have domed, press down on the tops gently to level them out.

Let them cool for 5-10 minutes, then gently remove them from the pan and cool completely on a wire rack. Repeat until all of the brownie layers are baked. Cool completely before assembling.
To Make the Frosting and Decorate:
Place the chopped chocolate in a medium bowl, and pour the cream into a small saucepan. Heat the cream over medium heat until it comes to a simmer and bubble appear all along the edges of the pan. Pour the hot cream over the chopped chocolate and let it sit for one minute to soften the chocolate.

Gently whisk the chocolate and cream together until the chocolate is completely melted and the mixture is smooth and shiny. This is your ganache.

Press a layer of cling wrap directly on top of the ganache, and refrigerate it until it is thick enough to spread and has the texture of peanut butter—about 45 minutes. Alternately, if you make this in advance, you can leave it at room temperature for a day or so and it will cool and thicken up by itself.

To assemble, spread a tablespoon of ganache on top of one brownie layer, and spread a second tablespoon of ganache on top of a second brownie layer. Stack one layer on top of the other, and sprinkle a big pinch of rainbow chips on top of the brownie cake. Repeat until all of the cakes are assembled. If the cakes seem a little unstable, refrigerate them briefly to set the chocolate frosting a bit more. These Cosmic Brownie Mini Cakes are best served at room temperature.
Measuring Tips
Our recipes are developed using weight measurements, and we highly recommend using a kitchen scale for baking whenever possible. However, if you prefer to use cups, volume measurements are provided as well. PLEASE NOTE: the adage "8 oz = 1 cup" is NOT true when speaking about weight, so don't be concerned if the measurements don't fit this formula.
Want to learn more about baking measurements and conversion?
Nutrition
Serving:
24
g
|
Calories:
420
kcal
|
Carbohydrates:
40
g
|
Protein:
5
g
|
Fat:
28
g
|
Saturated Fat:
16
g
|
Cholesterol:
84
mg
|
Sodium:
128
mg
|
Potassium:
240
mg
|
Fiber:
3
g
|
Sugar:
29
g
|
Vitamin A:
540
IU
|
Vitamin C:
0.2
mg
|
Calcium:
50
mg
|
Iron:
3.4
mg
Tried this recipe?
Snap a pic and hashtag it #SugarHero. We love to see your creations on our Instagram @elabau.