This post may contain affiliate links. As an Amazon Associate I earn from qualifying purchases. Please see my disclosure policy for more information.
Meet your new favorite brownie recipe! These Ultimate Fudgy Chocolate Brownies are moist, ultra-chocolatey, and have the perfect crackly crust on top. You'll never want to use a boxed mix again!
Fudgy Chocolate Brownies
I'm not here to disparage boxed brownie mixes (put me in front of some Ghirardelli brownies and I'll go to town with no shame), but can we all agree that homemade brownies are in a class by themselves? They might be a little less convenient than using a mix, but they more than make up for it with a deep chocolate taste and amazing texture.⠀
And honestly, they're not even that much more work! You do need a microwave, because these brownies use both melted chocolate and cocoa powder, but other than that step, it's just a little whisking and stirring–just like with a boxed mix. And trust me, that melted chocolate step is worth it, because these rich and fudgy brownies are mmmmmmgood.
These Ultimate Fudgy Chocolate Brownies come from a recipe I re-discovered in an old baking notebook from about 5 years ago. I'd called them "Deep Dark Chocolate Brownies" back then, and decorated the recipe with stars all around the title. Apparently, good brownies bring out the middle schooler in me.
I decided to make them again, just to see what all the star-spangled fuss was about. Turns out my taste buds haven't changed much in the last half decade, because I loved these just as much now! They're basically my ideal brownie: they have the crackly top of a boxed mix (admit it: you love that crackly top!), but the flavor is pure chocolate bliss. The inside is moist and fudgy but not gummy, like some overly-chocolatified brownies are.
I know the world doesn't need another brownie blog post, but this isn't for the world. It's for me, so that I'll always have this recipe just one mouse click away. I don't want to lose it, or have it be buried in a notebook for another five years. No amount of highlighter stars can save it from that fate! So here, for posterity and laziness's sake, is my new favorite/old favorite brownie recipe. Maybe it'll be yours too.
And look, if regular brownies aren't exciting enough for you, here's how you can up your dessert game and reduce your life expectancy in one quick move. Warm brownies: check. Cold chocolate ice cream: check. Hot fudge sauce: check. Chocolate sprinkles: check. One spoon, your face, three minutes of bliss. Yesssssssss.
Tips for Making Fudgy Chocolate Brownies:
As with all things baking, you get out what you put in. Using great-quality chocolate and cocoa powder will produce a great-tasting brownie. You can use chocolate chips in a pinch, but I always recommend chopping up semi-sweet bars when possible. I like the Pound Plus bars from Trader Joe's, and Cacao Barry Extra Brute cocoa powder.
I always, always line my baking pans with foil going up and over the sides of the pans, then spray with nonstick cooking spray. Once the brownies are baked and cooled, just use the foil as handles and lift the block of brownies straight out of the pan. It makes it WAY easier to cut them neatly, and preserves the bottom of your pans as well!
Speaking of cutting brownies – if you want neat squares, never cut them while warm! Ideally, refrigerate them until chilled, then use a large sharp chef's knife. Wash the knife often between cuts so it doesn't drag through the brownies.
These brownies freeze well, so make a double batch and keep one in the freezer for dessert emergencies! (And yes, there IS such a thing as a dessert emergency!)
Peppermint Lava Cakes
Chocolate lovers will go crazy for these Peppermint Lava Cakes – mini chocolate cakes with a hint of peppermint and a molten chocolate center. They make a great holiday dessert!
Get the recipe!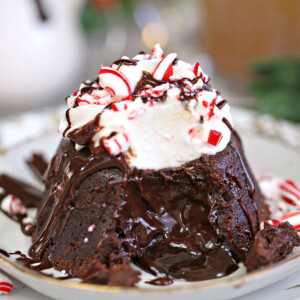 Brownie Lava Bites
These Brownie Lava Bites aren't exactly lava cakes, but they're lava cake inspired. Lava cake adjacent, you might say. They start out as brownie bites, but before they're baked, a truffle is poked in the center of the brownie batter, so that the inside stays soft and fudgy.
Get the recipe!
Ultimate Fudgy Chocolate Brownies
Meet your new favorite brownie recipe! These Ultimate Fudgy Chocolate Brownies are moist, ultra-chocolatey, and have the perfect crackly crust on top. You'll never want to use a boxed mix again!
Instructions
Preheat the oven to 350 F. Line a 9×13-inch baking pan with foil, extending it up and over the sides, and spray the foil with nonstick cooking spray.

Combine the finely chopped chocolate and butter in a large bowl, and microwave it in 30-second increments, stirring after every 30 seconds to prevent overheating. When the chocolate is mostly melted, with just a few pieces remaining, stop heating it and stir until the chocolate is fully melted and smooth.

In a separate large bowl, whisk together the eggs and sugar. Add the melted chocolate mixture, and whisk that in as well. Finally, sift the flour, salt, baking powder, and cocoa powder over the bowl, and stir it in gently with a spatula. Spread the brownie batter in the prepared pan.

Bake the brownies at 350 F for about 20 minutes, until the top is shiny and crackly, and a toothpick inserted into the center comes out with a few moist crumbs attached. Let the brownies cool to room temperature before taking them out of the pan and cutting them.
MEASURING TIPS
Our recipes are developed using weight measurements, and we highly recommend using a kitchen scale for baking whenever possible. However, if you prefer to use cups, volume measurements are provided as well. PLEASE NOTE: the adage "8 oz = 1 cup" is NOT true when speaking about weight, so don't be concerned if the measurements don't fit this formula.
Click here to learn more about baking measurements and conversion.
Nutrition
Calories:
235
kcal
|
Carbohydrates:
26
g
|
Protein:
2
g
|
Fat:
13
g
|
Saturated Fat:
8
g
|
Cholesterol:
50
mg
|
Sodium:
32
mg
|
Potassium:
132
mg
|
Fiber:
1
g
|
Sugar:
20
g
|
Vitamin A:
275
IU
|
Vitamin C:
0
mg
|
Calcium:
24
mg
|
Iron:
1.4
mg
Share by Email
Share on Facebook
Share on Pinterest