This post may contain affiliate links. Please see my disclosure policy for more information.
These gorgeous Snow Globe Cupcakes are topped with edible gelatin bubbles. That's right–you can eat both the cupcakes AND the globe! They look so amazing and impressive, and are perfect for the holidays!
Hello, and welcome! If you're looking for the famous Snow Globe Cupcake recipe, you've come to the right place! I'm thrilled that this recipe has become so popular. I want everyone to succeed at making these, so I've included both a photo tutorial AND a video tutorial for you! Once you make your Snow Globe Cupcakes, please feel free to share pictures on my facebook page or tag me on Instagram–I love to see how people make this recipe their own!
When I first thought of these, it took several months of dreaming and scheming to make them a reality. It took a lot of experimenting, several last-minute gelatin purchases, some late-night disasters, and a few choice words mumbled under my breath, but at last, this Christmas dessert finally lives up to the idea in my head!
The cupcakes themselves aren't anything special—you can use your favorite cupcake and frosting recipe, or even a box mix and canned frosting, if that's what this crazy holiday season requires. No, the real stars of the show, and the reason I'm still finding gelatin drips in the corners of my kitchen, are the beautiful gelatin bubbles perched on top of each cupcake.
My inspiration: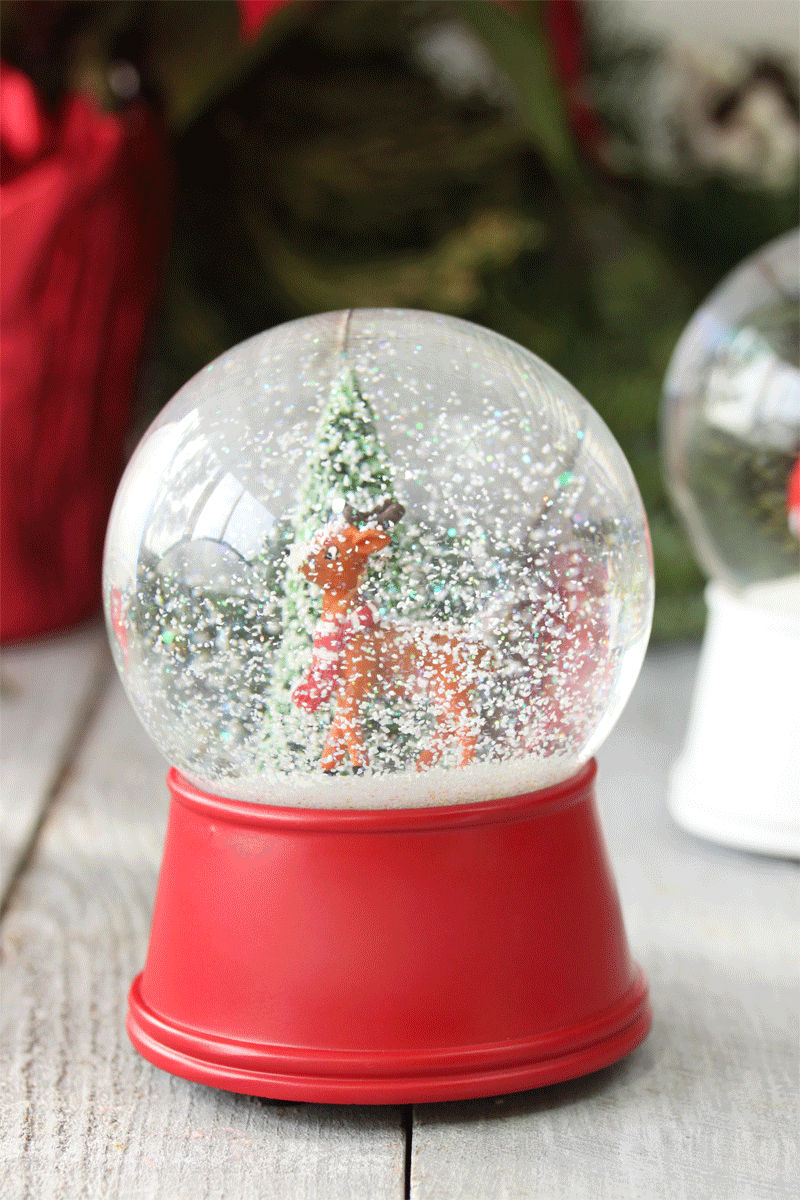 The bubbles are made of gelatin and water, so although they're technically edible, they're probably nothing you are going to want to eat. In that way, they're like royal icing or gum paste decorations on cakes—they won't hurt you if you eat them, but there are lots of things that are way more tasty. You'll probably want to focus your attention on the cupcake underneath, anyhow.
I used regular vanilla cupcakes and topped them with a thin layer of vanilla buttercream, then I rolled the tops in shredded coconut. If you're using standard water balloons like I was, you'll probably want to make sure to leave a margin along the edges of the cupcake, because the gelatin balloon will be a little smaller than the cake and you want to keep the coconut "snow" inside the balloon's walls.
To fill the snow globes, I used some trinkets I found at the local craft store and cake supply store: cute little snowmen, reindeer, evergreen trees…and maybe a dinosaur or two I stole from my son's collection. How funny would it be to serve your guests snow globe dinosaur cupcakes? We wish you a merry rex-mas…
I first read about gelatin bubbles when I pinned this gorgeous pearl cake from Cake Central, and I first saw them on cupcakes when Heather made these Bubble Gum Frosting Cupcakes. The actual method isn't too hard, and if you prepare them like those tutorials suggest, you probably have the ingredients (powdered gelatin and water) in your house already.
However, all of the tutorials I saw for gelatin bubbles assumed that I'd want to add food coloring or luster dust or some sort of coloring agent to the gelatin. When I made my first batch of bubbles, I was disappointed to see that they were a cloudy, dingy beige color, with lots of air bubbles and a murky appearance. This might not be a problem if I was going to add color to them, but I wanted them to look transparent, like glass. Instead, they looked like the bubbles on the right: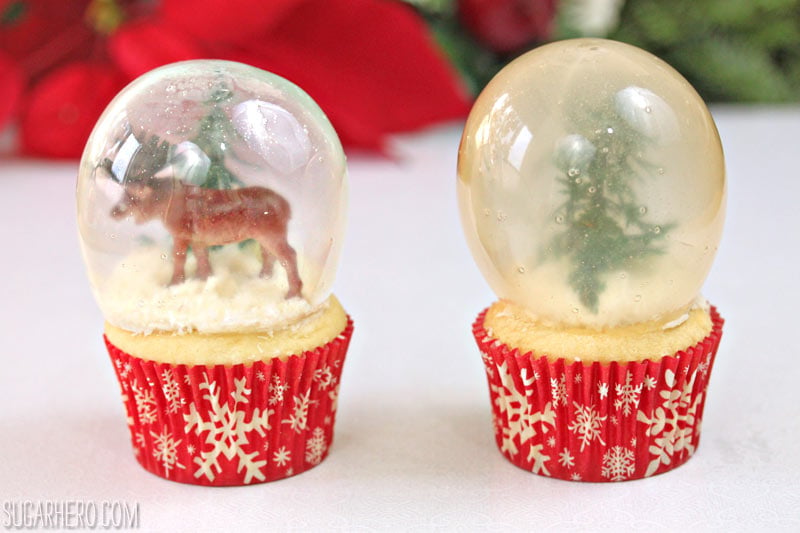 Left: bubbles from gelatin sheets Right: bubbles from powdered gelatin
The bubbles had the right shape, but I couldn't get over how sad and dirty they appeared. Maybe they would work for a "vintage" snow globe look, but I didn't want to make gelatin snow globes like you'd find in your grandma's attic—I wanted pristine, clear snow globes! And so the quest began…
Eventually, my experiments led me to these platinum gelatin sheets. Gelatin sheets, also known as leaf gelatin or gelatine, are what I've always used in professional kitchens. Although I believe they're much more common in other parts of the world, in the US they're rarely found in regular grocery stores, and instead, we have easy access to powdered gelatin, like Knox brand. The powdered gelatin works well for most applications, but if given a choice, I'd choose gelatin sheets every time. They're easy to work with, and they have a cleaner texture, clearer color, and less of a strong "gelatin" taste. There is much more to be said about the differences between types of gelatin, but why would I go on about it when David Lebovitz has already written a great post all about gelatin?
Gelatin sheets come in different strengths (bronze, silver, gold, and platinum), and I chose the highest grade, platinum, because it is the strongest, purest, and clearest available. (If you only have access to a different grade of gelatin sheets, you can absolutely make these gelatin balloons work, but you might have to adjust the gelatin/water ratio to get the perfect texture.) All of my trials and experiments were worth it, however, when I finally nailed my method and recipe. The gelatin balloons made with platinum gelatin sheets were strong and beautifully, gloriously clear. They are very difficult to photograph because of the glare, but you'll have to believe me that they look amazing in person.
Here's a quick and dirty photo tutorial showing how it's done! Bloom the gelatin, dissolve it with a bit of water, attach water balloons to skewers, then dunk the balloons. I liked the look of a single dunk the best—just one coating of gelatin produced balloons that were crystal-clear– but the gelatin balloons weren't quite strong enough when they were coated with just one layer. The single-dipped balloons would crinkle as they were being released, and although they could be popped back into shape, the crinkling left wrinkles in the balloons that made them look less than perfect. I settled for dipping my balloons twice, which produced gelatin bubbles that were mostly clear, but were a bit less transparent and had more surface bubbles as well.
One step that's not show in the tutorial is the very important step of greasing the balloons ever so slightly. This is a science second only to safe-cracking in its difficulty and reliance on detail! Too much grease and the gelatin won't stick to the balloon, but omit it and you'll have a tough time removing the balloon at all. The method that worked the best for me was to spray my hands with nonstick cooking spray, rub them together to get it to absorb, then to rub my hands on the balloons to transfer some of the oil. Just the lightest coating possible is all you need for happy balloons that release easily and cleanly.
The other thing to know about these gelatin balloons is that they take a long time to set—I gave each of my batches a solid 24 hours at room temperature to harden. Yours might be done before this time, and the process is faster if you keep them in front of a fan the whole time, but to be safe, leave yourself at least a day to assemble them.
And THAT is how you write a novel about gelatin bubbles! Sorry/not sorry for the technical minutia. Even if you have no interest in making them yourself, I hope that at least part of it was interesting, or that you enjoyed laughing at my pathetic early attempts! And if nothing else, you can raise an eyebrow at my clashing stripes in one of the tutorial pictures. I aim to entertain, in any possible way. Now go out there and make some edible snow globes!
A NOTE ABOUT THE GELATIN: It can sometimes be hard to source the platinum gelatin sheets–they tend to be sold out occasionally. I've personally tried this recipe with gold-level sheets and it works just fine, so if you can't find platinum sheets, these gold sheets work as well. If you only have access to powdered gelatin, please read the note at the bottom of the recipe–it will tell you how to use powdered instead.
Print Recipe
Snow Globe Cupcakes
These gorgeous Snow Globe Cupcakes are topped with edible gelatin bubbles. That's right–you can eat both the cupcakes AND the globe! They look so amazing and impressive, and are perfect for the holidays!
Ingredients
8

cupcakes

baked and cooled

1

cup

frosting of your choice

Flaked coconut

Snow globe-appropriate cupcake toppers like snowmen

Santas, reindeer, trees, etc

8

gelatin bubbles
Instructions
Transfer the frosting to a piping bag fitted with a round tip, or a plastic bag with a hole cut in the corner. Pipe a thin ring of frosting on top of the cupcakes, leaving a margin around the edges so that the gelatin bubble can enclose the frosting entirely.

Roll the top of the cupcakes in the flaked coconut. Add a cupcake topper or two to each cupcake—if it helps, you can glue a toothpick onto the back and use that the secure the toppers to the cupcakes.

Trim off the bottom of the gelatin bubbles, making a hole big enough to fit on top of the cupcake around the frosting. Carefully place a bubble on top of each cupcake. The bubbles will last indefinitely, but if they're exposed to a lot of moisture in the refrigerator or the frosting, they might eventually start to soften and lose their shape.
Nutrition
Calories:
271
kcal
|
Carbohydrates:
43
g
|
Protein:
2
g
|
Fat:
9
g
|
Saturated Fat:
2
g
|
Sodium:
192
mg
|
Potassium:
50
mg
|
Sugar:
33
g
|
Vitamin A:
20
IU
|
Calcium:
56
mg
|
Iron:
0.7
mg