This Peppermint Affogato recipe is a version of the classic Italian dessert made with ice cream and coffee, with a peppermint twist! It's hot, cold, sweet, bitter, minty…what's not to love?!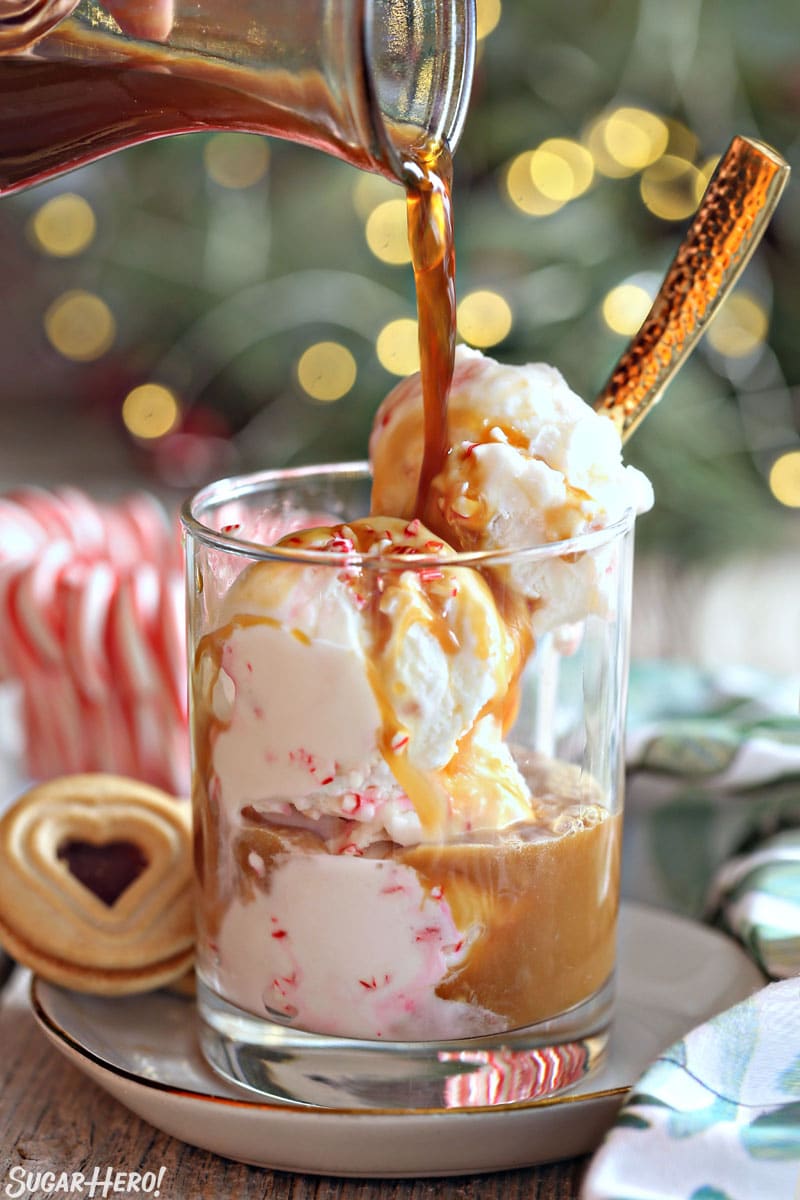 Affogato Dessert with Coffee and Ice Cream
Looking for an easy holiday dessert? It doesn't get easier than this peppermint affogato! Hot coffee and cold peppermint ice cream combine to form an absolutely delicious dessert. The ice cream starts to melt right away, producing a rich, frothy cream that's impossible to resist. Keep these ingredients stocked in your kitchen because you'll want to make this one all season long!
As soon as the calendar flips to December, a switch flips in my brain and I start to crave peppermint flavored everything. Hot chocolate? Of course. Cookies? For sure. And how about peppermint roasted chicken? I'm not saying it's a good idea, but I'm also not saying it's a bad idea…
Basically, peppermint is the flavor of the season and I am here for it. Are you with me? If so, you won't want to miss some of our most popular peppermint recipes: Peppermint Hot Chocolate, Peppermint Mocha Mousse Cake, and Peppermint Patty Flourless Chocolate Cake.
What is An Affogato?
The affogato is a classic Italian dessert, traditionally made by pouring a shot of hot espresso over a scoop of cold coffee. Affogato means "drowned" in Italian, and it's easy to understand how it got its name when you see the scoop of ice cream "drowned" in espresso, quickly melting into a delicious puddle.
Traditionally, affogato is made with bitter espresso instead of the coffee I use in this recipe, but as a sugar hero, you know that I'll never say no to a bit of extra sweetness! (Plus, without an espresso maker at home, it was a logical swap to make.)
As a bonus, using coffee instead of espresso makes this dessert a bit more approachable for people who might think espresso is too strong or too jolting for a late-night treat. Affogato traditionalists might scoff, but this peppermint version is bigger on flavor, lower on caffeine, and brimming with holiday cheer.
Table of Contents
🧾 Affogato Ingredients & Variations
If you couldn't tell from the intro, there are only 2 ingredients: coffee (or espresso) and ice cream (or gelato)! This recipe is for a peppermint version, so I've recommended a peppermint ice cream, but of course you should feel free to experiment with different flavors and ingredients. Here are some ideas to get you started:
You already know that you can use coffee instead of espresso, but if you're a lover of flavored coffee, give it a try in this recipe! You can also add a bit of flavored creamer to the coffee if you'd like–just use it sparingly so your finished dessert isn't too sweet.
Another great addition is a dash of your favorite liquor. Irish whiskey, Bailey's Kahlua, and Frangelico are all DELICIOUS choices. Add a splash over the ice cream before you pour on the coffee to really take this to the next level.
Add a bit of crunch by serving this with a cookie topper. Biscotti and ladyfingers would both be delicious, but any crunchy cookie/biscuit works well.
Top with shaved chocolate, chopped toasted nuts, candy pieces (like in this recipe) or sprinkles, if you're feeling playful.
💡 Tips and FAQs