This post may contain affiliate links. As an Amazon Associate I earn from qualifying purchases. Please see my disclosure policy for more information.
This Strawberry Buttercream is incredible! With a smooth, creamy texture and bright fresh strawberry flavor, it's going to be your new favorite frosting to put on everything!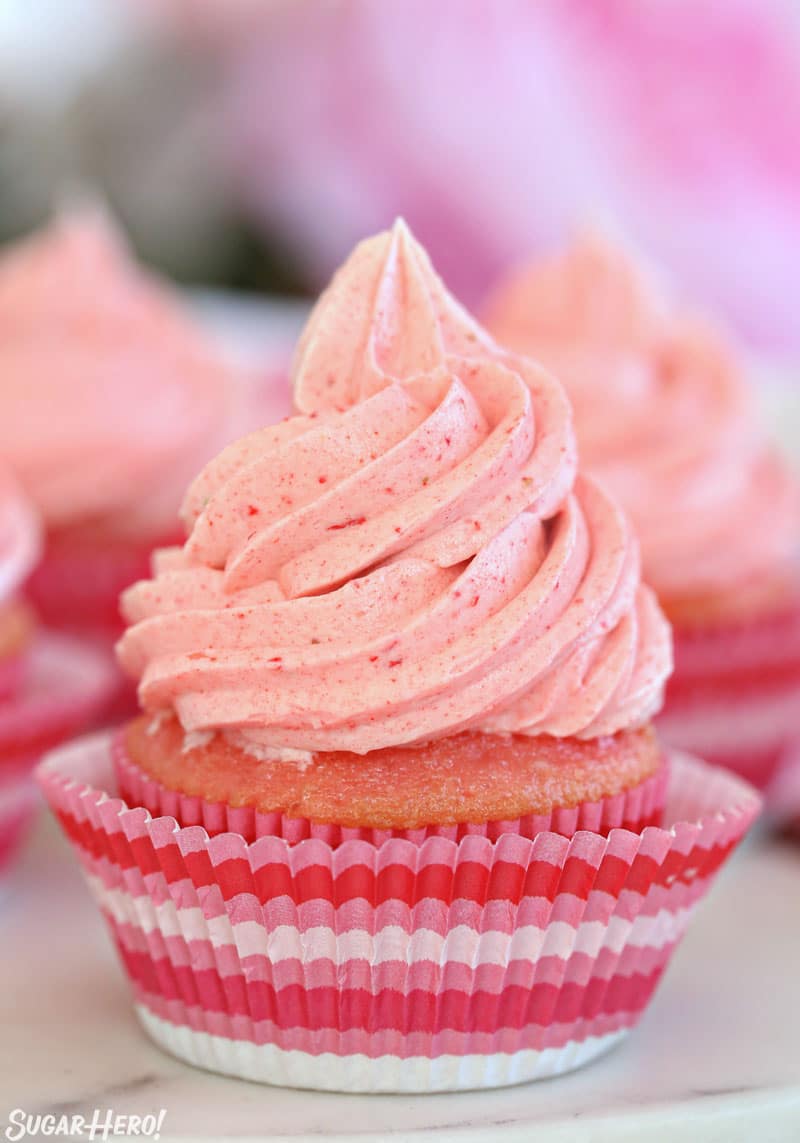 Strawberry Buttercream Frosting
When it comes to frosting, I can't argue that traditional vanilla buttercream is the most versatile. It can be flavored all sorts of ways, and is a great supporting partner–it never overwhelms any other flavors in the dessert.
But–sorry, vanilla lovers–it can also be a bit plain. When I'm looking to add a big pop of flavor to my cakes and cupcakes, I love to switch it up and use this strawberry buttercream instead. It's just as smooth and luscious as traditional vanilla buttercream, but it's got a bright, bold fruit flavor and pretty pink color that livens up any cake!
This Strawberry Buttercream Frosting is especially wonderful on spring-time, Valentine's and Easter desserts, which are perfectly suited for light, fresh fruit flavors like berries and citrus. But because it doesn't require fresh, peak-of-season strawberries, it can actually be made and enjoyed year-round!
I'll show you how to make this strawberry frosting, answer some common questions, and share my favorite recipe below!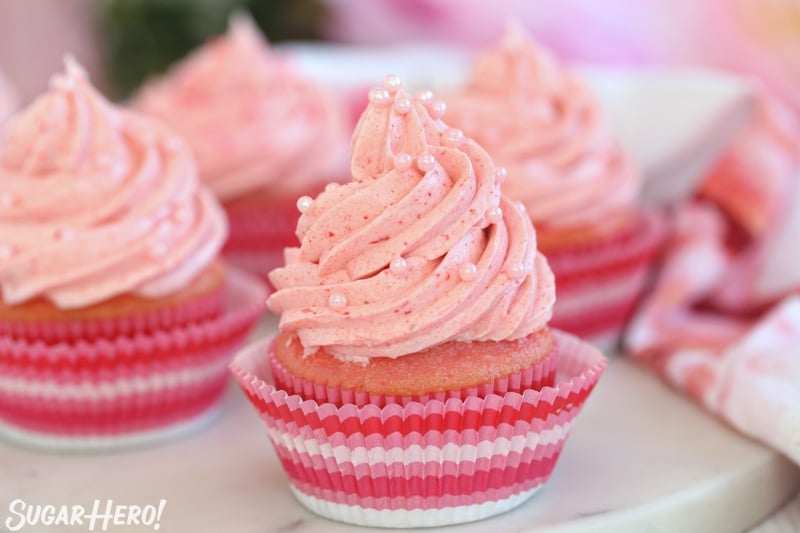 This Strawberry Buttercream Frosting recipe is based on my Easiest Swiss Meringue buttercream. This means it has a wonderfully light and smooth texture, doesn't crust, isn't too sweet, and is fast and easy to whip up!
This also means that it requires pasteurized egg whites in a carton, which are safe to eat without cooking because they are pasteurized. See the Easiest Swiss Meringue buttercream recipe for more information if you have any questions about this!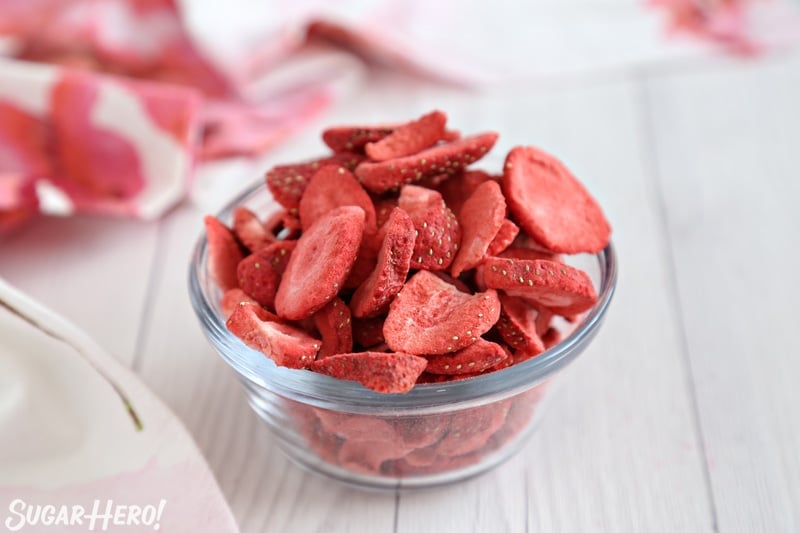 The Secret to the Best Strawberry Buttercream
The secret to getting a big, bold strawberry flavor in your buttercream? FREEZE DRIED STRAWBERRIES.
Freeze-dried strawberries are light and crunchy, and unlike traditional dried strawberries, they have no additional sweeteners added. This means the bright sweet-tart taste of strawberries shines through in every bite.
It used to be difficult to find freeze-dried fruit, but fortunately it's now much easier, and most large supermarkets stock it near the other dried fruit! I typically buy mine at Trader Joe's or Target, but you can also find freeze-dried fruit online if you can't find it in stores. Buying in bulk will save you some money, but be aware that the fruit will lose its crunchy texture the more it's exposed to air, so once opened, it's not great for long-term storage.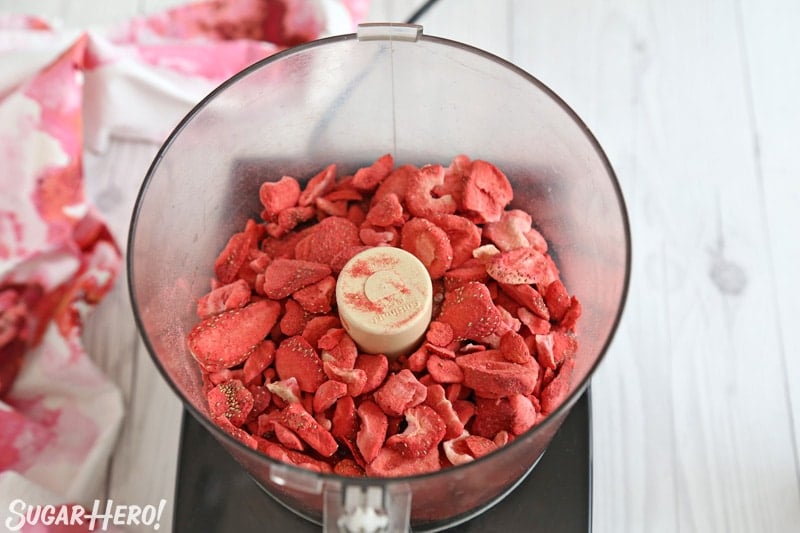 Take the freeze-dried strawberries and place them in a food processor. If you don't have a food processor, you can also use a (clean!) spice grinder, or a blender.
You can also crush them by hand by putting them in a zip-top plastic bag and rolling over it with a rolling pin. However, we want the strawberries to be a really fine powder, which is harder to do by hand.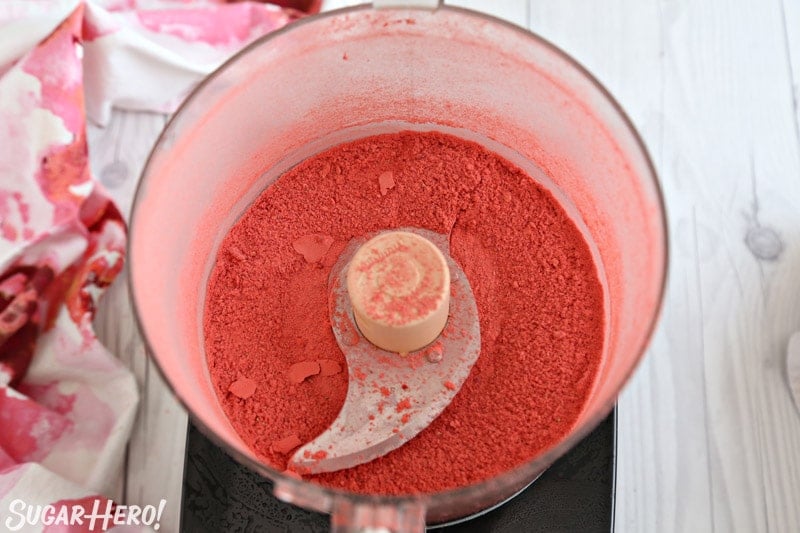 Process the berries until they're a very, very fine powder. You may need to shake the processor, or stop periodically and stir the berries, to make sure that you're not left with berry chunks.
Tip: Cover the top and sides of your food processor with a kitchen towel or plastic wrap before turning it on. The pulverizing process will create a lot of fine strawberry dust that will float up through the processor and get all over your kitchen unless you cover the processor!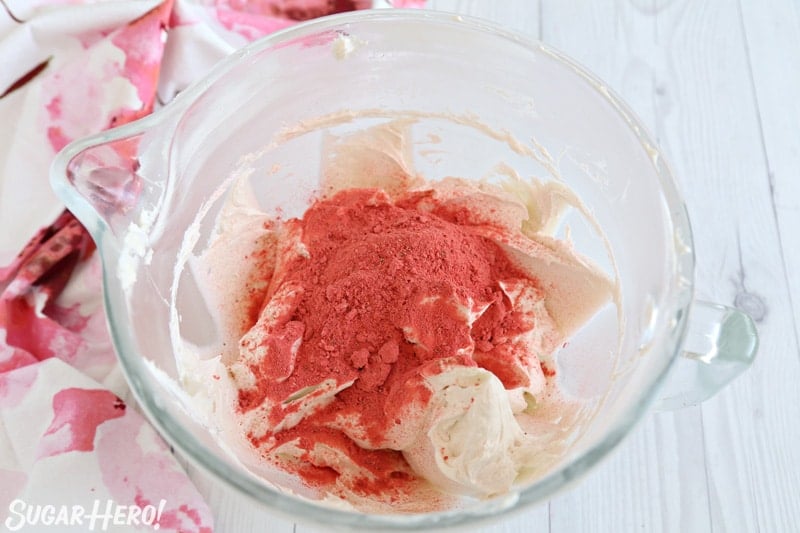 Now add this strawberry powder to your buttercream! Mix it together on low speed, and your plain vanilla buttercream will be transformed into a pale pink frosting with a vibrant strawberry flavor!
If you want a darker pink color, use a few drops of your favorite food coloring–I love and recommend Americolor Soft Pink.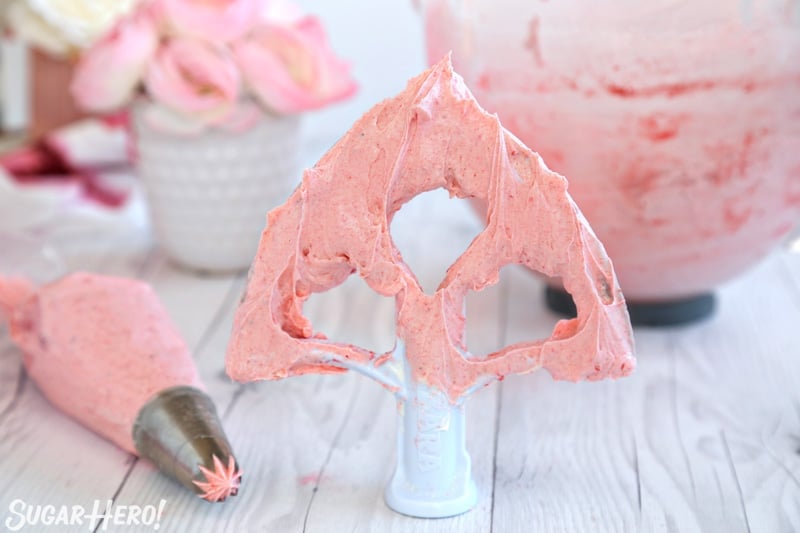 After a quick mix to incorporate the strawberry powder and any optional coloring, your buttercream is ready to use! Isn't it gorgeous? I love how it has tiny specks of strawberries and strawberry seeds in it–it has such a pretty, realistic look.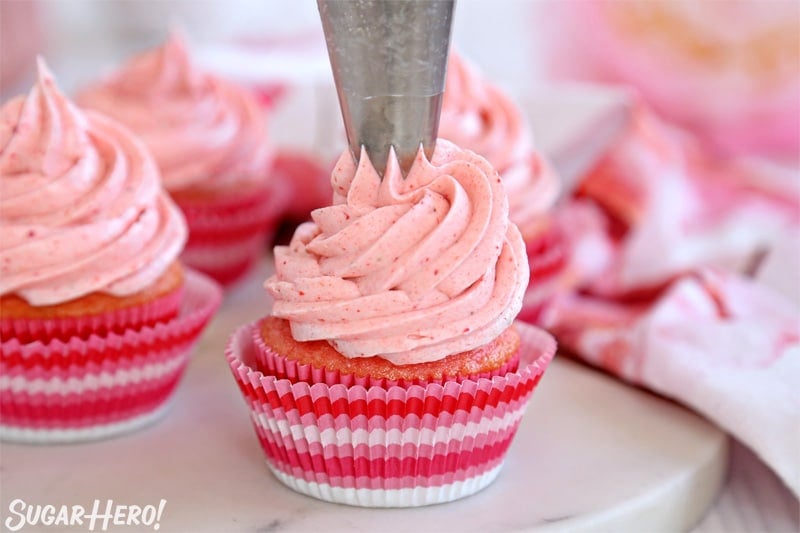 Strawberry Frosting FAQs
Can I Use Fresh Strawberries to Make Strawberry Frosting?
Yes. I still prefer the flavor and texture of freeze-dried berry frosting, but if you have fresh berries, you can make it work! Here's a quick checklist:
make sure your berries are very flavorful. Watery, bland berries will produce bland frosting!
Use 12 oz berries per regular batch
Puree them, then strain them through a fine mesh strainer to remove most seeds.
Simmer the puree until it reduces to about a third of its original volume. It's very important to boil off a lot of the water, so you concentrate the flavor and don't change the texture of the buttercream.
Let the puree cool completely before adding it to the buttercream. Add a bit at a time so you can monitor the texture of the frosting and make sure it doesn't get too loose.
You might need to add a bit of strawberry extract to boost the flavor, or pink coloring to boost the color.
Can I Use Strawberry Jam to Make Strawberry Buttercream?
No, I don't recommend using jam to flavor strawberry buttercream. Jam has a lot of sugar added, and you will need to add a lot of jam to get a strong strawberry flavor. This will result in a frosting that is incredibly sweet, and still lacking in fresh strawberry flavor. Jam can be a good cake filling, but is not a good choice for flavoring frosting.
Can I Use Strawberry Extract to Make Strawberry Buttercream?
You can, but the results can be really hit or miss. Many strawberry extracts have a strong artificial flavor, and the resulting frosting will taste more like candy (or medicine!) than like the fruit. So depending on the strawberry extract you have, you might not be pleased with the results.
My favorite brands for natural extracts are Frontier Co-op and OliveNation. If you use an extract, consider adding a pinch of citric acid as well, which will add tartness and make the frosting have a more natural berry taste.
How Should I Store Strawberry Buttercream?
Using freeze-dried berries, this frosting can be stored for 1-2 days at room temperature, 2-3 weeks in the refrigerator, or up to 6 months in the freezer. Once it comes to room temperture, re-whip it briefly to restore its smooth texture.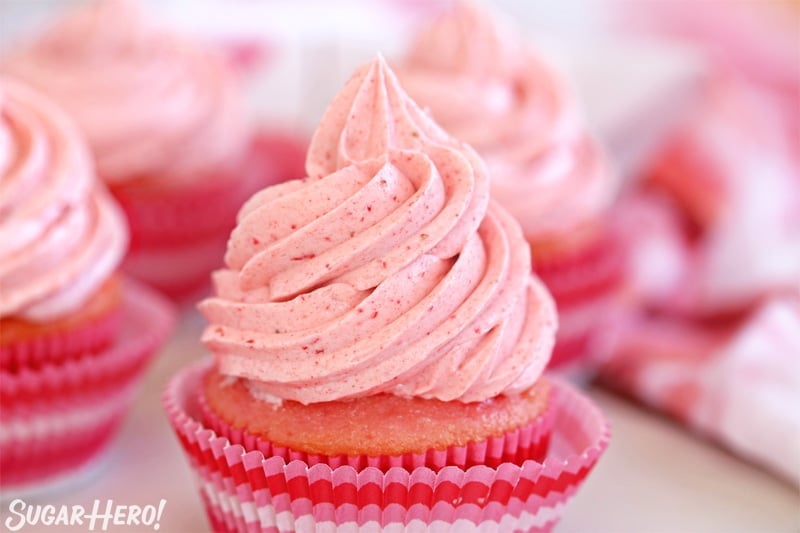 Cookie Dough Frosting
This easy Cookie Dough Frosting tastes just like chocolate chip cookie dough! Use it to frost your favorite cakes and cupcakes, as a filling for layer cakes, or even turn it into chocolate chip cookie dough dip!
Get the recipe!
Lime Cream Cheese Frosting
This Lime Cream Cheese Frosting is made using fresh lime juice and zest and works well on cupcakes, muffins and sweet breads.
Get the recipe!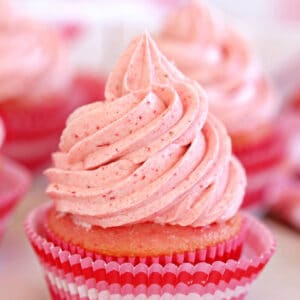 Strawberry Buttercream
This Strawberry Buttercream is incredible! With a smooth, creamy texture and bright fresh strawberry flavor, it's going to be your new favorite frosting to put on everything!
Ingredients
6

fl oz

pasteurized liquid egg whites

, (

3/4

cup, see Note below)

24

oz

powdered sugar

, (

6

cups)

1/2

tsp

salt

24

oz

unsalted butter

, at room temperature (

6

sticks)

2

TBSP

vanilla extract
Instructions
Combine the whites, powdered sugar, and salt in the bowl of a large stand mixer fitted with a paddle attachment. Mix everything together on low speed, until the sugar is moistened and no dry patches remain. Turn off the mixer, scrape down the sides and bottom of the bowl with a spatula, then turn the mixer to medium speed. Beat on medium for 5 minutes.

After 5 minutes, turn the mixer to medium-low and start adding the softened room temperature butter, 1-2 tablespoons at a time. Once all of the butter is incorporated, add the vanilla extract and mix it in.

Stop the mixer and scrape down the bottom and sides once more. Turn the speed to medium and beat the buttercream for 10 minutes. At the end, you'll have a frosting with a wonderfully light and creamy texture.

Place the freeze-dried strawberries in a food processor and process in long pulses until the strawberries are a very fine powder.

Add the strawberry powder to the prepared frosting. Mix on low speed until the powder is well-mixed into the frosting. Add a few drops of pink food coloring, if desired, to boost the pink color.

This frosting can be used right away, or stored in the refrigerator for up to two weeks, or the freezer for up to two months. If you have chilled the frosting, let it come to room temperature COMPLETELY and then beat it for several minutes to smooth it out and restore its texture before using it.
Recipe Notes
This frosting is based on the

Easiest Swiss Meringue Buttercream

, and it calls for pasteurized egg whites in a carton.

It is safe to consume these egg whites, because they have been pasteurized.  To save time, I buy them in a carton–look for 100% egg whites, not liquid egg substitute. If you cannot find them in a carton, you can buy pasteurized eggs and separate them yourself. You'll need about 5-6 large eggs to get the ¾ cup called for in the recipe.
MEASURING TIPS
Our recipes are developed using weight measurements, and we highly recommend using a kitchen scale for baking whenever possible. However, if you prefer to use cups, volume measurements are provided as well. PLEASE NOTE: the adage "8 oz = 1 cup" is NOT true when speaking about weight, so don't be concerned if the measurements don't fit this formula.
Click here to learn more about baking measurements and conversion.
Nutrition
Calories:
989
kcal
|
Carbohydrates:
92
g
|
Protein:
3
g
|
Fat:
69
g
|
Saturated Fat:
44
g
|
Polyunsaturated Fat:
3
g
|
Monounsaturated Fat:
18
g
|
Trans Fat:
3
g
|
Cholesterol:
183
mg
|
Sodium:
194
mg
|
Potassium:
158
mg
|
Fiber:
1
g
|
Sugar:
89
g
|
Vitamin A:
2125
IU
|
Vitamin C:
87
mg
|
Calcium:
25
mg
|
Iron:
2
mg
Share by Email
Share on Facebook
Share on Pinterest