This post may contain affiliate links. As an Amazon Associate I earn from qualifying purchases. Please see my disclosure policy for more information.
Summer lovin, had me a blast,
Summer lovin, happened so fast…
Summer's not over yet, but it does feel like we might be on the downhill slope of it—or is that just my wishful thinking? Here in southern California we're still firmly in the grips of scorching days and muggy nights, but I'm starting to dream of fall. Crisp mornings, overcast days, cozy sweaters and the smell of wood-burning fires. Yes please.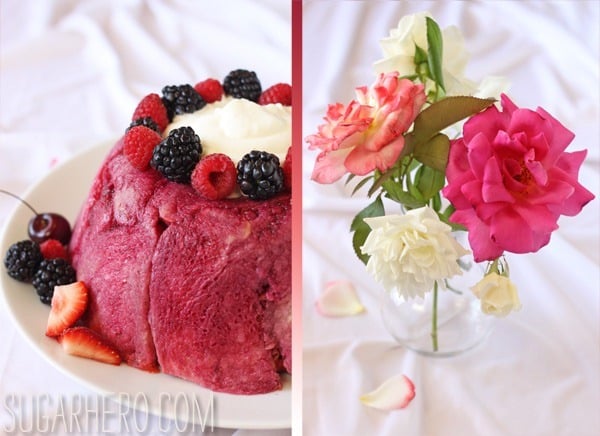 Since fall refuses to come when beckoned, we might as well make the most of the summer we have left. This Summer Pudding is a "pudding" in the English sense of the word, meaning it's dessert. (No packages of sketchy Jell-o pudding were harmed in the making of this beauty!)
Instead, it's made from rich bread, soft with berry juices, surrounding a filling of fresh fruit. That's it. Bread, and fruit, and a little whipped cream on top, if you like that sort of thing. How much more summery can you get?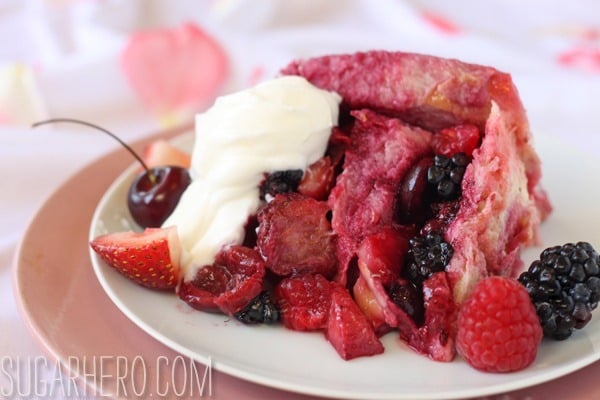 I like to think of summer pudding as the hot weather equivalent of bread pudding. The concept is the same—bread, when softened by custard or fruit juice, becomes a sweet and luscious dessert. But instead of baking this pudding in the oven, it simply sits overnight in the refrigerator, until it is transformed from the sum of its ingredients into something more.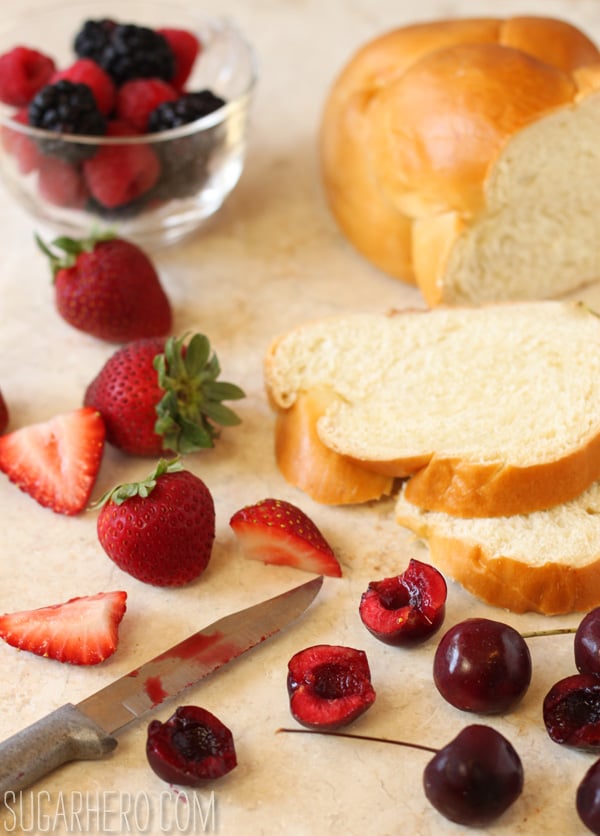 It's magic: you don't have to heat up your house, you don't have to go to the trouble of baking a cake, and yet the end result is like the softest, sweetest, freshest berry cake you can imagine. When you slice it, it's maybe a little more on the rustic side of things, but I think the homespun look adds to its charms.
A few notes: I used challah, which worked very well. Although you can use any white bread, I think this dish is tastiest with an enriched, slightly sweet bread, like brioche or challah. As you can see from the pictures, I cut slices more than a half-inch thick, and next time I would make them a little thinner. I think between a quarter and a half of an inch would be perfect.
You can use any berries you have on hand. For taste reasons, fresh berries, in season, are obviously going to be worlds better than frozen berries. With so few ingredients, you will really taste a difference if you start with delicious fruit! I also used a lot of cherries, and while they added a nice flavor, they don't give off as much juice as other berries. For the purposes of this recipe, I would use mostly strawberries/raspberries/blackberries, and use other fruits, like cherries or currants, more sparingly.
Summer Pudding
This Summer Pudding is made from rich bread, soft with berry juices, surrounding a filling of fresh fruit. I don't think pudding can get any more "summery" than this!
Ingredients
2 1/2

lbs

mixed berries

,

preferably fresh

3/4

cup

granulated sugar,

or more to taste

zest of 1 lemon

1 1/2

lbs

challah or other white bread

Whipped cream to serve
CUSTOMIZE:
pudding in a 9"x6" bowl
Instructions
Separate out about one-fifth of the berries from the rest. Put the remaining berries in a medium saucepan, along with the granulated sugar and the lemon zest. Stir everything together, and place it over medium heat. Warm up the berries, stirring occasionally, until they soften and let out their juice, for about 5 minutes. You want to make them very juicy, but they should still retain their shape—don't cook them into a pulp! Taste the mixture and add more sugar if desired. Once soft and juicy, remove the pan from the heat and let it cool to room temperature.

Line a large bowl, approximately 9x6 inches (the exact size is not important—this dessert is flexible) with cling wrap that extends up and over the sides. This will make it easier to neatly remove the pudding later.

Cut the crust off the bread, so you're left with the white interior, and cut the bread into slices between 1/4 and 1/2 inch thick.

Strain the berries from the juice, and reserve the juice. Take the fresh berries you separated out before, and add them to the cooked berries—this gives the pudding a nice textural variation.

Quickly dip a piece of bread in the berry juice, then press it in the bottom of the bowl. Dip another piece, and, overlapping it onto the bottom piece, press it up the side of the bowl. Continue dipping bread, lining the sides of the bowl and overlapping them slightly, so that there aren't any gaps between the bread slices. If necessary, trim the bread to fit any empty spaces.

Pour half of the berry mixture on top of the bread in the bowl. Dip more bread in the juice, then press a layer of bread pieces on top of the berries. Pour the remaining berries on top of this bread layer, then finish with one more layer of bread on top. Make sure that the slices fit together well, since this will be the bottom layer of the pudding when it's inverted.

Press a piece of cling wrap on top, then cover the pudding with a plate. Put several heavy cans on the plate, to compress the pudding and help it hold together. Refrigerate it overnight.

The next day, remove the cans, plate, and cling wrap. Put the bowl upside down onto a serving dish and unmold the pudding. Serve with whipped cream and additional fresh berries, if desired. This keeps very well for up to a week in the refrigerator.
MEASURING TIPS
Our recipes are developed using weight measurements, and we highly recommend using a kitchen scale for baking whenever possible. However, if you prefer to use cups, volume measurements are provided as well. PLEASE NOTE: the adage "8 oz = 1 cup" is NOT true when speaking about weight, so don't be concerned if the measurements don't fit this formula.
Click here to learn more about baking measurements and conversion.
Nutrition
Calories:
1158
kcal
|
Carbohydrates:
287
g
|
Protein:
4
g
|
Fat:
7
g
|
Saturated Fat:
0
g
|
Cholesterol:
0
mg
|
Sodium:
12
mg
|
Potassium:
612
mg
|
Fiber:
30
g
|
Sugar:
245
g
|
Vitamin A:
520
IU
|
Vitamin C:
28.4
mg
|
Calcium:
91
mg
|
Iron:
2
mg
Share by Email
Share on Facebook
Share on Pinterest