Learn how to make blue "crystal meth" rock candy inspired by Breaking Bad. It's easier than you think, and the results look AND taste delicious. Perfect for costumes and viewing parties!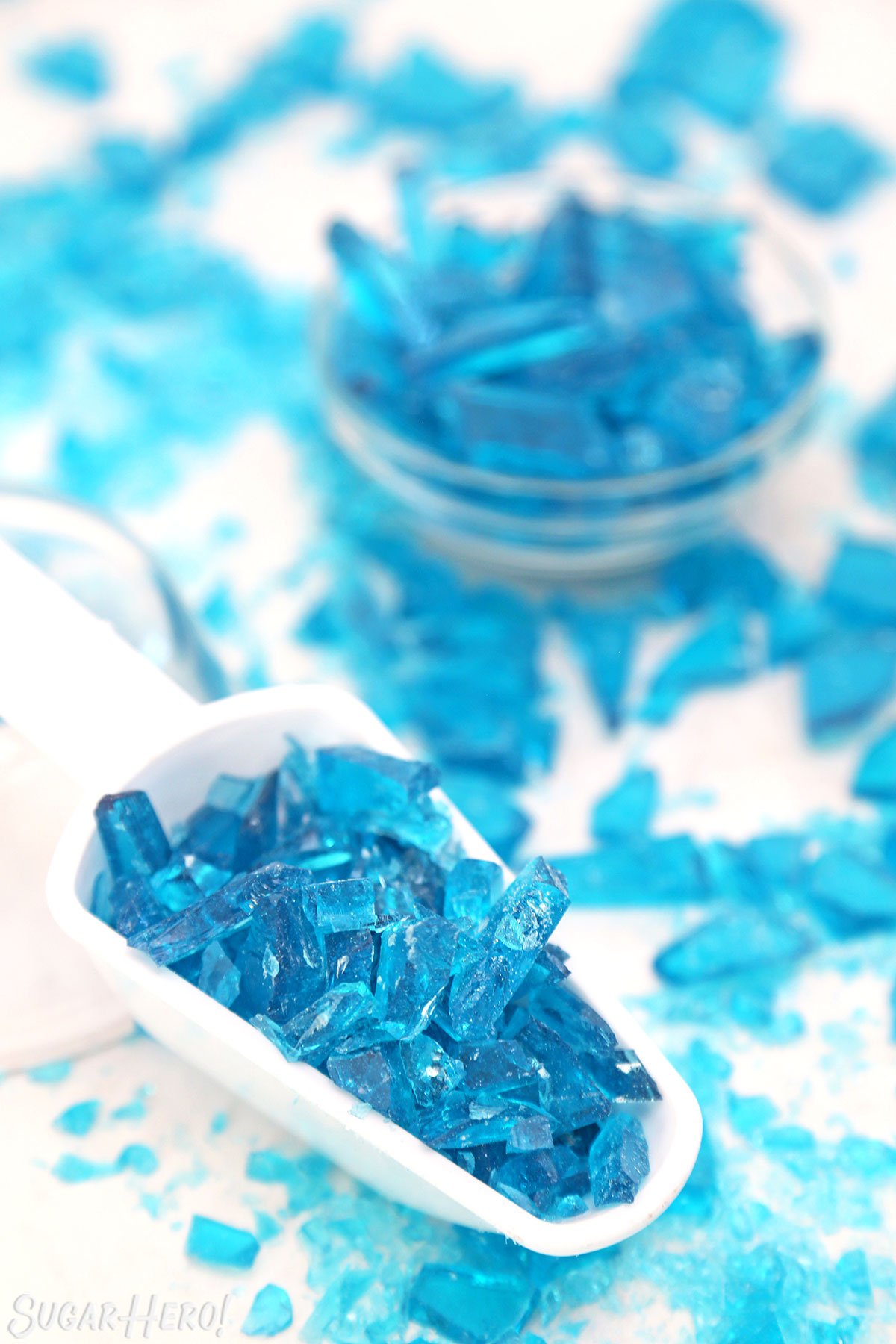 💙 How to make blue rock candy
This rock candy recipe is inspired by the television show Breaking Bad. As any viewer knows, the plot revolves around the blue-tinged crystal meth created by chemistry teacher Walter White and his student-turned-partner Jesse Pinkman. The meth is so pure, so potent, that it changes the entire southwestern drug trade and, eventually, the very lives of its creators.
As a fan of both sugar and television, imagine my delight when I found out that the "meth" used in the show is actually rock candy. Too perfect! So way back in 2012, at the height of Breaking Bad mania, I decided to create my own rock candy recipe, modeled after the Breaking Bad drug, for a viewing party with friends. Since it was first posted a decade ago, hundreds of people have made it for parties and Halloween costumes. Here is just a small sampling of the readers who have made it, loved it, and sent in pictures: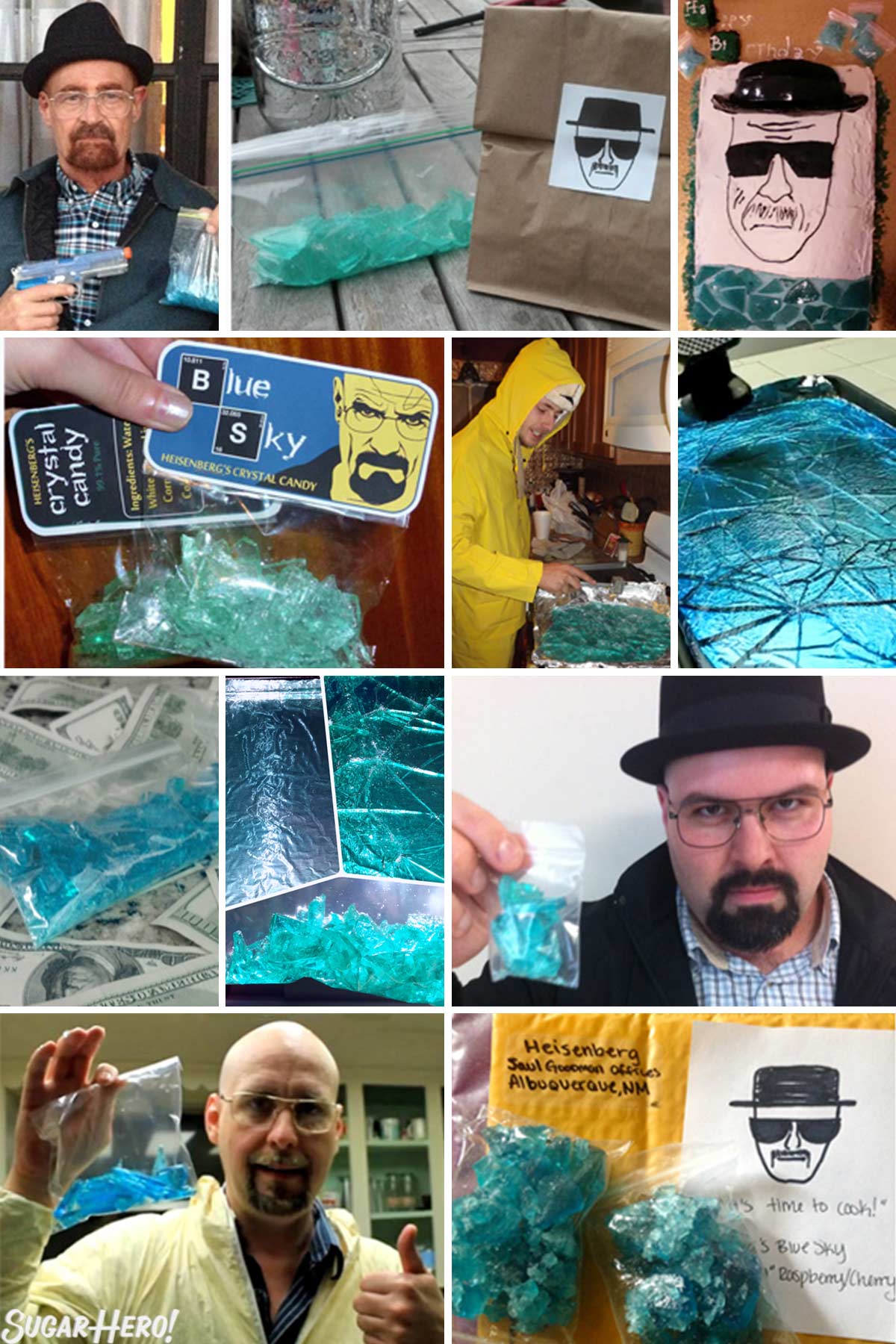 Although Breaking Bad is now off the air, this recipe remains a popular one, so it seemed overdue for an update. I've revised the post and recipe to make it more thorough, detailed, and helpful for YOU, my budding little Heisenbergs!
How to rock your candy-making
Rock candy is not difficult to make, and even beginning candy makers can do it successfully on their first try. Here are a few things you can do to ensure success:
Read the recipe before beginning. This might sound obvious, but you'd be surprised! Once the candy hits a certain temperature things move very fast, and you want to be prepared to act right away, not be stuck reading the next step.
Use a candy thermometer. More on this below, but it is the #1 tool that will guarantee you success.
Read the Tips & Troubleshooting sections right before the recipe. Overwhelmingly, when people have trouble with this recipe, it is caused by a few very common mistakes, and knowing what these are in advance will help you avoid them.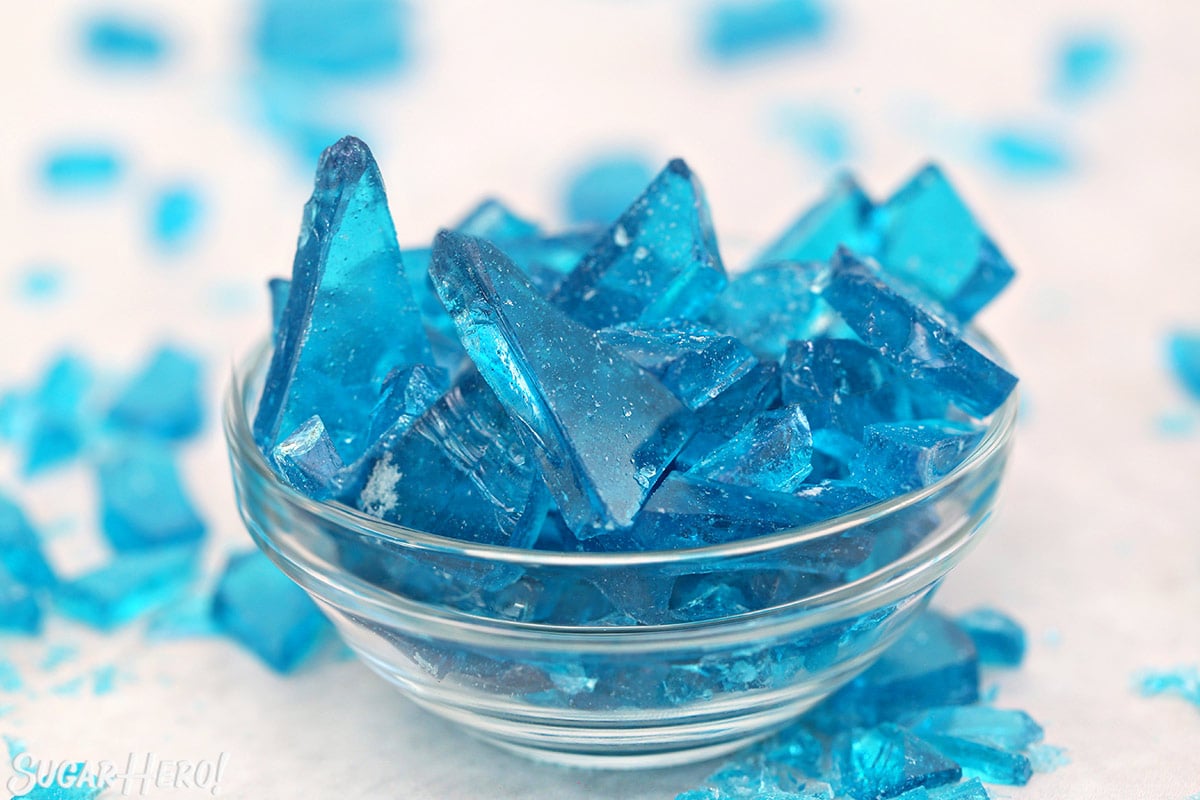 Table of Contents
🧾 What You'll Need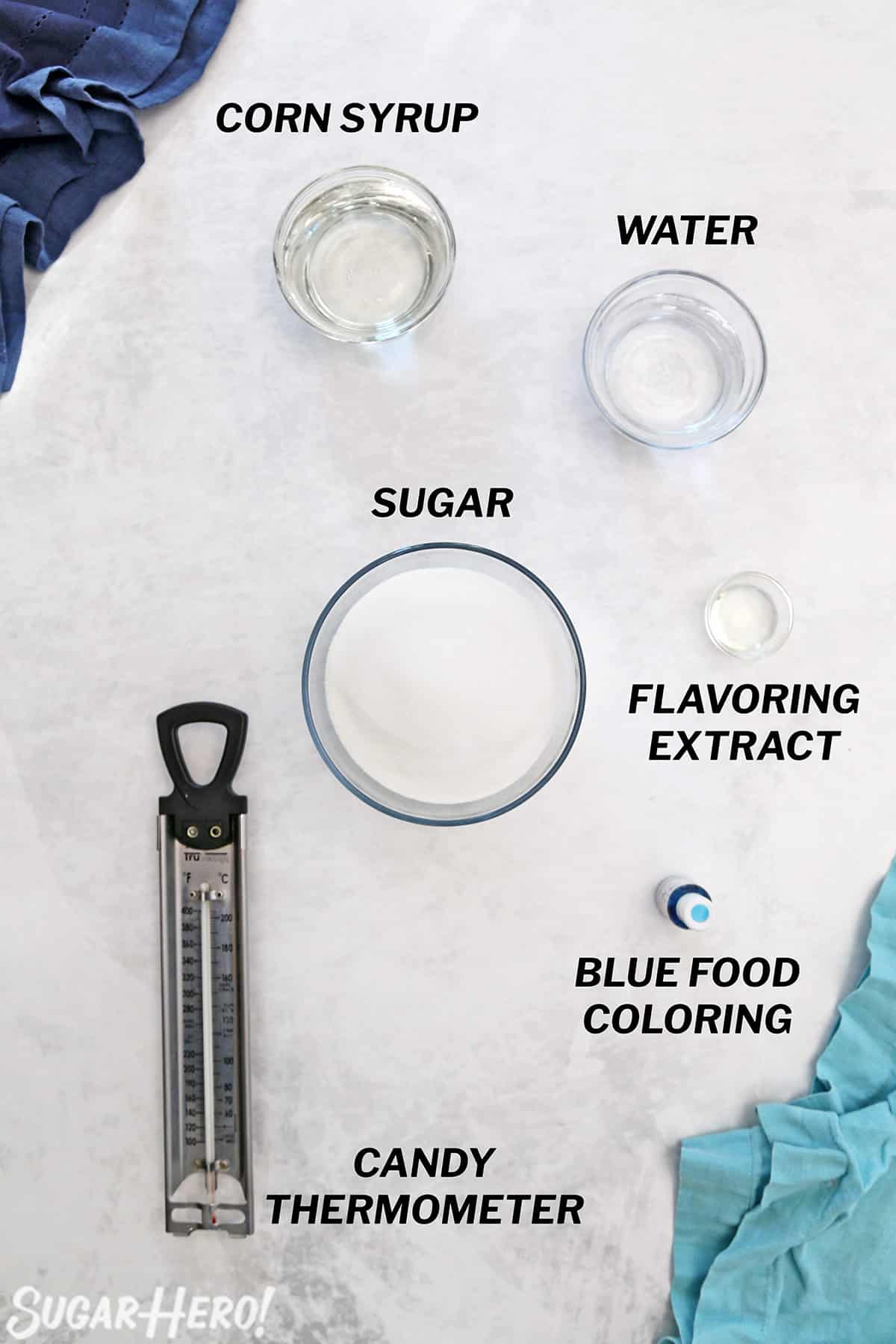 Ingredients

& Equipment

Here's what you need to know as you gather your candy-making supplies. (Links are affiliate links and I earn a small commission from qualifying purchases.)
📋 How to Make Rock Candy
Here's an overview of how to make this blue rock candy, and full instructions are included in the recipe card down below.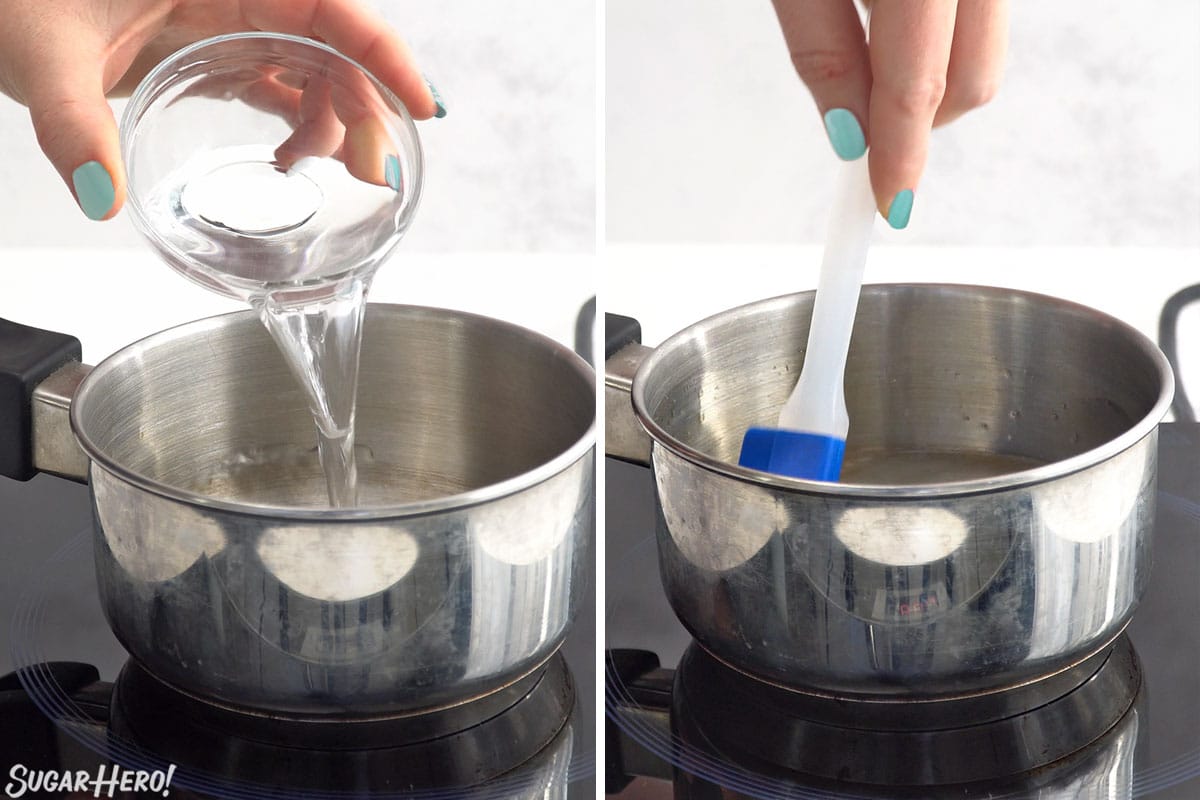 Make the sugar syrup
Combine water, light corn syrup, and granulated sugar in a medium saucepan over medium-high heat.
Stir until the sugar is moistened and dissolves.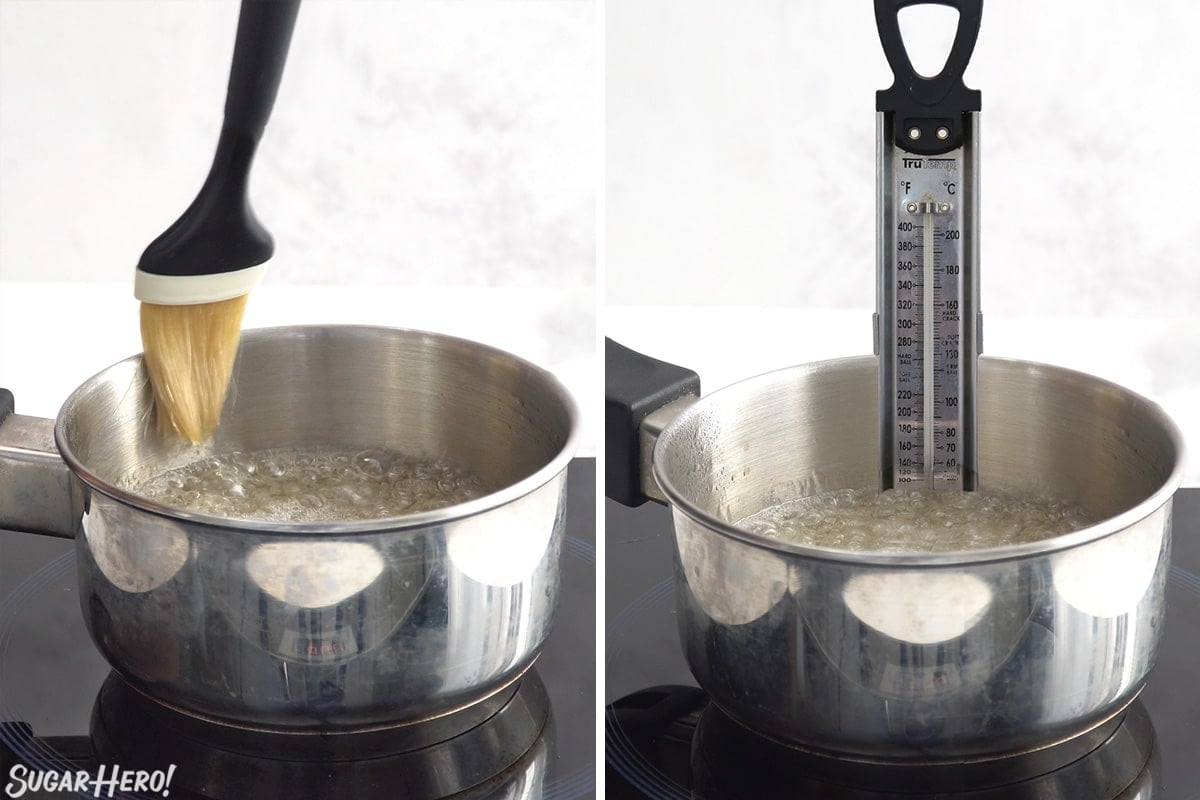 Brush down the sides of the pan with a wet pastry brush – this will remove any stray sugar crystals. Sugar crystals in the pan can cause your whole batch to crystallize.
Once it comes to a boil, insert a candy thermometer. From this point on, do not stir the candy.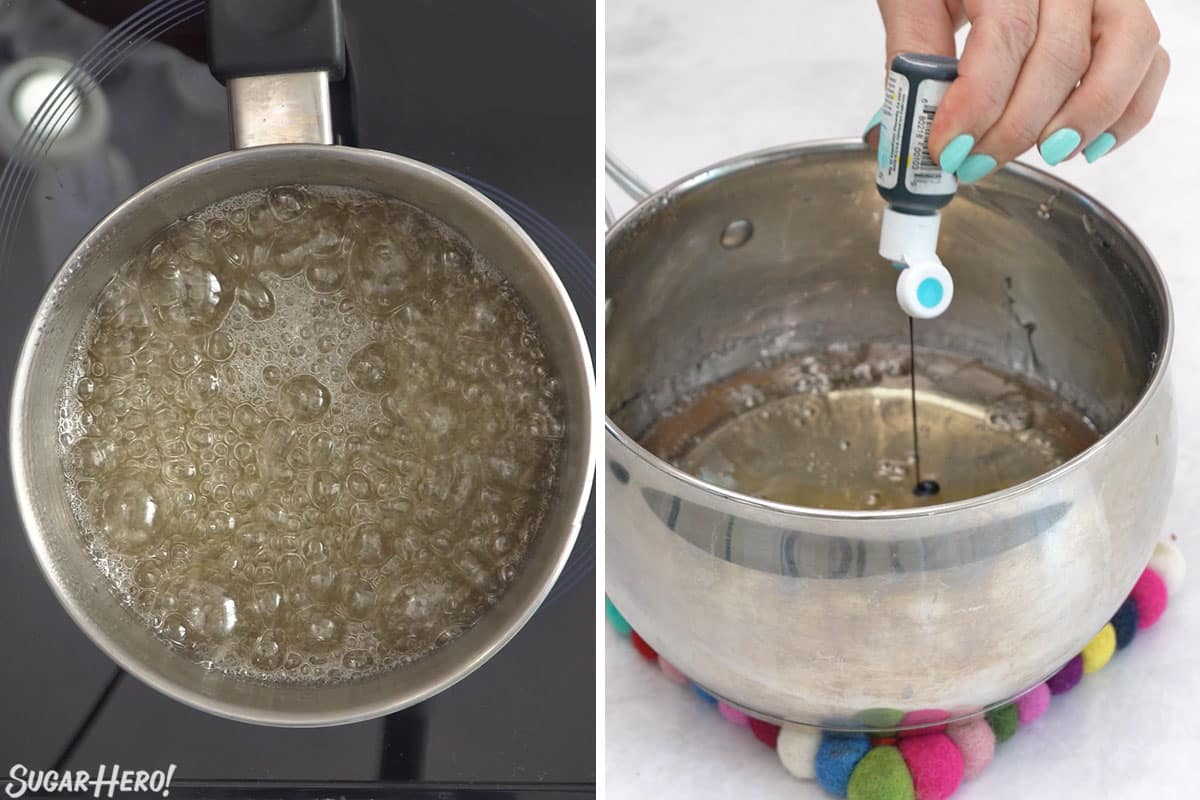 Cook and add coloring
Cook the candy until it reaches 290 F on the thermometer. It should be a light yellowish color.
Immediately remove the pan from the heat. Let it sit for a minute, until the rapid bubbling stops, then add flavoring extract and blue gel food coloring.
Stir well until the color is evenly distributed.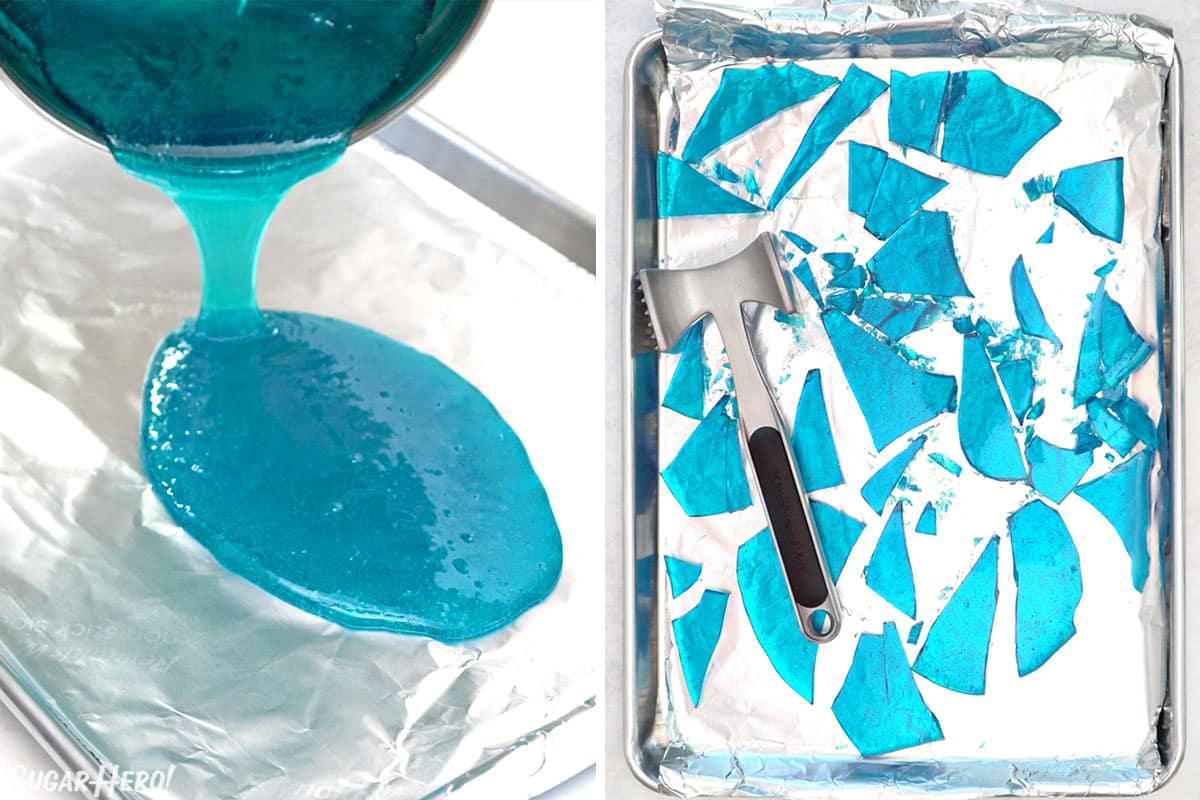 Pour and cool
Pour the hot candy out onto a baking sheet covered with foil. You can spread it into a thinner layer with the spatula if you'd like.
Let the candy cool completely at room temperature, until it is set and hard.
Use a knife or kitchen mallet to smash it up into smaller pieces.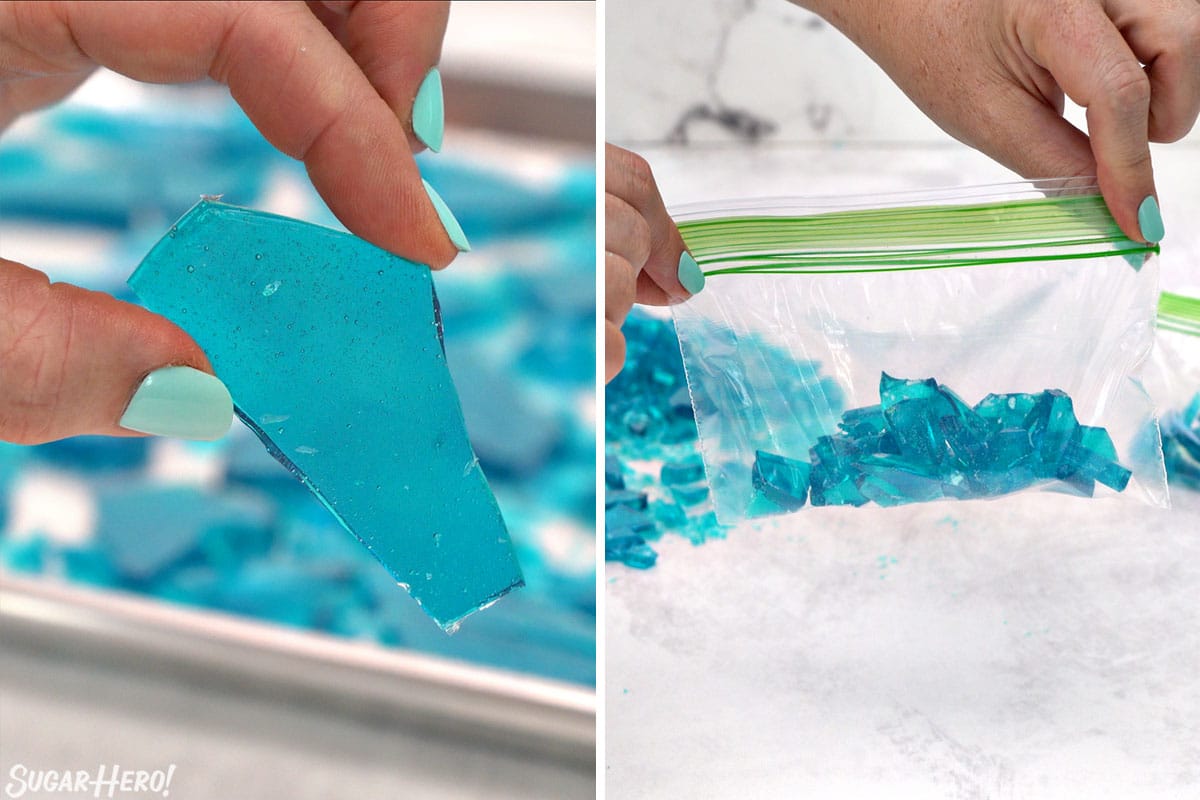 This candy is easiest

to eat in large pieces, so some people prefer to leave it in big chunks. If you want to be more accurate to the show, you can crush it up into smaller chunks.

For optimal awesomeness, I recommend serving this in small baggies at a Breaking Bad viewing party.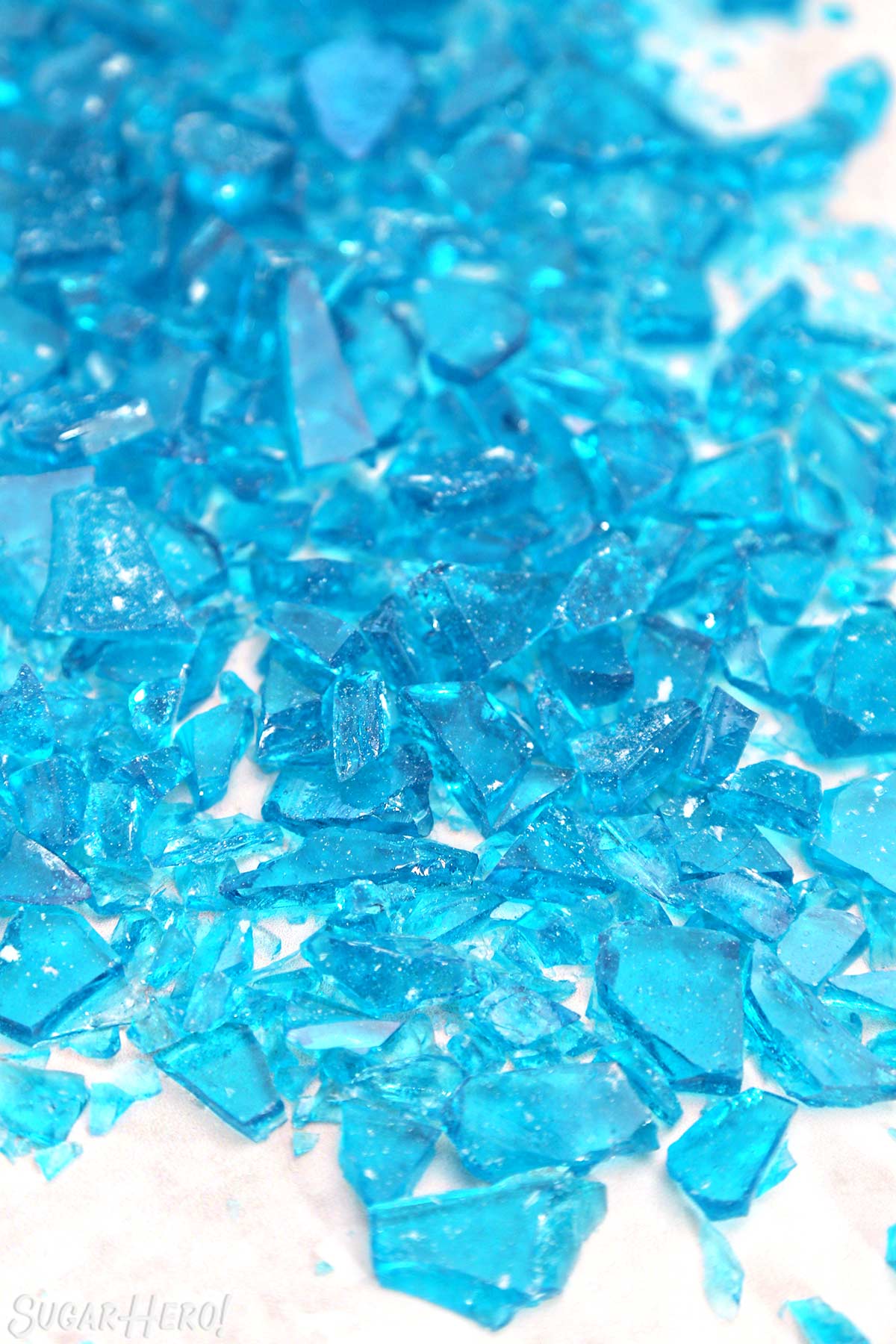 😋 Flavoring Recommendations
Clear flavoring is a must if you want your candy to stay clear and blue. You can always use clear vanilla, which is often available at cake and candy supply stores, and some larger grocery stores. It is imitation vanilla, so the flavor isn't as great as real vanilla extract, but if you want vanilla candy, it's your best bet.
My personal favorite is fruit flavors, since it seems like such a natural choice for hard candy. Here's a partial list of clear candy flavorings. I like LorAnn because I think the quality, consistency, and flavors are great, but you can of course use any clear flavoring or extract brand that you like. Many of the larger LorAnn bottles are tinted so you can't tell the color inside, but most of the 1-dram bottles are clear, so you can either view them online to check the color, or order them as an experiment before committing to a larger bottle.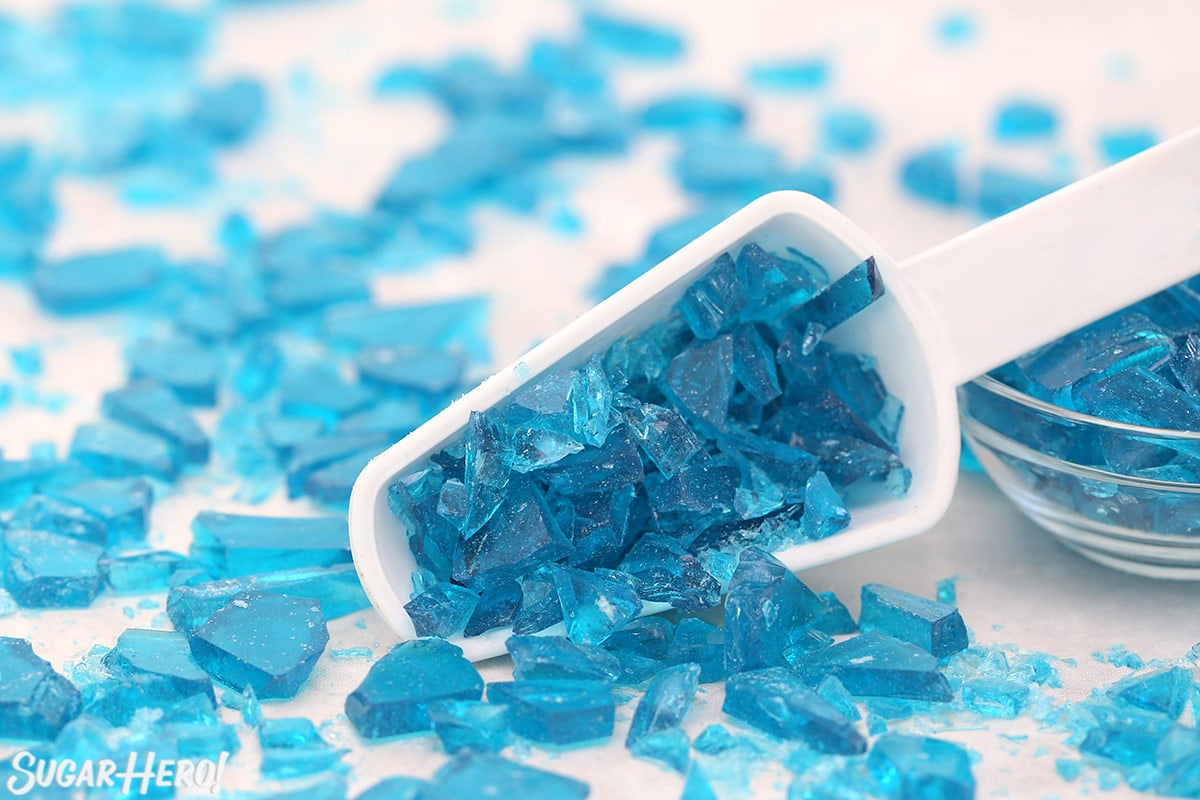 💡 Tips
Safely working with hot sugar
Hot sugar can be extremely dangerous — the temperature gets very high (290° F in this recipe!) and because it is a thick and sticky substance, if you accidentally get some on your skin, it doesn't rinse off quickly, which can lead to serious burns.
Because of this, this is not a good recipe to make with smaller children. It's also a good idea to have a bowl of ice water handy while the sugar syrup is cooking, so if you're accidentally burned, you can immediately dunk your hand and stop further burning. And as always, be alert, deliberate, and careful with your movements in the kitchen.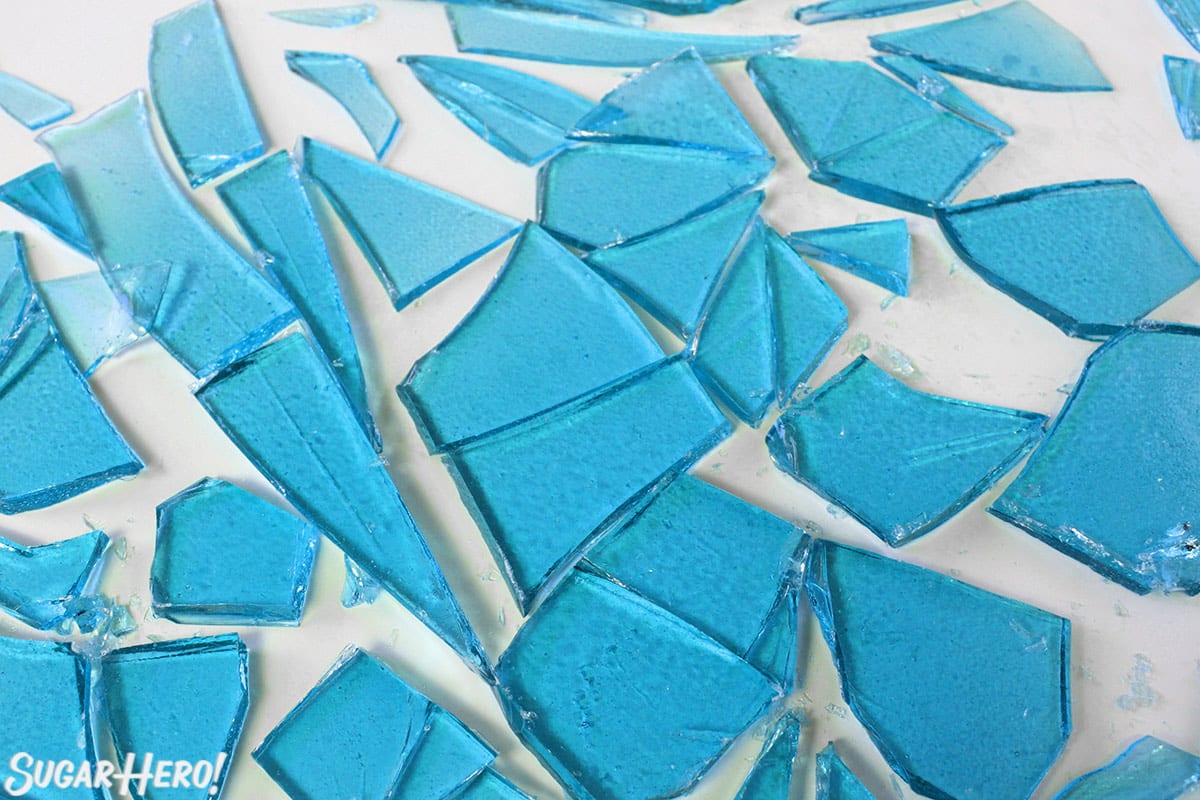 Testing your candy thermometer
It's important to regularly test your candy thermometer for accuracy. Testing is especially important if you live at a higher altitude, but even at sea level, thermometers can become inaccurate over time. Having an accurate thermometer is essential to successful candy-making.
To test your thermometer, bring a pot of water to a boil, insert the candy thermometer for a minute, and then take a reading. At sea level, water boils at 212° F. If your thermometer doesn't show 212°, calculate what the difference is. For example, if your thermometer reads 208° in boiling water, you know that you have a difference of -4 degrees in your thermometer. Going forward, you should subtract 4 degrees from any temperature written so that yours is accurate. In this example, if something needs to be cooked to 300° F, you only need to cook it to 296° F on your thermometer to get the right result.
The secret to easy candy removal
This isn't a necessity like a candy thermometer, but it is a tip that can make your life a little easier! When making hard candy, I like to cover my baking sheets with non-stick foil. Hard candy can be sticky and difficult to remove from regular foil, but non-stick foil is magic, and the candy peels right off!
Other alternatives are to use a silicone baking mat, or spray regular or heavy-duty foil with nonstick cooking spray before beginning.
💡 Troubleshooting
Here are some common questions/difficulties people have had with this recipe, and my suggestions for how to prevent them.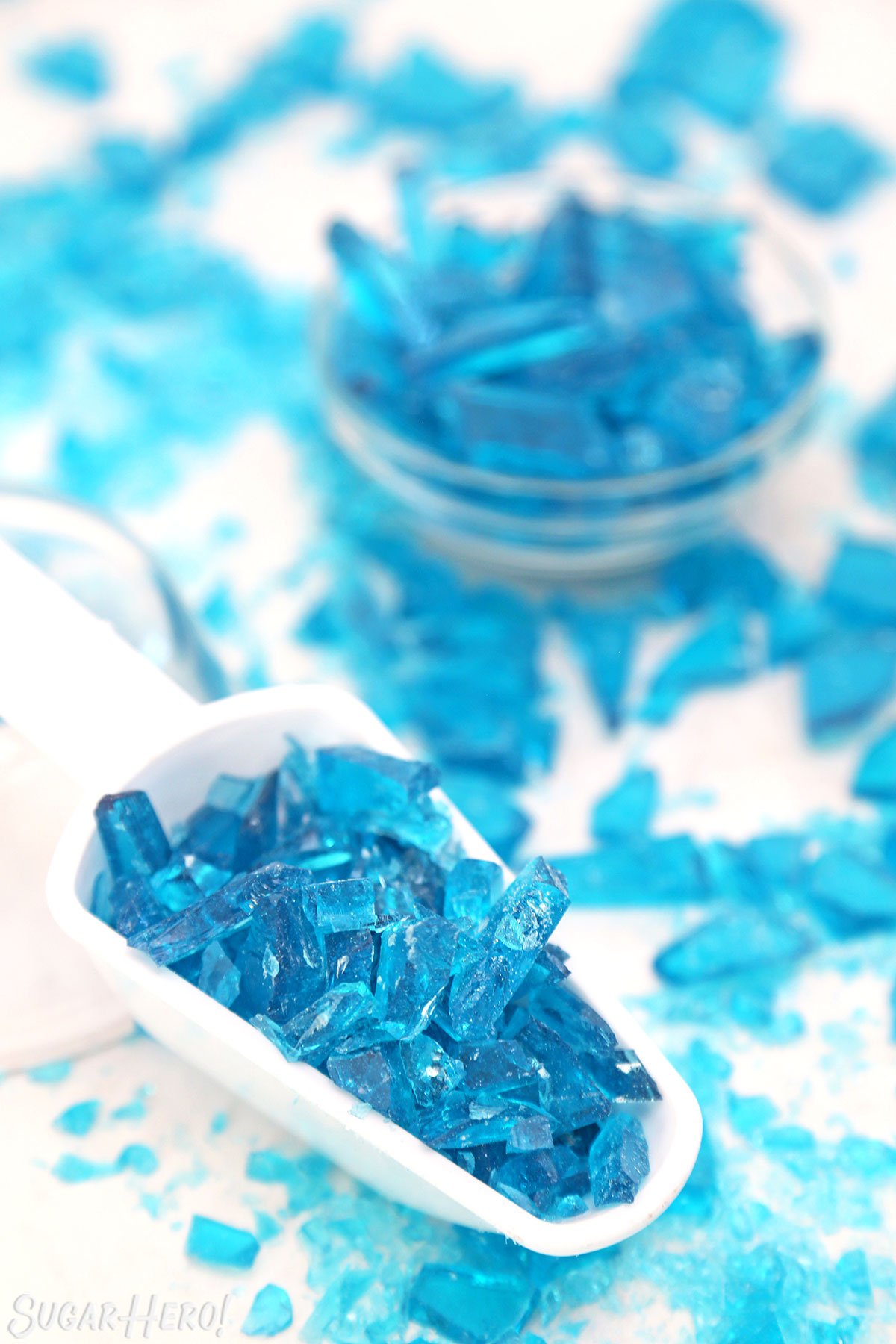 🍬 More Candies You'll Love
Now that you're a candy-making expert, put those skills to good use and try one of our other popular candy recipes!
DIY Candy Shot Glasses
Now you can make your own candy shot glasses out of sugar! Fill them with your favorite drink, whipped cream, mousse, or whatever else you'd like!
View Recipe
Easy Homemade Lollipops
Making lollipops at home could not be faster or easier than this! These Easy Homemade Lollipops use a shortcut technique to make beautiful homemade hard candy in just a few minutes.
View Recipe
Leave a Review!
If you make this recipe, let us know! Leave a ⭐️⭐️⭐️⭐️⭐️ rating on the recipe below, and leave a comment, take a photo and tag me on Instagram @elabau, or use #sugarhero on IG!
Breaking Bad Blue Rock Candy
This blue rock candy is inspired by Breaking Bad, and it's perfect for costumes, viewing parties, or just plain snacking!
Instructions
Line a baking sheet with foil and spray the foil with nonstick cooking spray, or use non-stick foil.

In a medium saucepan, combine the water, corn syrup, and granulated sugar. Place the pan over medium-high heat, and stir until the sugar dissolves.

Once it comes to a simmer, brush down the sides with a wet pastry brush to prevent sugar crystals from forming. Insert a candy thermometer.

Continue to cook the candy without stirring until it reads 290 degrees Fahrenheit (143 C) on the thermometer. Watch the temperature carefully–a lower temperature might produce sticky candy, while a higher temperature runs the risk of producing green candy!

Once at 290, take the pan off the heat and let it sit for a few moments, until rapid bubbles stop breaking on the surface. Add the flavoring and a drop or two of food coloring, and stir everything together.

Pour the candy onto the prepared baking sheet and spread it into a thin layer. Let it set completely at room temperature.

Once set, break it into small pieces. For the complete Breaking Bad experience, place the pieces in a large zip-top bag and smash them with a rolling pin until they are crushed, and place in small baggies to serve.

Store the candy in an airtight container at room temperature.
Video
Measuring Tips
Our recipes are developed using weight measurements, and we highly recommend using a kitchen scale for baking whenever possible. However, if you prefer to use cups, volume measurements are provided as well. PLEASE NOTE: the adage "8 oz = 1 cup" is NOT true when speaking about weight, so don't be concerned if the measurements don't fit this formula.
Want to learn more about baking measurements and conversion?
Nutrition
Calories:
91
kcal
|
Carbohydrates:
24
g
|
Fat:
0.1
g
|
Sodium:
6
mg
|
Potassium:
0.4
mg
|
Sugar:
24
g
|
Calcium:
2
mg
|
Iron:
0.01
mg
Tried this recipe?
Snap a pic and hashtag it #SugarHero. We love to see your creations on our Instagram @elabau.