This post may contain affiliate links. As an Amazon Associate I earn from qualifying purchases. Please see my disclosure policy for more information.
Now you can make your own Candy Shot Glasses out of sugar! Fill them with your favorite drink, whipped cream, mousse, or whatever else you'd like! They're great for holidays and parties.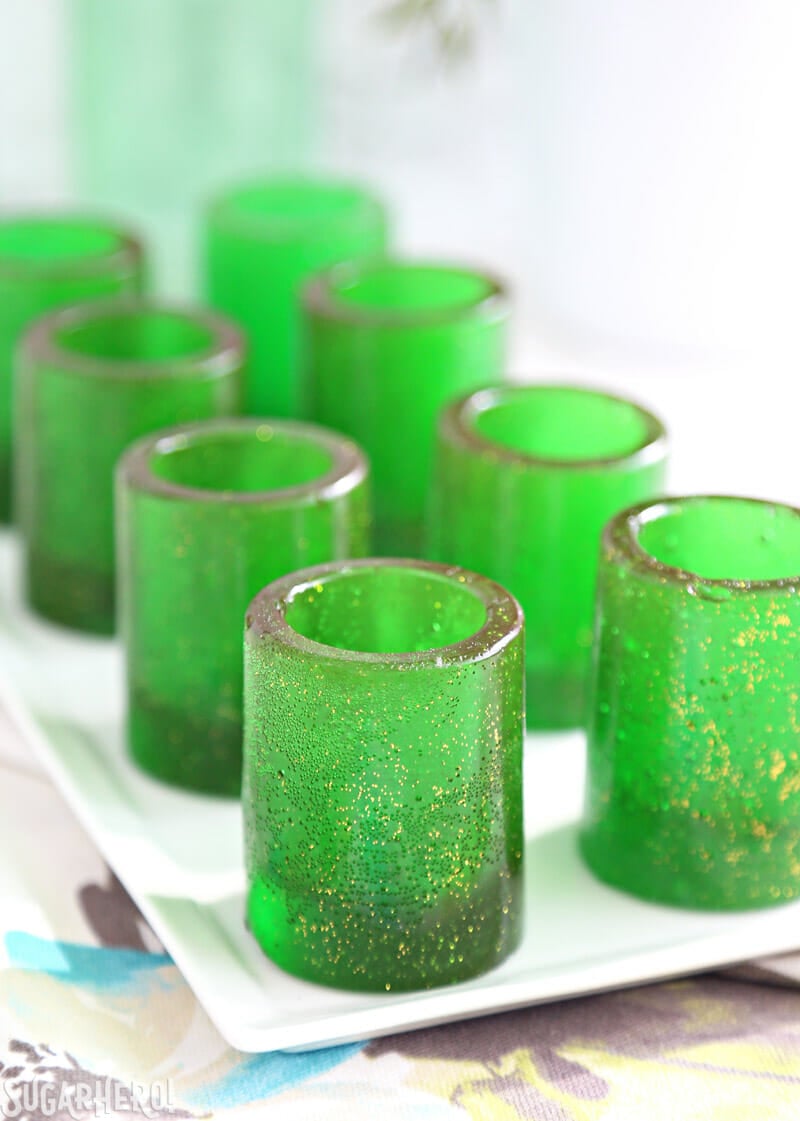 Ever since I made my Candy Cane Cups a few Christmases ago, I've been itching to experiment more with my silicone shot glass mold. These molds are SO cool–you can use them with store-bought candy, like I did, or use them to mold chocolate, ice, rice crispy treats, gelatin into shot glasses…and on and on! It really is so versatile, and it's a shame it's taken me so long to pull the mold back out and play with it again.
Another fun thing you can do with a silicone shot glass mold is make candy shot glasses from scratch!
The previous candy shot glasses I made were done by melting store-bought candies together. It's a neat trick–you can wedge a bunch of unwrapped hard candies into the mold, then bake it in the oven for a short time to fuse the candy together. Ta-da! Instant candy cups, no boiling sugar required. It's a fun effect and works with almost any hard candy–starlight mints, butterscotch drops, and Jolly Ranchers all work well.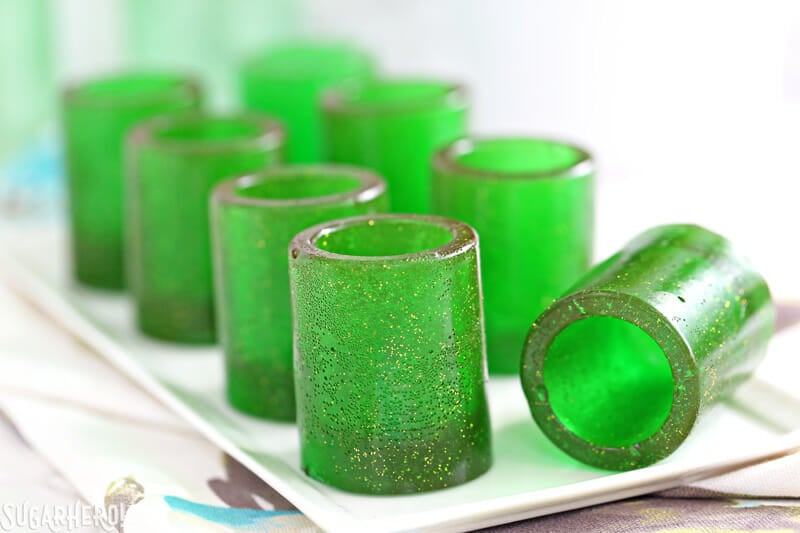 Why Try Making Candy Shot Glasses From Scratch?
I wanted to try something different this time, so I made the candy cups completely from scratch. Making them from scratch (versus melting together store-bought candies) produces a shot glass with a clearer color, better texture (no seams between the candies!), and is potentially much cheaper. If you only want to make one color of shot glass, you might find yourself having to buy lots of packages of multi-colored candies just to get enough of the one you want! When I tried this recipe with green Jolly Ranchers, it took 16 green Jolly Ranchers to make a full shot glass…and that was just one! You also have the ability to completely customize the flavor and color of the candy shot glasses.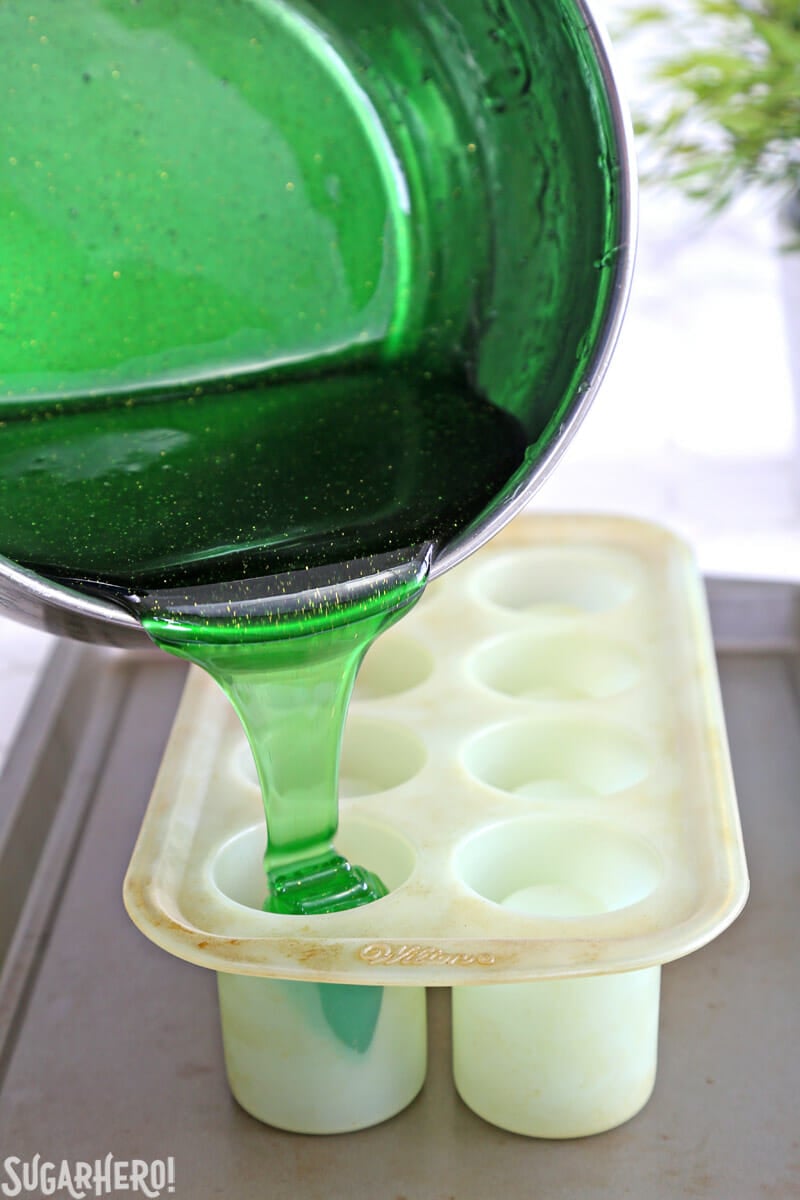 How to Make Edible Candy Shot Glasses:
These homemade candy shot glasses are made with water, sugar, corn syrup, flavoring, and gel food coloring. That's it! The water, sugar, and corn syrup are boiled together and monitored with a candy thermometer so they reach the proper temperature. Once there, the flavoring and coloring is added. I wanted to give my glasses a little glitz, and I knew that my family would most likely not actually be chowing down on them, so I added some sparkling disco dust. If your group will likely devour the shot glasses, make sure to use a certified edible gold dust, or omit it entirely.
To reduce air bubbles in the final product, you'll want to spray the inside of the silicone mold with a light layer of nonstick cooking spray, and also let the candy syrup stop bubbling before pouring it into the molds. You will still have a few air bubbles (it's unavoidable!) but greasing the molds and letting the syrup rest for a few moments will eliminate the worst of them.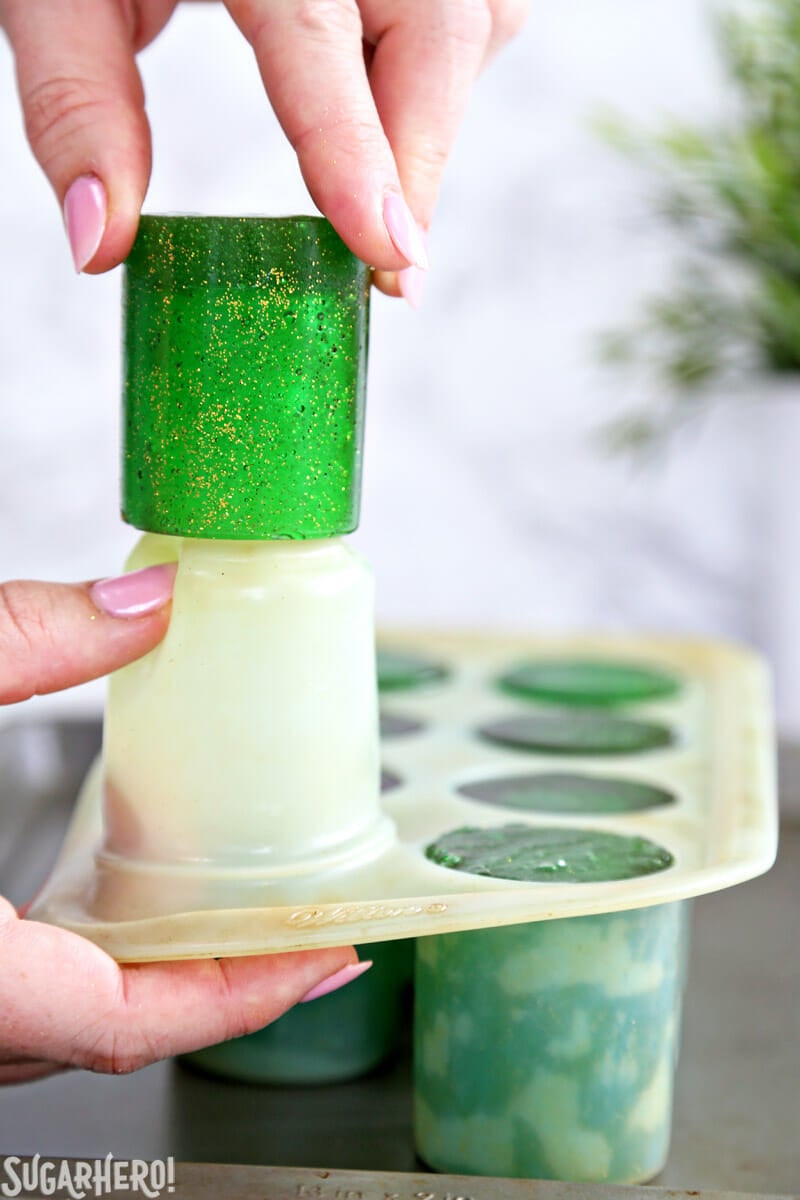 Fair warning, these shot glasses take awhile to cool and harden! If you want to make them in bulk, you'll probably want to pick up several molds so you can do them all at once. It took 2-3 hours for them to be completely hard at room temperature, but refrigerating them can speed up this process.
Once they're hard, it's as simple as pushing each glass out from the base of the mold. The silicone, combined with the light layer of nonstick spray, means that there is no chance of these babies sticking to the mold. Just push, slide, and fill!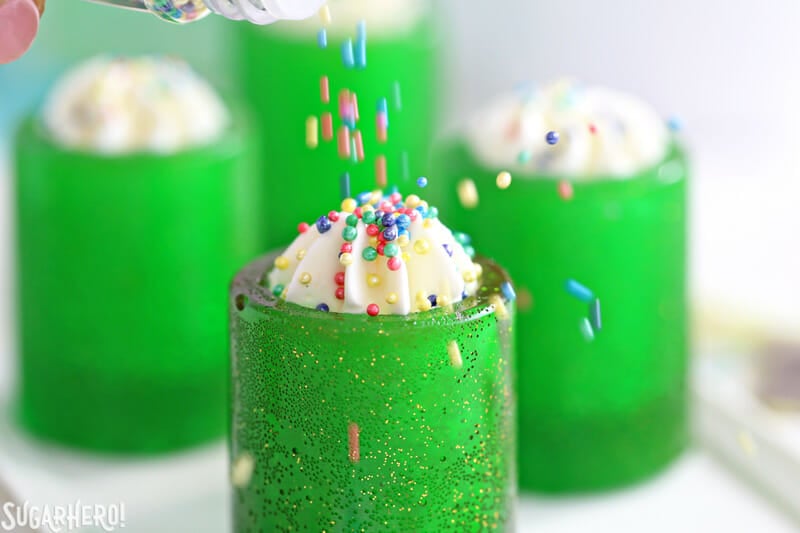 What to Put in Candy Shot Glasses:
Um…everything! Hah, but seriously, they're very versatile. Contrary to the name, they're good for so much more than just serving shots! In the past I've mostly used my glasses to serve warm beverages like hot chocolate (plain or spiked!) but honestly, any drink will do. You can also fill them with your favorite mousse, custard, pudding, whipped cream, or other spoon-able dessert.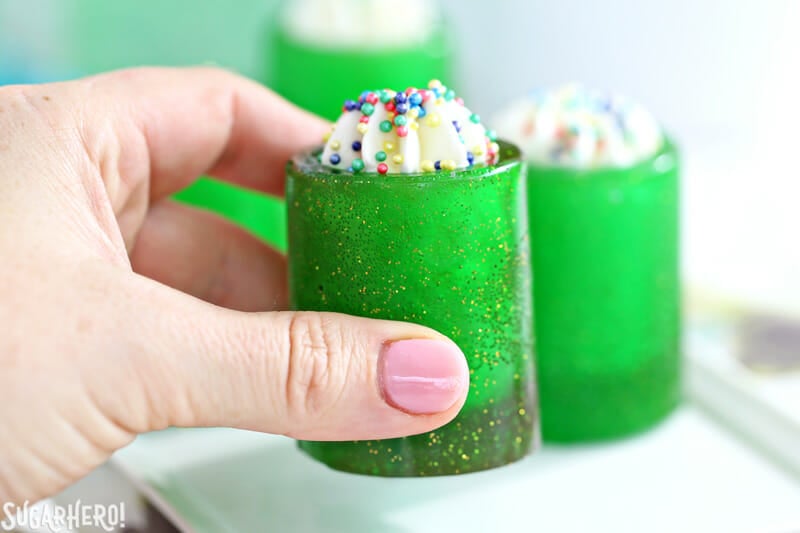 What You'll Need to Make Candy Shot Glasses:
The #1 thing you'll need is a silicone shot glass mold! It's affordable, lasts for years, and is safe in the oven, freezer, and every temperature in between.
You'll also need a candy thermometer. There are expensive ones out there, but if you're just starting out, here's an affordable candy thermometer that I recommend.
Breaking Bad Blue Rock Candy
This blue rock candy is inspired by Breaking Bad, and it's perfect for costumes, viewing parties, or just plain snacking!
Get the recipe!
Easy Homemade Lollipops
Making lollipops at home could not be faster or easier than this! These Easy Homemade Lollipops use a shortcut technique to make beautiful homemade hard candy in just a few minutes. 
Get the recipe!
DIY Candy Shot Glasses
Now you can make your own Candy Shot Glasses out of sugar! Fill them with your favorite drink, whipped cream, mousse, or whatever else you'd like! They're great for holidays and parties.
Instructions
Prepare your silicone shot glass mold by coating the cavities with a very light layer of nonstick cooking spray. Place the mold on a baking sheet.

Combine the water, granulated sugar, and corn syrup in a 4-quart saucepan over medium-high heat. Stir until the sugar dissolves, then wash down the sides of the pan with a wet pastry brush to prevent sugar crystals from forming. When the sugar syrup comes to a boil, insert a candy thermometer.

Continue to cook the sugar syrup without stirring. When the thermometer reads 260 F, add the gel food coloring but do not stir it in—the bubbling of the candy will work to disperse the color.

Cook the syrup until the thermometer reads 290° Fahrenheit (143° C). Remove the pan from the heat, and let the candy stop bubbling completely. This will probably take several minutes. Once it is still, stir in the mint extract.

Carefully pour the hot sugar syrup into the prepared molds, filling them to the top of the cavities. Let the candy sit for 2-3 hours at room temperature, until completely cool to the touch and hard. To remove, press the candy up from the bottom of the mold, and twist slightly at the top to loosen the middle portion.

Fill the shot glasses with your beverage of choice, or any soft treat like mousse, custard, or whipped cream! The will get sticky after use, so they can't be saved and re-used later, but they are a very fun novelty for a party!
Recipe Notes
It is always a good idea to test your candy thermometer regularly. Over time, they may become less accurate, and a high altitude can also affect the temperature at which candy boils. To test, I recommend bringing a pot of water to a boil, inserting your candy thermometer, and letting it sit for a few minutes to get a good reading. Water boils at 212° F, so if your thermometer shows this temperature, you're good to go! If it shows a different temperature, make a note of the difference and use this number when making the recipe. For instance, if it shows 208° F while in boiling water, you know that your thermometer is 4 degrees off, so instead of boiling the candy to 290° F in this recipe, you will only boil it to 286° F. Testing regularly will help ensure your candy is always properly cooked, in spite of an inaccurate thermometer or high altitude.
MEASURING TIPS
Our recipes are developed using weight measurements, and we highly recommend using a kitchen scale for baking whenever possible. However, if you prefer to use cups, volume measurements are provided as well. PLEASE NOTE: the adage "8 oz = 1 cup" is NOT true when speaking about weight, so don't be concerned if the measurements don't fit this formula.
Click here to learn more about baking measurements and conversion.
Nutrition
Calories:
415
kcal
|
Carbohydrates:
109
g
|
Sodium:
50
mg
|
Sugar:
109
g
|
Calcium:
10
mg
|
Iron:
0
mg
Share by Text
Share by Email
Share on Facebook
Share on Pinterest