This post may contain affiliate links. As an Amazon Associate I earn from qualifying purchases. Please see my disclosure policy for more information.
You guys! Breaking Bad is finally coming back to TV this Sunday night, to which I say: bring it. I'm sick of all this feel-good television I've been watching, and I'm ready for some feel-bad television once again.
Breaking Bad is the best show that I hate to watch. I basically view the episodes with my hands in front of my eyes, a pit in my stomach, and a looming sense of dread that tightens every muscle in my body. It's intense. It's awful. It's wonderful. (…It's complicated.) At the end of every single episode I'm left slack-jawed and muttering, "I can't believe they just did that."
The centerpiece of the show, of course, is the blue-tinged crystal meth created by chemistry teacher Walter White and his student-turned-partner Jesse Pinkman. The meth is so pure, so potent, that it changes the entire southwestern drug trade and, eventually, the very lives of its creators.

I read an interview with one of the actors awhile ago, and he mentioned that the "meth" is actually rock candy. Apparently he was a little addicted (irony!) and would munch on the fake drugs between takes. Ever since reading that, I couldn't get the idea of recreating my own crystal meth candy out of my head.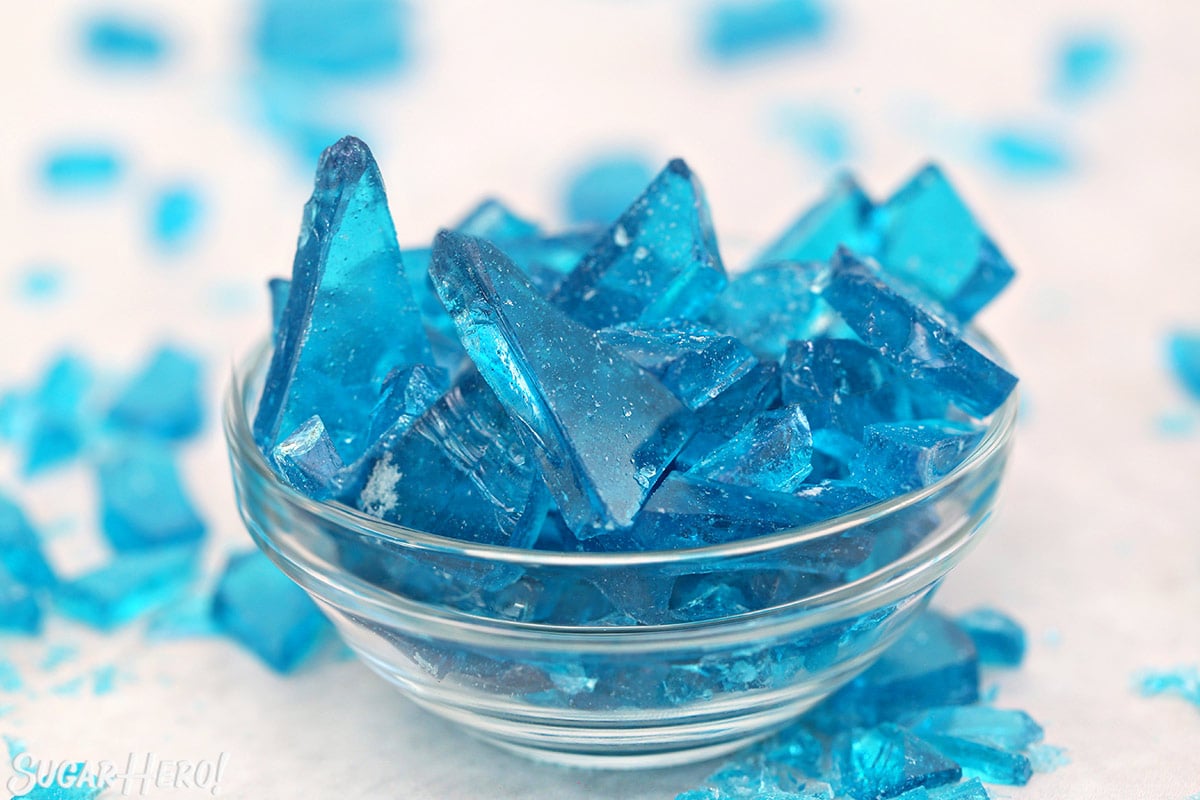 Unlike actual crystal meth, this version is super-simple to make. It's is a pretty typical hard candy recipe. You'll need a candy thermometer, but not much else in the way of special equipment or skills. If you can boil sugar, you can make this candy.
After the hard candy is poured and cooled, it's time to get your Jesse Pinkman on and smash it into small, snort-able chunks. (Snorting of the candy is not actually recommended.) Of course it's easiest to eat when it's left in larger pieces, but for absolute accuracy you need to crush this candy into a coarse powder.
For optimal awesomeness, I recommend serving this in small baggies at a Breaking Bad viewing party. I'll be the one in the corner with my head buried in a pillow, asking when it's safe to look again and demanding a play-by-play description. Good times!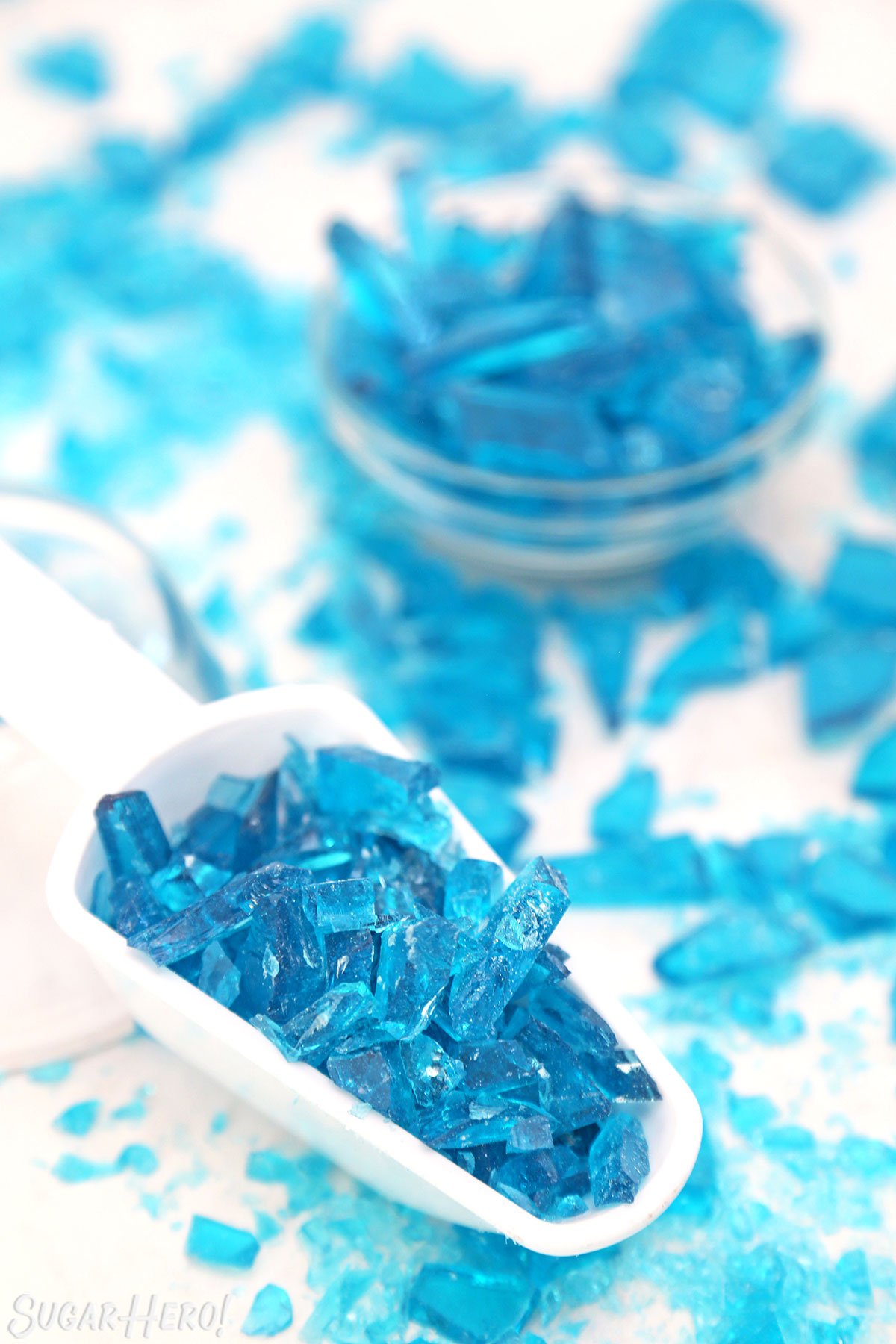 More fun stuff: Lynn at The Actor's Diet has a list of recommended theme foods to eat while watching Breaking Bad, you can check it out here. I have to say, the Pollos Hermanos chicken sounds good, but you couldn't pay me enough to eat Tuco's burrito…
Update October 2012: Lots of my fellow Breaking Bad enthusiasts have tried this candy recipe–I'm glad people are enjoying it, and I love your feedback! I've gotten many similar questions about it, so before you begin, please read the Tips & Troubleshooting section down below, to help you avoid common problems like soft candy or a greenish color.
Blue Crystal Meth Rock Candy for Breaking Bad
This Blue Crystal Meth Rock Candy for Breaking Bad is actually super-simple to make. All you'll need is a candy thermometer and not much else in the way of equipment!
Ingredients
1/2

cup

water

3/4

cup

corn syrup

,

light

2

cups

granulated sugar

2

tsp

clear flavoring extract

,

I like LorAnn fruit flavors. See below for more recommendations

1

drop blue gel food coloring

,

I used Americolor Sky Blue gel coloring
Instructions
Line a baking sheet with foil and spray the foil with nonstick cooking spray.

In a medium saucepan, combine the water, corn syrup, and granulated sugar. Place the pan over medium-high heat, and stir until the sugar dissolves. Bring the mixture to a boil, then stop stirring and brush down the sides with a wet pastry brush to prevent sugar crystals from forming. Insert a candy thermometer.

Continue to cook the candy without stirring until it reads 290-295 degrees Fahrenheit (143-146 C) on the thermometer. Watch the temperature carefully--a lower temperature might produce sticky candy, while a higher temperature runs the risk of producing green candy! Once at 290-295, take the pan off the heat and let it sit for a few moments, until bubbles stop breaking on the surface. Add the flavoring and a drop of food coloring, and stir everything together.

Pour the candy onto the prepared baking sheet and tilt it so that it runs into a thin layer. Let it set completely at room temperature.

Once set, break it into small pieces by hand. For the complete "crystal meth" experience, place the pieces in a large zip-top bag and smash them with a rolling pin until they are crushed. Store the candy in an airtight container at room temperature.
MEASURING TIPS
Our recipes are developed using weight measurements, and we highly recommend using a kitchen scale for baking whenever possible. However, if you prefer to use cups, volume measurements are provided as well. PLEASE NOTE: the adage "8 oz = 1 cup" is NOT true when speaking about weight, so don't be concerned if the measurements don't fit this formula.
Click here to learn more about baking measurements and conversion.
Nutrition
Calories:
723
kcal
|
Carbohydrates:
196
g
|
Protein:
0
g
|
Fat:
0
g
|
Saturated Fat:
0
g
|
Cholesterol:
0
mg
|
Sodium:
164
mg
|
Sugar:
196
g
|
Calcium:
33
mg
Share by Email
Share on Facebook
Share on Pinterest
Flavoring Options
Thanks to reader Ryan Garcia, here's a partial list of LorAnn candy flavorings that are clear and won't turn your candy meth funny colors. Ryan advises that while many of the larger LorAnn bottles are tinted so you can't tell the color inside, most of the 1-dram bottles are clear, so you can either view them online to check the color, or order them as an experiment before committing to a larger bottle. I like LorAnn because I think the quality, consistency, and flavors are great, but you can of course use any clear flavoring or extract brand that you like.
LorAnn Cool Crème de Menthe flavor

LorAnn Honey flavor

LorAnn Key Lime flavor

LorAnn Pineapple flavor

LorAnn Lemonade flavor

LorAnn Wintergreen flavor
Tips & Troubleshooting
Here are some common questions/difficulties people have had with this recipe, and my suggestions for how to prevent them.
The Candy Turns Out Green: This is the #1 problem people have with this recipe. There are 2 possible culprits: overcooking the candy, and using the wrong food coloring.
First, overcooking. The sugar syrup, if allowed to cook to a high temperature, will eventually turn yellow, then amber, then brown. This recipe calls for syrup to be cooked to 290-295 F, which should produce a near-colorless mixture that will not interfere with food coloring. (It may have a very slight yellowish tinge.) If your candy is already a yellow or brown color when you're adding the food coloring, chances are you have overcooked it, and the yellow color of the candy will mix with the blue dye and turn your candy green. The solution is to check to make sure your thermometer is accurate (here is an easy method for testing your thermometer), and to watch the candy like a hawk when it's cooking.
Secondly, using the wrong food coloring. I have made this several times with Americolor Sky Blue
, and have always had the color turn out, so I feel reasonably confident recommending this specific brand and shade. I can't guarantee other colors or brands will turn out the same. Liquid coloring, especially, can be weaker and can produce a greenish shade when mixed with the slightly yellow hard candy, so if you are very concerned with getting the perfect color, consider trying to track down the Americolor Sky Blue.
Here are a few colorings other readers have recommended: one reader says that the neon blue McCormick's liquid food coloring produced a great blue color. She also recommends using a packet of Duncan Hines Frosting Creations in Cotton Candy, stirring it in at the very end and omitting any other flavoring and coloring. Another reader had great success with Adeco brand Electric Blue, and recommends using 5 drops for a great blue color.
The Candy Is Too Soft/Is Sticky/Doesn't Set Well: If the candy is too soft or doesn't set, it has not been cooked enough. This recipe really, truly should be measured using a candy thermometer, and if you are using one and still having problems with soft candy, test the accuracy of your thermometer, and double-check that you used the correct quantities and temperature the recipe calls for.
If the candy is initially fine but quickly becomes sticky, humidity is probably the problem. Hard candy works best in a dry environment–sugar soaks up moisture from the air around it, and hard candy quickly becomes wet and sticky in the humidity. Don't attempt this candy on a humid or stormy day. It should always be stored in an airtight container at room temperature, to keep it as dry as possible.
The Candy is Crumbly and Opaque: If your candy is crumbly or sandy instead of hard and crunchy, or opaque instead of translucent, then it has crystallized during the cooking process. Nothing is wrong with it, and it will still taste fine, but the appearance and texture may not be what you want. Crystallization happens when sugar crystals form during the cooking process. This can happen due to stirring too much while it cooks (once it comes to a boil, you should not be stirring it at all), or not wiping down the sides of the pan with a wet brush to remove the crystals, or just accidentally having stray crystals on the candy thermometer, spatula, or pan. The corn syrup in the recipe helps prevent crystals from forming, so if you substitute other ingredients for the corn syrup, you might find that crystallization is more likely.
This may seem overwhelming, but I promise the recipe is not terribly tricky–much like cooking meth, it just requires a little precision. Good luck!
Reader Submissions
Since writing this post I've heard from so many of my fellow candy methheads Breaking Bad fans. To my delight, folks have started emailing me photos of their rock candy creations. I can't tell you how awesome it is to wake up and have meth candy photos waiting in my inbox! I love it. Check out some of the contributions below–there are links to blog posts, multiple videos of the cooking process, and even a link to download some great meth candy labels.
I've decided to share the love and post the rock candy photos folks have sent me. If you have made this candy and would like to share a photo, email a picture to elizabeth (at) sugarhero.com.
From Michael

Michael as Jesse for Halloween

From Frank Constantelos

From Lauren Harris-Murray

Tim Harrison as Walt

See Tim's video here

From Jonathan Park

Jonathan Park as Walt

From Sandra Hughan, with
James Hughan as Walt

From Sandra Hughan

From Rob Youngberg

Rob as Walt–see his full blog post here!

From Chris Thomas

From Martin Dooyes

"Methcakes" from Elizabeth Parker

From Elizabeth Parker

From Ryan Horton

From Ryan Horton

From Ty Underwood – see his video here!

From Bart McQueary

Breaking Bad-themed cake from Eva
See Eva's blog post here!

From Brian Mack

From Susan — see her blog post here!

From Yuki Takahashi

Yuki's Crystal Meth Cupcakes

From Lindsay Garron

From Ryan Garcia

From Jeff Hernandez– see Jeff's video here!
From Matt Kirby–blue meth on top of White


family "breakfast cupcakes."

From Lynne Barbour

From Warren Corpus

From Christa Janina

From Andy Beck

From Bob Carlton

From Brandon Yates

From Aaron Segura

From Jennifer

From Michelle Kaczmarowski

From Sarah

From Scott Gallagher

From Rachel Morris–download the
label templates here!

From Elizabeth Ayoob

Meth cake from Maria Miranda

From Michelle LeBlanc

From Raimy Reyes

From Robert Mantler

From Jacqueline South

From Sonic Bodhi

From Richard Evans

From Bowzer Mike

From Elody McIlhargie

From Dean Porter

From Cynthia

From Lisa Taylor

From Chris Francis

From James Dyer

From Angel
Don't be shy–send me your pictures and join the virtual candy meth party! elizabeth (at) sugarhero.com