These Double Caramel Popcorn Brownies feature rich, fudgy brownies topped with crunchy caramel popcorn. Then they are drenched in ribbons of chocolate and caramelized white chocolate!
I don't know if this aspect of my personality comes through on the blog, but I am not a "less is more" sort of girl. (I imagine regular readers might have guessed this about me, however.) It's not uncommon for me to say to Jason, "All I want is to be an awesome wife and mom and friend, and run really long distances, and get 8 hours of sleep a night, and eat totally healthy (except for my nightly dessert), and be a recipe rock star, and write another cookbook, and read lots of good novels, and be up to date on pop culture, and know everything about current events! Is that too much to ask?!" Cue his wide-eyed blinking as he desperately searches for the correct way to answer that question.
This need to go full throttle extends to my baking as well. Why stick with a simple popcorn recipe when I could make crunchy caramel popcorn, then coat it in caramelized white chocolate, then toss it with chocolate-covered caramel popcorn and gold Sixlets, then pile everything on top of rich, fudgy brownies?
So that's what I did. I may not have conquered my personal life, but you'd better believe I am the boss of my sugar domain. Viva la excess!
I can't think of a better way to enjoy popcorn than with these fun and festive popcorn-topped brownies! I added lots of bling in the form of gold Sixlets and gold sugar pearls to really give them a celebratory air. They're piled high so they look like miniature cakes, and they're practically begging for some candles on top to complete the look.
For this recipe, I used extra buttery microwave popcorn, because—real talk—I'm addicted. I love the convenience, and the way the salty, buttery popcorn contrasts with the sweet caramel coating. If you're not a buttery popcorn person you can use kettle corn, or even pop your own fresh popcorn! If you do that, I recommend adding a little extra salt to the caramel corn, so that the sweet-and-salty contrast really shines.
After the caramel popcorn is made, it's time to add the second caramel component—caramelized white chocolate. I talked about this technique earlier this year, when I made Caramelized White Chocolate Truffles, but if you're not familiar, it's a magical process that turns fairly boring white chocolate into crazy delicious white chocolate. It basically involves cooking white chocolate in the oven, low and slow, so that the dairy solids turn into a rich golden brown and develop a deep, nutty caramel flavor. Some of the popcorn gets set aside and coated with semi-sweet chocolate, but most of it gets drenched with the caramelized white chocolate.
This double caramel popcorn is amazing on its own, and I am certainly not going to stop you if you want to whip up a batch and just eat it by the handful. But this is a 100th birthday celebration, for crying out loud! I'm only 30-mumble and feel like I deserve a freaking marching band parade for each passing year, so we really have to go all out to celebrate a century of popcorn making!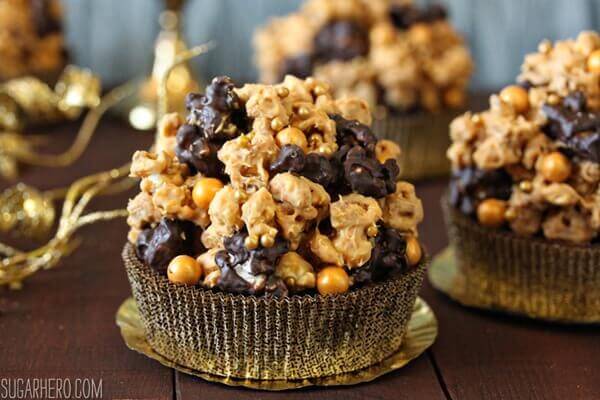 So here's what we're going to do. We're going to take our caramelized white chocolate-coated caramel corn, and the semi-sweet chocolate caramel corn, and a whole bunch of gold decorations, and we're going to pile them sky-high on top of gooey, fudgy brownies. And then we're going to stuff our faces. THAT is how you properly enjoy popcorn, my friends.
The result is a riot of texture and flavors that work perfectly together. It's a tempting mixture of crunchy and smooth: the crackly topping of the brownie and the soft, fudgy interior, the crunch of the caramel corn and the slightly softer coating of the caramelized white chocolate, the hard candy shell of the Sixlets and the rich chocolate inside. All of the contradictions—hard and soft, sweet and salty, chocolate and caramel—enhance each other and make this a truly outstanding dessert.
💓More Caramel Desserts You'll Love