This post may contain affiliate links. As an Amazon Associate I earn from qualifying purchases. Please see my disclosure policy for more information.
Thank you to JOLLY TIME Pop Corn and Kitchen PLAY for sponsoring this post!
I don't know if this aspect of my personality comes through on the blog, but I am not a "less is more" sort of girl. (I imagine regular readers might have guessed this about me, however.) It's not uncommon for me to say to Jason, "All I want is to be an awesome wife and mom and friend, and run really long distances, and get 8 hours of sleep a night, and eat totally healthy (except for my nightly dessert), and be a recipe rock star, and write another cookbook, and read lots of good novels, and be up to date on pop culture, and know everything about current events! Is that too much to ask?!" Cue his wide-eyed blinking as he desperately searches for the correct way to answer that question.
This need to go full throttle extends to my baking as well. When JOLLY TIME Pop Corn asked me to help them celebrate their 100th birthday this month with a sweet popcorn recipe, the wheels of excess started turning. Why stick with a simple popcorn recipe when I could make crunchy caramel popcorn, then coat it in caramelized white chocolate, then toss it with chocolate-covered caramel popcorn and gold Sixlets, then pile everything on top of rich, fudgy brownies?
So that's what I did. I may not have conquered my personal life, but you'd better believe I am the boss of my sugar domain. Viva la excess!
I can't think of a better way to celebrate JOLLY TIME's 100th birthday than with these fun and festive popcorn-topped brownies! I added lots of bling in the form of gold Sixlets and gold sugar pearls to really give them a celebratory air. They're piled high so they look like miniature cakes, and they're practically begging for some candles on top to complete the look.
For this recipe, I used JOLLY TIME Blast O' Butter Microwave Pop Corn, because—real talk—I'm addicted. I love the convenience, and the way the salty, buttery popcorn contrasts with the sweet caramel coating. If you're not a buttery popcorn person you can use JOLLY TIME KettleMania (kettle corn flavor), or even pop your own JOLLY TIME kernels! If you do that, I recommend adding a little extra salt to the caramel corn, so that the sweet-and-salty contrast really shines.
After the caramel popcorn is made, it's time to add the second caramel component—caramelized white chocolate. I talked about this technique earlier this year, when I made Caramelized White Chocolate Truffles, but if you're not familiar, it's a magical process that turns fairly boring white chocolate into crazy delicious white chocolate. It basically involves cooking white chocolate in the oven, low and slow, so that the dairy solids turn into a rich golden brown and develop a deep, nutty caramel flavor. Some of the popcorn gets set aside and coated with semi-sweet chocolate, but most of it gets drenched with the caramelized white chocolate.
This double caramel popcorn is amazing on its own, and I am certainly not going to stop you if you want to whip up a batch and just eat it by the handful. But this is a 100th birthday celebration, for crying out loud! I'm only 30-mumble and feel like I deserve a freaking marching band parade for each passing year, so we really have to go all out to celebrate a century of popcorn making!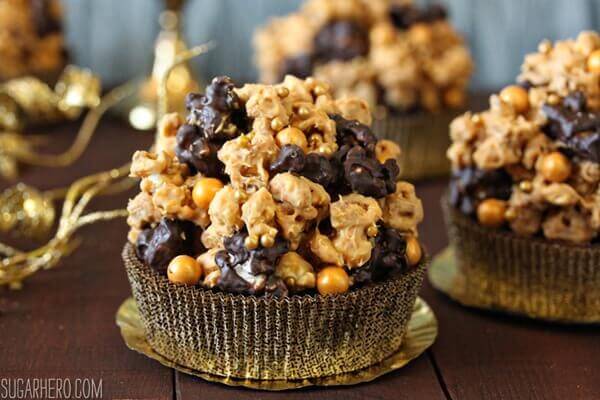 So here's what we're going to do. We're going to take our caramelized white chocolate-coated caramel corn, and the semi-sweet chocolate caramel corn, and a whole bunch of gold decorations, and we're going to pile them sky-high on top of gooey, fudgy brownies. And then we're going to stuff our faces. THAT is how you properly celebrate a hundredth birthday, my friends.
The result is a riot of texture and flavors that work perfectly together. It's a tempting mixture of crunchy and smooth: the crackly topping of the brownie and the soft, fudgy interior, the crunch of the caramel corn and the slightly softer coating of the caramelized white chocolate, the hard candy shell of the Sixlets and the rich chocolate inside. All of the contradictions—hard and soft, sweet and salty, chocolate and caramel—enhance each other and make this a truly outstanding dessert.
All this month, I'll be joining a few other bloggers in pinning great popcorn recipes to JOLLY TIME Pop Corn's 100th Virtual Birthday Party Pinterest Board. Come check it out and get inspired to make some popcorn dishes of your own! And join me in wishing a happy birthday to JOLLY TIME!
Double Caramel Popcorn Brownies
These Double Caramel Popcorn Brownies are a riot of texture and flavors that work perfectly together. It's a tempting mixture of crunchy and smooth: the crackly topping of the brownie and the soft, fudgy interior, the crunch of the caramel corn and the slightly softer coating of the caramelized white chocolate.

Ingredients
For the Caramelized White Chocolate and Assembly:
3

oz

semi-sweet chocolate

12

oz

white chocolate,

finely chopped (be sure to use real white chocolate that has cocoa butter as an ingredient, not a bar with palm oil or any other substitute fat!)

1-2

tbsp

vegetable or canola oil

Pinch

salt

Gold Sixlets,

gold sprinkles, or any other decorations you'd like
Instructions
To Make the Caramel Popcorn:
Preheat the oven to 250°F. Line a rimmed baking sheet with foil, and spray the foil with nonstick cooking spray.

If using microwave popcorn, pop the popcorn according to the package instructions. Coat a large mixing bowl with nonstick cooking spray, and dump the popcorn into the bowl, taking care to pick out and discard any unpopped kernels.

In a medium saucepan, combine the brown sugar, corn syrup, butter, salt, and water. Stir while the butter melts and the sugar dissolves. Once it comes to a boil, insert a candy thermometer. Continue to cook, stirring frequently, until it reads 250°F on the candy thermometer, about 5-10 minutes. Immediately remove the pan from the heat, and whisk in the baking soda and vanilla. The mixture will foam and bubble up. Quickly pour the hot caramel over the popcorn. Use a rubber spatula to gently fold the caramel into the popcorn, taking care to distribute it as evenly as you can.

Scrape the popcorn onto the prepared baking sheet. Bake for 1 hour, stirring and turning the popcorn with a spatula every 20 minutes so it's evenly coated. After an hour, remove the tray from the oven, spread the popcorn out into a single layer, trying to separate any big clumps, and let it cool completely. Once cool, break it into small pieces. The caramel popcorn can be made several days in advance and kept in an airtight container at room temperature until you're ready to assemble the brownies.
To Make the Brownies:
Preheat the oven to 350° F, and place 9

3.5-inch paper baking cups

on a baking sheet. If you don't have these cups, you can use large or even regular-sized muffin tins, and adjust the yield accordingly.

In a small bowl, whisk together the flour and salt and set aside for now.

Combine the butter and both chocolates in a large microwave-safe bowl. Microwave in 30-second increments, stirring after every 30 seconds, until melted and smooth. Add 1 cup of sugar, and the vanilla extract, and stir well.

Place the remaining cup of sugar, and the eggs, in the bowl of a large stand mixer fitted with a whisk attachment. Beat everything together just until well-blended, about 30 seconds. Pour half of the egg/sugar mixture into the bowl of chocolate, and stir well.

Take the remaining egg/sugar mixture that's in the mixing bowl and place it back on the stand mixer and whip on medium speed with the whisk attachment until light, fluffy, and doubled in size, about 3-4 minutes. Gently fold the whipped eggs into the bowl of chocolate. Finally, add the flour to the bowl of chocolate and gently fold that in as well.

Divide the brownie mixture between the paper baking cups. If using 3.5-inch cups, the portion will be about 4.5 oz. Bake until puffed and dry on top, but still a little gooey in the middle—a toothpick inserted into the center will emerge with very moist crumbs attached. For 3.5-inch cups, bake time will be about 22-25 minutes. Cool the brownies completely.

Once cool, cut long foil strips about 4 inches tall, and wind a strip around the outside of each brownie, taping them closed. These foil collars will help you during assembly—they will prevent the popcorn mounds on top of each brownie from sliding off.
To Assemble:
Melt the semi-sweet chocolate in a small bowl in the microwave. Separate out 2 cups of caramel popcorn, and stir the popcorn and chocolate together until the popcorn is entirely coated. Spread the chocolate popcorn on a parchment-lined baking sheet and refrigerate it until the chocolate is set.

Preheat the oven to 250° F. Place the chopped white chocolate in a glass baking dish, and pour 1 tbsp vegetable oil on top. Place the chocolate in the oven for 10 minutes, then stir it with a rubber spatula. Continue to bake the chocolate, stirring after every 10 minutes, until the chocolate is a beautiful dark gold color and smells caramelized. The total baking time should be about 50-60 minutes—the exact time will depend on the chocolate, your oven, and the dish you're using, so use your eyes and nose as a guide.

During the baking process, the chocolate will at times look grainy and unappetizing, but as you continue to bake and stir it, it should loosen up. Different brands of chocolate behave differently, and it is possible you may need to add a touch more oil to get a smooth consistency toward the end of the process.

Remove the chocolate from the heat and stir in a good pinch of salt. Place the remaining caramel corn in a large bowl, and pour the caramelized white chocolate over the corn, stirring well to coat every kernel.

Remove the chocolate popcorn from the refrigerator, and have your gold Sixlets or other decorations ready. Scoop a generous spoonful of white chocolate popcorn on top of a brownie, and dot the top and sides with a few gold Sixlets and pieces of chocolate popcorn. Add another generous scoop, so the popcorn mound is a few inches high, and top with more chocolate popcorn, Sixlets, and any other decorations. Repeat until all of the brownies have a popcorn topping.

Refrigerate the brownies until the white chocolate is set, about 30 minutes. Remove the foil collars from the brownies, allow them to come to room temperature, and serve!
Recipe Notes
If you'd like, recipe preparation can be broken up into several days. Make the caramel popcorn and the brownies on one day, then caramelize the white chocolate and assemble everything together on the second day. You can also use a brownie mix to simplify the recipe. The brownie recipe was adapted from the Rick Katz brownie recipe in Dorie Greenspan's Baking: From My Home to Yours.
MEASURING TIPS
Our recipes are developed using weight measurements, and we highly recommend using a kitchen scale for baking whenever possible. However, if you prefer to use cups, volume measurements are provided as well. PLEASE NOTE: the adage "8 oz = 1 cup" is NOT true when speaking about weight, so don't be concerned if the measurements don't fit this formula.
Click here to learn more about baking measurements and conversion.
Nutrition
Calories:
975
kcal
|
Carbohydrates:
119
g
|
Protein:
9
g
|
Fat:
54
g
|
Saturated Fat:
33
g
|
Cholesterol:
156
mg
|
Sodium:
476
mg
|
Potassium:
381
mg
|
Fiber:
3
g
|
Sugar:
102
g
|
Vitamin A:
985
IU
|
Vitamin C:
0.2
mg
|
Calcium:
140
mg
|
Iron:
4.5
mg
Share by Text
Share by Email
Share on Facebook
Share on Pinterest
This post was sponsored by JOLLY TIME Pop Corn, and contains Amazon affiliate links. For more information, see my Affiliate and Advertising Policy.