Spicy Chocolate Ice Cream Sandwiches nestle cinnamon ice cream between two spiced fudgy chocolate cookies that are rolled in spiced toasted pecans. If you love heat with your sweets, then these ice cream sandwiches are for you!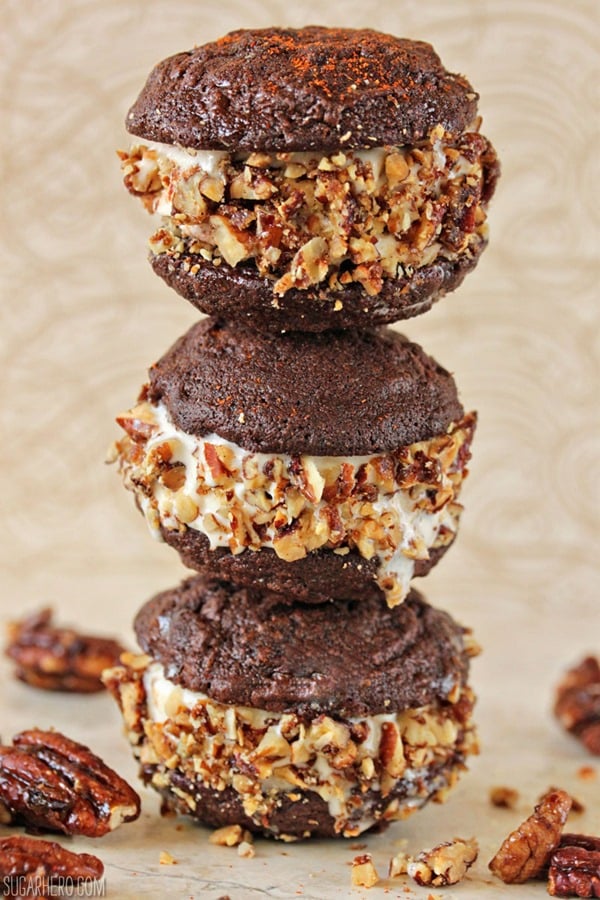 Helloooo, long-lost chums! I just got back from a week in New York City. It was 75% work, 25% play, and 100% humidity fun. (Seriously, though, can we talk about the humidity? I had unsightly sweat stains and Sideshow Bob hair the entire time. NYC, you are not messing around, and for those of you who live there and cope with it gracefully, I salute you.)
So yeah, I was that out-of-town jerk who kept wanting to talk about the weather and collapsing in dramatic heaps whenever the subject came up. Regardless, I had an amazing time, because New York is one of the best cities in the world and is one of my top "if only" dream destinations. (As in, "If only I had quintuple my actual income, I would move there in a heartbeat." Siiigh.) During the course of my last day there, my brother, sister-in-law, and I walked miles and miles, managed to not get lost on the subway, ate tiny pieces of pizza, and gorged ourselves on desserts.
We stopped by Dominique Ansel Bakery, home of the much-lauded and now-overhyped cronut. The cronuts were long gone by mid-morning, but we did get an assortment of other fun things–full description & pictures on Instagram! Honestly, my favorite dessert of the 5 we tried was the most standard, least "creative" dessert we ordered: a thick chocolate cookie, loaded with melty chocolate chips and super fudgy in the middle. It was half the price of the fancy souffle I bought, but twice as satisfying. I love playful desserts, and I respect chefs who are constantly reinventing familiar favorites, but sometimes, I just want to bury my face in a big pile of chocolate. No judgment please.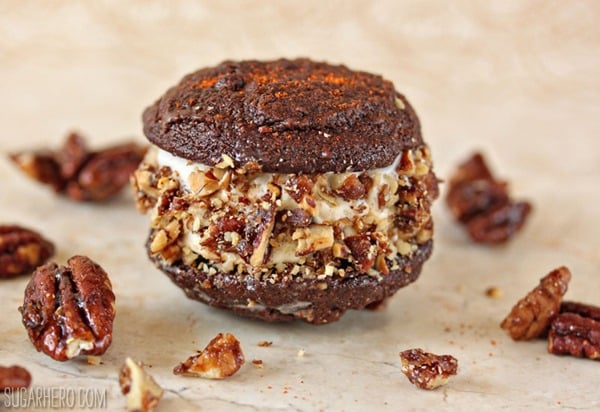 In the spirit of burying my face in chocolate, and as a tribute to New York's mini heat wave I endured like the brave hero I am, I bring you Spicy Chocolate Ice Cream Sandwiches. The cookies have the soft texture of a brownie, and a hint of cinnamon and cayenne to make them interesting. They're sandwiched with a big scoop of ice cream (I used cinnamon swirl!) and finished with a ring of sweet and spicy candied pecans.
The pecan recipe is actually one from my About.com Candy site, and it's one of my favorites! The nuts are super crunchy and deeply flavorful, since they're baked until they're dark brown in a slurry of butter, salt, maple syrup, brown sugar, cinnamon, and cayenne. I could lie and say I usually use them to top a salad or something, but the truth is, I most often end up eating them plain. In this recipe, they add the perfect sweet-and-salty crunch to the ice cream sandwich.
The cookies get hard when they're cold, so these aren't sandwiches you can assemble in advance and eat straight from the freezer. Rather, they're a slap-it-together-and-shovel-it-down situation, which is my preferred dessert consumption method anyhow. They're the best way I can think of to beat the heat. Now to figure out what dessert will beat the humidity…
💓More Spicy Dessert Recipes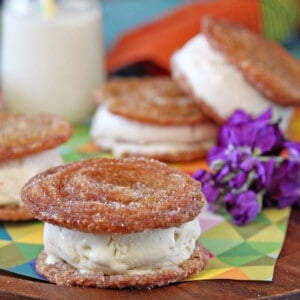 Churro Ice Cream Sandwiches
These Churro Ice Cream Sandwiches feature two round churros, fried till crispy and tossed in cinnamon sugar. Sandwich rich and creamy homemade horchata ice cream between them for an amazing summer dessert packed with cinnamon flavor!
View Recipe
Cinnamon Roll Ice Cream Sandwiches
These Cinnamon Roll Ice Cream Sandwiches are a fun twist on traditional ice cream sandwiches! Rich cream cheese ice cream is sandwiched between homemade cinnamon rolls to make a treat that's entirely delicious. 
View Recipe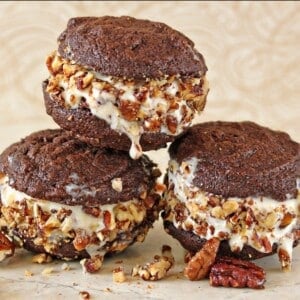 Spicy Chocolate Ice Cream Sandwiches
Spicy Chocolate Ice Cream Sandwiches nestle cinnamon ice cream between two spiced fudgy chocolate cookies that are rolled in spiced toasted pecans. If you love heat with your sweets, then these ice cream sandwiches are for you!
Ingredients
For the Spicy Chocolate Cookies:
For the Spicy Candied Pecans:
2

cups

pecan pieces

or halves

1

tbsp

unsalted butter

3

tbsp

dark brown sugar

1/2

tsp

ground cinnamon

1/2

tsp

ground cayenne pepper

1.5

tbsp

real maple syrup

1.5

tsp

kosher salt

1

quart

ice cream

flavor of choice
Instructions
To Make the Spicy Chocolate Cookies:
Preheat the oven to 350 F, and cover two baking sheets with parchment paper. Combine the butter and semi-sweet chocolate in a large microwave-safe bowl. Microwave in 30-second intervals, stirring after every 30 seconds, just until the butter and chocolate melt. Stir until smooth, then set aside for a few minutes to allow the chocolate/butter to cool to lukewarm.

Add the brown sugar and whisk it in. Add the eggs one at a time, whisking well after each addition. After the last egg is added, keep whisking until the mixture becomes smooth and shiny, like chocolate pudding. This might take 1-2 minutes of steady whisking. Add the vanilla and whisk it in.

In a small bowl, sift together the flour, cocoa, salt, cinnamon, and cayenne. Add the dry ingredients to the wet ones and stir them together with a spatula. Finally, add the mini chocolate chips and stir them in.

Scoop large spoonfuls of dough onto the baking sheet. You should get about 24 cookies from this batch. Bake the cookies for 9-10 minutes at 350 F, until the outside is puffed and shiny, but the center is still soft. Cool the cookies completely before assembling the ice cream sandwiches.
To Make the Spicy Candied Pecans:
Preheat the oven to 350 degrees. Prepare a baking sheet by lining it with aluminum foil and spraying the foil with nonstick cooking spray. Spread the pecans on the baking sheet and toast them in the oven until dark and fragrant, about 10 minutes. Stir every 3 or 4 minutes.

While the pecans are toasting, prepare the coating mixture. Microwave the butter in a large microwave-safe bowl until melted. Stir in the brown sugar, maple syrup, cinnamon, salt, and cayenne.

Once the pecans are fragrant, remove them from the oven and pour the hot nuts into the coating mixture. (Be careful as it might splutter and hiss.) Stir until the nuts are evenly coated, and pour them back onto the foil-lined baking sheet and spread them in an even layer.

Bake for another 10 minutes, stirring after every 3-4 minutes. After 10 minutes, remove the nuts from the oven and allow them to cool and crisp up on the baking sheet.
To Assemble the Sandwiches:
Coarsely chop 1 cup of spicy pecans. Let the ice cream sit at room temperature for 5 minutes, just until it starts to soften slightly. Place 1 scoop of ice cream on top of a cookie, and top it with a second cookie. Press down slightly so the ice cream is squished to the edges of the cookie. Take a handful of chopped nuts and press them into the sides of the ice cream. Serve immediately.
Recipe Notes
This recipe produces cookies and pecans that have a noticeable, but not overwhelming, heat. If you're comfortable with medium-heat salsas, these will probably be perfect for you. If you like less spice, feel free to decrease the cayenne by half, and if you like more, increase it by a bit to really feel the burn! I like making these sandwiches with cinnamon ice cream, but coffee or chocolate ice cream would also be delicious. The Sweet and Spicy Candy Pecan recipe is from my About.com Candy site. This recipe makes more candied pecans than you will need to coat the sandwiches. You're welcome to halve it, but I like to keep some on hand to top salads and ice cream, so I always make the full batch.
Measuring Tips
Our recipes are developed using weight measurements, and we highly recommend using a kitchen scale for baking whenever possible. However, if you prefer to use cups, volume measurements are provided as well. PLEASE NOTE: the adage "8 oz = 1 cup" is NOT true when speaking about weight, so don't be concerned if the measurements don't fit this formula.
Want to learn more about baking measurements and conversion?
Nutrition
Calories:
637
kcal
|
Carbohydrates:
75
g
|
Protein:
8
g
|
Fat:
35
g
|
Saturated Fat:
12
g
|
Cholesterol:
68
mg
|
Sodium:
522
mg
|
Potassium:
328
mg
|
Fiber:
4
g
|
Sugar:
47
g
|
Vitamin A:
600
IU
|
Vitamin C:
0.2
mg
|
Calcium:
126
mg
|
Iron:
2.6
mg
Tried this recipe?
Snap a pic and hashtag it #SugarHero. We love to see your creations on our Instagram @elabau.