This Dulce de Leche Swirl Pound Cake has a moist, dense texture that is filled with caramel swirls of dulce de leche throughout. It's fragrant with vanilla and the milky sweetness of condensed milk!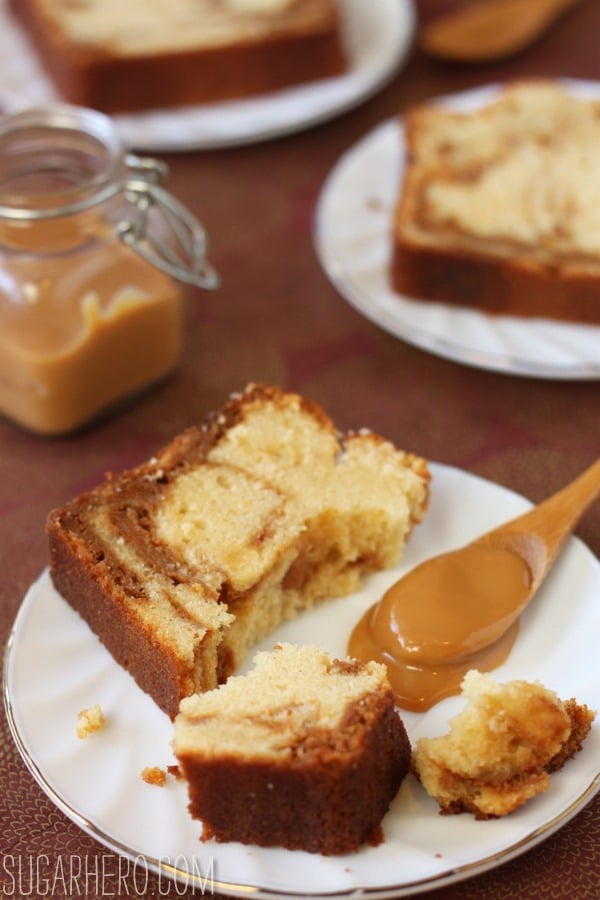 I live with a dulce de leche lover. I'd even go so far as to say he's a dulce de leche lovah. Jason-and-dulce-de-leche-sitting-in-a-tree territory. I don't even know why I bother making fancy desserts, when I could just boil a can of condensed milk, give him a can opener and a spoon, and completely make his week.
So when I saw a recipe for pound cake made with condensed milk on 17 and Baking, I immediately starting thinking of ways I could dulce de leche-ify it. I thought about simply replacing the condensed milk with thinned dulce de leche (which still sounds awesome) but then I decided that adding pockets of dulce de leche swirled throughout the cake sounded awesomer. And it was.
This cake has a moist, dense texture. It's fragrant with vanilla and the milky sweetness of condensed milk, and best of all, is filled with caramel swirls of dulce de leche throughout. I think I just made Jason's year.
I made this cake a few times before I got a version I loved. It was something of a Goldilocks quest: the first batch was underbaked and soggy in the middle. The next was dry and overdone on the edges. But finally, it was just right. What I've discovered is that the texture of the dulce de leche is important: too thick and it all sinks like a stone to the bottom, but too thin and it blends into the cake without making distinct swirls.
[Don't be fooled by the picture below. The dulce de leche dripping alluringly from the pound cake? Is way too thin to work. It's nice as a topping, but the stuff baked into the cake should have more body.]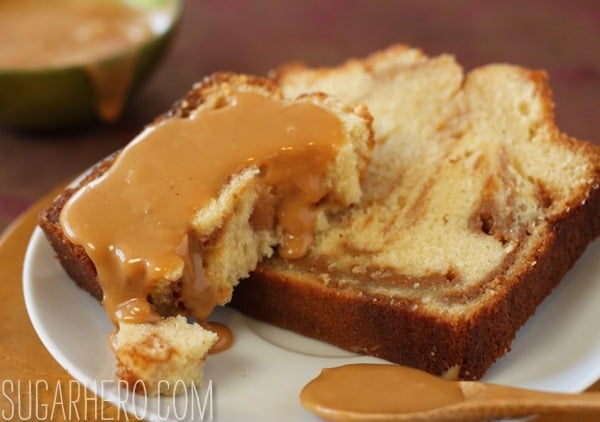 To get my perfect texture, I make dulce de leche in the slow cooker, which takes about 8 hours, but has the benefit of being completely brainless. I literally stick it in there and forget about it for the day, and when 8 hours are up I have perfect dulce de leche, every time.
If you follow the recipe below you will end up with twice as much dulce de leche as the recipe calls for, and for that I apologize. Well, actually, I "apologize," since extra dulce de leche is hardly a bad thing. It's simply easiest to make it if you use a whole can, but you'll only need half a can's worth for the swirls. I recommend thinning out the extra and using it as a cake topping, or simply doubling the recipe and freezing one of the loaves.
You can also use store-bought dulce de leche, but make sure you use a variety that is thick, almost like peanut butter, not thin like caramel sauce.
🤎More Desserts for Cinco de Mayo
Dulce de Leche Swirled Tarts
These beautiful Dulce de Leche Swirled Tarts start with a dark chocolate crust, packed with thick swirls of chocolate, dulce de leche, and white chocolate ganache!
View Recipe
Cinnamon Puff Pastry Twists
These Cinnamon Puff Pastry Twists are an admittance that sometimes thing should just be kept simple. A little rolling, a little twisting, a little baking and you're done!
View Recipe
Dulce de Leche Swirl Pound Cake
This Dulce de Leche Pound Cake has a moist, dense texture that is filled with caramel swirls of dulce de leche throughout. It's fragrant with vanilla and the milky sweetness of condensed milk!
Instructions
To Make Dulce de Leche
My favorite way of making dulce de leche is in a slow cooker. Place the can of condensed milk in the slow cooker and cover it with water until the can is completely submerged. Cover the slow cooker and cook it on low for 8 hours. After 8 hours, carefully remove the can from the water and let it cool completely to room temperature before opening it. The dulce de leche should be thick, almost like peanut butter. If it is too thick and closer in texture to caramel candy, whisk a little milk or cream in to loosen it up.

If you don't have a slow cooker, you can place the can in a saucepan and cover it completely with water. Cook it at a low simmer over medium heat for 4 hours, refilling the saucepan as necessary so the can is always covered with water. Let it cool at room temperature before using.
To Make the Pound Cake
Preheat the oven to 325 degrees Fahrenheit. Spray an 8.5×4.5 inch bread pan with nonstick cooking spray.

In a small bowl, whisk together the flour, baking powder, and salt, and set aside for now.

Place the butter and brown sugar in the large bowl of a stand mixer, and mix them together at medium speed until light and fluffy, about 3 minutes. Add the eggs one at a time, mixing until they're fully incorporated. Add the vanilla extract and the condensed milk, and mix it in.

With the mixer running on low speed, slowly stream in the dry ingredients, and mix until they're almost incorporated. Finish mixing the batter by hand with a spatula, scraping the bottom and sides of the bowl and making sure there are no streaks of flour or butter.

Spoon about a third of the batter into the prepared pan and smooth it into an even layer. Drop half of the dulce de leche on top of the batter in large spoonfuls. Pour half of the remaining batter on top of the dulce de leche, and spoon the rest of the dulce de leche on top of the batter. Finally, cover the dulce de leche with the last of the batter and smooth it out. Take a table knife and run it through the batter briefly to swirl the dulce de leche. Don't overwork it, or the dulce de leche will sink to the bottom and you'll lose the swirled effect.

Bake the pound cake at 325 F for 60-65 minutes. If the top starts to darken before the cake is cooked, cover it loosely with foil to prevent it from getting too brown. Test the center of the cake with a skewer to make sure that it's fully cooked in the middle.
Recipe Notes
Adapted from a cake recipe in The Sweet Spot by Pichet Ong.
Measuring Tips
Our recipes are developed using weight measurements, and we highly recommend using a kitchen scale for baking whenever possible. However, if you prefer to use cups, volume measurements are provided as well. PLEASE NOTE: the adage "8 oz = 1 cup" is NOT true when speaking about weight, so don't be concerned if the measurements don't fit this formula.
Want to learn more about baking measurements and conversion?
Nutrition
Calories:
4743
kcal
|
Carbohydrates:
543
g
|
Protein:
85
g
|
Fat:
252
g
|
Saturated Fat:
155
g
|
Polyunsaturated Fat:
12
g
|
Monounsaturated Fat:
68
g
|
Trans Fat:
7
g
|
Cholesterol:
1191
mg
|
Sodium:
2195
mg
|
Potassium:
3149
mg
|
Fiber:
5
g
|
Sugar:
413
g
|
Vitamin A:
8046
IU
|
Vitamin C:
16
mg
|
Calcium:
2118
mg
|
Iron:
12
mg
Tried this recipe?
Snap a pic and hashtag it #SugarHero. We love to see your creations on our Instagram @elabau.