This post may contain affiliate links. As an Amazon Associate I earn from qualifying purchases. Please see my disclosure policy for more information.
These Giant Ferrero Rocher Hazelnut Mousse Cakes are incredible! The extra-large chocolate shells are studded with hazelnuts and filled with layers of chocolate cake and rich hazelnut mousse.
Happy World Nutella Day! This one food holiday I always look forward to. I've celebrated it for the past several years, so by now I have a healthy little collection of Nutella-based desserts on the blog, and I'm always looking to top myself and go a little bigger than the year before. Five years from now I'll be sculpting a life-sized bust of Lionel Richie out of Nutella…just you wait.
That was a little ambitious for this year, though, so I stuck with my original idea: making giant Ferrero Rochers! This idea has been kicking around in my head for months, and I am so thrilled that I finally got to play around with it!
In case your life is sad and devoid of meaning and you aren't familiar with Ferrero Rochers, they're a small chocolate candy made with a wafer shell, Nutella filling, and a whole hazelnut in the center. They're covered in a bumpy, hazelnut-studded chocolate layer and they are, in a word, delightful. They are also, in another two words, freaking addicting, and if I were to use three words, I would say they are way too small. Let's fix that, eh?
Regular Rochers are about an inch wide and are a solid two-bite snack. My Rochers were closer to 5 inches wide, and easily served two to four people, depending on levels of hunger and the amount of room available in the ole dessert stomach.
Although they're look-alikes, they're not quite taste-alikes. Traditional Rochers are mostly filled with Nutella, and while I am on record as being a Nutella fan, the thought of cutting into a giant chocolate ball and having several cups of Nutella ooze out onto the plate was…unappetizing. So while these are Rochers in appearance, once you get past the chocolate shell, they're actually filled with layers of cake and mousse.
Three layers of moist chocolate cake, to be precise, and three layers of hazelnut-speckled chocolate-hazelnut mousse. Swooning yet? I'll admit it: I swooned a little too. This is pretty much my dream dessert combination, and the fact that it comes encased in a solid chocolate shell is the icing on the cake…or the chocolate around the cake, if you will.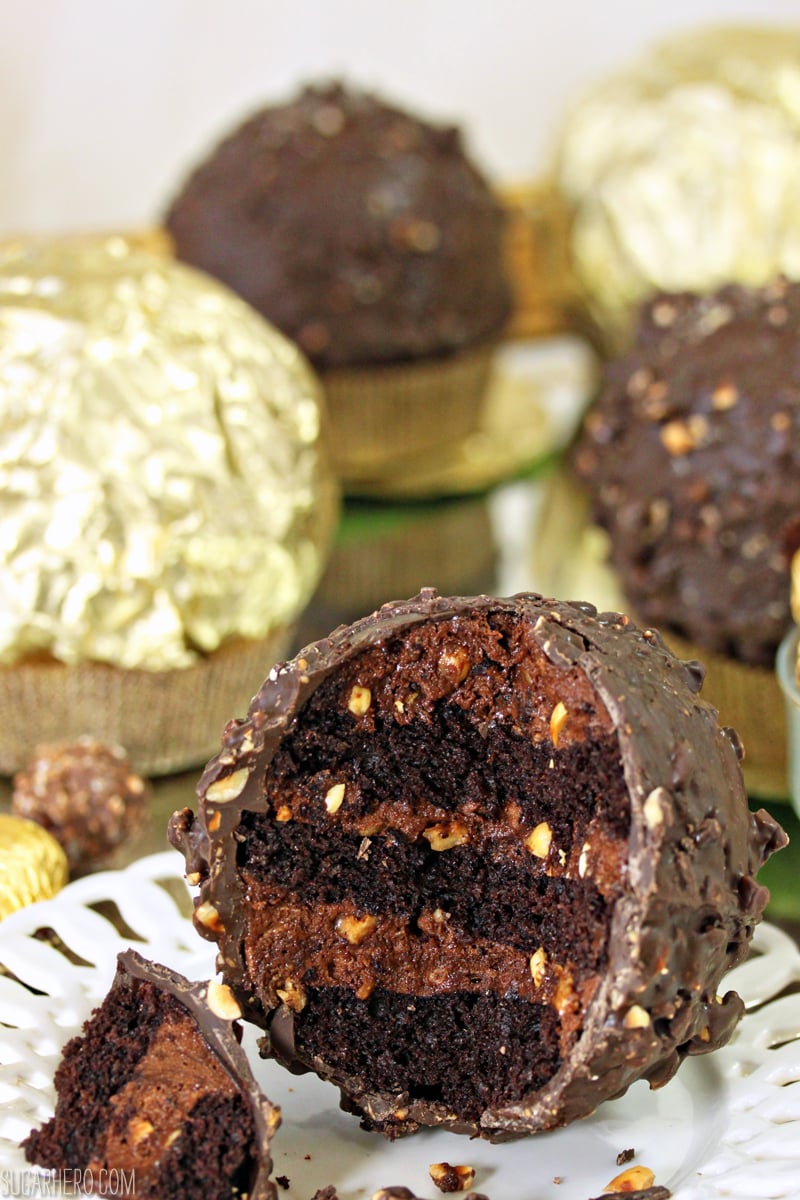 Making these was a little time-consuming, but it's not actually difficult. Getting the right equipment is at least half of the battle! I originally bought a silicone half-sphere chocolate mold, but once I really looked at it I realized that having 3-inch chocolate balls just seemed too small. By that point it was too late to order a different chocolate mold online, so I ended up using two 4-inch half-sphere cake pans. They worked fairly well, but if you're going to be buying something new for this project anyhow, I would recommend getting chocolate molds instead of cake pans—you'll jut have an easier time unmolding them.
Here's a cheap 4-3/8-inch chocolate mold, and here's a more expensive but sturdier 3.9" chocolate mold.
Aaaaand here's the play-by-play. You'll make the chocolate half-spheres and bake the chocolate cake in advance. Once the mousse is made, it's just a matter of layering the mousse and cake in alternating layers in the half-spheres, then gluing them together with chocolate. Paint a layer of chocolate flecked with hazelnuts all along the outside, and you're done!
For maximum similitude, I wrapped my mega Rochers in gold foil and set them in large paper baking cups. I found the foil at my local cake supply place, which sells it in rolls or by the yard, and it has a nice embossed pattern on it. (I believe this is the same foil I used.) You don't need specialty foil, though, and if you can't find gold, you can use regular silver foil or even gold cellophane.
This is such a fun idea, and of course you can use the same technique to fill the chocolate balls with all sorts of different cake, frosting, curd, and mousse fillings!
Merry World Nutella Day to all, and to all a good night.
Giant Ferrero Rocher Hazelnut Mousse Cakes
These Giant Ferrero Rocher Hazelnut Mousse Cakes are incredible! The extra-large chocolate shells are studded with hazelnuts and filled with layers of chocolate cake and rich hazelnut mousse.

Ingredients
For the Chocolate Cake:
6

oz

unsalted butter

,

at room temperature

4.75

oz

granulated sugar,

(2/3 cup)

5

oz

brown sugar,

(2/3 cup packed)

2

eggs

,

at room temperature

2

tsp

vanilla extract

8

oz

buttermilk

, at room temperature,

(1 cup)

4

oz

sour cream

, at room temperature,

(1/2 cup)

2

tbsp

water

,

or brewed coffee

7.8

oz

all-purpose flour,

(1¾ cups)

3

oz

unsweetened cocoa powder,

(1 cup)

1½

tsp

baking soda

½

tsp

salt
For the Chocolate Shells and Assembly:
4

oz

toasted hazelnuts

, skinned, coarsely chopped, about

1 cup

4″

spherical chocolate molds

,

can substitute spherical cake pans instead
Instructions
To Make the Chocolate Cake:
Line a rimmed 18×13-inch half sheet pan with parchment or foil, and spray the pan with nonstick cooking spray. Preheat the oven to 350 F.

Add the butter and both sugars to the bowl of a large stand mixer fitted with a paddle attachment. Beat them together on medium-high speed, until light and fluffy, about 5 minutes. Add the eggs one at a time, beating well after each addition. Add the vanilla extract and mix it in.

In a separate bowl, whisk together the buttermilk, sour cream, and water (or coffee, if using). In a different bowl, sift together the flour, cocoa powder, baking soda, and salt. With the mixer running on low, add a quarter of the sifted flour mixture. When the flour streaks have almost all disappeared, add a third of the liquid to the mixing bowl. When that's incorporated, continue to add the drys and wets in an alternating pattern, ending with the dry ingredients.

When the dry ingredients are nearly incorporated, stop the mixer. Scrape down the bottom and sides of the bowl with a rubber spatula, and finish mixing the cake by hand. Pour the batter into the prepared pan and smooth it into an even layer. Bake the cake for about 15 minutes, until a toothpick inserted into the center comes out with just a few moist crumbs attached. Cool the cake completely before using.

The cake can be made several days in advance and kept, well-wrapped and refrigerated or frozen, until ready to use. If you freeze it, make sure it's partially defrosted before you use it so you can cut it easily.
To Make the Chocolate Shells:
Make sure that your spherical molds are clean and dry. If you are using cake pans instead of actual chocolate molds, it might help to rub a very, very thin layer of nonstick cooking spray into the metal. It shouldn't be greasy, but a very light coating can help the chocolate release.

Melt 1 lb of the candy coating in a microwave-safe bowl, stirring after every 30 seconds to prevent overheating. Let the coating sit at room temperature until it it cools down to just slightly warmer than room temperature. It should still be fluid but should have a thicker texture.

Pour a few spoonfuls of chocolate into the bottom of a mold and swirl it around so that it covers the bottom and the sides evenly. Turn it upside-down and let any excess drip back into the bowl, so you have a thin and even coating on the mold. Place the bowl upside-down on a parchment-lined baking sheet, and repeat with your remaining molds. Refrigerate the tray to set the chocolate, for about 15 minutes, then freeze them for 2-3 minutes more to get the chocolate very cold. It contracts when it's cold, and it should be easy to pop the chocolate spheres out of the molds once they've been in the freezer.

To remove the spheres, gently flex the molds. If you're using cake pans, it's easiest to turn them upside down and very gently use one hand to coax the chocolate out. Since it is a thin layer, it can break if not handled carefully, so try to be soft. If it does break, you can always dab some chocolate in the crack and re-chill until set. The chocolate shell will be covered anyhow, so it doesn't matter if it doesn't look perfect!

Repeat this process as many times as necessary until you have 10 half-spheres—this recipe makes 5 Rocher cakes total. If you have extra chocolate, consider making an extra sphere or two in case of breakage during assembly.
To Make the Hazelnut Mousse:
Combine the chocolate, 3/4 cup of cream, Nutella, and salt in a microwave-safe bowl. Microwave in 30-second increments, stirring every 30 seconds, until the chocolate has melted and the mixture is smooth. Pour it into a large bowl, and let it cool to room temperature, whisking occasionally.

While you wait for the chocolate mixture to cool, prepare the gelatin. Whisk together the gelatin and the cold water in a small bowl, and set it aside to let the gelatin absorb the water. When the chocolate is at room temperature, microwave the bowl of gelatin for 15 seconds, until it is melted. Whisk the melted gelatin and chocolate together.

Whip the remaining 1 1/4 cups of heavy cream to firm peaks. Fold half of the whipped cream into the chocolate, and once it's incorporated, gently fold in the remaining whipped cream. Add the hazelnuts and fold them in last. Use immediately. The mousse will start to set soon after it's finished, so do not try to make it in advance and then assemble the cakes later.
To Assemble:
Cut a circle of cake that will fit in the bottom of one of the chocolate half-spheres. Press it into the sphere, then top it with a layer of hazelnut mousse and smooth out the top of the mousse. Cut another circle of cake that will fit on top of the mousse—this one will be a larger size. Press the circle of cake on top of the mousse, and if necessary, trim the top so that it's level with the top of the shell.

In a second chocolate shell, reverse the order: spoon some mousse into the bottom of the shell, and top it with a cake round. Place more mousse on top of that round, and smooth it so that it's flush with the top of this chocolate shell. Now, when the shells are fitted together, they will have three layers of mousse and three layers of cake in alternating order. Melt the remaining 1 lb of chocolate coating and brush a thin layer around the edges of the spheres to seal them together. Rest the assembled ball in a bowl or in the cavity of a muffin tin (so that it is stable and doesn't move) while you assemble the rest of the mini cakes.

To finish them off, re-warm the remaining chocolate coating, if necessary, and stir in the coarsely chopped hazelnuts. Set them in the cavities of a muffin tin, and use a pastry brush to brush the nut-studded chocolate on top of the chocolate shells. You will probably only be able to really coat the top half of each shell with chocolate, so once that's done, refrigerate the cakes to set the chocolate coating, for about 15 minutes. Once set, turn the cakes upside down and brush the bottoms with the chocolate-nut mixture, until the spheres are entirely covered in a layer of bumpy, nut-packed chocolate. If you want, you can scatter a few chopped hazelnuts on top so that a few of them show through the chocolate. Refrigerate the tray again to set the chocolate completely.

To serve, wrap each cake individually in gold foil, and set in a paper baking cup. These keep very well, because the chocolate coating prevents the cake from getting stale, and the mousse keeps things moist. Well-wrapped, they will keep for up to a week in the refrigerator.
Recipe Notes
The chocolate cake recipe is adapted from Ina Garten's chocolate cupcakes in Barefoot Contessa at Home.
I use chocolate candy coating (like Merckens chocolate wafers) for this recipe, since it's faster and easier than tempering chocolate, and using untampered chocolate for the shells would not produce good results.
If you want to use real chocolate, I recommend tempering it following these instructions. I do not recommend simply melting regular chocolate and using that, since it will be difficult to release from the molds and is often soft, crumbly, or streaky at room temperature. This recipe yields 5 5-inch Rocher cakes.
MEASURING TIPS
Our recipes are developed using weight measurements, and we highly recommend using a kitchen scale for baking whenever possible. However, if you prefer to use cups, volume measurements are provided as well. PLEASE NOTE: the adage "8 oz = 1 cup" is NOT true when speaking about weight, so don't be concerned if the measurements don't fit this formula.
Click here to learn more about baking measurements and conversion.
Nutrition
Calories:
820
kcal
|
Carbohydrates:
90
g
|
Protein:
6
g
|
Fat:
47
g
|
Saturated Fat:
37
g
|
Cholesterol:
79
mg
|
Sodium:
317
mg
|
Potassium:
252
mg
|
Fiber:
3
g
|
Sugar:
75
g
|
Vitamin A:
683
IU
|
Vitamin C:
1
mg
|
Calcium:
84
mg
|
Iron:
3
mg
Share by Text
Share by Email
Share on Facebook
Share on Pinterest