These Giant Ferrero Rocher Hazelnut Mousse Cakes are incredible! The extra-large chocolate shells are studded with hazelnuts and filled with layers of chocolate cake and rich hazelnut mousse.
Happy World Nutella Day! This one food holiday I always look forward to. I've celebrated it for the past several years, so by now I have a healthy little collection of Nutella-based desserts on the blog, and I'm always looking to top myself and go a little bigger than the year before. Five years from now I'll be sculpting a life-sized bust of Lionel Richie out of Nutella…just you wait.
That was a little ambitious for this year, though, so I stuck with my original idea: making giant Ferrero Rochers! This idea has been kicking around in my head for months, and I am so thrilled that I finally got to play around with it!
In case your life is sad and devoid of meaning and you aren't familiar with Ferrero Rochers, they're a small chocolate candy made with a wafer shell, Nutella filling, and a whole hazelnut in the center. They're covered in a bumpy, hazelnut-studded chocolate layer and they are, in a word, delightful. They are also, in another two words, freaking addicting, and if I were to use three words, I would say they are way too small. Let's fix that, eh?
Regular Rochers are about an inch wide and are a solid two-bite snack. My Rochers were closer to 5 inches wide, and easily served two to four people, depending on levels of hunger and the amount of room available in the ole dessert stomach.
Although they're look-alikes, they're not quite taste-alikes. Traditional Rochers are mostly filled with Nutella, and while I am on record as being a Nutella fan, the thought of cutting into a giant chocolate ball and having several cups of Nutella ooze out onto the plate was…unappetizing. So while these are Rochers in appearance, once you get past the chocolate shell, they're actually filled with layers of cake and mousse.
Three layers of moist chocolate cake, to be precise, and three layers of hazelnut-speckled chocolate-hazelnut mousse. Swooning yet? I'll admit it: I swooned a little too. This is pretty much my dream dessert combination, and the fact that it comes encased in a solid chocolate shell is the icing on the cake…or the chocolate around the cake, if you will.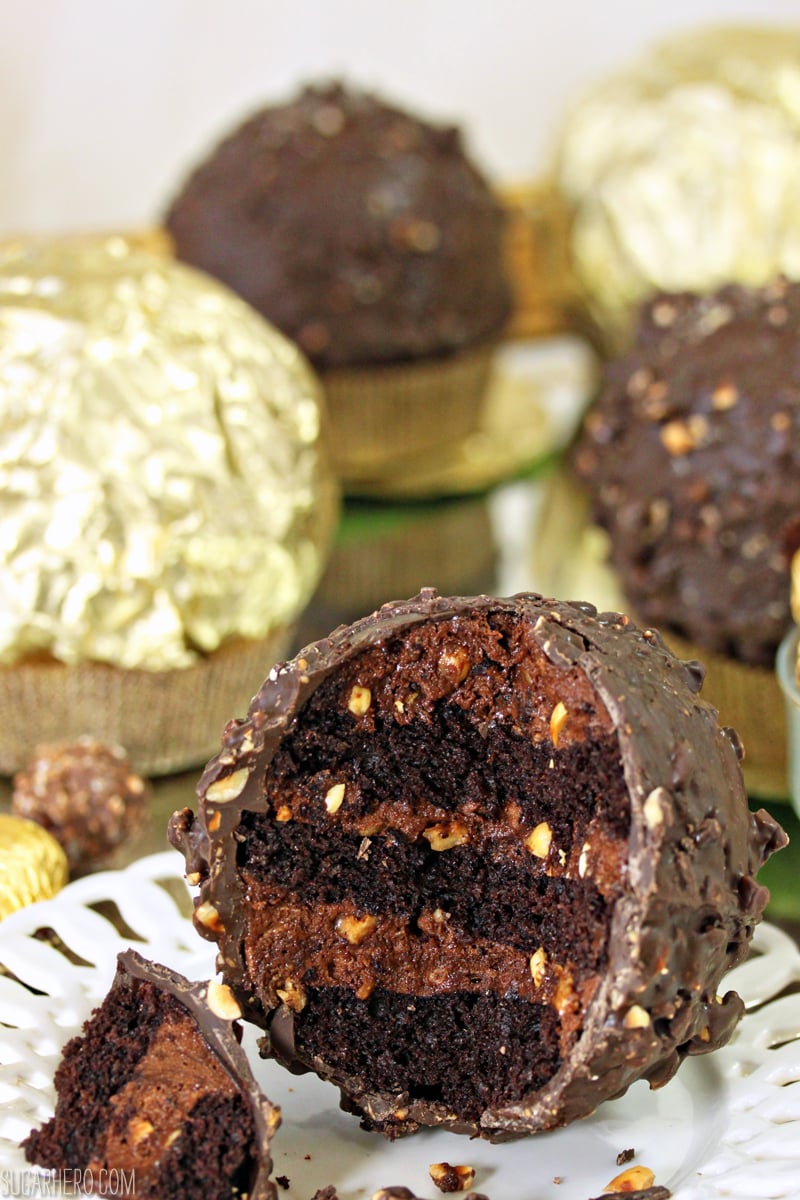 Making these was a little time-consuming, but it's not actually difficult. Getting the right equipment is at least half of the battle! I originally bought a silicone half-sphere chocolate mold, but once I really looked at it I realized that having 3-inch chocolate balls just seemed too small. By that point it was too late to order a different chocolate mold online, so I ended up using two 4-inch half-sphere cake pans. They worked fairly well, but if you're going to be buying something new for this project anyhow, I would recommend getting chocolate molds instead of cake pans—you'll jut have an easier time unmolding them.
Here's a cheap 4-3/8-inch chocolate mold, and here's a more expensive but sturdier 3.9" chocolate mold.
Aaaaand here's the play-by-play. You'll make the chocolate half-spheres and bake the chocolate cake in advance. Once the mousse is made, it's just a matter of layering the mousse and cake in alternating layers in the half-spheres, then gluing them together with chocolate. Paint a layer of chocolate flecked with hazelnuts all along the outside, and you're done!
For maximum similitude, I wrapped my mega Rochers in gold foil and set them in large paper baking cups. I found the foil at my local cake supply place, which sells it in rolls or by the yard, and it has a nice embossed pattern on it. (I believe this is the same foil I used.) You don't need specialty foil, though, and if you can't find gold, you can use regular silver foil or even gold cellophane.
This is such a fun idea, and of course you can use the same technique to fill the chocolate balls with all sorts of different cake, frosting, curd, and mousse fillings!
Merry World Nutella Day to all, and to all a good night.