Why choose between cookies and cake when you can enjoy both together?! This Cookies and Cream Cake has ultra-moist layers of devil's food cake and buttercream with lots of crushed cookies mixed right in. It's finished with a drippy chocolate ganache and adorable mini Oreos. This is a MUST for all chocolate cake lovers!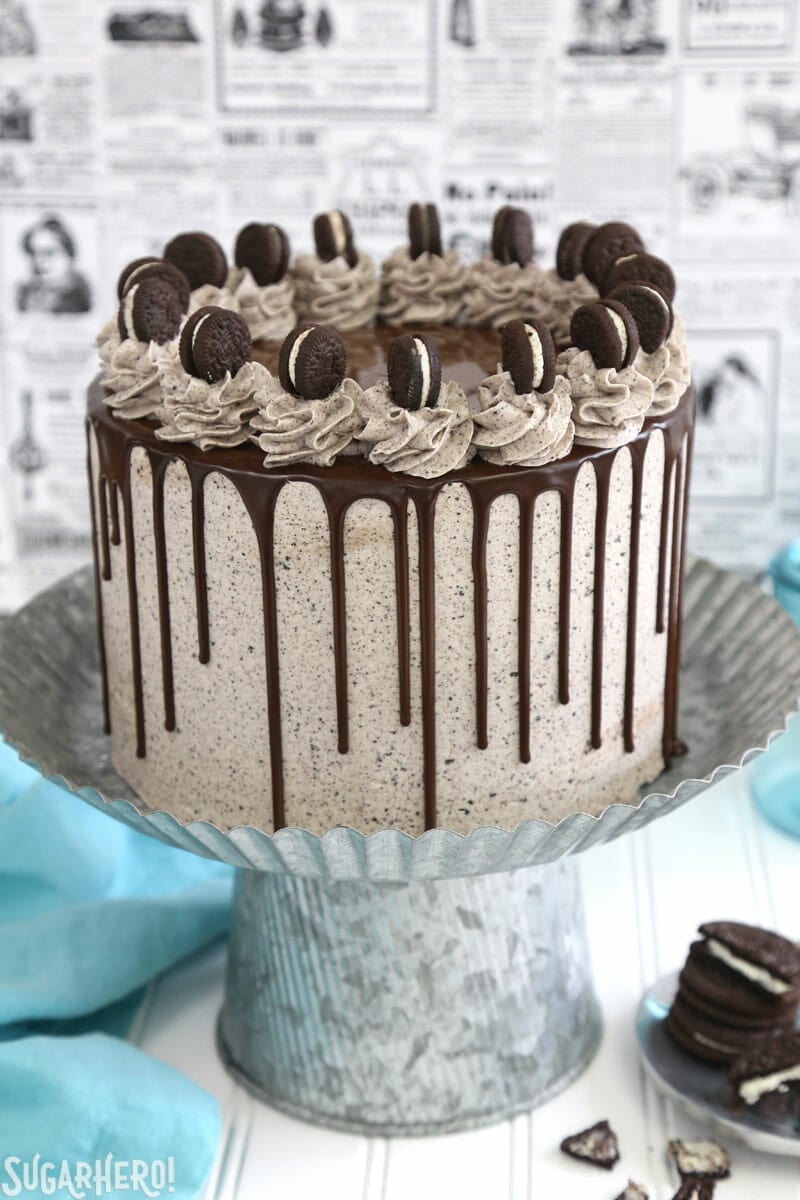 Calling all chocoholics, cakeoholics, cookieholics…okay, I'm basically calling EVERYBODY to the kitchen, because I think everyone will dig this epic Cookie and Cream Cake!
It features…drumroll please…four layers of soft, dense devil's food cake, three layers of buttercream mixed with chopped Oreo cookies, and an outer coating of frosting with real cookie crumbs mixed right in. THEN it's finished with a shiny chocolate glaze, tall frosting rosettes, and the cutest lil mini Oreos ever. If that doesn't bring everyone to the kitchen, I don't know what will!
If you find yourself with extra Oreos after making this cake, put them to good use in Oreo Milkshakes, Oreo Fudge, Dirt Pudding Cups, or Mini Oreo Icebox Cakes!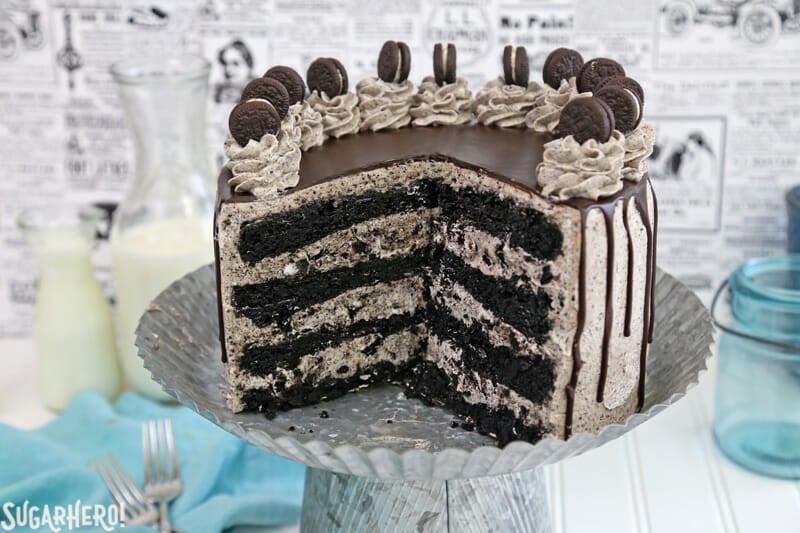 The Secret Ingredient for Making This Cookies and Cream Cake
One thing I really wanted to do with the cake portion of this recipe was mimic the actual flavor of an Oreo cookie. Oreos are known for their super dark, almost black color, which is typically achieved by using black cocoa powder. Black cocoa undergoes a special processing that removes a lot of the acidity, giving the cocoa an extremely dark color and very intense chocolate taste. It also tends to be lower in fat than other cocoa powders, and if it's used by itself in recipes, can produce dry baked goods. So I rarely use it all on its own–instead, I like to substitute black cocoa powder for a portion of the cocoa a recipe calls for, usually a third to a half of the recommended cocoa.
This is the black cocoa powder I use and recommend. It's reasonably priced, especially considering you'll only use it for a portion of the cocoa needed in any given recipe, and can last for several years if stored properly. If you don't have black cocoa powder, you can just use an equal amount of the regular cocoa powder, no harm, no foul! Nothing else about the recipe needs to be changed, although you might notice your cake rounds are not quite as dark as mine turned out.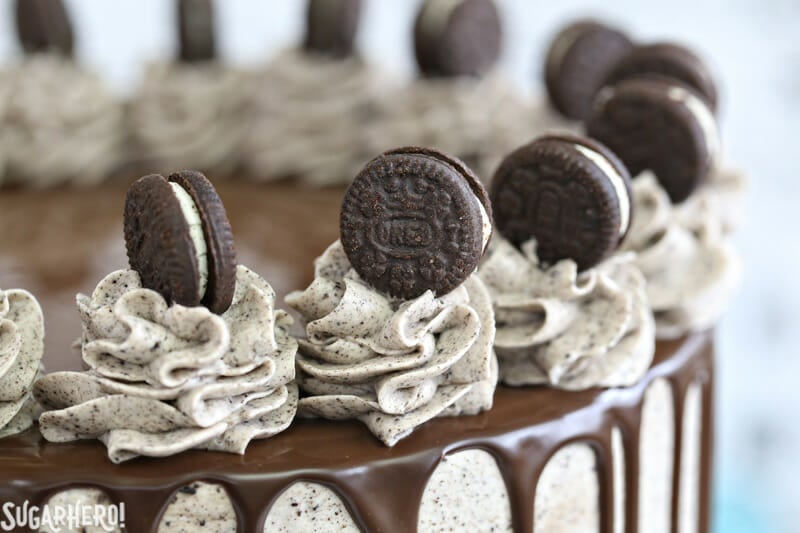 You'll also want to stock up on Oreos (I recommend the family pack size, because it's basically impossible to cook with Oreos without munching on some, am I right?) and the cute lil mini Oreos for decorating. You could also just decorate with regular Oreos cut in half, if you hate fun and whimsy in your life. Your choice!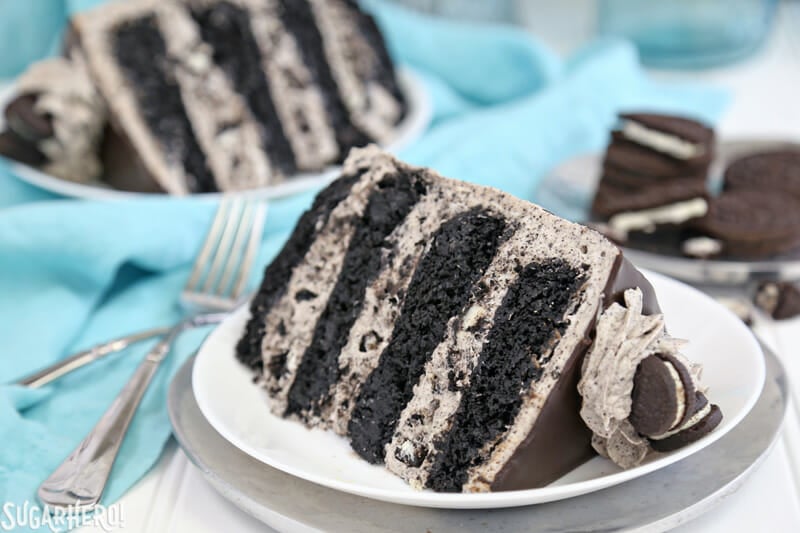 How Do I Make Cookies and Cream Cake Frosting?
For the frosting, I made my usual favorite Easiest Swiss Meringue Buttercream, and after it was finished, I stirred in a few cups of very fine Oreo cookie crumbs. I had my doubts during the process (it went from a beautiful white with black specks to a dismal concrete gray and I got worried) but I think the end result really works! Not only does it taste great, but the spotted light gray appearance really does look like "cookies and cream." If you're new to making my cheater's Swiss Meringue, I definitely recommend reading the post because it covers a lot of frequently asked questions!
For the frosting between the cake layers, I also added a healthy handful of chopped-up Oreo cookies. I loved the texture they added, but they did make cutting beautifully clean and neat slices kind of difficult! Just be prepared to have a few stray Oreo chunks embed themselves in your cake layers as you slice. Trust me when I tell you it's a small price to pay for cookies and cream bliss.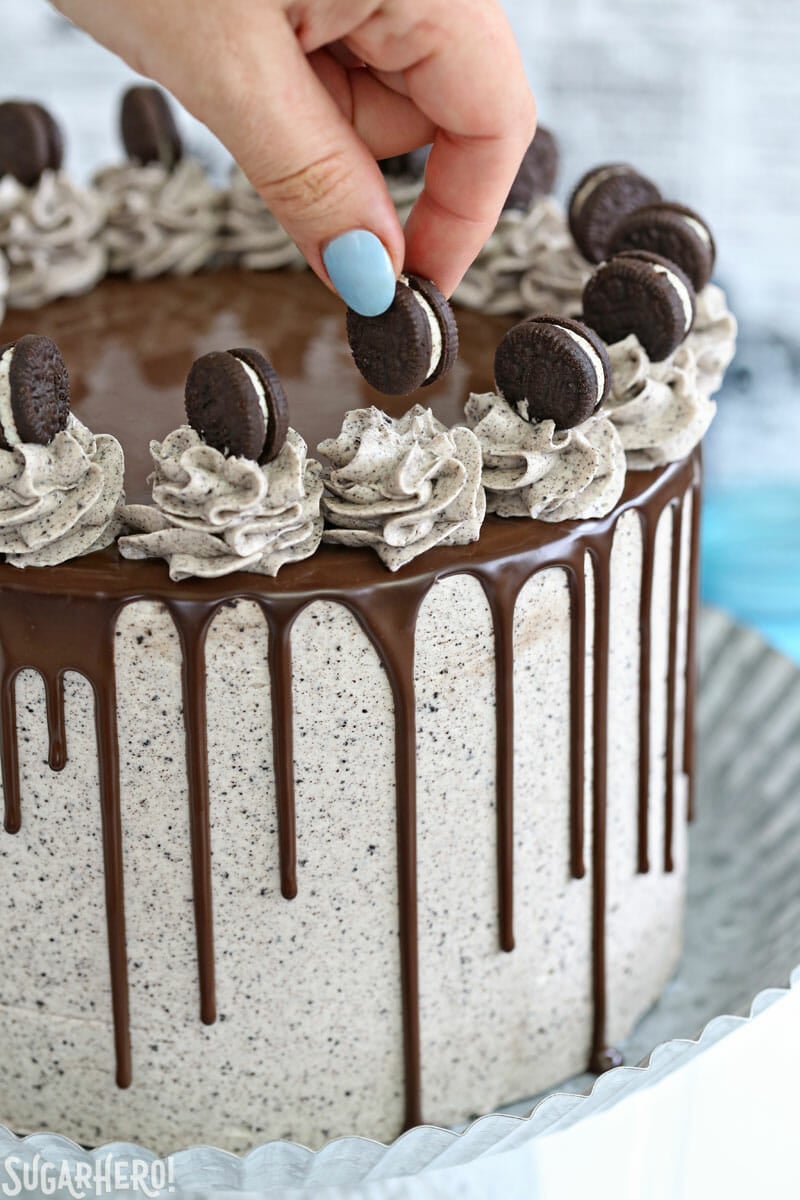 How Do I Make Perfect Ganache Drips?
Whenever I post a dripping ganache cake, I get a lot of troubleshooting questions about how to get "good" drips. So here's my advice about getting picture-perfect drippy cakes:
Know your ingredients. You can make ganache drips with either candy melts (like Wilton or Merckens brand) or real chocolate. I never recommend using real white chocolate (it always turns out translucent) and always recommend candy melts if you're looking to make white or any type of colored drips. For chocolate drips, I do like using real chocolate just because I think the flavor is better, but chocolate candy melts also work just fine. But be aware that candy melts and chocolate require VERY different cream ratios! Candy melts call for very little cream to be added–just a few tablespoons for 4-6 ounces of candy melts will get you gorgeous drips. Real chocolate, on the other hand, requires much more cream, up to double the amount of chocolate depending on the brand. So if you're following a recipe but swapping out ingredients, keep this in mind and be flexible with your cream amount.
Texture is everything! After you've whisked the chocolate and cream together, it should be fairly thin and fluid. If you lift a spoonful and let it drop back into the bowl, the chocolate should blend back into the bowl within about 1 second. If it is thick or gloopy, you will have drips that do not flow well down the sides of the cake, and a cake top that is not shiny and seamless. Don't be afraid to whisk in a touch more cream if it seems too thick. Different brands of cream and chocolate have different fat percentages, which means there is not one perfect recipe for everyone. Just play with it until it moves the way you want it to!
Temperature is everything too. The cake should be well chilled–I usually leave it in the fridge until I'm ready to glaze it, so that it's nice and cold. The ganache should be warm and fluid, although preferably not piping hot. Cold cake + warm ganache = a cake that doesn't melt, and ganache that starts to set up soon so some of those drips are suspended halfway down the cake. Thumbs up!
A few good tools go a long way. You CAN do drips with a spoon, but I like using a squeeze decorating bottle! It makes it a lot faster and less frustrating. A turntable is also a huge help!
You can fix mistakes! If your drips are a complete disaster, never fear! Chill the cake, then carefully peel off the ganache layer and fix any frosting imperfections. You'll have to make another batch of ganache to try the drip again, but it's really not a bad fix, and hey, practice makes perfect!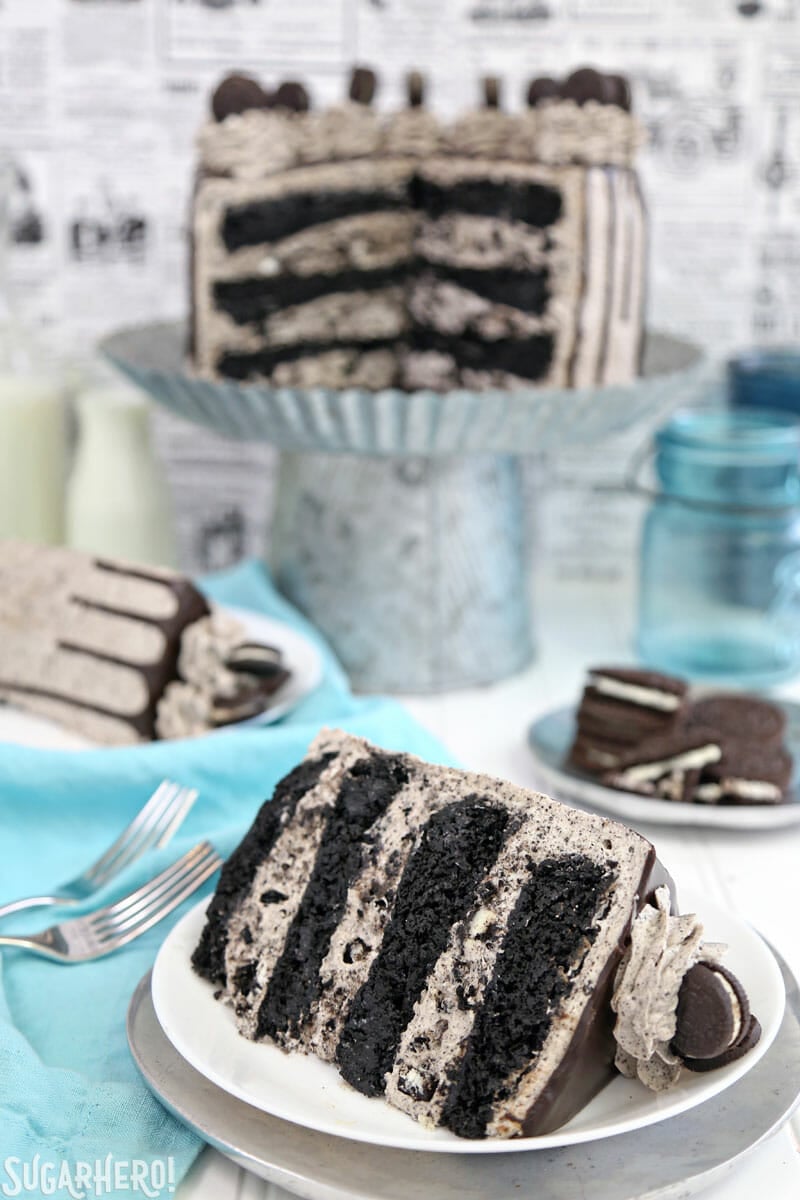 I hope you try this and love it–and as always, I want to see pictures if you give it a try! Enjoy!
🖤 More Delish Oreo Desserts