This fun Dirty Coke Fudge has the flavors of a popular fountain drink! It uses cola extract, lime zest, and coconut extract to give it a delicious, slightly tropical taste.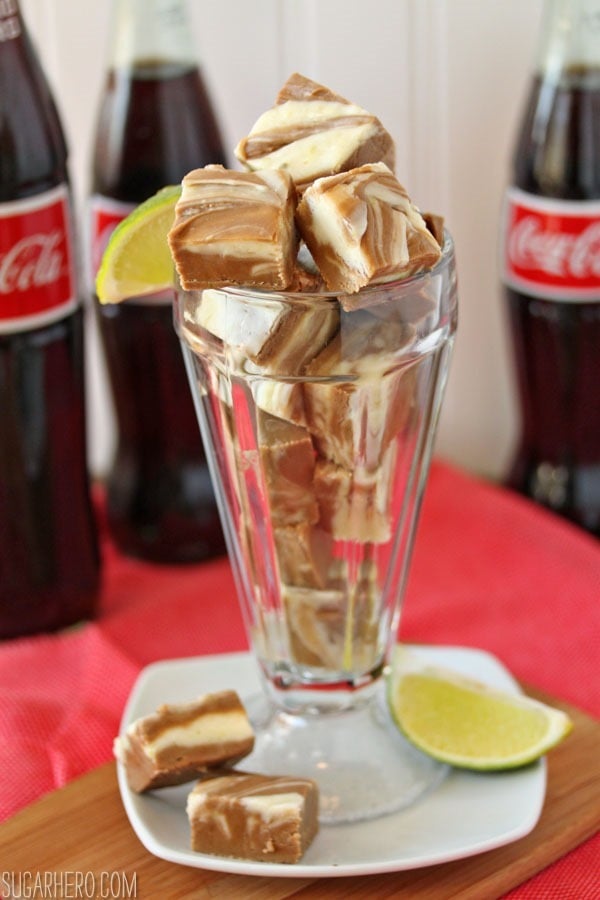 There are two kinds of people in the world: those who know what a Dirty Coke is, and those who think this is the setup to a really tasteless joke.
All of my friends are apparently in the first group people. Starting earlier this year, my Facebook and Instagram feeds started blowing up with references to Dirty Cokes (or, more accurately, Dirty Diet Cokes, because women be dieting, am I right?) and how amazingly life-changing they are.
If you're not in the know, I'll spare you some googling and tell you that a Dirty Coke is just a Coke with a shot of coconut syrup and a squeeze of lime juice. Proportions are to taste, and some people like to add a little half and half to make it more of an Italian soda. Apparently people also make Dirty Doctor Peppers and Dirty Pepsis, but my research Facebook friends give these substitutions mixed results.
So the first thing you should know about me is that I'm not a soda drinker. I like to steal sips from Jason's sodas occasionally, but I rarely drink my own, and I can't remember the last time I craved a soda.
The second thing you should know is that as soon as I started hearing about Dirty Cokes, I couldn't get them out of my head. I didn't want to drink one, I wanted to make a dessert using those flavors. Is that weird? It's weird. I know it is. I can't explain it, but the urge to make a cola, coconut, and lime-flavored dessert was very strong and very real.
This is my life, people.
I was in luck, though, because earlier this year I'd bought some cola flavoring
to make these (adorable) cola gummies. Unlike some other flavorings (banana, I'm looking at you) cola flavor really, really tastes like cola. I guess it helps that cola is basically a bunch of artificial chemicals in the first place, so it's not hard to recreate that flavor with other artificial chemicals.
So I had my cola element. I had some coconut flavoring
, and I had a giant bag o' limes. Time to party!
My first idea was to make Dirty Coke marshmallows. The light, fluffy texture of marshmallows seemed like a natural pairing for the effervescent fizz of soda, and I still think this is a pretty genius idea. However, I just couldn't get excited about eating a whole pan of cola-flavored marshmallows—that seems like a one-and-done sort of dessert. So I deferred to my tastebuds, and my gluttony, and made Dirty Coke Fudge instead!
This recipe is based on my favorite recipe for white chocolate fudge. It's fast, it's easy, it always sets up and it has a dreamy soft and smooth texture. Most of the batch is cola-flavored, but it has a lime-coconut swirl running throughout, so you get a little bit of each flavor in every bite. You'll want to check out my detailed blog post about the difference between regular limes and key limes so that you'll be fully informed when picking the fruit for this recipe!
I'm not going to lie. It's a little different. Soda-flavored fudge? Who does that?! But I'm into it! It's all sorts of tart and tangy and fruity and has a sort of refreshing bite, like a newly opened cola. Mostly it's really fun and different and a definite candy experience! You need to make it for the soda lover in your life. Or at least make them a Dirty Coke—and then tell me if my Facebook friends are crazy, or if they're onto something.
Recipe Note: During the flavoring process, it's a good idea to taste the coconut and cola fudges, since different brands of extracts have different strengths. You may find that you want to add a little more than the recommended amount of flavoring if your brand differs.
Peanut Butter Cup Fudge
This Peanut Butter Cup Fudge is so easy…all you do is cook it, stir in some peanut butter, and give yourself giant pats on the back for making such great fudge! Of course you don't have let everyone else know how easy it was!
View Recipe
Oreo Fudge
Like Oreos? Like white chocolate? Then you are going to LOVE this Oreo Fudge! The smoothest, creamiest, packed-full-of-cookies-est fudge you'll ever taste. Best of all, you can make it in 5 minutes!
View Recipe
Dirty Coke Fudge
This fun Dirty Coke Fudge has the flavors of a popular fountain drink! It uses cola extract, lime zest, and coconut extract to give it a delicious, slightly tropical taste.
Instructions
Prepare a 9×9 pan by lining it with aluminum foil and spraying the foil with nonstick cooking spray. Set a small bowl aside as well.

Place the butter, sugar, sour cream, and salt in a heavy-bottomed medium saucepan over medium-high heat. Stir until the sugar dissolves and the butter melts. Continue to cook the fudge, stirring frequently, until it comes to a boil. Once boiling, insert a candy thermometer. Cook the fudge, stirring constantly, until the thermometer reads 235 degrees Fahrenheit (113 C).

Once at 235 F, remove the pan from the heat and add the white chocolate chips, the marshmallow cream, and the vanilla extract. Stir vigorously until the chips and cream are melted and incorporated. If necessary, return the fudge to the heat for brief periods to melt the chips.

Next, scoop about 1 1/2 cups of fudge into the small bowl. You don't need to measure, just separate out approximately a quarter of the fudge. This will be the white swirl you see in the final product. Add the lime zest and coconut flavoring to the fudge in the bowl, and mix well.

Add the cola flavoring to the remaining fudge in the pot, and stir until it is well-blended. Scrape the cola fudge into the prepared pan. Working quickly, scoop spoonfuls of the white fudge and drop them on top of the cola fudge in a random pattern, spreading them out evenly over the top. Once all of the white fudge is dotted on top, swirl a knife through the top of the fudge, creating a beautiful pattern of white and brown swirls. Gently tap the pan against the counter to smooth out the top of the fudge.

Let the fudge set at room temperature for about 4 hours, or in the refrigerator for at least an hour. Once set, cut into small squares to serve. Store Dirty Coke Fudge in an airtight container at room temperature for a week, or in the refrigerator for up to two weeks. For best taste and texture, serve at room temperature.
Measuring Tips
Our recipes are developed using weight measurements, and we highly recommend using a kitchen scale for baking whenever possible. However, if you prefer to use cups, volume measurements are provided as well. PLEASE NOTE: the adage "8 oz = 1 cup" is NOT true when speaking about weight, so don't be concerned if the measurements don't fit this formula.
Want to learn more about baking measurements and conversion?
Nutrition
Calories:
143
kcal
|
Carbohydrates:
21
g
|
Protein:
0
g
|
Fat:
6
g
|
Saturated Fat:
4
g
|
Cholesterol:
11
mg
|
Sodium:
99
mg
|
Potassium:
33
mg
|
Fiber:
0
g
|
Sugar:
20
g
|
Vitamin A:
110
IU
|
Vitamin C:
0.1
mg
|
Calcium:
25
mg
|
Iron:
0
mg
Tried this recipe?
Snap a pic and hashtag it #SugarHero. We love to see your creations on our Instagram @elabau.
This post contains Amazon affiliate links. For more information, see my Affiliate and Advertising Policy.