This Skull Cake is made with a spicy chocolate cake, a spicy cinnamon ganache, and cinnamon buttercream. It's the perfect chocolate cake with a kick!
Halloween is over, but please don't put away those sweet teeth just yet! We're still in the midst of celebrating Dia de los Muertos (the Mexican holiday honoring those who have died), and here in Los Angeles, the party is happening all weekend. So why not take a break from eating that leftover Halloween candy and enjoy a skull-shaped spicy chocolate and cinnamon cake instead?
If you're not familiar with Dia de los Muertos, then a skull cake might seem a little tasteless and macabre, but trust me when I say that skulls are totes appropes for the holiday, and there's a whole industry devoted to skull and skeleton-themed food and desserts. (In fact, if you want to feel really bad about your cake decorating skills, please peruse this gorgeous Pinterest gallery of Dia de los Muertos cakes. Then come back here and try not to judge me too poorly in comparison.)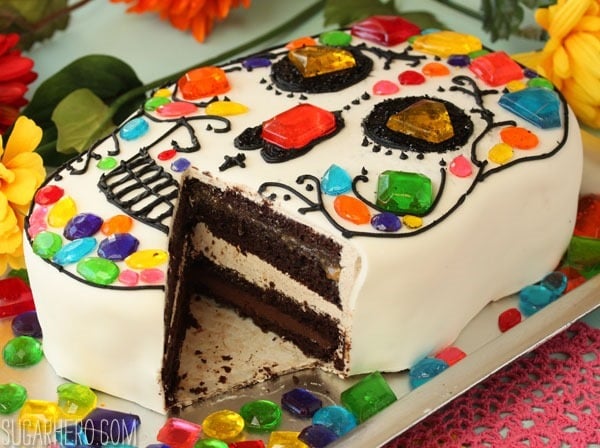 To fit the holiday theme, I took my flavor cues from Mexican food and made a cinnamon devil's food cake, filled with spicy chocolate ganache and cinnamon buttercream. Chocolate and cinnamon are a classic pairing, and when you add the slow burn of cayenne in the back of the throat? Fuggedaboutit. If you're not a spice fan you can omit it, but if you're open to it, maybe just start with a dash or two and see what you think! I promise, there's enough sugar in the recipe to more than offset any sort of spicy or savory connotations. Plus: it fits the theme. C'mon now.
One of the traditional Dia de los Muertos decorations is a sugar skull—a skull made out of sugar pressed into a skull mold and decorated with royal icing. (Like so.) I decided to take the idea of sugar skulls in a different direction, and instead decorated my skull-shaped cake with gleaming sugar jewels.
These sugar jewels were brought to you today by my friends granulated sugar, assorted jewel candy molds, and several Comedy Bang Bang podcasts. (Believe it or not, I get a little bored with my own thoughts sometimes.) Making them is like making lollipops or other hard candies—it's not hard, but it requires patience while the sugar boils and care when pouring scalding candy. It is not a task for the rushed and impatient. If you happen to be rushed and/or impatient, you can skip the homemade sugar jewels and decorate your skulls with colorful store-bought candy or even just piped frosting.
If you do want to try the sugar jewels, you'll need a mold or two…or more like four or five, so you're not stuck making them in painfully small batches. This is my assortment from a local candy supply store, but you can find them online (here is one example.) I thought it would be fun to have a big variety of sizes and shapes, and for the most part it worked well—except for those teensy ones in the top left corner. Those are a giant waste of time and practically impossible to use. Tiny candies the size of a grain of rice? Ain't nobody got time for that! I'm very busy making eight different colors of hard candy, thank you! #priorities
The time spent communing with my sugar and my ipod were worth it, however, because the jewels really made the skull pop! They added exactly the sort of colorful, bold statement I was hoping for, and when the light hit them just right…yowza. The skull cake almost glowed. She was quite the beauty in real life.
I'm no Dia de los Muertos expert, so I did some judicious Google Image searching before designing the skull. Believe it or not, apparently sugar jewels aren't big in Dia de los Muertos imagery (go figure) and seeing endless skulls painted with flowers and leaves wasn't actually all that helpful.
In the end I just started winging it and gluing on jewels in little clusters around the edges. After I added curlicues and dots with the black frosting, it looked…if not entirely authentic, then at least somewhat legit! If an area didn't look right, I basically kept adding candy until it looked better. (Which coincidentally is how I handle all of my problems in life. Hasn't failed me yet.)
Making the cake in the shape of a skull is easier than you might think. I like to cut my cakes once they've already been filled. It's so much easier than cutting unfilled cakes and then trying to line up all of the edges evenly. If your cake is chilled the frosting will be hard, so it's a pretty easy surface to cut through and you'll get nice clean lines. From there it's the usual frost n' fondant—you know the drill!
I've gotten some requests for more process photos of tricky steps, so I'm trying to be better about putting together mini tutorials. Scroll on by if they're not your thing, lick your screen if they are. You have options!
Finally, one quick point about the filling. I actually made this with 3 different fillings: the ganache, the buttercream, and then a dulce de leche filling. It was delicious, but after a day the dulce de leche soaked into the cake layers! They still tasted great, but the visual impact of the three different layers was lost. So I've written the recipe to use two layers of ganache and one of buttercream—but if you have a super-secret non-cake-soakey dulce de leche recipe, then by all means substitute that instead!
And with that, the world's longest blog post concludes, and I'm free to go nibble scraps of skull cake in peace. Adios, amigos, and have an amazing weekend!
Recipe Notes: If you're not a fan of spicy foods, you can easily omit the cayenne from this recipe and have a delicious chocolate-cinnamon cake. (Okay, you can also omit the cinnamon and have a chocolate-vanilla cake. But live a little!) The sugar jewels do require a little time and some specialized molds, so if you don't want to make them, you can substitute any colorful candies, or even just decorate with colored frosting.
Click Here for Printable Recipes: Skull Cake | Sugar Jewels
🔥More Spicy Desserts
Devil's Food Cake with Pumpkin Butterscotch Frosting
This Devil's Food Cake with Pumpkin Butterscotch Frosting features contrasting black and orange layers of extra-chocolatey devil's food cake and pumpkin butterscotch frosting topped with chocolate buttercream and glimmering black sprinkles!
View Recipe
Patterned M&M's Cake
This Fall themed vanilla butter cake is filled with caramel frosting and a soft salted caramel filling. M&M's create a beautiful and eye-catching design on the outside of the cake.
View Recipe
Skull Cake for Dia de los Muertos
This Skull Cake is made with a spicy chocolate cake, a spicy cinnamon ganache, and cinnamon buttercream. It's the perfect chocolate cake with a kick!
Ingredients
Instructions
To Make the Spicy Devils Food Cake:
Preheat the oven to 350 F and line two 9×13-inch pans with parchment paper. Spray the pans with nonstick cooking spray. Place the flour, cocoa powder, baking powder, baking soda, salt, cinnamon, and cayenne pepper in a bowl and whisk them together until the cocoa powder is evenly distributed set aside for a moment.

In a large mixing bowl, combine the sugar, water, buttermilk, vegetable oil, eggs, yolks, and vanilla. Beat on low speed with the paddle attachment until combined. Add the dry ingredients, and beat on low speed until the flour streaks disappear, then scrape down the bottom and sides of the bowl. Turn the mixer back on and gradually raise the speed to medium, then beat for four minutes until smooth. The batter will be thin.

Divide the batter between the two prepared pans. Bake the cakes at 350 F for 25-30 minutes, until a toothpick inserted into the center comes out clean. Cool the cakes completely. Once cool, turn out of the pans and wrap tightly in cling wrap. Place in the freezer until partially frozen—the cake is easier to cut and assemble when partially frozen. You can make it up to several weeks in advance, and keep it in the freezer until ready to assemble, removing them about 30 minutes before assembly so they can partially defrost.
To Make the Spicy Ganache:
Place the chopped chocolate in a medium bowl. Pour the cream into a saucepan, and place it over medium heat. Warm the cream until it just starts to simmer and bubbles appear around the sides of the pan. Pour the hot cream over the chopped chocolate, and let it sit for 1 minute to soften the chocolate.

After 1 minute, gently whisk the chocolate and cream together until the chocolate is melted and the ganache is shiny and smooth. Add the cinnamon and 1/4 tsp cayenne and whisk them in. Taste the ganache and add more cayenne, if desired, until the ganache is as spicy as you'd like. Press a layer of cling wrap on top of the chocolate, then refrigerate it until it's the texture of peanut butter, about 45 minutes. It can also be made the night before and left out at room temperature to firm up overnight. If you make it several days in advance, keep it in the refrigerator until you're ready to assemble, and refrigerate it in short 10-second bursts, stirring in between, until it is soft enough to spread on the cake.
To Make the Cinnamon Buttercream:
Combine the egg whites and the granulated sugar in the bowl of a large stand mixer, and whisk them together. Choose a small saucepan that lets you fit the base of the stand mixer snugly into the top of the saucepan—this is your makeshift hot water bath. (Alternately, you can use a different bowl or an actual bain marie and then transfer the mixture to a mixing bowl once it's heated.) Add an inch of water to the bottom of the saucepan, and bring the water to a simmer.

Place the mixing bowl on top of the saucepan, making sure that the bottom isn't in contact with the water, and heat the egg white mixture. Whisk frequently so that the egg whites don't cook. Continue to heat the whites until they are hot to the touch, and when you rub a bit between your fingers, you don't feel any grittiness from the sugar. Once the whites are hot, transfer the mixing bowl to your mixer and fit it with a whisk attachment.

Beat the whites on medium-high speed until they are no longer warm to the touch—feel the outside of the bowl, and make sure that it is around room temperature. Depending on your mixer and the temperature of your environment, this may take 15-20 minutes, or more. Reduce the speed to medium-low and add the softened but cool butter in small chunks, a tablespoon at a time, making sure to wait in between additions. It may separate or look a little gloopy at this point—fear not. Once all of the butter is added, increase the speed again and whip until it comes together and is light and fluffy. If, after 5 minutes, it hasn't come together, refrigerate the mixing bowl for 5-7 minutes, to cool the mixture down, and whip it again.

Add the salt, vanilla extract, and cinnamon, and mix until well-blended. The buttercream can be made in advance and kept at room temperature if you're going to use it the same day, or refrigerated. If it's been chilled, let it sit at room temperature until it softens, then re-whip it to get the fluffy texture back before you use it.
To Assemble:
Draw the outline of a skull on a piece of construction paper—I recommend going to Google Images for inspiration to see what typical Dia de los Muertos skulls look like. Trace this skull on a piece of cardboard, and cut out a cardboard skull.

Place the partially frozen cakes on two pieces of cardboard. Use a long serrated knife to cut them in half so you have four cake layers.

Spread half of your spicy ganache on top of one of the cakes. Since I knew I would be cutting it in a skull shape, I didn't spread the ganache all the way to the corners and instead spread it into a large oval shape. Add a second cake layer on top of the first, and spread a general layer of cinnamon buttercream on top of the cake. Add a third cake layer, and top it with the remaining ganache. Finish by adding the last cake layer, and spread a thin layer of buttercream on top. Refrigerate the cake until the buttercream and ganache are very firm, at least 30 minutes.

Place your construction paper skull on top of the cake, and carefully cut around it with a serrated knife. Keep the knife as vertical as possible, so your cuts are straight up and down and the sides of the cake are straight. Slide the skull-shaped cardboard piece under the cake, so it will be easy to transfer to your serving platter. Cover the top and sides in a thick layer of buttercream. Try to get it fairly smooth, but it doesn't have to be perfect since it will be covered with fondant. Refrigerate it again until the frosting is firm.

Dust your work surface with powdered sugar, and roll out the fondant until it is an oval a little less than 1/4-inch thick. Drape it over the cake and smooth it evenly against the top and sides—if you are unfamiliar with covering a cake with fondant, there are many excellent video tutorials to demonstrate this step. Trim the excess fondant from the bottom with a sharp paring knife.

Outline the cake with black frosting, and add the major features (eyes, nose, mouth, cheekbones.) If you're using the sparkling black sugar, sprinkle it on the eye cavities and nose. Dab a small bit of cinnamon icing on the backs of the jewels to affix them to the top of the cake. Finish off with extra black flourishes and dots to fill in the skull design.

This cake is best enjoyed at room temperature. It can be kept in the refrigerator for up to a week, but the sugar jewels will start to get soft and sticky when refrigerated, so they are best affixed shortly before you plan to serve it.
Sugar Jewels
yield: 2 lbs candy

Note: you will need at least 4 jewel-shaped molds for this recipe. If you don't have that many molds, consider making several smaller batches instead of one large batch. Also, make sure that your candy molds are intended for hard candy and not just chocolate—chocolate molds will melt when exposed to the high heat of the candy mixture.

4 or more jewel hard candy molds

1 cup water

1 1/2 cups light corn syrup

4 cups granulated sugar

2 tsp flavoring extract

Various food colorings (I use Americolor gel colorings)

Candy thermometer

Lightly spray the molds with nonstick cooking spray, and rub inside the cavities with a paper towel to remove excess oil. Set an extra saucepan nearby, and preheat an extra burner to a low "warm" setting.

In another medium saucepan, combine the water, corn syrup, and granulated sugar and place over medium heat. Stir until the sugar dissolves, then wash down the sides of the pan with a wet pastry brush to prevent sugar crystals from forming. When the sugar syrup comes to a boil, insert a candy thermometer.

Once boiling, cook the candy without stirring until it reaches 290 F. Remove the pan from the heat, let the candy stop bubbling completely, and stir in your desired flavoring extract. Pour most of the candy into the waiting saucepan and place it on the low burner—this will keep it from hardening while you make different colors.

To the remaining candy, add a few drops of your food coloring of choice. I recommend starting with a light color, like yellow—this will make it easy to re-use the spoon and measuring cup when you add darker colors. Mix in the food coloring, transfer the candy to a measuring cup with a spout, and start pouring it into your molds. If it starts to get too thick while you're still pouring, microwave it for 10-15 seconds, until it starts to bubble and is liquid again.

Once you have finished your first color, pour some of the candy from the warming saucepan into the measuring cup, and add a different food coloring, and repeat the process. If the color you want to make won't mix nicely with your earlier color, use a fresh measuring cup and spoon. (If you plan your colors right, you can probably get away with using just 2 or 3 measuring cups during this process.) Repeat until all of your molds are filled. If you still have extra candy mixture, check the molds—the earliest colors might be set by now and you can pop out those colors and add more candy.

Once all of the candy has hardened in the molds, turn them upside down and gently release them. If your environment has low humidity, sugar jewels can be made several days in advance and kept in an airtight container at room temperature.

To easily clean the pans and cups, fill the saucepans with water and insert the thermometer, cups, and any other accessories that have dried hard candy on them. Put the saucepans on the stove and bring the water to a boil—the water will liquefy the sugar and the pans will be easy to clean!
Recipe Notes
Note: you will need at least 4 jewel-shaped molds for this recipe. If you don't have that many molds, consider making several smaller batches instead of one large batch. Also, make sure that your candy molds are intended for hard candy and not just chocolate—chocolate molds will melt when exposed to the high heat of the candy mixture.
Measuring Tips
Our recipes are developed using weight measurements, and we highly recommend using a kitchen scale for baking whenever possible. However, if you prefer to use cups, volume measurements are provided as well. PLEASE NOTE: the adage "8 oz = 1 cup" is NOT true when speaking about weight, so don't be concerned if the measurements don't fit this formula.
Want to learn more about baking measurements and conversion?
Nutrition
Calories:
704
kcal
|
Carbohydrates:
85
g
|
Protein:
4
g
|
Fat:
40
g
|
Saturated Fat:
23
g
|
Cholesterol:
95
mg
|
Sodium:
440
mg
|
Potassium:
167
mg
|
Fiber:
1
g
|
Sugar:
71
g
|
Vitamin A:
800
IU
|
Vitamin C:
0.1
mg
|
Calcium:
67
mg
|
Iron:
1.4
mg
Tried this recipe?
Snap a pic and hashtag it #SugarHero. We love to see your creations on our Instagram @elabau.