This post may contain affiliate links. Please see my disclosure policy for more information.
Today I'm partnering with International Delight to bring you an easy but spectacular holiday dessert: Double Chocolate Fondue!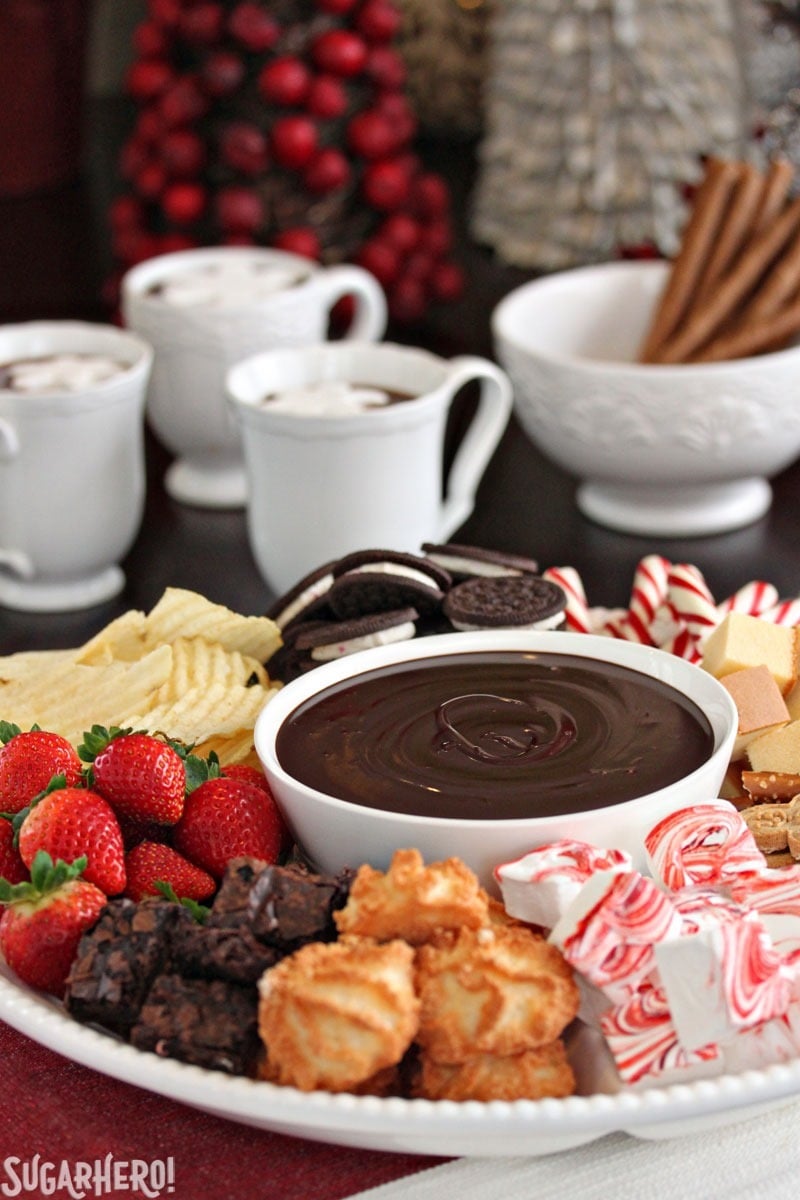 It is a sad fact of life that the busiest time of year is also the time when I most want to unplug, unwind, and surround myself with family, friends, and food. It's not quite Alanis Morissette-levels of ironic, but it is a shame that the holidays keep me—and, I assume, many of you—totally frantic, when what I really want is to just have a week of endless feasting, good conversation, and reconnecting with my faves. What's the December version of "Netflix and chill"? Elf and eat? That's what I want to be doing 24/7.
Part of the problem is that I always bite off more than I can chew. Rather than just having folks over for casual sandwiches, I typically go a little overboard with the menu planning and end up unshowered, stinky, and stressed when I should just be enjoying the get-together. (#overachieverproblems). I'm trying to do better, and this year I'm making a conscious effort to scale back and focus on the company, not the accoutrements.
Here's one dessert idea for my fellow perfectionists: Double Chocolate Fondue! The fondue is made with just 2 ingredients: semi-sweet chocolate and International Delight hot chocolate. The double dose of chocolate gives it a deep, intense flavor, and the hot chocolate provides the perfect amount of richness so the texture is thick but not gloopy—perfect for coating fresh fruit, cookies, or any other dipper your mind can dream up!
Speaking of dippers, here's what I served with my fondue:
Fresh strawberries
Brownie bites
Macaroons
Peppermint marshmallows
Gingerbread cookies
Pretzel rods
Pound cake pieces
Peppermint sticks
Candy Cane Joe-Joes (that's Trader Joe's talk for mint Oreos)
Thick-cut potato chips
Pizelle cookies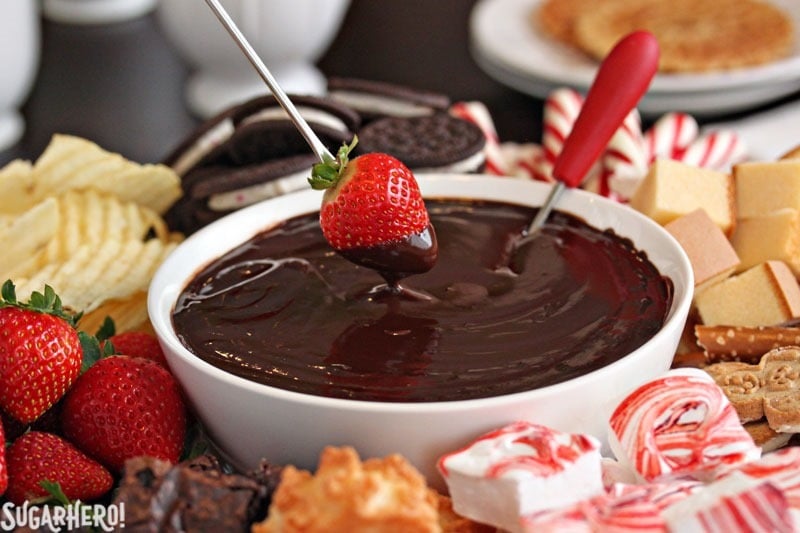 "But Elizabeth," you might be thinking, "You are a dirty liar. You promised an easy dessert, then listed a bazillion different accompaniments. YOU FAIL AT SIMPLICITY."
Shhhhhh, dear reader, shut your fondue hole. All but one of these dippers is store-bought. I had the marshmallows from another project, so I threw those on the plate, but everything else I either purchased or already had in my pantry. (And you could easily swap in store-bought marshmallows instead!) Part of the fun of this fondue project was rummaging through the cupboards and freezer, figuring out what would go well with fondue. Spoiler alert: EVERYTHING goes well with fondue!
In addition to the fondue staples like pound cake and fresh fruit, I got a little seasonal and tried dipping peppermint sticks and minty cookies. I think if you're going to make this during the holidays, some sort of candy cane situation is a must! And don't forget to have fun with the gingerbread men. I had to resist adding a tiny "Heeeelp meeeee!" word bubble coming out of his mouth…
International Delight hot chocolate not only made the fondue super simple, but I also served it with mugs of hot chocolate on the side! Go big or go home, right? If that sounds like too much chocolate for you, International Delight also makes egg nog that would go very well with this set-up.
My family couldn't wait to tear into this fondue when I was done taking pictures, and they all loved trying out the different flavors and trying to decide what the best dippers were. (The potato chips and the berries were probably the favorites…no surprise there!)
If you're hosting a party this year, big or small, keep things simple and serve fondue for dessert! You could even make it a potluck affair and have everyone bring a dipper or two to contribute. If you don't have a fondue pot, serve it in a small crockpot on the lowest setting to keep it smooth and fluid. Enjoy!
Double Chocolate Fondue
This Double Chocolate Fondue is made of two simple ingredients: semi-sweet chocolate and International Delight hot chocolate. The double dose of chocolate gives it a deep, intense flavor, and the hot chocolate provides the perfect amount of richness so the texture is thick but not gloopy.
Ingredients
For the Double Chocolate Fondue:
1

lb

semi-sweet chocolate

14

oz

International Delight hot chocolate, milk or dark variety

,

(1 3/4 cup)
Fondue Dippers, like:
marshmallows

cookies, like biscotti, macaroons, or sandwich cookies

Pound

cake squares

cheesecake squares

brownie squares

fresh berries, banana, or pineapple slices

pretzels

doughnut holes

potato chips

crispy bacon

peppermint sticks
Instructions
Finely chop the semi-sweet chocolate, and put it in a medium bowl.

Pour the hot chocolate into a saucepan, and heat it over medium heat, stirring occasionally, until it reaches a simmer—no need to bring it to a boil.

Pour the hot chocolate over the chopped chocolate, and let it sit and soften the chocolate for one minute. After a minute, gently whisk until the chocolate melts and you have a smooth, shiny, silky mixture.

Transfer the fondue to a fondue pot or a crockpot set on the lowest setting, to keep it warm and liquid. Whisk occasionally to keep it smooth. Serve with dippers of your choice.
Recipe Notes
An equal amount of cream can be substituted for the hot chocolate, if desired.
MEASURING TIPS
Our recipes are developed using weight measurements, and we highly recommend using a kitchen scale for baking whenever possible. However, if you prefer to use cups, volume measurements are provided as well. PLEASE NOTE: the adage "8 oz = 1 cup" is NOT true when speaking about weight, so don't be concerned if the measurements don't fit this formula.
Click here to learn more about baking measurements and conversion.
Nutrition
Calories:
351
kcal
|
Carbohydrates:
44
g
|
Protein:
3
g
|
Fat:
19
g
|
Saturated Fat:
11
g
|
Cholesterol:
2
mg
|
Sodium:
284
mg
|
Potassium:
214
mg
|
Fiber:
4
g
|
Sugar:
33
g
|
Vitamin A:
20
IU
|
Vitamin C:
0
mg
|
Calcium:
57
mg
|
Iron:
3
mg
Share by Email
Share on Facebook
Share on Pinterest