This post may contain affiliate links. Please see my disclosure policy for more information.
These are no ordinary milkshakes—these are Epic Chocolate Peanut Butter Milkshakes! They're rich and creamy, and topped with an amazing selection of goodies like cookies, candy, whipped cream, and even a cupcake!
This month, I'm partnering with Hershey's to share some fun, family-friendly recipes using Hershey's Simply 5 Syrup. If you missed the first installment, STOP what you're doing and run (or whatever the computer equivalent of that is) to check out the Doughnut Ice Cream Sundaes from a few weeks ago! They are the stuff sugar dreams are made of. I mean, toasted crispy doughnuts and slightly melting ice cream, smothered in chocolate, cherries, and whipped cream… *Homer Simpson drool*
But back to today's recipe inspiration. Hershey's Simply 5 Syrup is an update on the classic Hershey's Syrup we all grew up with. It contains just 5 simple ingredients, and there are lots of things it does NOT contain, like GMO ingredients, high fructose corn syrup, artificial colors, or artificial flavors. Awesome, right? In honor of the simplicity of Hershey's Simply 5 Syrup, I have another simple recipe for you today, but with a slight SugarHero twist. (Because we can't let anything be too simple around here, right? Giant Rose Cake, I am looking in your direction.)
I've wanted to create a monstrous milkshake recipe for months, ever since I started following Black Tap on Instagram. If you're not familiar, it's a restaurant in New York City that serves the most amazing, over-the-top milkshakes. These things are so massive, so whimsical, so exploding with dessert products of every conceivable variety, you'd think they were designed by Willy Wonka himself. I mean, these people put whole caramel apples and slices of pie on top of their milkshakes. In the words of Liz Lemon on 30 Rock, "I want to go to there."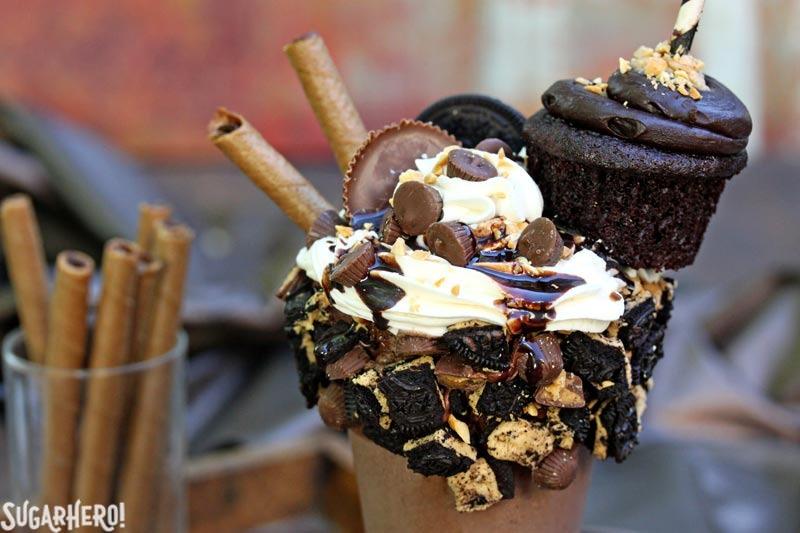 So, I finally got around to making my own version of a mega milkshake. Mine starts with a rich and creamy chocolate-peanut butter milkshake, with Hershey's Simply 5 Syrup drizzled inside the glass for a pretty striped appearance. The outside of the glass is coated with a layer of goodies including crushed peanut butter Oreos, mini peanut butter cups, and chopped peanuts. Finally, it's topped with goodies like whipped cream, more peanut butter cups, more Hershey's Simply 5 Syrup, cookie pieces, and even a whole chocolate-peanut butter cupcake!
I know that on first glance this milkshake seems like the opposite of "simple," but because it's made entirely with things you can buy from the store, it literally took me about 5 minutes to put together, tops. The hardest part was not eating all of the ingredients before it was assembled! I love how flexible and customizable it is—just about anything goes when it comes to creating an epic milkshake. Raid your snack cupboard, trot down the aisle of the supermarket, stop by your local bakery, and get inspired by your favorite flavors or colors to make it one-of-a-kind.
It was really fun to take a break from constructing complicated cakes to focus on a simple (but still show stopping!) recipe. These milkshakes are something we'll be making as a family for family night, because my 4-year old son can basically construct his own, with minimal help from us. (And on that note, it was SO fun to see his eyes widen and light up when he saw these for the first time! They blew his little mind.)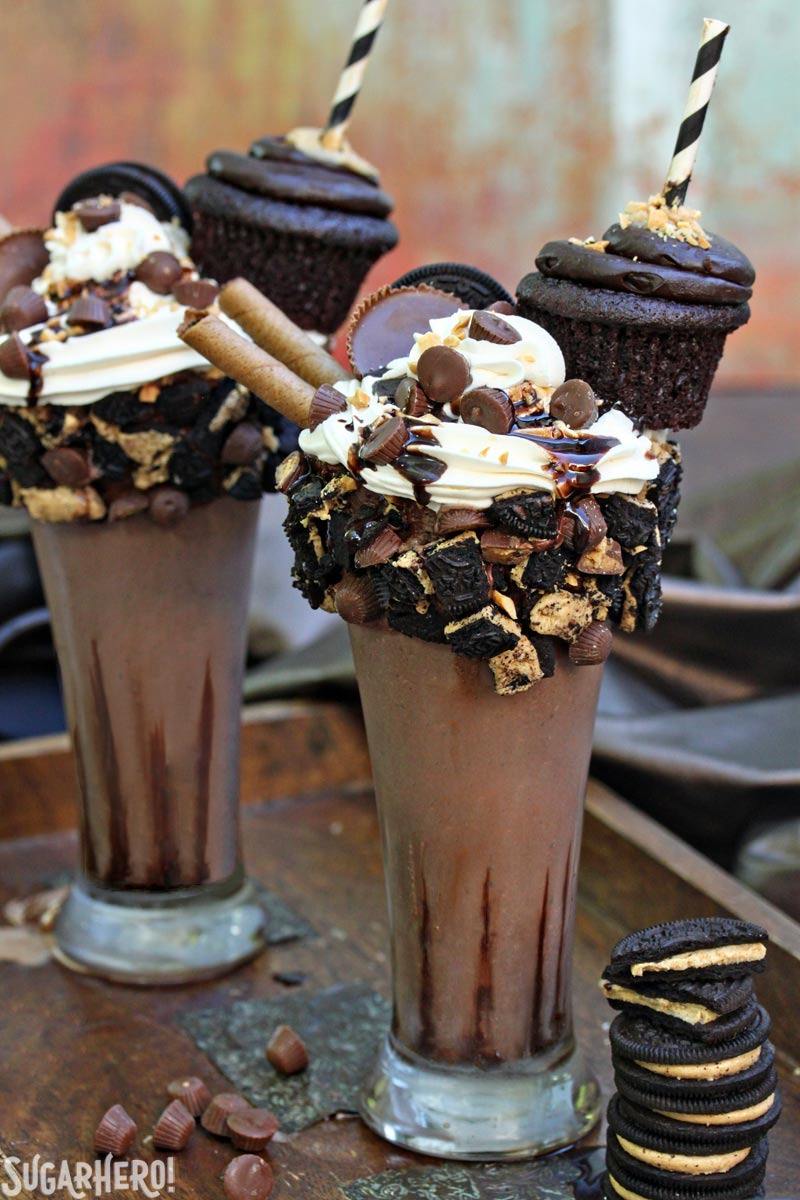 To celebrate the sweet and simple ingredients in Hershey's Simply 5 Syrup, Hershey's wants people to share the sweetness of everyday moments. Sometimes, even the process of enjoying the little things in life becomes complicated. It shouldn't require a year-long commitment. Take a moment to "stop and smell the chocolate" and share your #Simply5 – a five word recount of what makes your day sweet. For me, it would be "Drinking milkshakes with my family!"
Share your own #Simply5 on social media–what makes YOUR day sweet? Find Hershey's on Facebook or Twitter and share away!
Print Recipe
Epic Chocolate Peanut Butter Milkshakes
These are no ordinary milkshakes—these are Epic Chocolate Peanut Butter Milkshakes! They're rich and creamy, and topped with an amazing selection of goodies like cookies, candy, whipped cream, and even a cupcake! These milkshakes are completely over-the-top…in the best way! Because they're so large, they're perfect for sharing, so please don't think you have to finish a whole one yourself. This recipe yields 2 large or 4 smaller milkshakes.
Ingredients
4

cups

chocolate ice cream

1 1/4

cups

milk

1/4

cup

creamy peanut butter

Chocolate frosting

8

peanut butter Oreos

coarsely chopped

Hershey's Simply 5 Syrup

Whipped cream

Additional toppings: chopped peanuts, pirouette cookies, large peanut butter cups, cupcakes
Instructions
Combine the chocolate ice cream, milk, and creamy peanut butter in a blender, and blend until smooth.

Spread chocolate frosting on the outside of your milkshake glasses, coming down 2-3 inches from the top. Cover the frosting with a layer of chopped Oreos, miniature peanut butter cups, and chopped peanuts.

Drizzle the Hershey's Simply 5 Syrup down the inside of the glasses in streaks.

Pour the milkshake into the prepared glasses. Top with a thick layer of whipped cream. Skewer the cupcakes through straws, and put them on top of the whipped cream. Finish by decorating the cupcakes with additional goodies like more peanuts, cookies, peanut butter cups, and a final drizzle of Hershey's Simply 5 Syrup. Serve and enjoy immediately.
Nutrition
Calories:
539
kcal
|
Carbohydrates:
61
g
|
Protein:
12
g
|
Fat:
29
g
|
Saturated Fat:
13
g
|
Cholesterol:
52
mg
|
Sodium:
317
mg
|
Potassium:
585
mg
|
Fiber:
3
g
|
Sugar:
48
g
|
Vitamin A:
675
IU
|
Vitamin C:
0.9
mg
|
Calcium:
242
mg
|
Iron:
3.6
mg
Disclaimer: Compensation was provided by Hershey's via MomTrends. The opinions expressed herein are those of the author and are not indicative of the opinions of Hershey's or MomTrends.