This post may contain affiliate links. As an Amazon Associate I earn from qualifying purchases. Please see my disclosure policy for more information.
It's back-to-school time! (Yes, I know some parts of the country started school in, like, late July or something absurd like that, but let's not mince words: that is dumb.) My boys started last week—one as a teacher, one as a student—and I think my feelings about having a quiet, empty house during the day can best be expressed in song: "It's the most wonderful tiiiiiime of the year!"
So with school starting, everyone is probably looking for fast and healthy lunch recipes, right? Something easy to make, but also nutritious, with a balanced blend of carbs, protein, and healthy fats? Yeah, I don't have anything like that. Instead I made you a ginormous peanut butter and jelly "sandwich" cake. Sorry not sorry!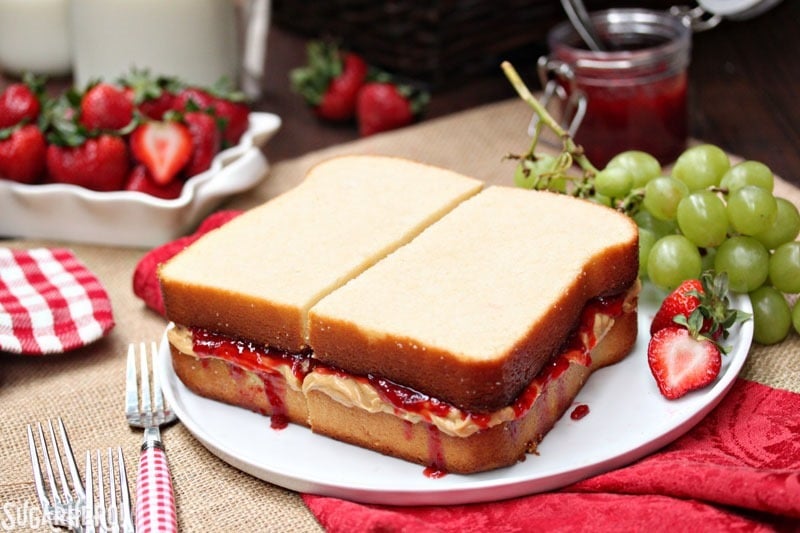 This story starts, as so many of my stories do, with a late-night browsing sesh over on Amazon. I think I was looking for popsicle molds, but the clever algorithm robots over at Amazon must have known I was extra-susceptible to whimsy that night, because they showed me the most adorable "cakewich" silicone cake pan, and as soon as my tired, glazed eyes fixed on it, I muttered "You will be mine" and whipped out the credit card. (And THAT also explains why I never have any storage space in my kitchen, and how the UPS man and I have become BFFs.)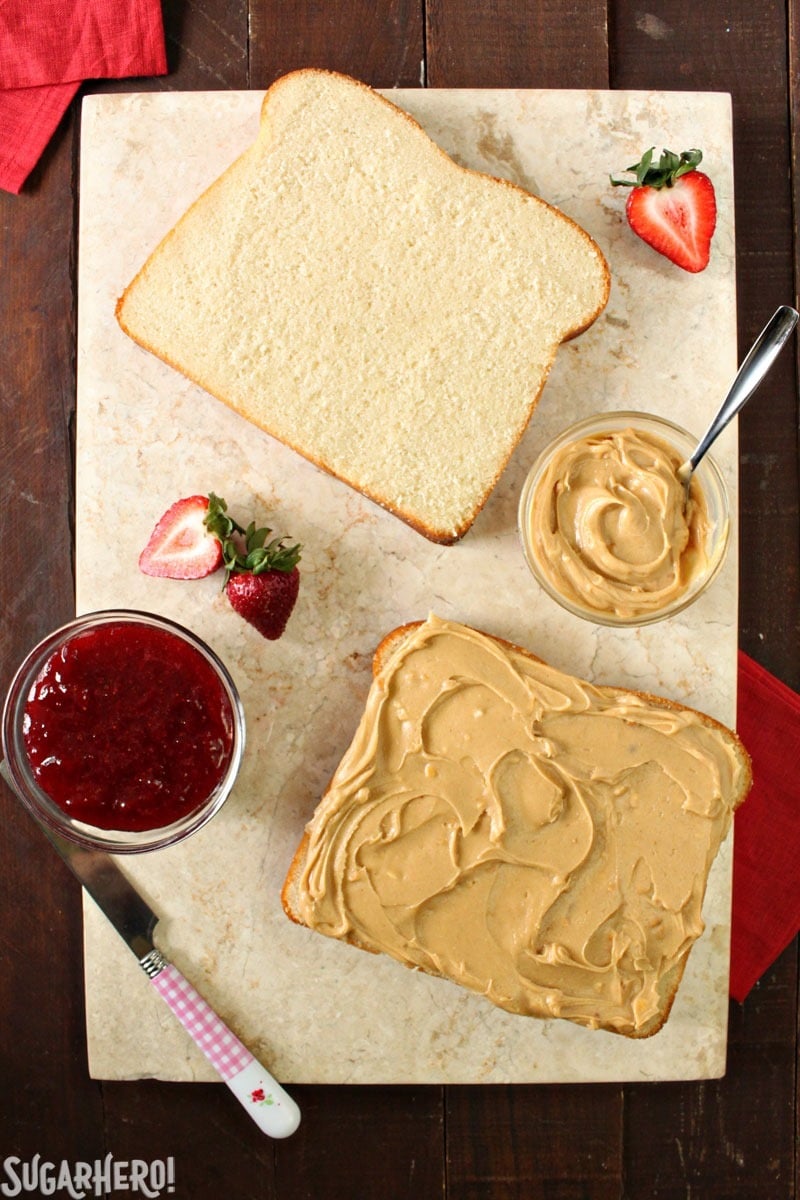 This cuteness of this cake really does depend on having the right pan. Of course, you could cut a standard cake into a bread slice shape, but then you wouldn't have the perfectly darkened edges to serve as the "bread crust." So the bad news is you'll need to spring for a specialized loaf pan, but the good news is you'll be prepared to make a lifetime of sandwich-shaped cakes from here on out. That's a win, right?
Making the cake itself couldn't be easier. It's a basic pound cake recipe, so the cake is nice and firm for slicing in half. I filled it with a thick layer of peanut butter frosting, and topped it with homemade strawberry jam (but store-bought jam would work just as well!)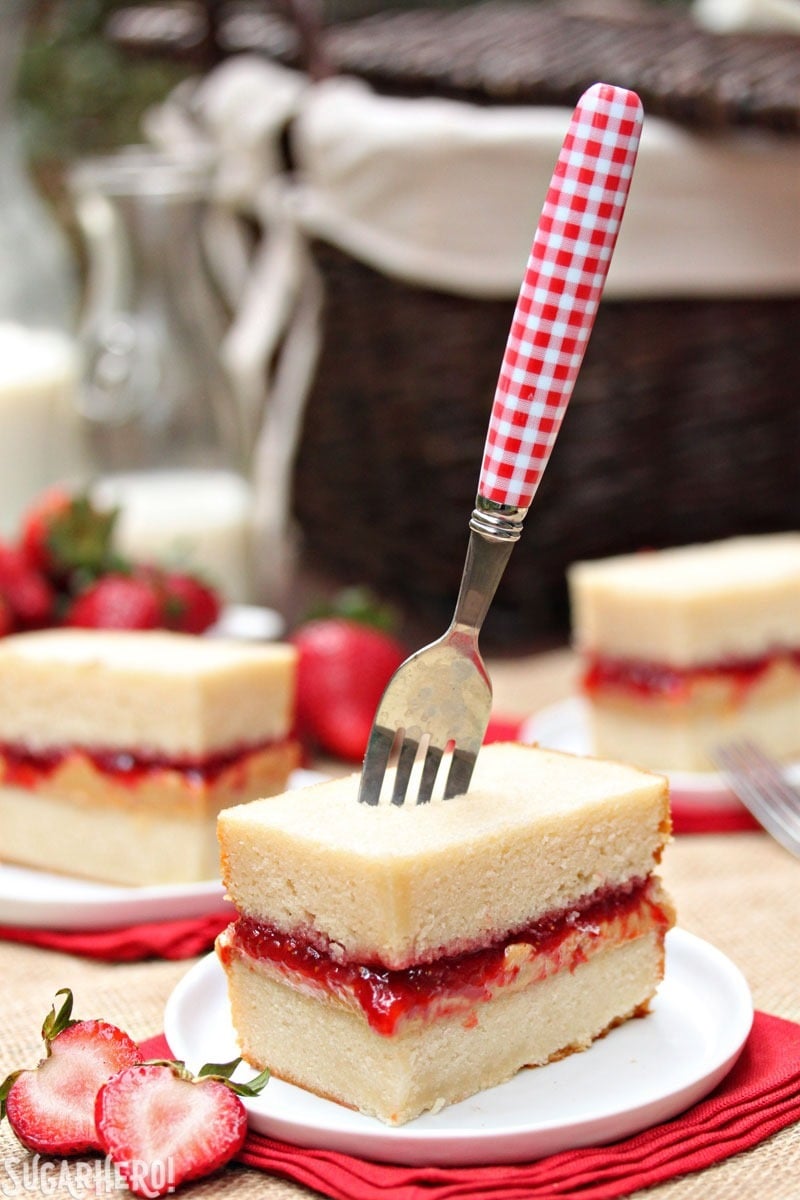 After I photographed this cake, I put the pieces together on a platter and took them to a party. More than a few people thought that I brought a plate of peanut butter & jelly sandwiches to the party—it looks THAT realistic. (They weren't mad to find out it's cake, however!) This is also a great cake for those weirdos out there who are anti-frosting, or at least reduced-frosting. It's not too sweet and doesn't feel decadent like a multi-layer cake. Instead, I like to think of it as a little smackerel of something sweet to get you through from lunchtime until dinner time.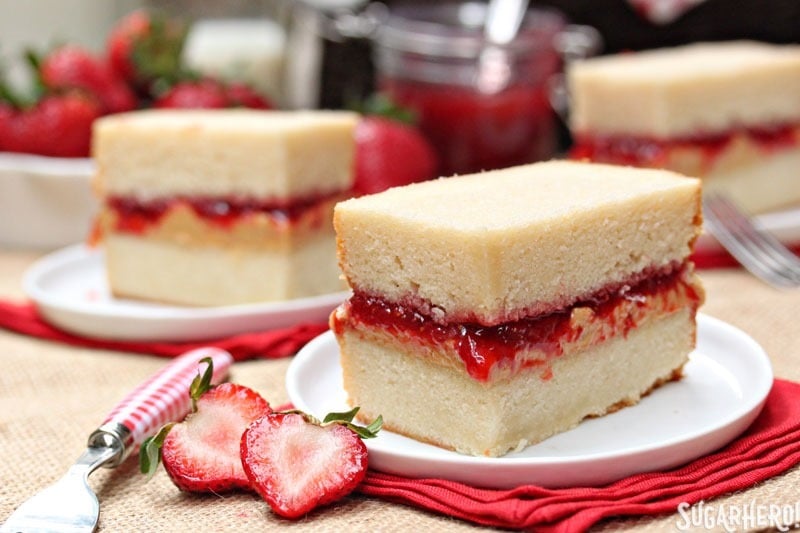 Happy back to school for all the students and teachers out there, and a giant HIGH FIVE to all the parents who are now happily shoving their little scholars out of the house every morning.
🥜 More Peanut Recipes You'll Love
Peanut Butter and Jelly Sandwich Cake
This clever cake looks just like a peanut butter and jelly sandwich! Pound cake, peanut butter frosting, and homemade strawberry jam make this a sweet after-school treat. If you don't want to make your own jam, you can easily substitute about 1 1/2 cups store-bought jam.
Ingredients
For the Pound Cake:
9

oz

all-purpose flour,

(2 cups)

1 1/2

tsp

baking powder

1/4

tsp

salt

2

tsp

vanilla extract

6

egg whites

,

at room temperature

6

oz

milk

,

at room temperature (3/4 cup)

6

oz

unsalted butter

,

at room temperature

10 1/2

oz

granulated sugar,

(1 1/2 cups)
For the Peanut Butter Frosting:
4

oz

powdered sugar

,

(1 cup)

9 1/2

oz

peanut butter

,

(1 cup)

2 1/2

oz

unsalted butter

,

at room temperature (5 tbsp)

1

tsp

vanilla extract

1/4

tsp

salt

1/4

cup

heavy or whipping cream

,

(2 oz)
For the Strawberry Jam:
24

oz

fresh strawberries

,

washed, hulled, and coarsely chopped

Juice of 1 large lemon

,

(3-4 tbsp)

7

oz

granulated sugar,

(1 cup)
Instructions
To Make the Pound Cake:
Preheat the oven to 350 F. Spray the loaf-shaped cake pan with nonstick cooking spray.

Sift together the flour, baking powder, and salt, and set aside for now. Whisk together the vanilla, egg whites, and milk in a separate bowl and set this aside as well.

Combine the butter and sugar in the bowl of a large stand mixer fitted with a paddle attachment. Mix them together on medium speed until light and creamy, about 3-4 minutes. Turn the mixer speed to low and add a quarter of the dry ingredients, and when those are incorporated, add a third of the wet ingredients. Continue to alternate adding wet and dry ingredients, starting and ending with the drys. Once the last streaks of flour disappear, stop the mixer and scrape down the bottom and sides of the bowl with a spatula.

Pour the cake batter into the prepared pan and smooth it into an even layer. Bake the cake for about 60 minutes, until a toothpick inserted into the center comes out clean. If the top seems to be getting too dark during baking, cover it with loosely tented foil. Cool the cake on a wire rack until it is room temperature before removing it from the pan.
To Make the Peanut Butter Frosting:
Combine the powdered sugar, peanut butter, butter, vanilla, and salt in the bowl of a large stand mixer fitted with a paddle attachment. Mix them together on medium-low speed until they're combined and the dry sugar disappears, scraping down the bowl with a rubber spatula as you work. Add 2 tablespoons of cream and beat on medium-high speed until the mixture is light, fluffy and smooth. Add up to 2 more tablespoons of cream if necessary, to get a light and smooth texture. The peanut butter frosting can be made in advance and kept in an airtight container in the refrigerator for several days. Let it come to room temperature before spreading it if you make it in advance.
To Make the Strawberry Jam:
Combine the strawberries, lemon juice, and sugar in the bowl of a medium saucepan over medium-low heat. Bring the mixture to a low boil and cook, stirring occasionally to prevent scorching, for about 30 minutes. The jam will gradually reduce in volume and thicken up. Periodically test the jam by dabbing a spoonful on a cold plate, then checking the texture. Stop cooking when you have a thick, jammy texture that's not too runny but not too stiff. The jam can be made in advance and kept in an airtight container in the refrigerator for several days.
To Assemble:
Place the cake on a cake cardboard or serving plate. Use a long serrated knife to slice off the brown, rounded top, creating a flat surface on top. Slice the cake into two equal layers. Spread the peanut butter frosting on the bottom layer, going all the way to the edge (depending on your preference, you might not want to use all of the frosting—just add as much as looks good to you!). Spread the strawberry jam on top of the peanut butter frosting, and top with the second cake slice. Cut into small squares to serve.
MEASURING TIPS
Our recipes are developed using weight measurements, and we highly recommend using a kitchen scale for baking whenever possible. However, if you prefer to use cups, volume measurements are provided as well. PLEASE NOTE: the adage "8 oz = 1 cup" is NOT true when speaking about weight, so don't be concerned if the measurements don't fit this formula.
Click here to learn more about baking measurements and conversion.
Nutrition
Calories:
605
kcal
|
Carbohydrates:
77
g
|
Protein:
10
g
|
Fat:
30
g
|
Saturated Fat:
14
g
|
Cholesterol:
51
mg
|
Sodium:
237
mg
|
Potassium:
368
mg
|
Fiber:
3
g
|
Sugar:
56
g
|
Vitamin A:
605
IU
|
Vitamin C:
33.3
mg
|
Calcium:
74
mg
|
Iron:
1.7
mg
Share by Email
Share on Facebook
Share on Pinterest