One taste and you'll fall in love with this Love Potion mocktail – a sparkling pink non-alcoholic drink recipe that's perfect for Valentine's Day, baby or bridal showers, or any special occasion!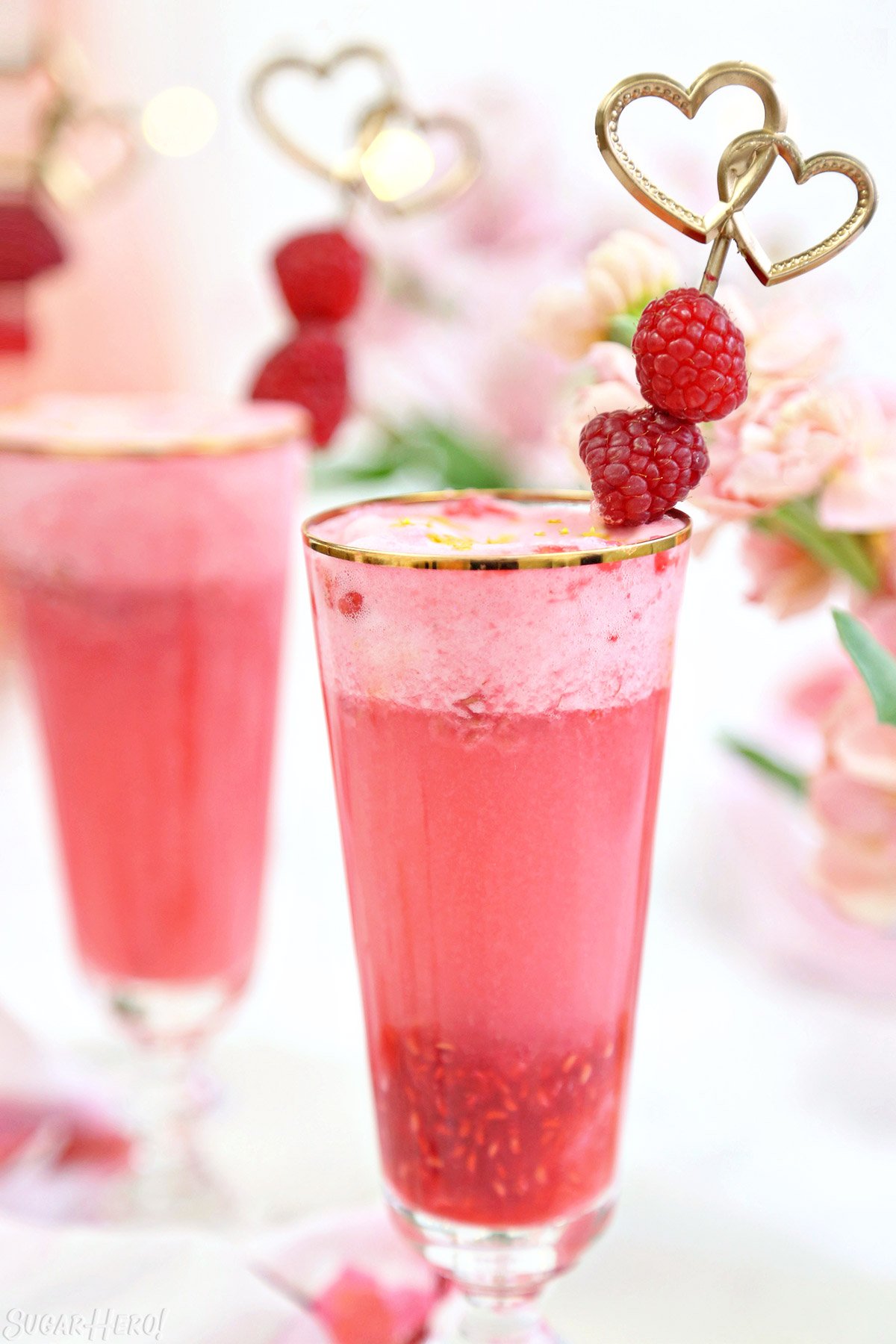 🥂 The perfect non-alcoholic mocktail
Love Potion Number 9 isn't just a catchy little song you hear on the oldies station — it's also a delicious pink punch!
This is one of my favorite drinks to make when I'm hosting a shower or a brunch. It's easy, versatile, absolutely delicious, and, with its frothy pink color, also extremely cute! Here are a few reasons you'll fall in love with this love potion:
It's non-alcoholic, so the whole family can enjoy
You only need five ingredients
It has a fresh, vibrant raspberry flavor from both raspberry puree and sherbet
It's bubbly and pink, so you'll feel 38.5% fancier when you drink it
Of course this punch is delicious year-round, but it's especially fun to make this for Valentine's Day! Serve it with some of our favorite Valentine's Day dessert recipes, like these popular Valentine's Day Sugar Cookies, adorable mini Chocolate-Covered Strawberry Cakes, or elegant Truffle-Topped Heart Cake.
Table of Contents
🧾 What You'll Need
Mocktail Ingredients
This party punch is a 5-ingredient wonder, and 2 of those ingredients are optional! Here's what you'll need to pick up to make your love potion: (Links are affiliate links and I earn a small commission from qualifying purchases.)
Raspberries:

Ripe, juicy fresh raspberries will give you the best flavor, but sometimes it's hard to find good berries in the off-season. You can substitute defrosted frozen berries if that's what you have.
Sugar: Sugar and lemon juice are both optional, but they help bring out the sweet-tart flavor of the raspberries. I add them when my berries are a little lackluster, or if I'm using frozen berries.
Lemon juice: Fresh lemon juice can really perk up boring berries. If you're skipping the sugar, you'll probably also want to skip the juice, unless your berries are really sweet.
Raspberry sherbet: Don't skip the sherbet! It accentuates the raspberry flavor and makes the punch wonderfully creamy.

Sparkling pink lemonade:

Top up your drinks with a little pink bubbly! My absolute favorite is Fentiman's rose lemonade – the combination of raspberry and rose flavors in the punch are incredible. But you can use sparkling berry lemonade or regular sparkling lemonade if you prefer. Want to make this more of a cocktail and less of a mocktail? Check out the FAQ section below for some suggestions.
Drink Supplies
No special equipment here — just a fork, a scoop, and some cups. Because I regularly get questions about the glasses and drink picks in the photos, I'm sharing some recommendations if you want to complete the look: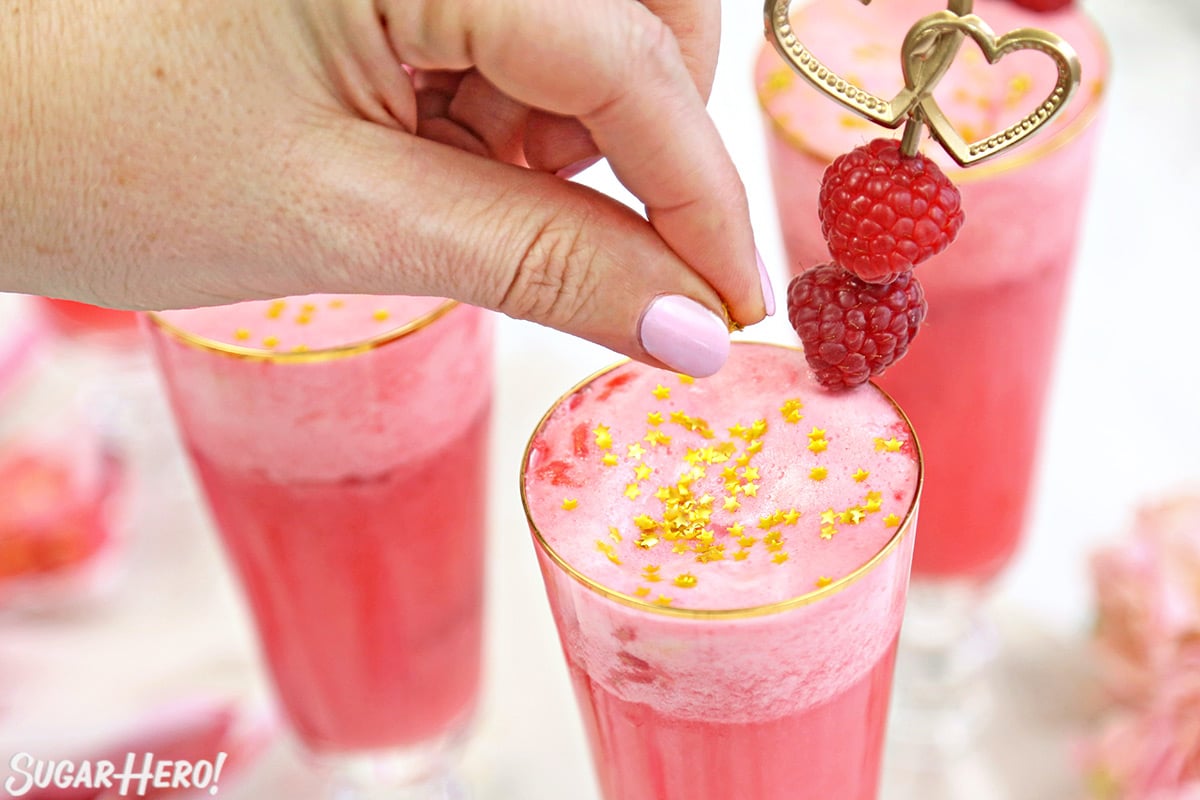 📋 How to make this love potion
Just a few simple steps and you'll be enjoying your pink drink in no time! Here's how quickly it comes together: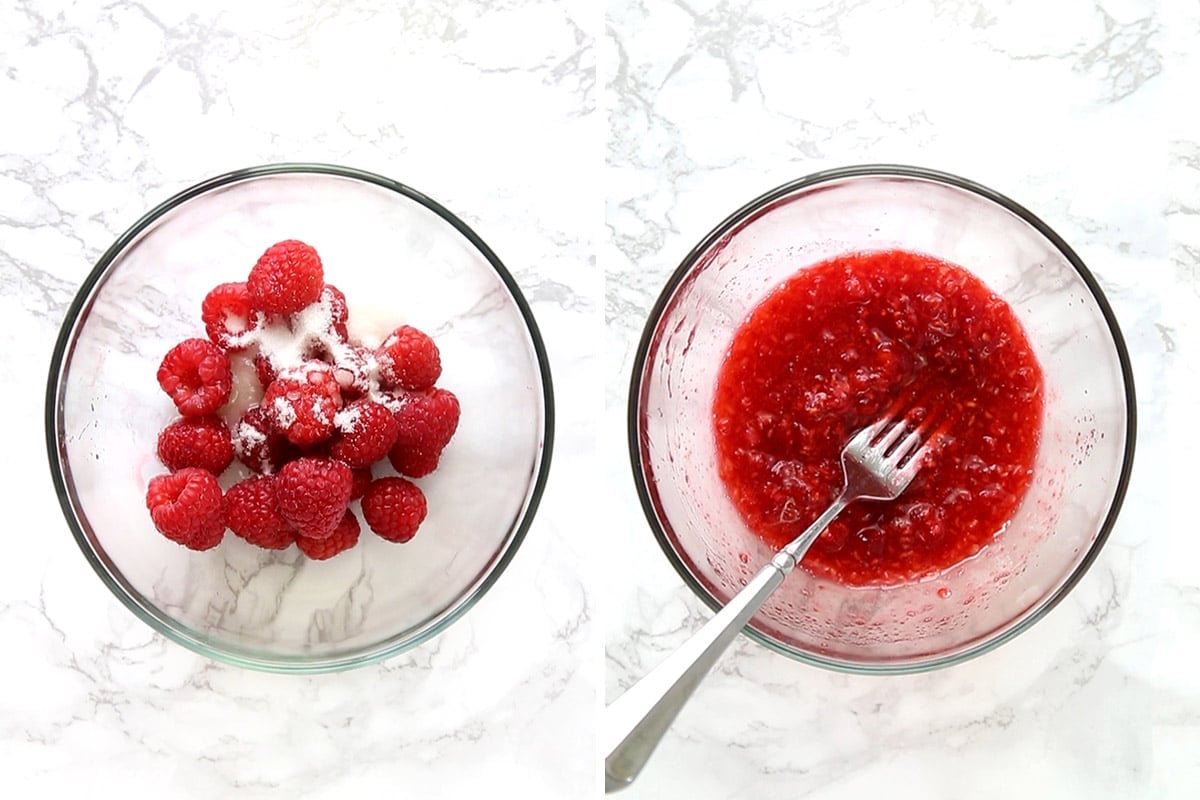 Combine fresh (or frozen defrosted) raspberries in a bowl with a bit of lemon juice and sugar.
Mash them with a fork until the berries have broken down and you have a sweet-tart raspberry puree.
Optional: If you don't like the thought of raspberry seeds in your drink, you can strain the puree through a wire mesh strainer.
Fill the bottom of your glasses with a generous spoonful of fresh raspberry puree.
Next add a scoop of raspberry sherbet. I love the way sherbet melts into this drink and makes it so fun and frothy.
Top up the glasses with sparkling berry lemonade or sparkling rose lemonade.
Add a garnish of fresh raspberries, and enjoy!
Optional: add a sprinkling of edible gold hearts on top right before serving if you want to really take things over the top!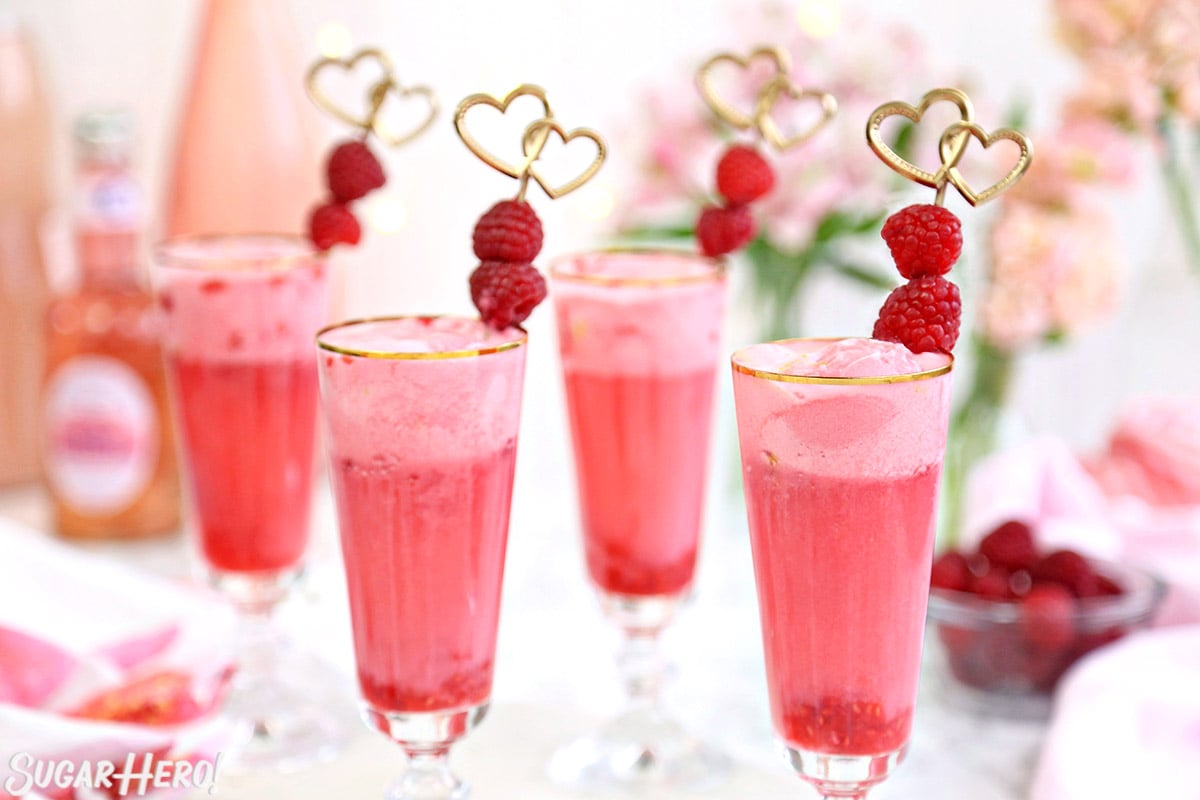 💡 Tips and FAQs
💕More Delicious Desserts
Valentine's Day Sugar Cookies
Looking for a great Valentine's Day Sugar Cookie recipe? These classic sugar cookies are decorated with royal icing in a number of beautiful Valentine's Day designs. They make wonderful edible gifts!
View Recipe
Sprinkle Heart Valentine's Day Cupcakes
Sprinkle Heart Cupcakes are the perfect dessert for Valentine's Day, anniversaries, or any special occasion. Use this easy cupcake decorating hack to make cute, customized, sprinkle-covered cupcakes in no time!
View Recipe
Love Potion Valentine's Day Drink
One taste and you'll fall in love with this "Love Potion" mocktail – a sparkling pink non-alcoholic drink recipe that's perfect for Valentine's Day, baby or bridal showers, or any special occasion!
Ingredients
½

cup

fresh raspberries

see Note below

1

TBSP

granulated sugar

1

TBSP

lemon juice

freshly squeezed preferable

1

pint

raspberry sherbet

3

cups

sparkling berry lemonade

see Note below
Instructions
Combine the fresh raspberries, granulated sugar, and lemon juice in a bowl, and mash them together with a fork until you have a berry puree.

Place a generous spoonful of puree at the bottom of 6 glasses. (I used 7 oz French champagne glasses). Top with a small scoop of raspberry sherbet, and fill the cups to the brim with sparkling berry lemonade. Garnish with a few more fresh berries, if desired, then enjoy!
Video
Recipe Notes
Yield: The glasses I used were 7 oz, so yield and calories were calculated based on that. Your yield may vary depending on the size of your glasses.
To make in a punch bowl: First combine the raspberry puree and sparkling lemonade in a punch bowl and whisk them together. Next add scoops of sherbet, and stir briefly so the sherbet melts a little and the drink gets creamy. Ladle into cups and enjoy!
Measuring Tips
Our recipes are developed using weight measurements, and we highly recommend using a kitchen scale for baking whenever possible. However, if you prefer to use cups, volume measurements are provided as well. PLEASE NOTE: the adage "8 oz = 1 cup" is NOT true when speaking about weight, so don't be concerned if the measurements don't fit this formula.
Want to learn more about baking measurements and conversion?
Tried this recipe?
Snap a pic and hashtag it #SugarHero. We love to see your creations on our Instagram @elabau.