This post may contain affiliate links. As an Amazon Associate I earn from qualifying purchases. Please see my disclosure policy for more information.
Love Potion Number 9 is a sparkling pink non-alcoholic drink that's perfect for Valentine's Day, baby or bridal showers, or any special occasion!
Apologies in advance if this recipe gets the song "Love Potion Number 9" stuck in your head all day. If it's any consolation, I've been singing it for the better part of a week now, and I actually don't know any of the words. It's basically a lot of mumbling and "dum doo doo dum dum…LOVE POTION NUMBER NIIIIINE!!!"
My family cannot WAIT for me to move on to the next recipe.
In addition to being a catchy little song, Love Potion Number 9 is an addicting little drink! I wanted to make a fun Valentine's-appropriate punch, and I had a few requirements:
Non-alcoholic, so the whole family could enjoy it
Bubbly, because bubbles make us feel fancy
Pink! Pink pink pink pink PIIIIINK!
Check, check, and definitely check.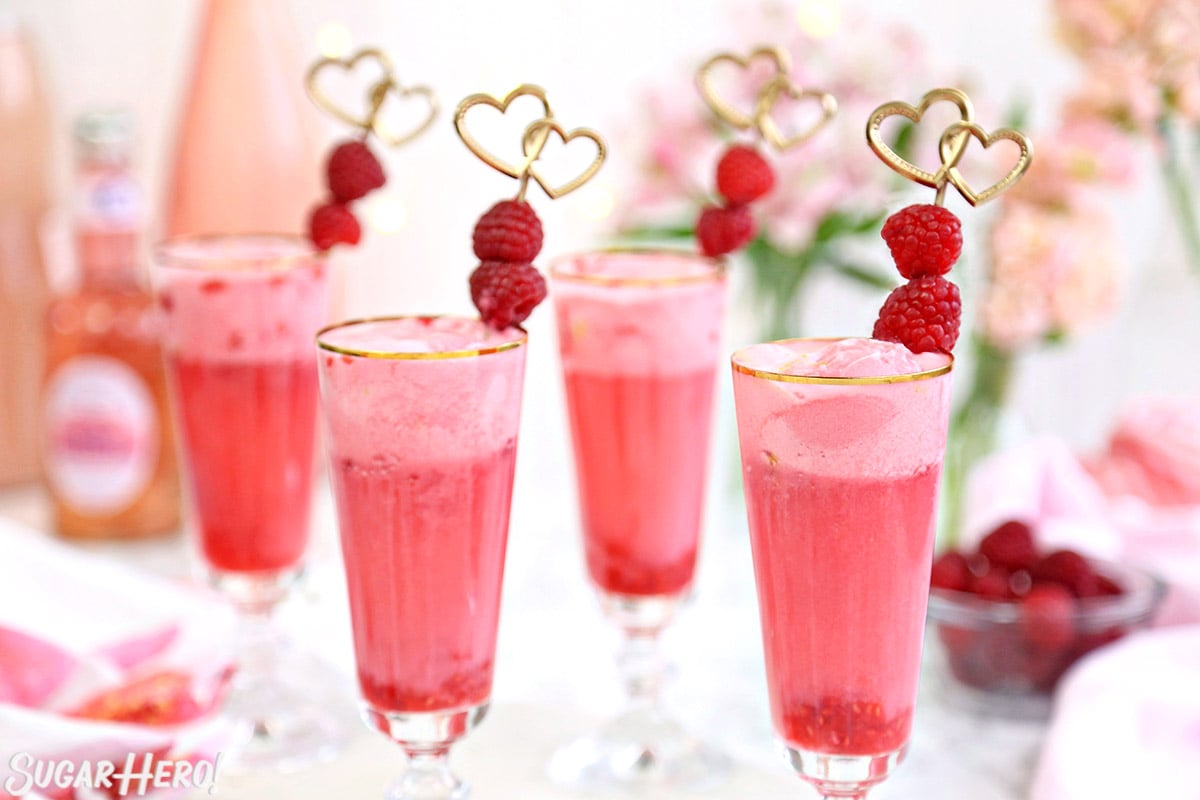 This drink starts with a raspberry base. I mashed together fresh raspberries with a bit of lemon juice and sugar, to make a sweet-tart raspberry puree. If you don't like the thought of raspberry seeds in your drink you can skip this step (or strain the puree) but I liked the really vibrant fresh berry taste that kept the drink from being too sweet.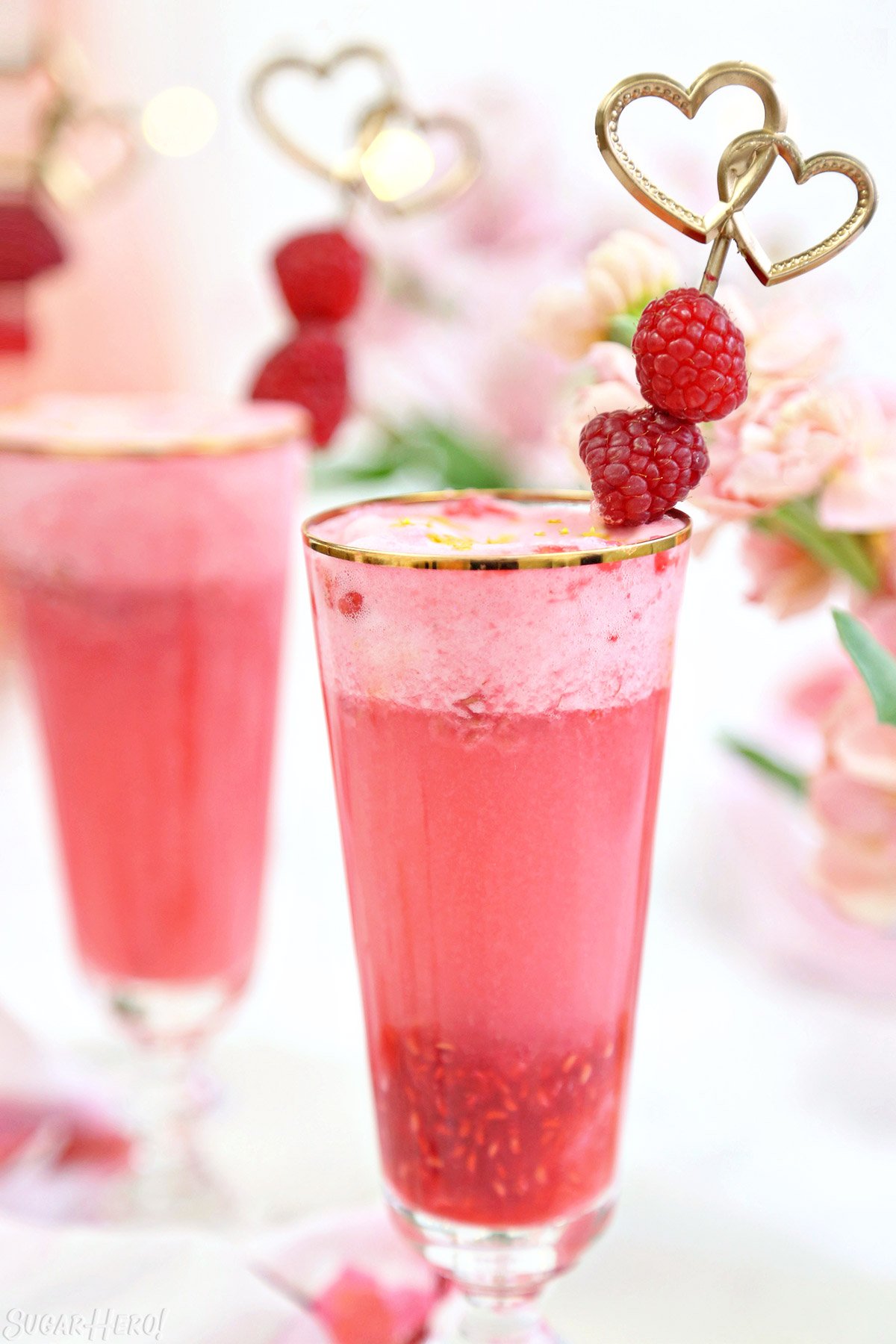 Next is a small scoop of raspberry sherbet! Can you even MAKE a fun holiday punch without sherbet? I fear the answer is yes, but I don't ever want to try and find out. I just love the way sherbet melts into drinks and makes them so fun and frothy. Can't stop, won't stop!
Finally, I filled the glasses to the brim with Fentiman's Rose Lemonade. Guys, I am OBSESSED with this stuff. It's an old-fashioned soda that's fermented using a special ginger fermentation process, and it tastes like lemonade with a bit of a delicate rose flavor. It's hard to describe but it's absolutely perfect for people like me who are obsessed with floral desserts. AND raspberry and rose are the best flavor pairing EVER, so this was basically my dream drink. I get mine at Cost Plus World Market, but I've also seen it at retro soda and candy shops.
I know that Rose Lemonade is probably a divisive flavor, so I took one for the team and also tried this recipe with regular sparkling berry lemonade. (You're welcome). I'm glad to report that it's also delicious! Honestly, any sparkling pink drink (or pink drank??) would work, so just use what you can find.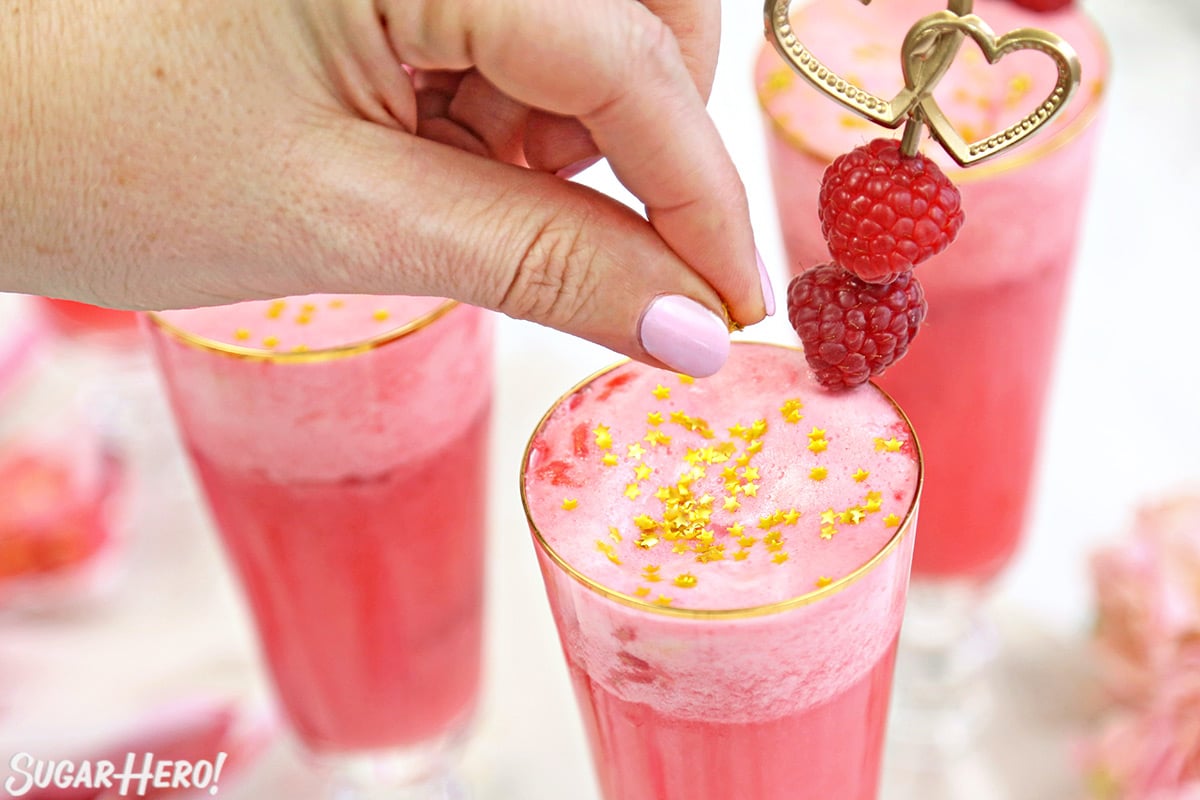 Just for fun, at the end I topped a few of the drinks with a pinch of sparkling edible gold stars. This is TOTALLY optional and doesn't add anything to the flavor, but hey, if we're naming our drink after a fictional magical potion, we might as well add a touch of magic ourselves, right?
(You can also buy edible gold hearts, which would be adorable and very theme-appropriate!)
This punch isn't just for Valentine's Day—it's also perfect for bridal and baby showers, princess parties, and any time you need a little pink pick-me-up!
Don't miss our collection of Fun Valentine's Day Dessert Ideas – see the whole web story here!
Love Potion Number 9
Love Potion Number 9 is a sparking pink non-alcoholic drink that's perfect for Valentine's Day, baby or bridal showers, or any special occasion!
Ingredients
½

cup

fresh raspberries

,

see Note below

1

TBSP

granulated sugar

1

TBSP

lemon juice

,

freshly squeezed preferable

1

pint

raspberry sherbet

3

cups

sparkling berry lemonade

,

see Note below
Instructions
Combine the fresh raspberries, granulated sugar, and lemon juice in a bowl, and mash them together with a fork until you have a berry puree.

Place a generous spoonful of puree at the bottom of 6 glasses. (I used 7 oz French champagne glasses). Top with a small scoop of raspberry sherbet, and fill the cups to the brim with sparkling berry lemonade. Garnish with a few more fresh berries, if desired, then enjoy!
Recipe Notes
You can use strawberries instead of raspberries if you prefer, and use any sparkling pink (or clear!) soda that you like.
The glasses I used were 7 oz, so yield and calories were calculated based on that. Your yield may vary depending on the size of your glasses.
MEASURING TIPS
Our recipes are developed using weight measurements, and we highly recommend using a kitchen scale for baking whenever possible. However, if you prefer to use cups, volume measurements are provided as well. PLEASE NOTE: the adage "8 oz = 1 cup" is NOT true when speaking about weight, so don't be concerned if the measurements don't fit this formula.
Click here to learn more about baking measurements and conversion.
Nutrition
Share by Text
Share by Email
Share on Facebook
Share on Pinterest