This post may contain affiliate links. As an Amazon Associate I earn from qualifying purchases. Please see my disclosure policy for more information.
These Frankenstein Pistachio Blondies are a fun, crowd-pleasing Halloween dessert! Kids and adults alike will love these cute, edible Frankenstein faces!

Thank you to Diamond Nuts for sponsoring this post.
In the past I've been a little lukewarm about Halloween, but this year I'm SO into it. I think it's because my 3-year old is really excited about it, and his enthusiasm is contagious. He likes to playact trick-or-treating, he's already decorated a scary pumpkin that he named "Aaaaah!", and he has had his costume idea on lock for the last year. (He's going to be No Noggin, a headless scarecrow from a straight-to-DVD Curious George Halloween movie. No one is going to know who that poor boy is. And if you're wondering how I'm going to pull off this costume, well, so am I.)
Basically, the LaBaus are not only on the Halloween train, we're sitting up by the conductor making choo-choo hand motions. We are ready.
When Diamond Nuts asked me to make a Halloween dessert using their products, I didn't have to think twice. I've worked with them before, and it's always such a pleasure to cook with their nuts because they're high-quality, delicious, and convenient. It also didn't take me long to figure out which nuts I wanted to use. Pistachios are practically the official nut of Halloween—I mean, they're already green! The color of oozing slime and witches' skin and Frankenstein's monster! How could they not already be in every Halloween dessert ever?
So, using green pistachios as my inspiration, I created these pistachio blondies, decorated to look like Frankenstein faces. (Well, technically they're his monster's face, but we're not going to go all pedantic English major here, are we? I say that with fondness, as a former English major myself. Everyone just calls him Frankenstein. Let's deal with it and move on.)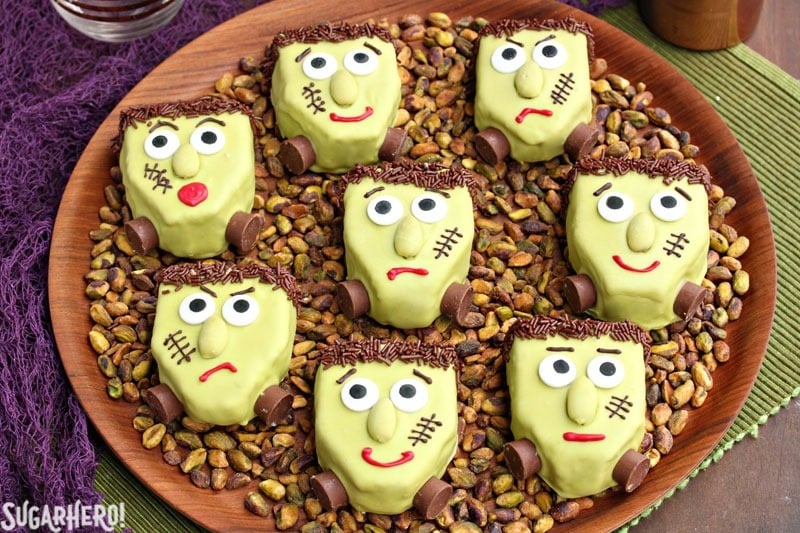 These blondies are, in a word, Franken-dorable. (Franken-stunning? Too much?) I love how each one has a unique expression, and little differences in the eyebrows, mouths, and scars give them each their own personality. They're decorated with candy eyes, candy-coated almond noses, mini Rolo neck bolts, and chocolate jimmies for hair. A few stripes of red and brown candy coating for the mouth and scars, and you're done!
To show just how easy it is to make these, I made a quick little photo tutorial for ya:
I've been talking a lot about the decorations, but that's doing a disservice to the blondies themselves, because these are DELICIOUS. If you're at all a fan of pistachios, these are going to be your new favorite dessert! They're fudgy and moist, with a big pistachio flavor that comes from homemade pistachio butter being stirred right into the batter. They're also packed with toasted pistachios and chocolate chunks, because it's not a decent bar cookie without chocolate being involved somehow, right?
Of course the pistachio blondies are also great on their own, sans Frankenstein decorations, and if for some reason you're a weirdo who doesn't like pistachios, you can use these same techniques on just about any brownie or bar cookie. Frankenstein faces for all! Now, can someone tell me how to make a No Noggin costume? Because I would pay you many, many pistachio blondies for that information.
Frankenstein Pistachio Blondies
These Frankenstein Pistachio Blondies are a fun, crowd-pleasing Halloween dessert! Kids and adults alike will love these cute, edible Frankenstein faces!
Ingredients
For the Pistachio Blondies:
For the Decorations:
24

oz

candy coating melts

,

vibrant green

12

almonds,

whole

24

large candy eyes

24

mini Rolos

2

oz

candy coating melts

,

red

2

oz

candy coating melts

,

brown

1/4

cup

light corn syrup

1

cup

chocolate jimmies
Instructions
To Make the Pistachio Blondies:
Preheat the oven to 350. Scatter 2 cups of pistachios on a baking sheet, reserving the remaining cup for later use. Toast the pistachios for 5 minutes, until fragrant and warm. Transfer the warm nuts to a large food processor and add 2 tsp oil. Process until the nuts turn into nut butter, stopping the processor occasionally to scrape down the bottom and sides. Add another spoonful of oil if necessary to help the butter become smoother and thin out. Let the pistachio butter cool to room temperature.

In a large bowl, whisk together the melted butter and both sugars. Add the eggs and yolks, and whisk until satiny smooth. Add the pistachio butter and extracts, and mix those in as well. Next, add the flour, baking powder, and salt, and stir with a spatula until all streaks of flour are gone. Finally, add the remaining 1 cup of pistachios and the chocolate chunks, and stir them into the batter.

Line a 9x13 pan with foil and spray the foil with nonstick cooking spray. Scrape the batter into the pan and smooth it into an even layer. Bake the blondies at 350 F for 30-35 minutes, until a toothpick inserted into the center comes out with just a moist crumb or two attached. Let the blondies cool completely before cutting them.
To Decorate:
Cut the blondie slab into three columns, then cut each column into four pieces, to give you 12 rectangular blondies. Trim two corners off the bottom of each blondie, to create the chins of your Frankensteins. Place the blondies on a cookie sheet and freeze them for about 30 minutes, until they are firm.

While you wait for the blondies to chill, place the candy melts in a large microwave-safe bowl and microwave in 30-second increments, stirring after every 30 seconds to prevent overheating. When the candy coating is smooth and fluid, use a fork to dip the whole almonds in the coating, to create the Frankenstein noses. Set the candy-coating almonds on a sheet of waxed paper to dry.

Use a fork or dipping tools to dip a blondie in the candy coating. Let the excess drip off the bottom, then gently scrape the bottom against the lip of the bowl to remove any extra coating. Set the dipped blondie on a waxed paper-covered baking sheet. Working quickly, press two candy eyes and an almond nose in the center of the blondie. Add two mini Rolos to the side of the chin for the bolts. Repeat with the remaining blondies, until you have 12 Frankenstein faces.

Melt the red and brown candy coating in two separate small bowls. Transfer them to two paper cones, disposable piping bags, or even plastic sandwich bags with a small hole snipped in the corner. Give each Frankenstein a red mouth, a brown scar on his face, and brown eyebrows. Make sure the coating is completely set before proceeding—you can refrigerate them briefly to speed this process if you'd like.

Finally, it's time to give them hair! Put the chocolate sprinkles in a bowl. Use a clean paintbrush to brush corn syrup on the top and around the sides of the Frankensteins, then push them head-down into the bowl of sprinkles, so the sprinkles adhere to the corn syrup. Store Frankenstein Pistachio Blondies in an airtight container at room temperature for up to a week.
MEASURING TIPS
Our recipes are developed using weight measurements, and we highly recommend using a kitchen scale for baking whenever possible. However, if you prefer to use cups, volume measurements are provided as well. PLEASE NOTE: the adage "8 oz = 1 cup" is NOT true when speaking about weight, so don't be concerned if the measurements don't fit this formula.
Click here to learn more about baking measurements and conversion.
Nutrition
Calories:
893
kcal
|
Carbohydrates:
100
g
|
Protein:
12
g
|
Fat:
50
g
|
Saturated Fat:
25
g
|
Cholesterol:
103
mg
|
Sodium:
305
mg
|
Potassium:
540
mg
|
Fiber:
5
g
|
Sugar:
73
g
|
Vitamin A:
740
IU
|
Vitamin C:
2
mg
|
Calcium:
119
mg
|
Iron:
3.8
mg
Share by Email
Share on Facebook
Share on Pinterest
This post was sponsored by Diamond Nuts. For more information about sponsored posts on SugarHero, see my Affiliate and Advertising Policy.