Curious George was the theme of the day at my son Asher's recent birthday party! By nature I'm a bit of an over-planner, but after knocking myself out for his first birthday party, and having him suffer an ear infection during his second party, I decided to be less of a crazy person this year and take things down a notch. Also, I basically cannibalized many of my food and decoration ideas from past parties, so the planning was pretty painless.
First step, invite the guests!
I think I might be the last person in the world still using snail-mail invitations. It always seems like a cute idea, but what is whimsical and charming in Photoshop becomes utter drudgery when you're razoring out your twentieth tiny cardstock monkey at 2am. (All that stuff I said about being less of a crazy person? Still a work in progress.) Despite the hours involved in invitation assembly, I'm still glad I did them—we got lots of comments from the guests about how their kids loved the invites and played with them over and over. And Asher was smitten with them, too!
On party day, the guests were first greeted by a 4-foot tall Curious George pinata holding a bunch of balloons.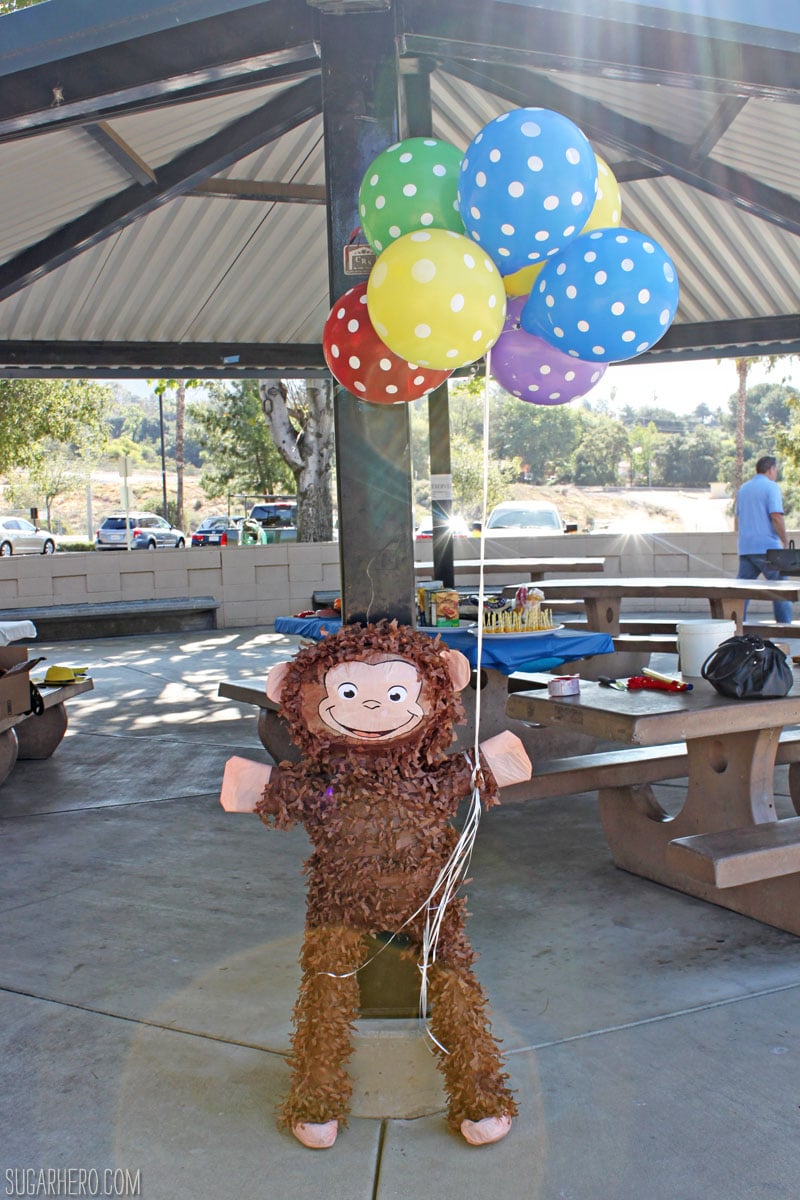 Seriously, this thing is huge. Here he is with the birthday boy, to give you a sense of scale. Lest you fear we filled it with 50 pounds of candy, only the torso is hollow, so it's not quite the sugar bomb it appears to be.
[Asher's shirt is from
T-Shirt Mall.
They tend to run small and shrink when washed, so definitely go up a size.]
This is actually the exact same pinata I bought last year! It's a generic monkey pinata that I got from a store in Pinata Alley, a stretch of shops in downtown LA that specialize in pinatas and party favors. It's kind of an overwhelming place, but is so quintessentially LA that I absolutely love it. Plus, they sell giant pinatas for dirt cheap…I'm into it.
Last year I turned this pinata into Carroll from Where the Wild Things Are, and this year he got a Curious George makeover.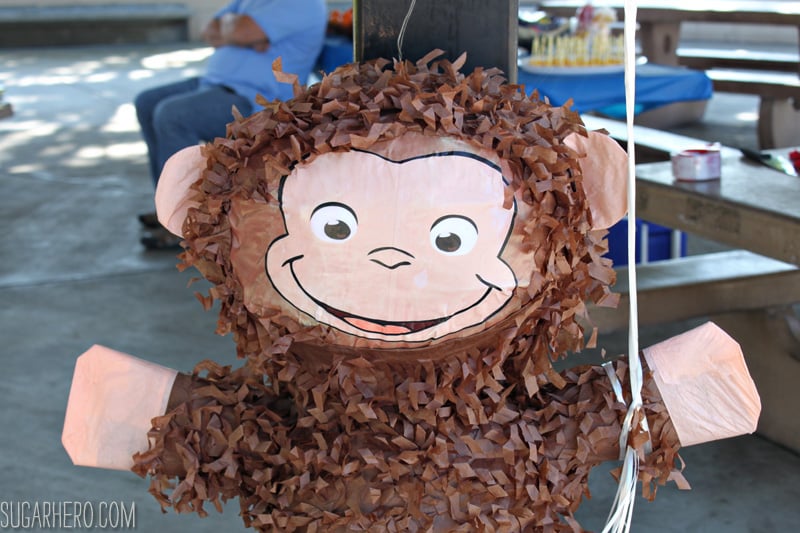 I peeled off the monkey face decorations (not hard, since they were just tissue paper glued to the front) and printed out a large picture of George's face. After some tweaking to get the size just right, I used Mod Podge to glue it down on the front of the pinata. One custom monkey, check!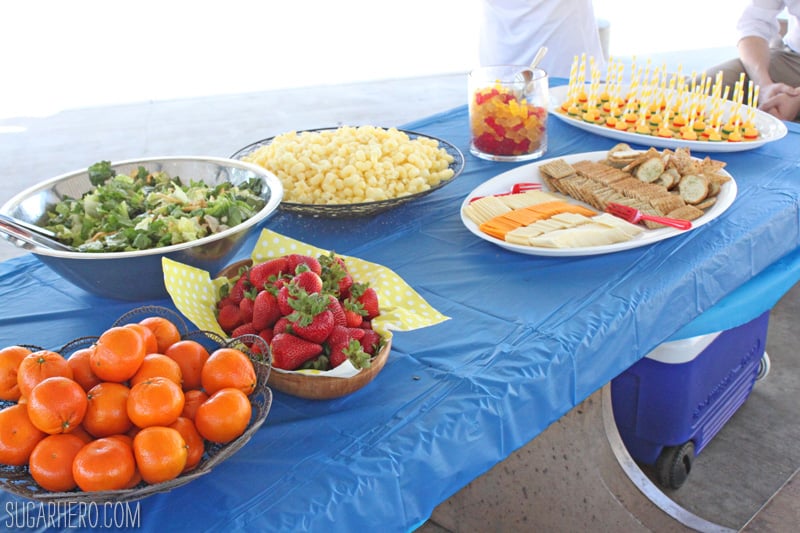 As usual, the food was pretty simple and mostly store-bought. We served rolls, Chinese chicken salad, fresh fruit, Pirate Booty (aka toddler crack), cheese and crackers, red and yellow gummy bears, and one fun themed treat: Yellow Hat Pops.
To make the pops, I removed the cream filling from a bunch of Oreos, and dipped the cookies in yellow candy coating. For the top of the hat, I used marshmallows that are halfway between the size of a regular marshmallow and a mini marshmallow. (They're strawberry marshmallows, made by Kraft, and for some reason they were a weird in-between size—perfect for my use! If you can't find smaller mallows, either cut regular marshmallows down, or maybe use larger cookies so the proportions are right.)
Skewer the marshmallows on a paper straw or lollipop stick, then dip them in yellow coating and put one on top of each dipped cookie. Finish them off with a band of Fruit Roll-Up around the outside! These could have used a label—not everyone "got" what they were right away, or could figure out what they were made of—but once word spread about what they were, they were scarfed down.
The man in the yellow hat eating yellow hats—how meta! We halfheartedly tried to track down a better yellow hat, but in the end we settled for painting a cowboy hat that we already had, and called it good enough.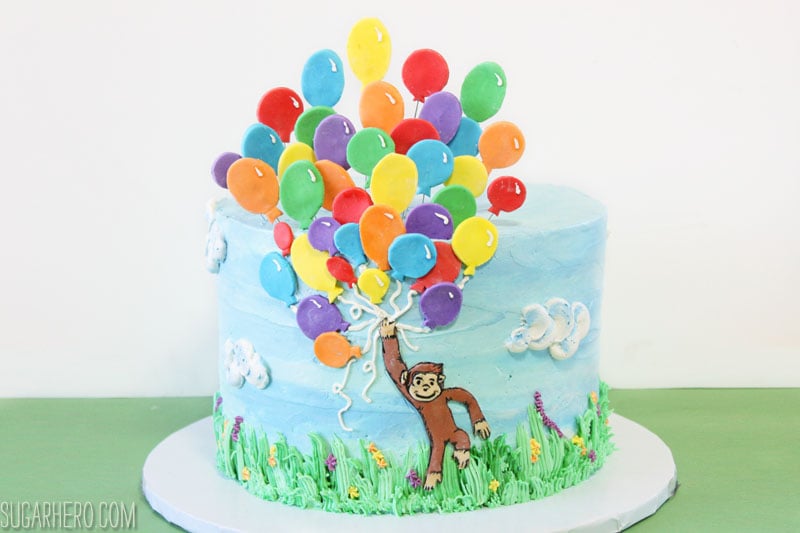 The cake was a 5-layer chocolate cake with different fillings: banana-white chocolate, hazelnut, and chocolate mousse. It really deserves its own separate post—you can read about it and get the recipe here!
Just like in years past, we had all the guests sign a book—this time, A Treasury of Curious George. Asher loves looking through all of the books that his friends have signed and drawn in, and often asks us to read him al t he signatures. It's a fun reminder for him (and us) of each party.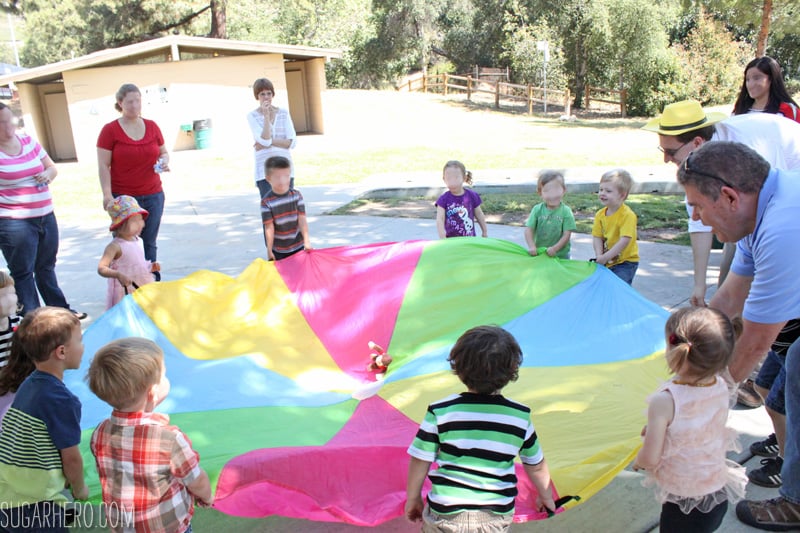 I'm not a big party games person. At this age, the kids still seem a little young for a lot of planned activities, and to be honest, I prefer to relax, eat, and talk to the other parents too! We held his party at a park that had two playgrounds, so most of the time the kids ran around playing with each other. We did do two group activities: the pinata, and this parachute game.
I bought a large parachute at Michael's (you can get one online here) and then bought a miniature Curious George stuffed animal that was one of Asher's birthday presents. We had the kids stand around the parachute and try bouncing the George around the circle. Three years old is the perfect age for this—they loved it! When they got tired of bouncing George, the parents took a turn with the parachute and the kids ran under it. It lasted a lot longer than I thought it would, and was a huge hit.
Speaking of hits (…see what I did there?) here's an action shot of the pinata! We had mostly 2-4 year olds at the party this year, and they could not break open the pinata—even with Jason cutting a hole in the back to help them. So after everyone had several turns, and the group was appropriately restless, they were treated to a vision of the Man in the Yellow Hat stabbing a hole in the back of George and throwing candy from his torso over the group. Traumatic much? In the end, candy healed any psychological wounds, and everyone was happy.
Here was the goody bag situation this year:
Curious George fruit snacks—thanks to my parents for finding these!
Bubbles with a custom bubble wrapper
A banana pen—how funny this that?!
Gummy bananas with a custom "Monkey Snacks" sticker
I'm selling these "Thanks for Coming!" labels in my etsy shop. You can print them on full-page label paper and use them on paper or plastic goody bags or boxes.
So, funny story about these gummy bananas…I didn't realize they were practically the size of regular bananas when I bought them. I expected them to be about gummy bear size, or maybe a little larger, and I started laughing hysterically when I opened the package. They're great—they have a really nice banana flavor that's not too sweet—but they are definitely very large. Be aware that there are only about 14 bananas to a pound, so order accordingly!
I packed the bananas in these 4×6-inch plastic bags. The "Monkey Snacks" label can be found in my etsy store, too!
And finally, bubbles. A year-round favorite at our house! These Happy Birthday labels are up on the etsy shop as well.
That about sums it up! One newly minted three-year-old and a Yellow Hat-less man thank you for reading!