This Red Velvet Marshmallow Spiderweb Cake is a classic red velvet cake, frosted with deep black chocolate buttercream, and covered with a spooky web of spiderwebs, made entirely from marshmallows!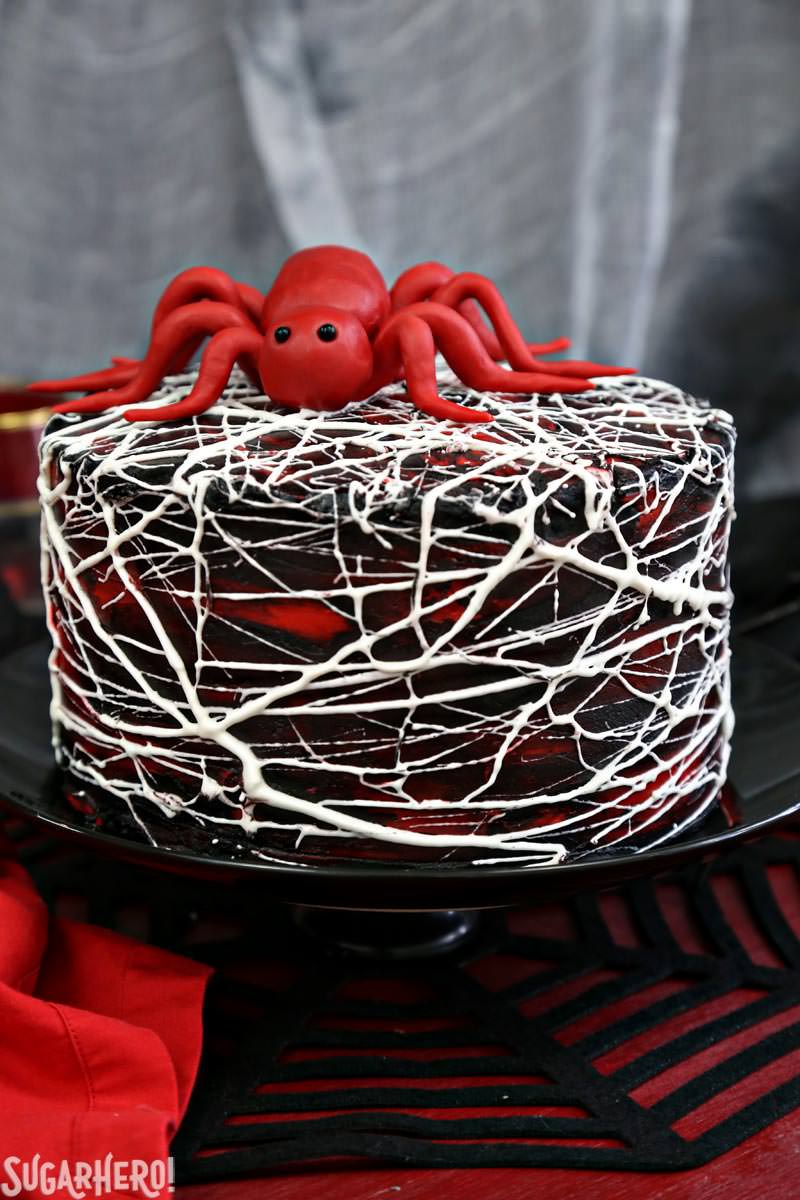 Believe it or not, it's been three years since I last made a spooky spiderweb cake for SugarHero–like, what have I even been doing with my life since then? Clearly nothing worthwhile. It was definitely time to revisit our creepy 8-legged friends again, and tackle a different version of a spiderweb cake (although, if you haven't yet tried your hand at my naked spiderweb cake, get thee to a kitchen! And while you are there check out this amazing collection of Halloween Cake Recipes!)
This was also a good excuse to try a fun technique I learned from The Cake Blog way back in 2012–using melted marshmallows to make long, stringy strands of (edible) spiderwebs! I've wanted to try method this ever since I saw Carrie's post all those years ago, and finally got around to it this year, putting my own spin on the idea of a marshmallow spiderweb cake.
I wrapped my marshmallow spiderweb around a red velvet cake, frosted with chocolate buttercream, and topped it all off with a cute candy spider. Here's how it all breaks down…
The spider (which just might be my favorite part!) is made from chocolate plastic, sometimes also called candy plastic or candy clay. It's REALLY simple to make–you just mix melted chocolate (or candy coating) with corn syrup, and it forms a soft, dough-like texture. After an overnight rest, the chocolate plastic is much harder and can be kneaded and sculpted, much like fondant or marzipan.
Speaking of fondant or marzipan, of course you could use those materials instead (or hey, just buy a novelty chocolate spider and call it good!). I think chocolate plastic usually tastes a bit better–since it tastes like chocolate or white chocolate–and it also has the advantage of hardening sooner, so you don't need to let it air cure as long as you might need to with fondant or marzipan.
Whatever you decide to use, don't forget the sugar pearl eyeballs, so your food can stare right at you and make you feel guilty! My 5-year old scolded me for not giving the spider 8 eyes, so if you're looking for realism, don't look to my example…although that didn't stop him from eating the spider, leg by leg, later that night…
The web is, as I said, just made from marshmallows. If you melt marshmallows and let them cool slightly, until warm but not scalding hot, you can take a pinch of the marshmallow and pull it out into long, stringy strands that are perfect for wrapping around a cake (or cupcakes, or any other dessert, really.)
This technique is surprisingly fast and easy, and unsurprisingly quite messy! There's really no "wrong" way to do it, so even if some of the webs are a little too fat, or don't overlap quite right, by the time all of the strands are layered on top of each other, it looks gorgeous anyhow! I recommend putting the webs on shortly before serving the cake, because they do tend to get softer and stickier over time.
One more marshmallow spiderweb pro tip: it probably works best on fondant-covered cakes, or cakes frosted with a crusting buttercream. I didn't like the thought of fondant on top of red velvet, so I used my favorite non-crusting buttercream and just made sure to wrap it when the cake was very cold, otherwise the marshmallow strands would drag through the frosting and cut into the corners. It worked out just fine, but using it on fondant is probably the path of least frustration.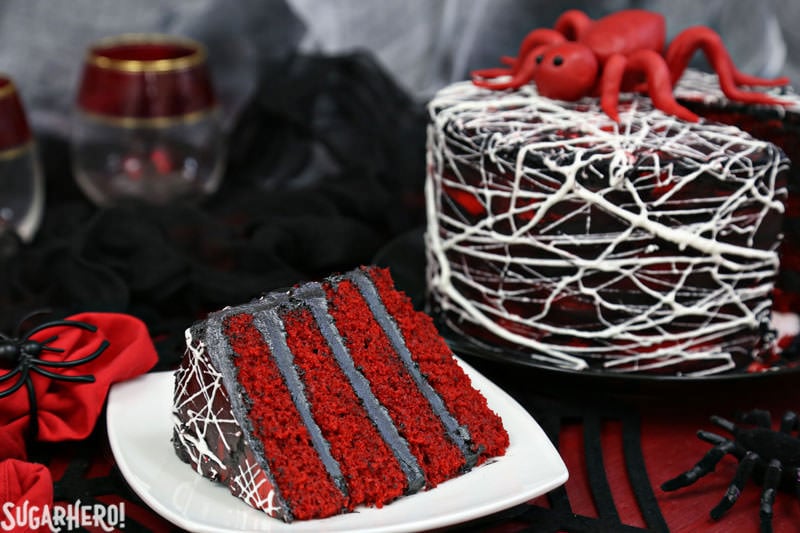 Cream cheese is the traditional frosting for red velvet cake, but I wanted to do something a little different this time, plus I knew I needed something sturdy to hold up to the marshmallow spiderwebs. I used a chocolate buttercream, dyed black with Americolor Super Black gel coloring.
Whenever possible, I like to start with chocolate buttercream when making black frosting, because it's easier to get to a true black color from brown than from white. (Plus, chocolate just tastes really good–and it's great paired with red velvet!) The gel coloring is quite strong, so it gives it an intense color without needing to add quite so much food coloring.
The final touch was bright streaks of red frosting along the sides and top of the cake. They're partially hidden by the web, which is good news for people who want to cover any decorating mistakes, but they still show up and give the cake a little extra pop!
👻More Halloween Recipe Inspiration👻