These German Chocolate Brownie Tarts start with a rich brownie base, gooey coconut-pecan topping, and a ring of dark chocolate buttercream perfection.
Growing up, German chocolate cake was always the standard birthday cake. I don't know what all of you are talking about with your vanilla cakes and vanilla frosting—to us, a birthday cake was chocolate, slathered generously with a coconut-pecan frosting. I haven't had a slice of German chocolate cake in ages, but I do have a soft spot in my heart for this flavor combination thanks to our birthday tradition.
I wanted to play around with the standard German chocolate cake a little, so I came up with these small tarts instead. They start with a chewy brownie made with browned butter, baked right into the tart pans. They're a little crunchy on the edges but soft and a wee bit underbaked in the center—just the way I like them! I think traditional coconut-pecan frosting is pretty much perfection, so I left the recipe alone and just heaped it up in a big mound in the center of the tart. A dark chocolate buttercream adds visual interest, a finishing touch, and of course, one more hit of chocolate for these decadent tarts.
🤎More Chocolate and Coconut Desserts
Chocolate-Raspberry Tarts
These Chocolate-Raspberry Tarts have a crunchy chocolate shell and an intensely fruity chocolate-raspberry ganache filling that is soft, rich, and creamy at room temperature.
View Recipe
Dulce de Leche Swirled Tarts
These beautiful Dulce de Leche Swirled Tarts start with a dark chocolate crust, packed with thick swirls of chocolate, dulce de leche, and white chocolate ganache!
View Recipe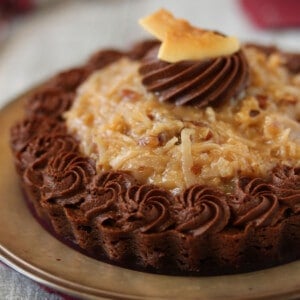 German Chocolate Brownie Tarts
These German Chocolate Brownie Tarts start with a rich brownie base, gooey coconut-pecan topping, and a ring of dark chocolate buttercream perfection.
Ingredients
For the German Chocolate Filling:
For the Chocolate Buttercream:
Optional Assembly Equipment:
Pastry Bag

Pastry Bag Couplers

Star pastry tip
Instructions
To Make the Brownies:
Preheat the oven to 350 F. Spray 10 6-inch tart pans with nonstick cooking spray and place them on a baking sheet covered with foil, in case of leaks.

Brown the butter: place the butter in a medium saucepan over medium heat. Cook it, stirring frequently, until it darkens to a medium golden brown and has a nutty aroma. (Depending on your pan and your stove, this may take about 5-8 minutes.) Measure out 1 cup of brown butter (7 ounces by weight). If you have extra brown butter, save it for another use.

Combine the cocoa powder, boiling water, and chopped chocolate in a large bowl. Whisk together until the chocolate has melted and the mixture is smooth. Add the brown butter, and whisk well. Add the eggs, yolks, and vanilla, and whisk again. Add the sugar, and…you guessed it…whisk until the sugar is blended into the batter. Finally, add the flour and salt, and stir it into the batter with a rubber spatula.

Divide the batter evenly among the tart shells. (I used a #10 disher, which scooped about 4.25 oz batter.) Bake the tarts for 17-20 minutes, until puffed and a toothpick inserted into the center comes out with just a few moist crumbs. Cool completely on a wire rack.
To Make the German Chocolate Filling:
Combine the yolks, evaporated milk, vanilla, and salt in a medium saucepan over medium heat, and whisk together until well-blended. Add the butter and both sugars, and continue to whisk frequently while the butter and sugars melt.

Cook on medium heat, whisking frequently, until the mixture thickens enough to coat the back of a spoon (about 12-15 minutes). Don't overheat it or overcook it, because it's not necessary and it's more likely to separate. Once it's thickened, remove the pan from the stove and stir in the coconut and pecans. Cool the filling to room temperature, stirring occasionally, before using it. You can make the filling in advance and refrigerate it for up to a week with a piece of plastic wrap pressed on top to prevent a skin from forming.
To Make the Chocolate Buttercream:
Melt the unsweetened chocolate in the microwave, and set aside to cool to room temperature.

Combine the powdered sugar, butter, milk or cream, vanilla, and salt in the bowl of a large mixer. Beat on low with a paddle attachment. Once everything is roughly mixed, scrape down the bottom and sides of the bowl, then beat everything together on medium speed for 2 minutes.

Add the room temperature melted chocolate, and beat on medium speed for 1 minute more, until well-mixed and light and fluffy. Buttercream can be made up to a week in advance and stored in the refrigerator for up to a week. Allow to come to room temperature and re-whip before using.

To assemble the tarts, gently remove them from the tart pans and place them on the serving plates. Top each tart with a generous 1/3 cup of filling mounded in the center. Fit a pastry bag with a coupler and star pastry tip, and fill the bag with chocolate buttercream. Pipe stars or dots around the edges of the tart, and a big star in the center of each. Finish with toasted pecans or coconuts in the center.
Recipe Notes
I love the rich flavor that brown butter provides the brownie base, but if you're pressed for time or if you don't like brown butter, you can replace the butter in the recipe with 7 oz of plain melted butter. If you want to make bars instead, use a 9×13 pan to bake the brownies in.
Measuring Tips
Our recipes are developed using weight measurements, and we highly recommend using a kitchen scale for baking whenever possible. However, if you prefer to use cups, volume measurements are provided as well. PLEASE NOTE: the adage "8 oz = 1 cup" is NOT true when speaking about weight, so don't be concerned if the measurements don't fit this formula.
Want to learn more about baking measurements and conversion?
Nutrition
Calories:
1381
kcal
|
Carbohydrates:
160
g
|
Protein:
13
g
|
Fat:
82
g
|
Saturated Fat:
47
g
|
Cholesterol:
287
mg
|
Sodium:
683
mg
|
Potassium:
505
mg
|
Fiber:
6
g
|
Sugar:
130
g
|
Vitamin A:
1775
IU
|
Vitamin C:
1
mg
|
Calcium:
172
mg
|
Iron:
6
mg
Tried this recipe?
Snap a pic and hashtag it #SugarHero. We love to see your creations on our Instagram @elabau.