This post may contain affiliate links. Please see my disclosure policy for more information.
This Easter Nest Cake is such a cute and easy Easter dessert! It's baked right in a bowl–no special pan required–and the decorating is fun for the whole family.
This double chocolate Easter Nest Cake is one of my favorite Easter traditions. Ever since I made my first version several years ago, I like to revisit it at least once a year–for nostalgia's sake, of course, but mostly because it's genuinely a delicious cake my whole family enjoys eating!
FREE EASTER RECIPES E-BOOK!
Subscribe to the SugarHero mailing list and get a free recipe book!
10 Easy, Cute, & Kid-Friendly Easter Treats!
The details will change–sometimes I'll add crushed Oreos to the filling, sometimes I'll swap out the large eggs for some coconut grass and Peeps–but the general idea always stays the same. This Easter Nest Cake has become a family tradition for me, and I hope it becomes one for you as well. Let's do this thing!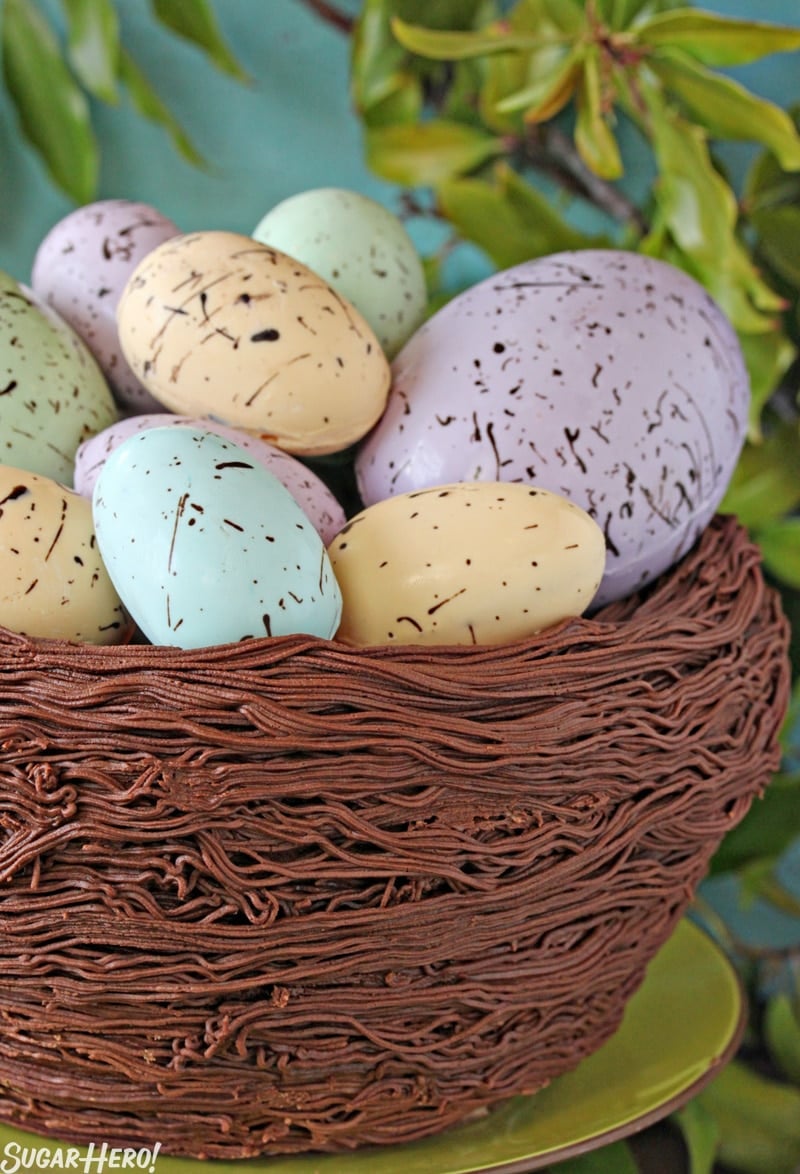 This cake starts with a moist, dense devil's food chocolate cake, cut into three layers. It's filled with dark chocolate buttercream, and frosted with that same buttercream to resemble a bird's nest.
The secret to getting that messy, swirled, twiggy bird's nest look is easy. You'll need a piping tip called a multi-opening tip, more commonly called a "grass tip" because it's used for making, you guessed it, grass and other natural textures. (I used an Ateco #133 but any similar size should work.)
The cake assembly is a little unusual, but there's nothing especially tricky about it. I baked my cake in a 4-quart metal mixing bowl, but if you're a fancy person with one of those round cake pans, that would work too! The nest is assembled upside-down, so it's more stable, and once the cake is stacked and frosted, you'll take your handy grass tip and squirt swirls and whirls of frosting strings all around the sides of the nest.
Once it's decorated, you can flip it back upside-down to get a nest shape, and finish frosting the top and filling it with eggs, edible grass, Peeps, or whatever else you can think of!
Speaking of the large eggs on top…I am such a sucker for those speckled Easter malt eggs, and I've loved any and all variations of speckled Easter egg cakes floating around the blogs (like this gorgeous one from The Cake Blog). I decided to incorporate my own homemade speckled candy eggs into the design of this majorly chocoately Easter Nest Cake.
For my nest, I wanted to incorporate those speckled eggs I'm so smitten with, so I piled the cake high with homemade chocolate eggs in two different sizes and a variety of pastel colors. To make the eggs, I used a smaller egg mold (like this one) and a larger mold (like this one) and I actually used candy coating instead of chocolate, to speed up the process and eliminate the need for tempering. After flicking chocolate coating on the inside of the molds, I made them following these Hollow Chocolate Easter Egg directions.
The eggs I made were hollow, so they didn't weigh down the top of the cake and cause any sort of structural problems, but I also made some extras and filled them with jelly beans and other Easter candies, to decorate around the outside of the cake. Is it weird that I'm thirtysomething and still get excited when I hear the rattle of loose candy inside an Easter egg? If loving the sound of sugar is wrong, I don't want to be right.
That's your SugarHero Easter update for this week! I'll be back next week with another Easter recipe or two, assuming I can pull myself away from some thrilling computer work. Send help. Send bracing thoughts. Send more Cadbury mini eggs.
Easter Nest Cake
This Easter Nest Cake is such a cute and easy Easter dessert! It's baked right in a bowl--no special pan required--and the decorating is fun for the whole family.

Ingredients
For the Cake:
6

oz

butter

,

at room temperature

4.75

oz

granulated sugar

,

(2/3 cup)

5

oz

brown sugar

,

(2/3 cup packed)

2

eggs

,

at room temperature

2

tsp

vanilla extract

8

oz

buttermilk

,

1 cup, at room temperature

4

oz

sour cream

,

1/2 cup, at room temperature

2

tbsp

water or brewed coffee

7.8

oz

all-purpose flour

,

(1¾ cups)

3

oz

unsweetened cocoa powder,

(1 cup)

1½

tsp

baking soda

½

tsp

salt
For the Frosting:
12

oz

unsweetened chocolate,

finely chopped

9

cups

powdered sugar

,

(36 oz)

12

oz

unsalted butter

,

(3 sticks, or 1 1/2 cups) at room temperature

1/2

cup

milk

,

plus more if necessary

1

tbsp

vanilla extract

1/4

tsp

salt

Assorted chocolate eggs

,

Peeps, or other Easter edibles, to decorate
Instructions
To Make the Cake:
Preheat the oven to 350 F. Cut 4 strips of parchment paper about 2 inches wide and 14-16 inches long. Spray an oven-safe 4-quart metal bowl with nonstick cooking spray. Arrange the parchment strips in an asterisk in the center of the bowl, so they overlap each other in the middle and extend up the sides. Spray the parchment with nonstick cooking spray—this process makes it easy to remove the cake after baking.

Combine the butter and both sugars in the bowl of a large stand mixer fitted with a paddle attachment. Beat them together on medium-high speed, until light and fluffy, about 5 minutes. Add the eggs one at a time, beating well after each addition. Add the vanilla extract and mix it in.

In a separate bowl, whisk together the buttermilk, sour cream, and water (or coffee, if using). In a different bowl, sift together the flour, cocoa powder, baking soda, and salt. With the mixer running on low, add a quarter of the sifted flour mixture. When the flour streaks have almost all disappeared, add a third of the liquid to the mixing bowl. When that's incorporated, continue to add the drys and wets in an alternating pattern, ending with the dry ingredients.

When the dry ingredients are nearly incorporated, stop the mixer. Scrape down the bottom and sides of the bowl with a rubber spatula, and finish mixing the cake by hand. Pour the batter into the prepared bowl and smooth it into an even layer. Bake the cake for about 70 minutes, until a toothpick inserted into the center comes out with just a few moist crumbs attached. If the top seems to be getting too dark during baking, cover it with foil to prevent it from burning. Because of the unique shape of the bowl, it takes a little longer to bake than other cakes, and can sometimes bake a little unevenly. Cool the cake completely on a wire rack.

Unmolding the cake should be a simple matter of turning it out onto a cake cardboard—the parchment is a big help here. If you're having trouble, gently use a small metal spatula around the sides to loosen the cake before unmolding it. The cake can be made several days in advance and kept, well-wrapped and refrigerated or frozen, until ready to use. If you freeze it, make sure it's partially defrosted before you use it so you can cut it easily.
To Make the Frosting:
Place the chopped unsweetened chocolate in a microwave-safe bowl and melt it in 30-second increments, stirring after every 30 seconds until melted and smooth. Set aside to cool to room temperature.

Place the remaining ingredients (sugar through salt) in the bowl of a large stand mixer fitted with a paddle attachment. Mix on low speed until the sugar is thoroughly moistened, then raise the speed to medium and beat for 1-2 minutes, until light and fluffy.

Turn the mixer speed back to low, and add the chocolate. Once the chocolate is mixed in, raise the speed back to medium and beat for one minute more. If it seems too stiff, add a bit more milk until you get a texture that you like. Use immediately, or place in an airtight container with plastic wrap pressed on top. The frosting can be made several days in advance and kept in the refrigerator. Allow to come to room temperature before using.
To Assemble:
Cut out a cardboard cake circle the same size as the bottom of the chocolate cake. If the inside of your bowl was round, instead of having a flat bottom, trim the rounded part off the bottom of the chocolate cake, to give the cake a flat base.

Place a large cake cardboard on a cake turntable, and flip the cake upside-down so the widest part is now on the bottom. Cut the cake into three layers with a long serrated knife. Spread a thick layer of chocolate frosting on top of the cake layer, and use a metal spatula to smooth it out to the edges.

Top the cake with the second layer, and add another layer of frosting. Finally, add the final layer of cake. Once all of the cake layers are assembled, spread a thin layer of chocolate frosting all along the sides of the cake, to seal in any crumbs and to give it more structural support. Don't put any frosting on the "top" of the cake, because once we're done decorating it, the cake will be flipped over and that will be the bottom!

After your sides are covered with chocolate, transfer some of the frosting to a piping bag fitted with a grass tip (I used Ateco #133). Starting at the top of the cake, squeeze the frosting out onto the sides, going around and around the cake as you work your way down. Don't worry about making it "pretty"—this actually looks best when the frosting weaves around in a random pattern, because that makes it look more like a nest. Just make sure to fill in all the gaps so there aren't any naked areas not covered in the long strings of chocolate frosting. It might get more difficult as you get toward the bottom of the cake, so just go as far down as you can.

Place the small cardboard cake circle on top of the cake, and using the large circle underneath to support it, flip the cake upside-down so it is now the typical nest shape. If you have bare spots on the sides that you couldn't decorate before, add frosting to them now.

Use a spoon to scrape out a shallow hole in the top of the cake. You just want to create a little indentation where the eggs will rest, so only scrape about 1/2- or 3/4-inch of cake, and leave a lip around the edge to hold the eggs in. Spread a thin layer of frosting on the top of the cake, and go around the edges with the grass tip so the nest's texture covers the edge around the top.

Fill the nest cake with chocolate eggs, jelly beans, marshmallow chicks, edible grass, or any other combination of Easter candy you can dream up!
MEASURING TIPS
Our recipes are developed using weight measurements, and we highly recommend using a kitchen scale for baking whenever possible. However, if you prefer to use cups, volume measurements are provided as well. PLEASE NOTE: the adage "8 oz = 1 cup" is NOT true when speaking about weight, so don't be concerned if the measurements don't fit this formula.
Click here to learn more about baking measurements and conversion.
Nutrition
Calories:
715
kcal
|
Carbohydrates:
102
g
|
Protein:
5
g
|
Fat:
39
g
|
Saturated Fat:
24
g
|
Cholesterol:
95
mg
|
Sodium:
346
mg
|
Potassium:
257
mg
|
Fiber:
3
g
|
Sugar:
84
g
|
Vitamin A:
905
IU
|
Vitamin C:
0.1
mg
|
Calcium:
75
mg
|
Iron:
4.6
mg
Share by Email
Share on Facebook
Share on Pinterest