This Patterned M&M's Cake gets its eye-catching design from an unlikely source—M&M's candies! Any round chocolate candy can be used to create bold, striking patterns on this salted caramel layer cake.
It's been a little quiet around here lately. It feels weird to write about something as frivolous as dessert when this has been one of the most contentious, divisive, painful weeks I can remember. I don't believe a food blog is a good place to have productive political conversations, and anyhow, I'm exhausted from arguing with strangers on facebook (kidding/not kidding) so I won't be opening that can of worms, except to say: I believe in love. I believe we are more alike than we are different. I believe we can come out of this stronger. Be excellent to each other.
[
If you're reading this post through a feed reader or via email, you may need to visit the website to view the tutorial video above
]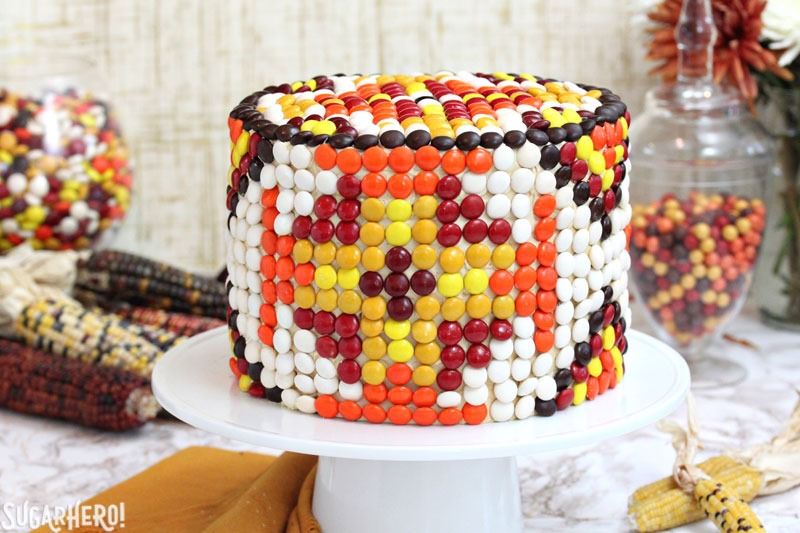 And on that incongruous note, CAKE!! (Seriously, there is no graceful transition from election talk to dessert talk. Apologies.)
This Patterned M&M's Cake is inspired by a cake I created for my Craftsy Cake Decorating class. In the class, I use M&M's to create this gorgeous striped rainbow cake. It's one of my very favorite cake designs, and I love it because it is SO easy but so beautiful! If you'd like to learn more about the class and see a trailer showing aaaaaalllll of the 12 designs I teach in it, click here!
But I wanted to show that the techniques taught in the class can be used for much more than just one design. They're all really flexible, and you can take them and run with them to create your own unique projects. So for this M&M's cake, I decided to challenge myself with a much more intricate pattern. No more simple stripes for me! No, I took my inspiration from the patterns on Navajo blankets and baskets, and very loosely interpreted them in this cake design.
(I didn't feel comfortable calling this a Navajo cake, for about a million different reasons, but I wanted to acknowledge my source material. In the process of gathering inspiration, I read a lot of interesting things about the history of Navajo textiles in modern culture. For instance, what has come to casually just be called a "Navajo" pattern is more technically called a Ganado Pattern. Now we're all ready for that Final Jeopardy question!)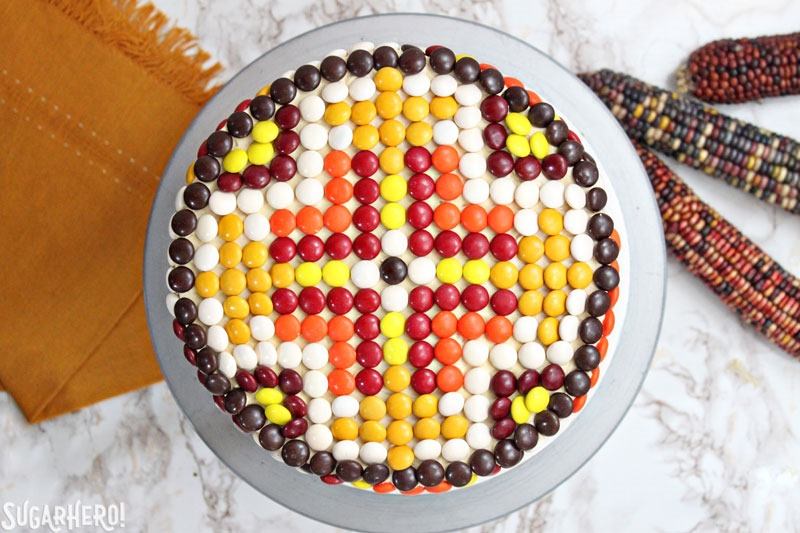 So, yes, making this cake requires a few more brain cells than the simple striped rainbow cake above. Before I added the candies, I created a rough template that was the height of my cake, and quickly sketched out a few sample designs in M&M's. My cake was 6-inches high, which makes it 12 M&M's tall. If you follow my recipe your cake will be a similar size, so I've uploaded the template I used, in case you want to download the pdf here and use it to plan your own cake designs. There's no need to plan out the entire cake (unless you want to!) but I found it very helpful to give myself a few starting spots so I didn't have to move the M&M's around a million times during placement on the frosting.
You also don't need to have a multitude of different patterns and shapes. You can come up with just one shape, and repeat it all the way around the cake! Or alternate two shapes, or whatever you'd like. I didn't plan my entire cake, I just came up with about 3 larger diamond and cross designs, and then inserted smaller triangles between them. Remember that no one is really going to inspect every side of the cake, so if you run into small spacing issues, like if you have too much or too little space between the patterns, it's totally fine.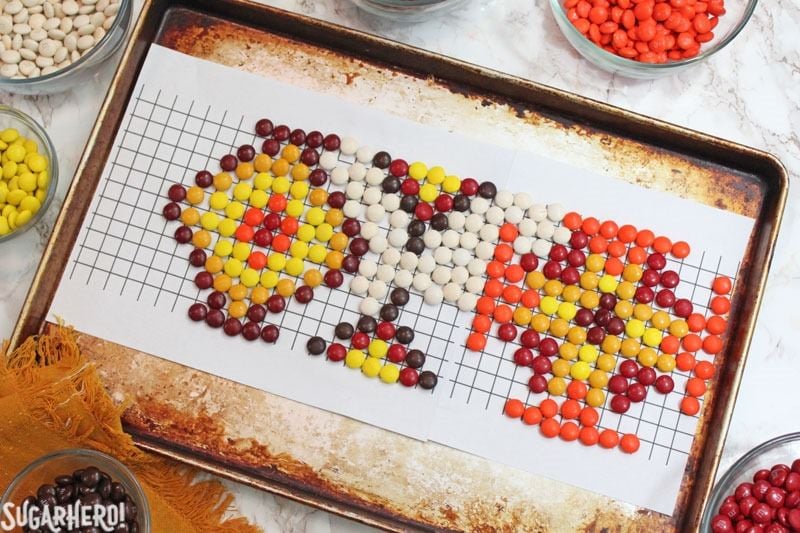 Similarly, the M&M's placement can be flexible. If you have to overlap them a little bit to get them to fit neatly on the cake, that totally works! If you need to space them out a bit more to make them fit, no one will really notice. I know I'm inviting you to see my mistakes right now, but if you take a close look at the first few pictures I posted, you'll probably notice mistakes in spacing and uneven lines that you didn't notice originally. Once the candies are placed, they blend together nicely, and small mistakes really do become invisible.
To get the fall color palette I used, I took the brown, orange, yellow, and red M&M's from a standard bag, and then I supplemented with maroon, cream, and goldenrod M&M's that I purchased separately. I bought mine at a local party store that sells M&M's in single colors, but you can also buy them on Amazon or other online shops. If you can't find them, then many times I have settled for just separating out the candies from a mixed bag. It's harder to guarantee you'll get the amount of individual colors that you want, but it is cheaper and more easily accessible!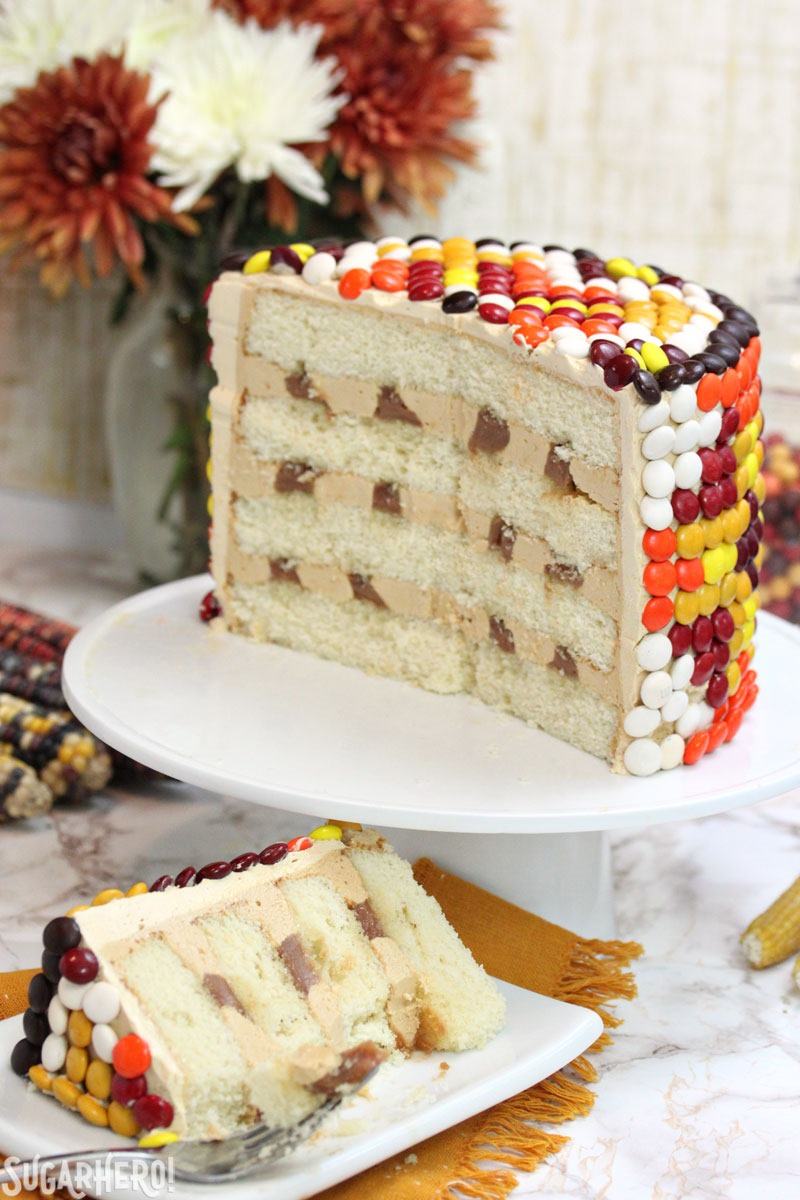 We've come all this way and not even TALKED about what's inside that M&M's covering! I kept with the fall theme and filled this vanilla butter cake with caramel frosting and a soft salted caramel filling. I alternated the filling and the buttercream, to give it a dotted effect like the M&M's on the outside, but if you don't want to do this, you can omit the caramel entirely, or just make one of the filling layers caramel and keep the other two plain buttercream.
I found it helpful to use a candy thermometer when making the soft caramel filling. If you are new to using a thermometer, check out my guides for how to use a thermometer and how to test and calibrate a thermometer correctly.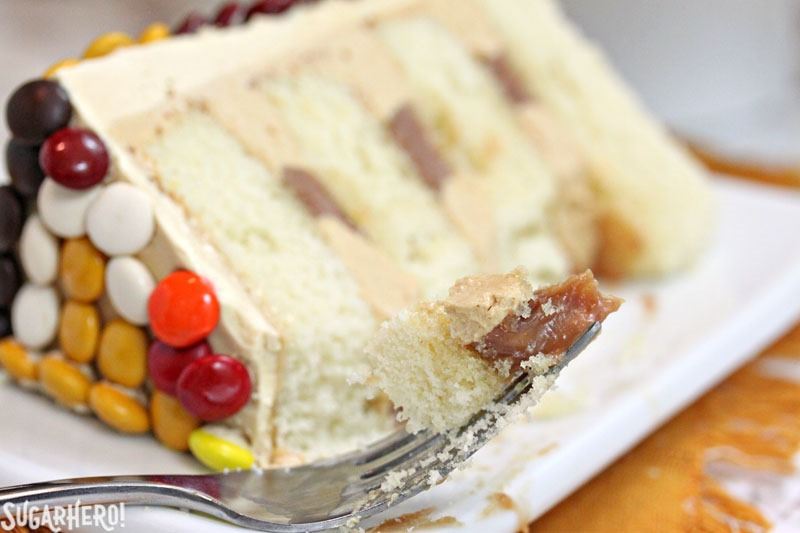 If you try out this technique, PLEASE share a picture on social media! I know you are all super creative and I would love to see your M&M's masterpieces.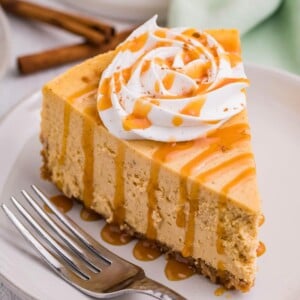 Pumpkin Spice Cheesecake
This Pumpkin Spice Cheesecake is a classic fall dessert. The combination of the crunchy cinnamon graham cracker base and the rich pumpkin cream cheese filling is irresistible. Enjoy it plain, or top it with whipped cream and caramel sauce.
View Recipe
Pumpkin Spice Hot Chocolate Truffles
Pumpkin Spice Hot Chocolate Truffles are two desserts in one! These sweet little truffles look like pumpkins and taste like pumpkin spice-flavored chocolate, but they have a secret: add them to a mug of hot milk, and they turn into hot chocolate! You can also enjoy them on their own, so they truly do double duty in the dessert department.
View Recipe
Patterned M&M's Cake
This Fall themed vanilla butter cake is filled with caramel frosting and a soft salted caramel filling. M&M's create a beautiful and eye-catching design on the outside of the cake.
Ingredients
Instructions
To Make the Cake:
Preheat the oven to 350 F. Line four 8-inch cake pans with parchment rounds, and spray the parchment and pan sides with nonstick cooking spray.

Combine the sugar, cake flour, baking powder, and salt in the bowl of the stand mixer fitted with a paddle attachment. Mix on low speed for about a minute to combine the dry ingredients.

Lightly whisk together the eggs and about a quarter of the milk (it doesn't have to be a precise measurement) and the vanilla extract, and set aside for now.

Add the remaining milk and the softened butter to the large mixing bowl and mix on low speed until the dry ingredients are moistened. Turn the mixer to medium speed and mix for a minute and a half.

Add the egg mixture in three batches, mixing for 20-30 seconds after each addition, until you have a smooth batter. Scrape the bottom and sides of the bowl with a rubber spatula, and give the batter a few more stirs to make sure everything is incorporated. Divide the batter evenly between the four pans—if you have a scale, each pan should get about 14 oz of batter. Bake the cakes at 350 F for 22-25 minutes, until the sides just start pulling away from the pan, and a toothpick inserted into the center comes out clean.

Let the cakes cool on a wire rack for 10 minutes, then gently turn them out and let them cool completely. I find it's easiest to cut and stack cakes that have been chilled, so if you have time, wrap them with plastic wrap and put them in the freezer for at least 30 minutes, until they are firm but not frozen all the way through. If you are making these in advance, they can stay in the freezer for up to several weeks. Let them partially defrost, until they are firm but not rock-hard, before assembling.
To Make the Caramel Buttercream:
Combine the whites, powdered sugar, and salt in the bowl of a large stand mixer fitted with a paddle attachment. Mix everything together on low speed, until the sugar is moistened and no dry patches remain. Turn off the mixer, scrape down the sides and bottom of the bowl with a spatula, then turn the mixer to medium speed. Beat on medium for 5 minutes.

After 5 minutes, turn the mixer to medium-low and start adding the softened room temperature butter, 1-2 tablespoons at a time. Once all of the butter is incorporated, add the vanilla extract and mix it in. Stop the mixer and scrape down the bottom and sides once more. Turn the speed to medium and beat the buttercream for 10 minutes. Add the prepared caramel sauce, and beat until it's well-mixed and homogenous. The frosting can be used right away, or stored in the refrigerator for up to two weeks. If you have chilled the frosting, let it come to room temperature and then beat it for several minutes to smooth it out and restore its texture before using it.
To Make the Soft Caramel:
Combine the water, light corn syrup, and granulated sugar in a large saucepan. Place the pan over medium heat, and stir while the sugar dissolves. Brush down the sides of the pan occasionally with a wet pastry brush to remove stray sugar crystals. Bring the mixture to a boil, then stop stirring and insert a candy thermometer. Allow the sugar to cook, undisturbed, until it is a medium amber color and reaches 330 F on the thermometer.

While the sugar cooks, combine the cream, butter, and salt in a medium saucepan. Place the pan over medium heat and bring the cream to a simmer. Once simmering, remove the pan from the heat and set aside.

When the caramel has reached 330 F, add the hot cream to the pan carefully—it will splutter, boil, and steam quite a bit, so stand back from the pot! Stir the cream and caramel together. Continue to cook the mixture, stirring occasionally, until it reaches 232 F.

Remove the pan from the heat and stir in the vanilla extract. Pour the caramel into a heatproof bowl or baking pan. Let it sit at room temperature until it is entirely cool and thickened. It should have a texture that is easily scoopable with a spoon, but it should mostly hold its shape on the spoon and not be too runny. The caramel can be made in advance and kept at room temperature for a week before using. If making it in advance, simply cover the bowl or pan of caramel with cling wrap until ready to use.

If, after the caramel has chilled, it seems too stiff to pipe or cut easily, add 1-2 tablespoons of water and microwave the caramel in 30-second increments until melted. Stir well, then let it cool to room temperature before assembling the cake.
To Assemble and Decorate:
Place one cake round on a cardboard cake board, and place it on a cake turntable, if you have one. Place some caramel buttercream in a piping bag fitted with a large round tip, and place the soft caramel in a second piping bag with a round tip.

Pipe a wide ring of buttercream around the outside of the cake layer. Pipe a ring of caramel inside the buttercream, and continue to alternate rings of caramel and frosting until the cake layer is completely covered. Place a second cake layer on top, and repeat the process. Do this a third time, and then place the final cake layer on top. Spread a thin layer of frosting all over the top and sides of the cake to seal in crumbs. Refrigerate the cake for 30-40 minutes, until the thin frosting layer on the outside is firm.

Now spread a thicker layer of frosting on the top and sides of the cake. Use a metal offset spatula or bench scraper to get the sides and top as smooth as possible. It's not important to get them perfect, since the cake will be entirely covered with candy anyhow!

Once the cake is completely frosted, I recommend transferring it to your serving platter, since it's a little more precarious to move it once it's covered with candy. (It's possible, you just might lose a few of the candies at the bottom of the cake!)

If desired, use the template provided in this post to plan out a few of your frosting designs. You can also just wing it, or do a simple design like vertical or horizontal stripes, that don't require any planning. Place your M&M's on the cake, pressing them in gently to embed them in the frosting, and making sure that the "M" logo is hidden on the underside of the candy. You can always cheat a bit with the spacing, overlapping the candies slightly, or spacing them out more, to make your rows and columns come out evenly.

Once all of your candies are placed, your cake is ready to serve! For the best taste and texture, serve this cake at room temperature.
Video
Recipe Notes
To simplify this recipe, you can use a cake mix if you'd like, and/or eliminate the soft caramel layer and just fill the inside with buttercream. Regarding the number of M&M's, I recommend having about 7 cups of M&M's for an 8-inch layer cake (approximately 2.5 lbs), but if you are going for a specific pattern/design, it's difficult to predict exactly how many of each color you will need. The best course of action is probably to buy more than you need (figuring that the extras will happily get eaten!), and also be flexible in planning your pattern, in case you run low on one or two colors.
Measuring Tips
Our recipes are developed using weight measurements, and we highly recommend using a kitchen scale for baking whenever possible. However, if you prefer to use cups, volume measurements are provided as well. PLEASE NOTE: the adage "8 oz = 1 cup" is NOT true when speaking about weight, so don't be concerned if the measurements don't fit this formula.
Want to learn more about baking measurements and conversion?
Nutrition
Serving:
16
g
|
Calories:
1061
kcal
|
Carbohydrates:
122
g
|
Protein:
7
g
|
Fat:
61
g
|
Saturated Fat:
38
g
|
Cholesterol:
209
mg
|
Sodium:
430
mg
|
Potassium:
271
mg
|
Fiber:
0
g
|
Sugar:
100
g
|
Vitamin A:
2000
IU
|
Vitamin C:
0.2
mg
|
Calcium:
130
mg
|
Iron:
0.6
mg
Tried this recipe?
Snap a pic and hashtag it #SugarHero. We love to see your creations on our Instagram @elabau.