This simple white cake with buttercream frosting and sprinkles makes a fa-BOO-lous presentation! It's featured in candy-corn themed colors of white, yellow and orange. With a parchment stencil and ombre sprinkles, this cake couldn't be easier to make!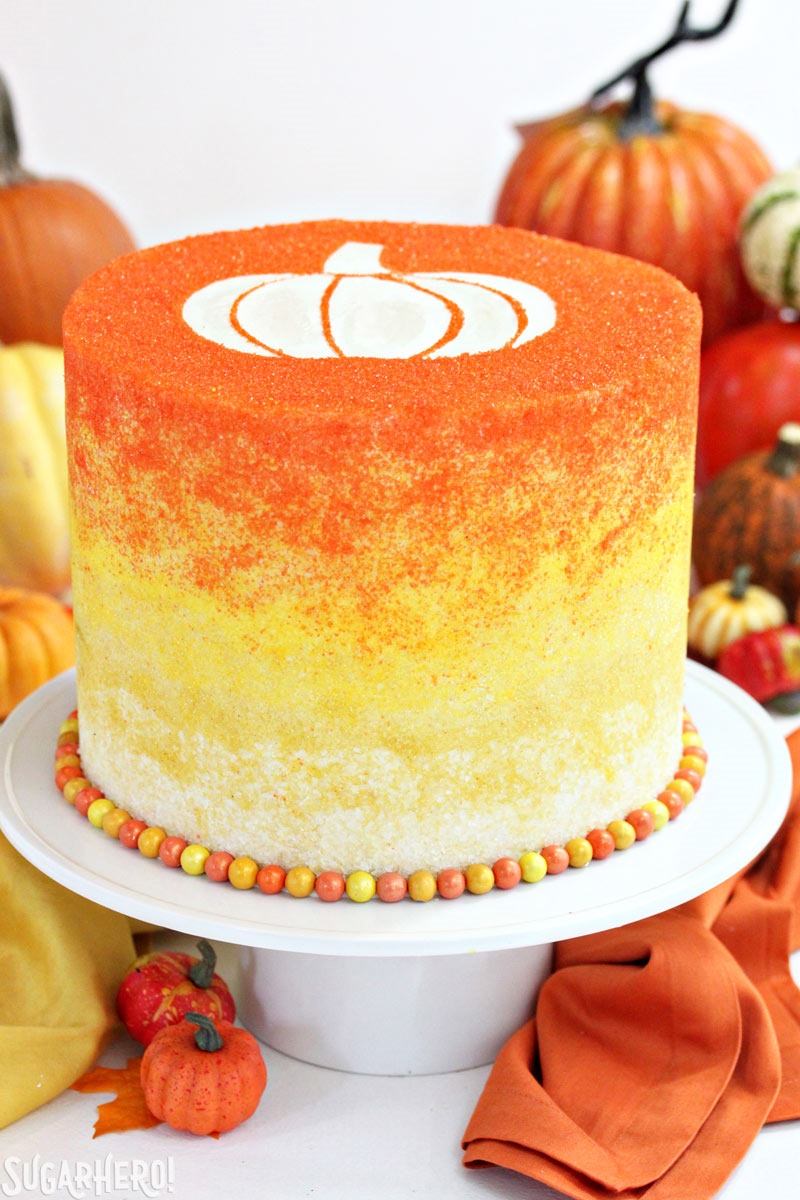 With Halloween just a few weeks away, I'm ready to shift into holiday overdrive. I'm ordering the last few pieces we'll need for our costumes (that is, if a certain short blondie would make up his mind about what he wants to be), the house is decked out in spooky holiday decorations, and all of the baked goods coming out of my kitchen for the next 2 weeks must be Halloween-themed.
This Stenciled Halloween Sprinkle Cake certainly fits the bill. It's made using a parchment stenciling technique that I'm teaching in my new Craftsy class! The class is all about easy cake decorating, using materials you probably already own, or can easily find. My guess is, most of you already have sprinkles and parchment (or waxed paper) in your house right now, meaning that you can make this cake!
In the Craftsy course, I demonstrate the technique using a heart shape and red sprinkles, to make a romantic Valentine's cake, but I really want to emphasize that ALL of the techniques can be easily changed and adapted for any holiday or situation. So that Valentine's heart cake? Forget about it! We're going full-on pumpkin now, baby.
Using parchment or waxed paper to make a stencil could not be easier. You can draw the shape you want, or print out a picture from your computer. You don't want a picture that's too detailed (simple shapes, letters, and numbers work best) but as you can see, I got a little cute with the pumpkin segments and the sprinkles easily produced the thin lines between the pumpkin, so it is possible to get some level of detail. But don't plan on creating an intricate sprinkle portrait of the Barefoot Contessa or anything.
I also got a little creative with the sprinkles. Rather than use just one color, I created an ombre pattern on the outside of the cake, with white, gold, yellow, and orange sprinkles. This worked because I am a compulsive sprinkle purchaser with a hoarding problem (and a wall-mounted rack that's JUST full of sprinkles) but if you don't suffer from my brand of crazy, this will look just as cute with a solid color on the outside!
I used that same color gradient with the frosting inside the cake, going from white to orange over the course of seven (seven!!!) thin frosting layers. Again, this is optional, but if you're already going to the trouble of creating a tall, striking Halloween cake, why not keep the showstopping moves going by having a little fun with the inside too?