This post may contain affiliate links. As an Amazon Associate I earn from qualifying purchases. Please see my disclosure policy for more information.
This Pull-Apart Cupcake Wreath Cake is easy to make and feeds a holiday crowd! Plus, learn how to make the CUTEST edible pine cones!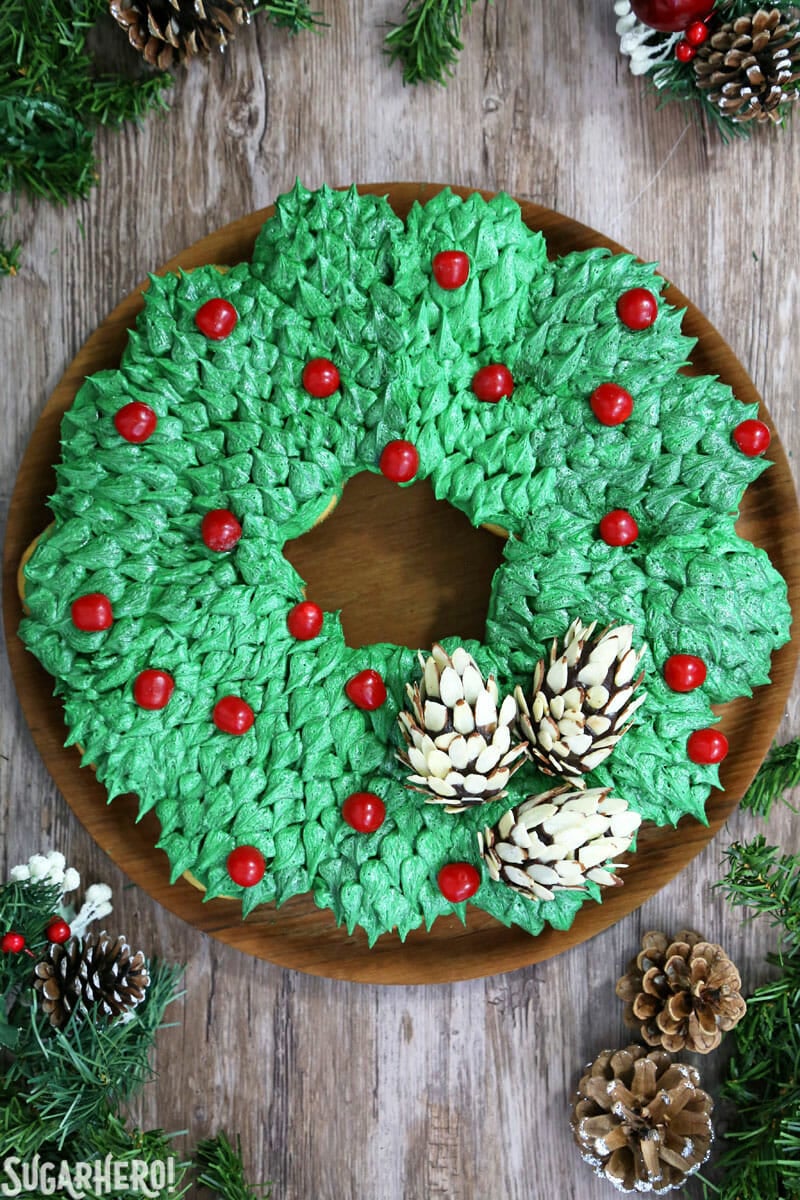 I love a big, over-the-top holiday cake as much as the next person, but sometimes our lives and our sanity don't allow for crazy kitchen projects. Sometimes, we just need to get in and get out and emerge with a beautiful, fast, EASY dessert in hand. That's where this Pull-Apart Cupcake Wreath Cake comes in!
This clever cake is made from almost 2 dozen cupcakes formed into a wreath shape. They're frosted using a large leaf tip, which is simple to wrangle but gives the cake a great, realistic leafy texture. No wreath would be complete without a few holiday berries, so I used sour cherry candies to stand in for the berries. Gumballs or maraschino cherries would also be a good choice.
My favorite part of the cake, though, are the edible pine cones on top! They're made with a cake ball mixture (just crumbled cake + frosting) and sliced almonds, so they taste as good as they look. I thought 3 pine cones was a good number for the size of the wreath, but you can do just 1 larger one, add several smaller cones, or omit them entirely and go with a nice fondant ribbon instead.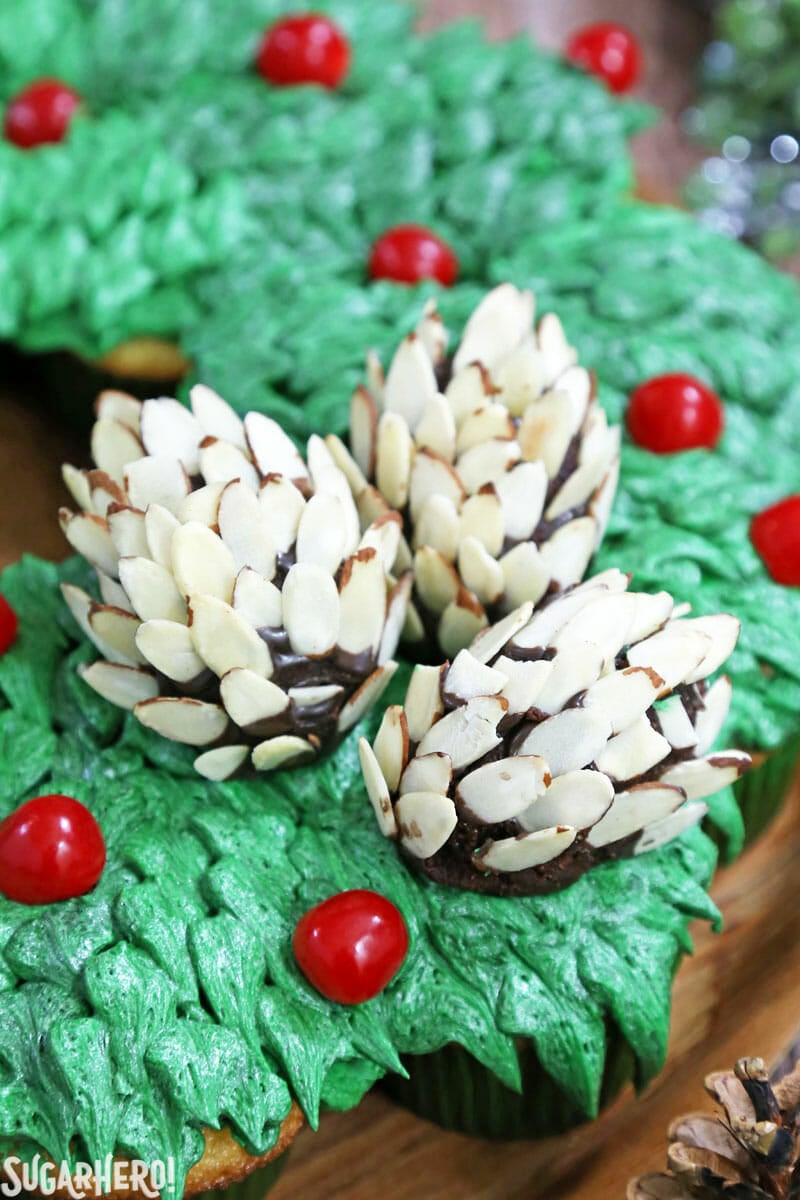 So the next time you're looking to feed a crowd, and you find yourself dreading pulling out the cake pans, turn to cupcakes instead. You can use a cake mix (or even frost store-bought cupcakes!) to save even more time.
Oreo Cookie Christmas Ornaments
These cute Oreo Cookie Christmas Ornaments are a quick and easy holiday treat! They're so simple, even the kids can help make them. Serve them at a holiday party, or package a few and give them as edible gifts to friends, neighbors, or teachers.
Get the recipe!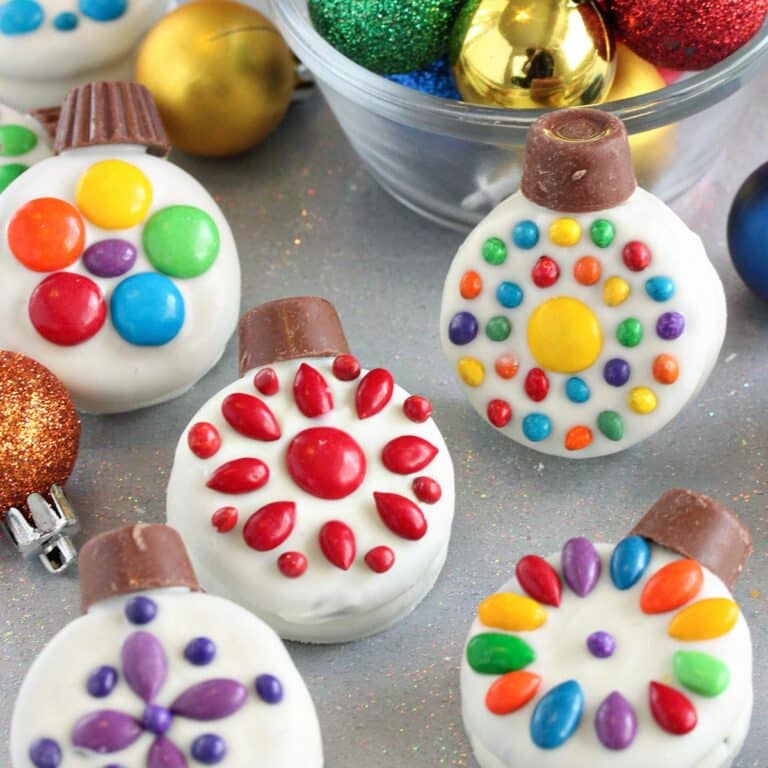 Peppermint Lava Cakes
Chocolate lovers will go crazy for these Peppermint Lava Cakes – mini chocolate cakes with a hint of peppermint and a molten chocolate center. They make a great holiday dessert—they're indulgent, they can be made in advance, and any extras keep very well. Enjoy them plain, or top them with a scoop of ice cream or whipped cream, and a drizzle of warm chocolate sauce.
Get the recipe!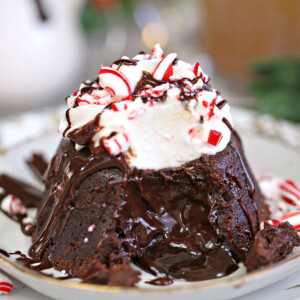 If you make this recipe, please let me know! Leave a ⭐️⭐️⭐️⭐️⭐️ rating on this recipe below and leave a comment, take a photo and tag me on Instagram @elabau or use #sugarhero.
Pull-Apart Cupcake Wreath Cake
This Pull-Apart Cupcake Wreath Cake is easy to make and feeds a holiday crowd! The cupcakes are topped with buttercream leaves, candy berries, and the cutest edible pine cones!
Note that this recipe produces a LOT of buttercream! To cover the cracks between the cupcakes and make sure they stick together, you'll need a lot of frosting. If you want to use less, you can omit the step of covering the cupcakes with buttercream before piping on the leaves—just be aware that some glimpses of cupcake might show through.
Ingredients
For the Cupcakes:
10 2/3

oz

all-purpose flour,

(2 1/2 cups)

1

tsp

baking powder

1/2

tsp

baking soda

1/2

tsp

salt

8

oz

unsalted butter

,

at room temperature

14

oz

granulated sugar,

(2 cups)

4

large eggs

,

at room temperature

1

tbsp

vanilla extract

8

oz

full-fat sour cream

,

(1 cup, can substitute plain Greek yogurt)
For the Frosting and Assembly:
36

oz

powdered sugar

,

(8 cups)

12

oz

unsalted butter

,

at room temperature

6

TBSP

milk

1

TBSP

vanilla extract

½

tsp

salt

1

oz

unsweetened chocolate,

melted and cooled

1/4

cup

chocolate chips

1

cup

sliced almonds

1/2

cup

large red candies

,

can substitute gumballs or maraschino cherries

Piping bag

Large leaf piping tip

,

I used Wilton #366
Instructions
To Make the Cupcakes:
Preheat the oven to 350 F. Line cupcake pans with 24 liners.

Sift together flour, baking powder, baking soda, and salt in a medium bowl. Set aside for now.

Combine the butter and sugar in the bowl of a large stand mixer fitted with a paddle attachment. Mix on medium-high speed until light and fluffy, about 2-3 minutes. Add the eggs one at a time, beating well after each addition, then add the vanilla extract.

With the mixer running on low, add third of the flour mixture, then when the flour streaks have disappeared, add half of the sour cream. Add half of the remaining flour, the rest of the sour cream, then finish with the last of the flour. Stop the mixer and scrape down the bottom and sides of the bowl with a rubber spatula to fully mix the batter.

Fill the cupcake tins until they're just under two-thirds full, then bake at 350 for 20-22 minutes, until they just start to turn golden and a toothpick inserted into the center comes out clean. Cool the cupcakes completely before filling and frosting.
To Make the Buttercream:
the powdered sugar, butter, milk, vanilla extract, and salt in the bowl of a large stand mixer fitted with a paddle attachment. Mix on low speed until the sugar is moistened. Scrape down the sides of the bowl, then beat again on medium speed until light and fluffy, about 2-3 minutes.

Remove ½ cup of frosting to a small bowl, and stir in the melted and cooled unsweetened chocolate. To the remaining frosting in the mixing bowl, add as much green food coloring as desired to get a nice, leafy green color.
To make the Pine Cones:
To make the 3 pine cones, take 4 cupcakes and remove the paper wrappers. Crumble the cupcakes in a medium bowl, working them between your fingers until they are nothing but crumbs. Add a few spoonfuls of chocolate frosting and stir well, until the crumbs and frosting are well-mixed and they have a play-doh like consistency. If needed, add more frosting to get the crumbs to stick together and to get the right consistency.

Divide the cake mixture into thirds, and form each piece into a teardrop shape about 3 inches long. Place on a baking sheet covered with waxed paper.

Melt the chocolate chips in a small bowl in the microwave. Dip the end of a sliced almond in the melted chocolate, and press it against the back of one of the cake pine cones. Dip a second sliced almond, then place it next to the first one, overlapping it slightly. Continue to add sliced almonds in an overlapping pattern, working back to front, until your pine cone is covered with almonds. For the most realistic look, use only whole pieces of almond, and try to tilt them forward (instead of having them stick straight up and down). Once all of the pine cones are decorated, refrigerate the tray to set them briefly, for about 15 minutes.
To Assemble the Cupcake Wreath:
While the pine cones chill, assemble the cupcake wreath. Arrange 13 cupcakes in a circle on a large serving plate, and add a ring of 7 cupcakes inside. Spread a thin layer of green buttercream over the tops of the cupcakes. You're not really trying to frost them, you're just helping them stick together in a wreath shape and covering up the tops of the cupcakes so the color won't show through in the final wreath.

Fit a piping bag with a large leaf tip, and fill the bag with green buttercream. Pipe thick leaves on top of the wreath, starting in the center and working your way to the outer edge. Continue piping until the whole top is covered with leaves.

Carefully transfer the 3 pine cones to the top of the wreath using a spatula. Dot the top with red candies, gumballs, or maraschino cherries, and serve!
MEASURING TIPS
Our recipes are developed using weight measurements, and we highly recommend using a kitchen scale for baking whenever possible. However, if you prefer to use cups, volume measurements are provided as well. PLEASE NOTE: the adage "8 oz = 1 cup" is NOT true when speaking about weight, so don't be concerned if the measurements don't fit this formula.
Click here to learn more about baking measurements and conversion.
Nutrition
Calories:
320
kcal
|
Carbohydrates:
71
g
|
Protein:
3
g
|
Fat:
25
g
|
Saturated Fat:
14
g
|
Cholesterol:
83
mg
|
Sodium:
148
mg
|
Potassium:
110
mg
|
Fiber:
1
g
|
Sugar:
60
g
|
Vitamin A:
700
IU
|
Vitamin C:
0.1
mg
|
Calcium:
51
mg
|
Iron:
1.2
mg
Share by Email
Share on Facebook
Share on Pinterest