This Red Velvet Trifle with Peppermint Cream Cheese Frosting is a pretty, festive Christmas dessert! You will LOVE the combination of red velvet cake and minty cream cheese frosting with candy cane bits.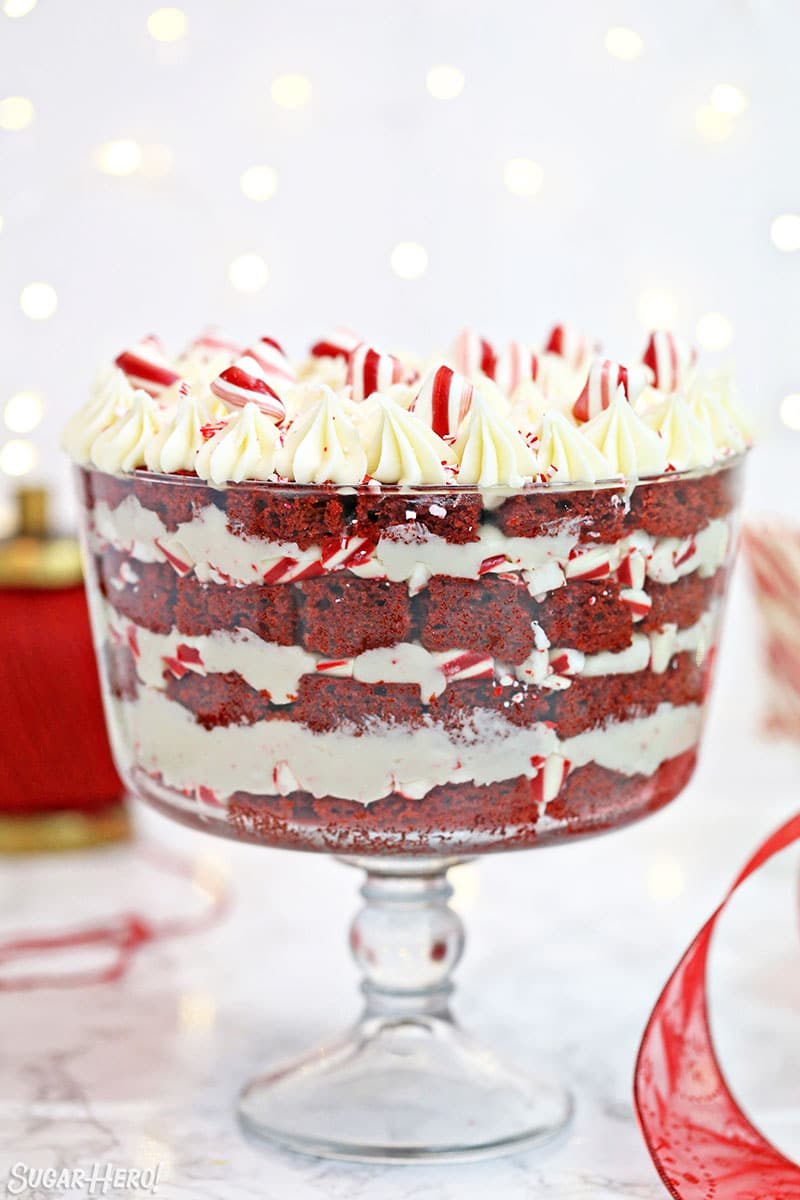 Red Velvet Trifle with Peppermint Cream Cheese Frosting
Have I got a fast and fun holiday dessert for you! Trifles are the BEST solution for an easy party dessert, because they come together quickly, look super fancy, and feed a whole army. (Or, in this case, just a hungry group of my husband's coworkers.)
Red velvet cake is a natural choice for a holiday cake. The red color is already super Christmassy, and the light cocoa flavor is neutral enough to go with everything, and won't insult those weirdos who insist that chocolate and mint should not be paired together. (No offense if you are one of those weirdos. But also…explain yourself.)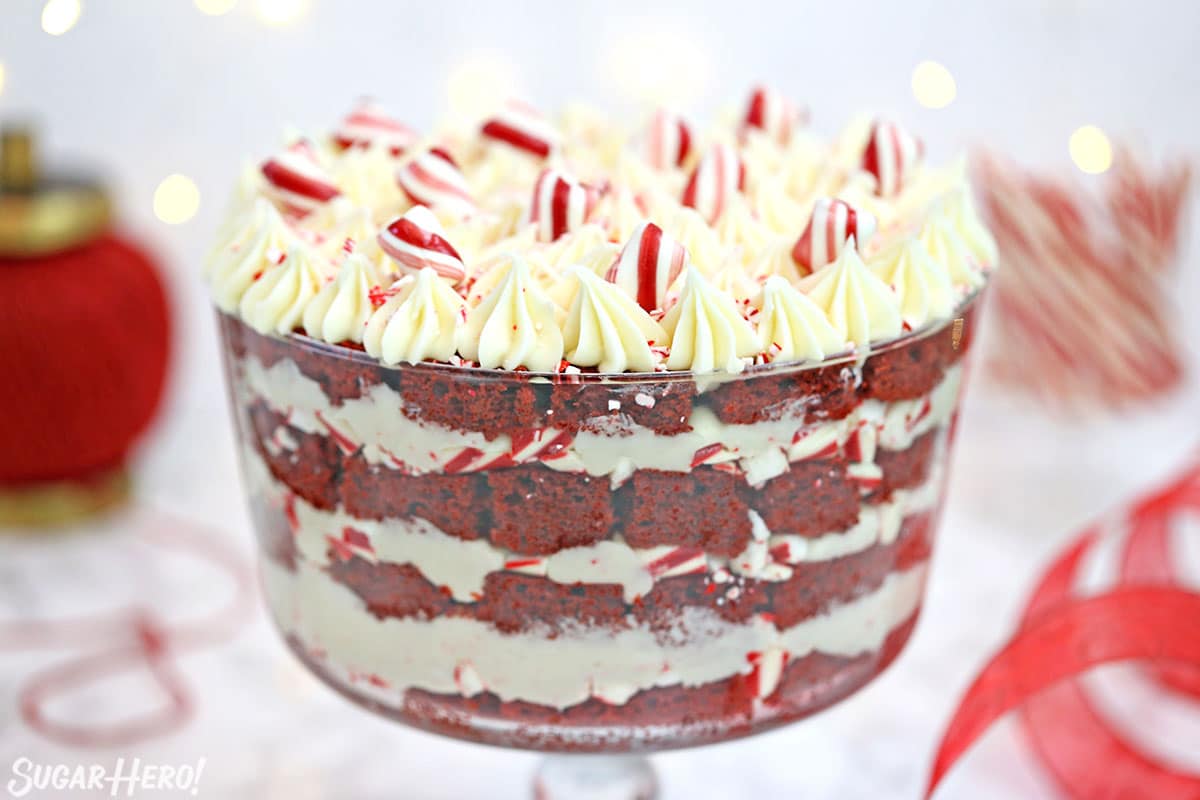 [lwptoc min="2″ depth="1″]
This cake gets an extra dose of holiday cheer from lots of peppermint. There's peppermint extract in the cream cheese frosting, and minty candy cane pieces scattered between the layers and on top of the trifle.
Trifles are actually best when they've had at least a few hours to meld together, so this is the perfect make-ahead desserts for a holiday party or dinner! Just stick a spoon right in the middle and let everyone scoop up a big ole serving of happiness. Here's how it all comes together!
🧾 Ingredients
The good news: you probably already have most, if not all, of the ingredients you'll need to make this trifle! Here are a few tips to keep in mind as you make this recipe. (Links are affiliate links and I earn a small commission from qualifying purchases.)
Cream cheese: Make sure you are using blocks of full-fat cream cheese. Don't use low- or no-fat, and please don't use the whipped cream cheese that comes in tubs. That won't give you the right consistency for the frosting.
Marshmallow cream: I love how marshmallow cream improves the texture of cream cheese frosting. Just a small amount mixed into the frosting makes it much easier to pipe and helps it hold up longer at room temperature. However, if you can't find it, the marshmallow extract can be omitted without any other changes and the frosting will still taste great.
Peppermint extract: Different brands of peppermint extract can vary a lot in their strength and potency. Because of this, it's important to start with a small amount, taste as you go, and add more if needed. The amount in the recipe is a recommended starting point, but don't be afraid to add more if you want a stronger peppermint flavor!
Candy cane pieces: Rather than crushing up candy canes by hand, I love these candy cane bits. They're a uniform size, easy to use, and are super convenient to buy in a big bag.
Red food coloring: I always user Americolor red food gel when baking. It doesn't have a strong aftertaste, and it's super concentrated, so you don't need a lot to get a vibrant red color.
🥄 Equipment
To make this red velvet trifle, you need just a few kitchen tools, like:
Mixer: A stand mixer or hand mixer will both work. I use and love a KitchenAid artisan mixer, but any brand will work. I always use a beater blade attachment, which scrapes down the bowl while mixing.
Half sheet pan: The cake is baked in a shallow half sheet pan, so all you need to do is cut it into squares, and you're left with perfect cubes for trifle!
Trifle Bowl: Do you have to serve this in a trifle bowl? Definitely not. Does it look awesome when you do? Absolutely! Trifle bowls elevate the presentation of this simple dessert, so if you have one, definitely use it! If you don't, any large glass bowl (at least 3 quarts) will work.
💡 Tips and FAQs
Variations
Not a peppermint fan? No problem! Leave out the peppermint flavoring and candy cane pieces. Add vanilla extract to the frosting, and sprinkle the top with red sprinkles for an equally festive look.
You can use this same presentation idea, but swap in your favorite cake or frosting recipe.
Storage and Make-Ahead Instructions
The components of this trifle can be made in advance:
Bake the cake, and leave it in the baking sheet. Wrap the sheet well, with several layers of overlapping plastic. It can be stored at room temperature for 2-3 days, or frozen for up to 3 months. It can also be refrigerated, but the freezer is preferable because the fridge is more drying to cakes.
Make the frosting, transfer it to a lidded plastic tub, and press a layer of plastic wrap directly on top of the frosting. Store in the refrigerator for up to 2 weeks. To use, bring it to cool room temperature and mix again to get a creamy texture.
The trifle is best when assembled and left to sit for 2-3 hours before serving. This allows the flavors to meld and the cake to absorb some moisture from the frosting.
The candy cane pieces will become soft and sticky over time, so this particular trifle is not a great candidate for assembling a day early. If you need to do the full assembly in advance, consider omitting the candy cane pieces between the layers, and just add a sprinkling of candy shortly before serving.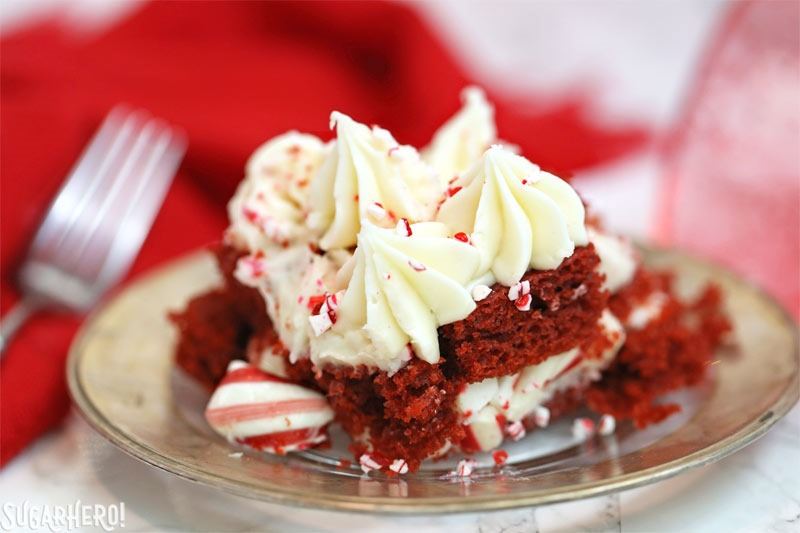 Red Velvet Trifle
This Red Velvet Trifle with Peppermint Cream Cheese Frosting is a pretty, festive Christmas dessert! It features cubes of gorgeous red velvet cake and lots of cream cheese frosting with candy cane bits.
Ingredients
For the Peppermint Cream Cheese Frosting:
To Assemble:
Additional candy cane pieces

or striped candies
Instructions
To Make the Red Velvet Cake:
Preheat the oven to 350 F. Line a half sheet (18×12-inch) rimmed baking sheet with foil, extending up and over the sides of the sheet. Spray the foil with nonstick cooking spray.

In a large bowl, sift together the flour, sugar, baking soda, salt, and cocoa powder.

In the bowl of a large stand mixer fitted with a paddle attachment, combine the vegetable oil, buttermilk, eggs, red gel food coloring, vinegar, and vanilla extract. Mix on medium-low speed until well-combined.

Add the dry ingredients and mix on low speed until combined. Scrape down the bottom and sides of the pan with a spatula, then mix on medium speed until the cake batter is smooth and all the lumps of flour have disappeared.

Pour the cake batter into the sheet pan and spread it into an even layer. (It will be a thin layer of cake.) Bake the cake at 350 F for 15 minutes, until it pulls away from the sides and springs back when lightly pressed with your fingertips. Cool completely before using. The cake can be baked several days in advance. If making in advance, wrap the cooled cake in cling wrap and freeze until ready to use.
To Make the Peppermint Cream Cheese Frosting:
Unwrap the mini candy canes, and place them in a large zip-top plastic bag. Use a rolling pin or kitchen mallet to crush them into fine crumbs.

Combine the butter, cream cheese, and marshmallow cream in the bowl of a large stand mixer fitted with a paddle attachment. Cream them together until they're light and fluffy, without any chunks of butter or cream cheese. Add the vanilla, 1 tsp peppermint extract, and salt, and mix it in.

Add the powdered sugar and cream, and mix on low speed until the sugar is moistened. Turn the speed to medium-high and whip for 2-3 minutes, until the frosting is fluffy and light. Add more cream or sugar as desired, to get your optimal texture, then stir in the crushed candy canes. Taste it, and add additional mint extract, if desired.
To Assemble:
Cut the cooled cake into small 1-inch cubes. Place a layer of cake cubes in the bottom of a 3-quart trifle bowl. Top with a generous layer of cream cheese frosting, spreading it out evenly over the cake. If desired, you can put some larger shards of candy canes around the sides of the bowl to show through the glass and give it some visual appeal. Continue to layer the cake and frosting—I got 4 cake layers and 3 frosting layers in my trifle bowl. When you reach the top, transfer the remaining frosting to a piping bag and pipe stars or rosettes on top. Finish by scattering more candy cane pieces or large peppermints on top of the trifle.

For the best taste and texture, allow the trifle to sit and the cake to soften in the refrigerator for at least 3-4 hours (overnight is okay). Let it sit at room temperature for about 20 minutes before serving, to take some of the chill off.
Measuring Tips
Our recipes are developed using weight measurements, and we highly recommend using a kitchen scale for baking whenever possible. However, if you prefer to use cups, volume measurements are provided as well. PLEASE NOTE: the adage "8 oz = 1 cup" is NOT true when speaking about weight, so don't be concerned if the measurements don't fit this formula.
Want to learn more about baking measurements and conversion?
Nutrition
Serving:
16
g
|
Calories:
905
kcal
|
Carbohydrates:
114
g
|
Protein:
6
g
|
Fat:
49
g
|
Saturated Fat:
32
g
|
Cholesterol:
119
mg
|
Sodium:
619
mg
|
Potassium:
132
mg
|
Fiber:
0
g
|
Sugar:
93
g
|
Vitamin A:
1210
IU
|
Vitamin C:
0
mg
|
Calcium:
82
mg
|
Iron:
1.3
mg
Tried this recipe?
Snap a pic and hashtag it #SugarHero. We love to see your creations on our Instagram @elabau.