This post may contain affiliate links. Please see my disclosure policy for more information.
Thank you to HP for sponsoring this post.
Today's an extra-special day here at SugarHero HQ. For one thing, it's Friday (yesssssssss!) and for another, today I get to share not one, but four (actually, FIVE!) chocolate recipes with you. Stellar, right? So let's gorge ourselves on chocolate loveliness before collapsing slack-jawed in front of Netflix with a cozy blanket, because that's how this party animal does Friday nights. Be jealous!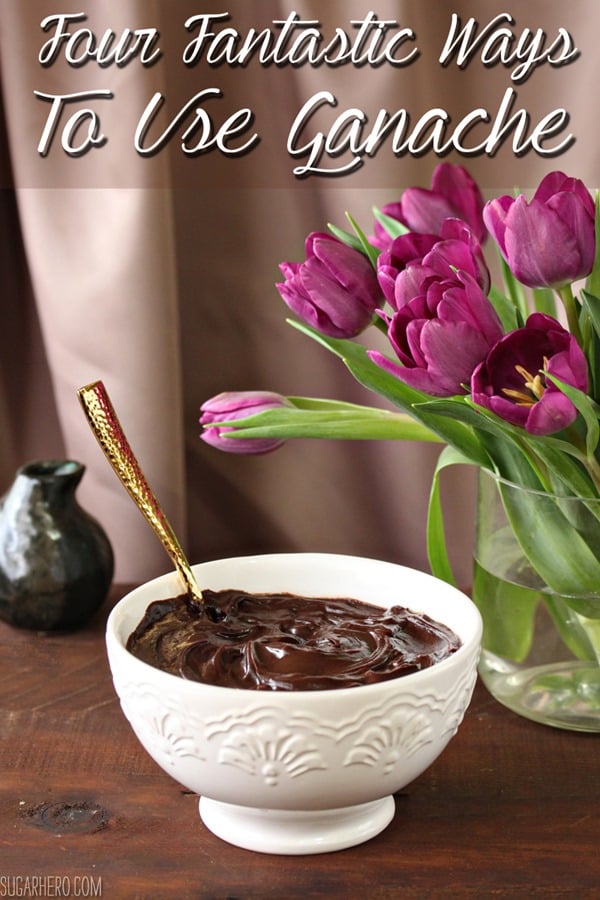 Want to get recipes sent right to your inbox? Sign up for the free SugarHero newsletter! You'll get the first peek at every new recipe, plus fun news, giveaways, special offers, and much more!
Our promise: We'll never send you spam, just sweet, sweet sugar!
If you've done much baking or dessert blog reading, you're probably familiar with ganache (pronounced guh-NOSH, because it's just so noshable.) At its most basic, it's a mix of chocolate and cream melted together to form a smooth, silky mixture. It's the base of many chocolate truffle recipes, and it's an excellent all-purpose cake glaze. I've used it to cover my Chocolate Raspberry Mousse Cake, Chocolate-Covered Strawberry Cakes, and many others. So, to recap: love ganache, make it all the time, use it for everything, would eat it by the bowlful if it were socially acceptable.
However, this blog isn't about giving you the same old recipes that you could find anywhere else. I want to delight you, I want to inspire you, I want to make you buy pants in a larger size. (Sorry not sorry.) So when HP asked me to think outside the box, bend the rules, and come up with four unique food variations as part of their #BendTheRules campaign, I knew I wanted to feature my old fave, ganache, in four unexpected and exciting ways.
My inspiration for this post came from the HP Pavilion x360, which is a laptop-tablet hybrid. It has a responsive touchscreen like a tablet, but also an almost full-size keyboard, and—here comes the cool part—the hinges swing all the way around, so it can be used in 4 different modes: laptop, tablet, tent, and stand. It's really versatile (just like my BFF, ganache!) and has already become a beloved member of the family.
I believe I've mentioned this a time or two, but I'm actually a big TV watcher in the kitchen. My work often requires time-consuming and repetitive tasks (like dipping and decorating a million truffles!) and I can only listen to so many podcasts before I've run out of material and/or my mp3 player gives up in disgust. And be alone with my own thoughts?! To quote Cher Horowitz, As if!
So it's not unusual to find me, late at night, working in my kitchen in front of the warm glow of Law & Order or, lately, Empire. (Are you watching too? Can we talk about how amazingly crazy and awesome it is? Cookie Lyon is my spirit animal.) Anyhow, the HP x360 is a great kitchen companion. I can stream my favorite shows to keep me company, then switch to word processing mode to make notes about my recipes, then hop over and check one of the many e-cookbooks that I compulsively buy whenever they're on sale. And yes, that is my candy cookbook shown on the computer in the background of these pictures! You know, just in case I forget how to make ganache or truffles, the information is at my fingertips…literally. Love that touchscreen!
So, inspired by the versatility of the four modes of the HP x360, I'm sharing with you four ways to use ganache, beyond the basic truffles and chocolate glaze. And in the spirit of kitchen hacks, I also tried to keep the recipes fairly fast and simple. I want these to be secret weapons you can keep in your back pocket and whip out when you need an easy dessert with that "wow" factor.
First up, Salted Caramel Chocolate Tarts!
These are probably the most time-consuming recipe I'm sharing, just because you'll need to make and bake the tart shells. But if you buy pre-made shells, or decide to use a graham cracker crust instead, they can be made in just a few minutes! And for those minutes' worth of work, what do you get? A crispy, buttery shell, filled with gooey salted caramel and rich, luscious chocolate ganache. Need to see that sexy caramel in action? Yeah, I thought so:
I never know when enough is enough, so I topped my tarts with gold leaf, chocolate curls, and broken bits of pirouline cookies. They would also be great with whipped cream! They're screaming to be served at a fancy-pants dinner party, so go ahead and invite the boss over, then whip up a batch of ganache and wait for that raise offer to come. You're welcome.
Next up: Chocolate Mousse!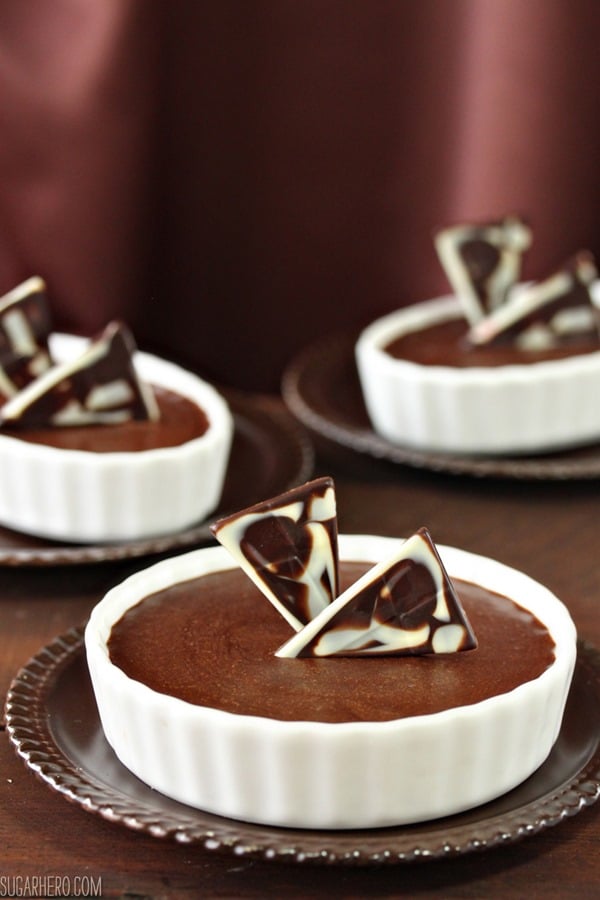 Chocolate mousse isn't exactly a revolutionary dessert, but I've never made it with a ganache base before. Usually, it requires separating eggs, whipping yolks, whites, and cream separately, and a lot of fiddly folding together. Thumbs DOWN to that. This recipe is just 4 ingredients (yolks, sugar, cream, ganache) and, aside from chilling time, takes about 10-15 minutes. I feel that!
The best part is the texture: it's creamy and dense–lighter than a pudding, but more substantial than some mousses that are nothing more than glorified whipped cream. I kept things simple and topped mine with some chocolate decorations, but I think a tart berry sauce to cut some of the chocolate flavor would also be exceptional.
Ready for your third chocolate dessert? Drumroll please….Easy Lava Cakes!
Lava cakes are the best kind of magic. Who cares about being able to pull a rabbit out of a hat? REAL magic is baking a cake with a molten chocolate filling inside that stays soft and liquidy. I'll take that over your dumb bunny trick any day. This recipe, again, has very few components (eggs, ganache, and brownie mix), and for about 15 minutes of work, you can have cute petite single-serving cakes, just waiting to erupt with chocolatey goodness. I mean, will you please look at this:
The center is a combination of undercooked cake and a melted chocolate truffle. It is, needless to say, total chocolate overload, and totally awesome. It is also RICH like Scrooge McDuck, so you'll definitely want to serve this with something to cut through all that. I paired mine with raspberries and raspberry whipped cream (just whipped cream mixed with crushed freeze-dried raspberries) but ice cream is always a good idea, especially since the cakes will be warm. Warm cake, cold ice cream….*Homer Simpson drool*
Finally, for our last recipe: Chocolate Milkshakes!
You probably know how to make chocolate milkshakes. But did you know you can make them 67.35% better by tossing some ganache in there before you blend? Fact! I tasted a lot of milkshakes to bring you that scientific figure. #hero
And of course, what milkshake would be complete without a big cloud of whipped cream and an artful drizzle of ganache on top? Beautiful pizelle cookie garnishes are optional but oh so fun.
And there you have it! One basic recipe for ganache, four different and outrageous desserts you can whip up. Happy Friday to us!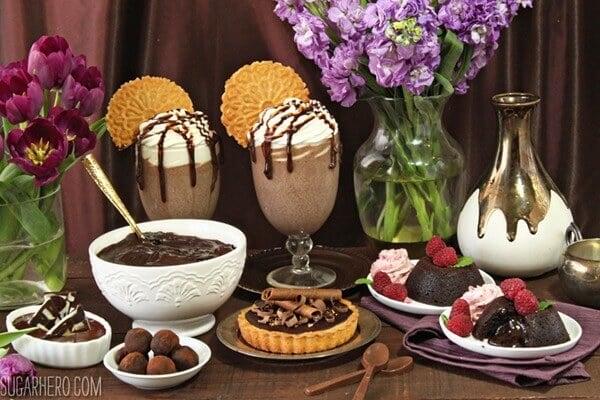 A big thank-you to HP for sponsoring this post and letting me test-drive the Pavilion x360. HP is partnering with Meghan Trainor's "That Bass Tour" (happening right now!) and is doing something really unique. In the spirit of bending the rules, they're inviting fans to participate in making a documentary by using their Twitter, Vine, and Instagram videos from the tour. Rad, right? You can visit the HP Meghan Trainor That Bass Tour page to follow along, and see the fan videos that are being compiled for the documentary!
Onward to chocolate, friends! Have a fantastic weekend.
Chocolate Ganache
This recipe can be used to make chocolate truffles, tarts, lava cakes, and much more! If you want to use it as a glaze for a cake, you will probably want to thin it out with a little bit of warm cream so it will pour easily and provide even coverage. This recipe yields 20 oz of ganache, or about 2.5 cups, enough for about 48 small truffles.
Ingredients
12

oz

dark chocolate

finely chopped, (I prefer using 60-65% cocoa)

8

oz

heavy cream

(1 cup)

3/4

oz

light corn syrup

(1 tbsp)

1

oz

unsalted butter

(2 tbsp), at room temperature
Instructions
Place the chopped dark chocolate in a medium bowl. Pour the heavy cream and corn syrup into a small saucepan and place the pan over medium heat. Bring the cream to a simmer, and once small bubbles appear all along the sides of the pan, pour it over the chopped chocolate in the bowl.

Let the hot cream soften the chocolate for one minute, then gently whisk them together, until all of the chocolate is melted and your ganache is smooth and shiny.

Add the room temperature butter and whisk it into the ganache until incorporated. Press a layer of cling wrap directly on top of the ganache and let it sit until it reaches room temperature. Once at room temperature, it can be refrigerated for later use. The ganache will keep in the refrigerator for up to two weeks.
Nutrition
Serving:
48
g
|
Calories:
64
kcal
|
Carbohydrates:
3
g
|
Fat:
5
g
|
Saturated Fat:
3
g
|
Cholesterol:
7
mg
|
Sodium:
3
mg
|
Potassium:
54
mg
|
Sugar:
2
g
|
Vitamin A:
85
IU
|
Calcium:
8
mg
|
Iron:
0.8
mg
Salted Caramel Chocolate Tarts
These tarts are super simple, but sometimes the simplest things are best! They're already pretty fast and easy, but you can make them even easier if you want to use pre-made tart shells instead of making your own. It's important to use the best-quality salted caramel sauce you can find, since so much of the finished tart depends on the flavor and consistency of the sauce. I recommend using a thick, spoonable sauce as opposed to one of the cheaper ones in a squirt bottle. (I love the one from Trader Joe's.)
Ingredients
For the Tart Dough:
6 1/3

oz

all-purpose flour

(1 1/2 cups)

2

oz

powdered sugar

(1/2 cup)

1/4

tsp

salt

5

oz

unsalted butter

(cold)

1

egg yolk
For the Filling:
10

oz

salted caramel sauce

(about a cup), thick

15

oz

chocolate ganache

(a scant 2 cups)

Assorted toppings like cookies

chocolate curls, etc
Instructions
To Make the Tart Dough:
Place the flour, sugar, and salt in the bowl of a food processor, and pulse briefly until everything is well-blended. Add the cold cubed butter and pulse until it is in small pea-sized pieces. Add the egg yolk and pulse in long 5-second bursts until the dough starts clumping together.

Turn the dough out of the food processor and knead it lightly several times to incorporate any extra flour. At this point, the dough can be wrapped and refrigerated for several days. If you're ready to use it now, spray five 6-inch tart pans with removable bottoms with nonstick cooking spray.

Press the dough in an even layer into the bottom and sides of the pans. Freeze the shells for 30 minutes, and while they're in the freezer, preheat the oven to 375 degrees F. Spray the tops of the tart dough with nonstick spray, then press sheets of foil onto the shells, shiny side down, and fill the foil with dry beans, rice, or pie weights.

Bake the tart shells for about 15 minutes, until the sides start to take on a little color and the center no longer looks raw, then carefully remove the foil and weights. Bake for an additional 6-8 minutes, until the shells are golden brown. Let them cool completely before filling.
To Assemble:
Spoon a layer of salted caramel sauce into the bottom of each baked and cooled tart shell. Refrigerate the shells for 20 minutes to chill the caramel sauce.

Heat the ganache in short 15-second increments, whisking gently after every 15 seconds so it doesn't overheat. Warm it up until it flows freely—it doesn't need to be hot, just liquid enough to pour easily. Pour the warm ganache on top of the caramel in the tart shells, and tap the tarts against the countertop a few times to smooth out the tops. Refrigerate the tarts for at least an hour, to set the ganache. Before serving, top the tarts with decorations like cookies, chocolate curls, or gold leaf. Let them sit at room temperature for 15 minutes before serving, for the best taste and texture.
Nutrition
Serving:
5
g
|
Calories:
532
kcal
|
Carbohydrates:
76
g
|
Protein:
5
g
|
Fat:
24
g
|
Saturated Fat:
15
g
|
Cholesterol:
100
mg
|
Sodium:
319
mg
|
Potassium:
86
mg
|
Fiber:
1
g
|
Sugar:
11
g
|
Vitamin A:
810
IU
|
Vitamin C:
0.2
mg
|
Calcium:
47
mg
|
Iron:
1.9
mg
Easy Lava Cakes
I love these lava cakes! Using a brownie mix makes them quick and easy, and the super gooey center inside can't be beat. They're so impressive, but also very forgiving--because they're baked with a truffle in the center, they will have a liquidy chocolate filling even if you accidentally overbake them. Make sure you serve them warm, so the center is still flowing, with whipped cream or ice cream.
Ingredients
12

oz

chocolate ganache

(1 1/2 cups), chilled

3

eggs

3

egg yolks

1

brownie mix box

(approx 18 oz), (I used Ghirardelli's)
Instructions
Preheat the oven to 350 F. Scoop 8 balls of chilled ganache into truffle shapes, and place them on a plate in the refrigerator. Soften the remaining ganache in the microwave in short 20-second increments, stirring after every heating period. The ganache doesn't have to be liquid—shoot for a spreadable consistency (like peanut butter) and you'll be fine.

Combine the brownie mix, remaining 1 cup of ganache, 3 eggs, and 3 yolks in a mixing bowl, and beat on medium-low speed with a paddle attachment until well-blended. Stop mixing when all of the dry streaks have disappeared, and finish stirring by hand, scraping the bottom and sides of the bowl with a spatula.

Spray 8 3/4-cup ramekins with nonstick cooking spray, and fill them with about 1/2 cup of lava cake batter. Press a truffle down into the center of each cake, and spread some of the surrounding batter over the top, so that the truffle is covered with batter.

Place the ramekins on a baking sheet, and bake them for 18-20 minutes, rotating halfway through. The edges should be puffed and dry, but it should still look shiny, jiggly, and underbaked in the center. Let the cakes cool for a few minutes, then gently unmold them. Hold a ramekin in one oven-mitt clad hand, and gently pull the edges of the cake away from the ramekin. Press a plate on top of the ramekin, then flip the whole thing over so the cake releases onto the plate. Repeat until all of the cakes are unmolded.

For the best taste and texture, serve these lava cakes while still warm, so the chocolate centers flow out. Top with ice cream, whipped cream, or fresh berries. The lava cakes can be made in advance and reheated in the microwave for 15-25 seconds, until warm throughout.
Nutrition
Serving:
8
g
|
Calories:
259
kcal
|
Carbohydrates:
29
g
|
Protein:
5
g
|
Fat:
13
g
|
Saturated Fat:
7
g
|
Cholesterol:
140
mg
|
Sodium:
55
mg
|
Potassium:
30
mg
|
Fiber:
1
g
|
Sugar:
26
g
|
Vitamin A:
280
IU
|
Vitamin C:
0.2
mg
|
Calcium:
67
mg
|
Iron:
1
mg
Chocolate Ganache Milkshakes
These milkshakes are so rich and decadent, a little goes a long way! Try switching up the ice cream flavor and using caramel, coffee, or butter pecan instead of chocolate.
Ingredients
1

cup

milk

4-5

chocolate ice cream

(generous scoops)

8

oz

chocolate ganache

(1 cup), plus additional for drizzling

2

cups

cream

(freshly whipped )
Instructions
Combine the milk, ice cream, and 1 cup ganache in a blender, and blend together until smooth and creamy. Pour into glasses and top with whipped cream, a drizzle of ganache, and anything else you can dream up! Serve immediately.
Nutrition
Serving:
4
g
|
Calories:
734
kcal
|
Carbohydrates:
45
g
|
Protein:
7
g
|
Fat:
59
g
|
Saturated Fat:
36
g
|
Cholesterol:
177
mg
|
Sodium:
110
mg
|
Potassium:
169
mg
|
Fiber:
1
g
|
Sugar:
38
g
|
Vitamin A:
1975
IU
|
Vitamin C:
1.1
mg
|
Calcium:
212
mg
|
Iron:
0.7
mg
Chocolate Ganache Mousse
This easy chocolate mousse has a wonderfully rich and satisfying texture- airier than a pudding, but denser than some mousses that are more like whipped ream. This dessert should be kept refrigerated and served chilled. Like many classical French mousses, it does contain egg yolks. The yolks are cooked on the stovetop, but if eating it potentially undercooked eggs is a bad health concern for you, consider using pasteruized eggs to be extra sage.
Ingredients
8

egg yolks

3 1/2

oz

granulated sugar

(1/2 cup)

16

oz

heavy cream

(2 cups)

12

oz

ganache

(1 1/2 cups), at room temperature
Instructions
1. Combine the egg yolks and granulated sugar in a mixing bowl, and mix them on medium-high speed using the paddle attachment for 5 minutes, until they are very thick ad a ale yellow color. When you lift the paddle from the yolks, the yolks should drop back down into the bowl in a slow ribbon.

2. Place the cream in a medium saucepan over medium heat, and bring it to a simmer. Once simmering, whisk the egg yolks while you drizzle in hot cream. This tempers the eggs, and makes it so they gradually heat up without cooking or curdling. Once you have drizzled in about half of the hot cream, start whisking the cream in the saucepan while you drizzle the eggs back into the pan.

3. Return the egg-cream mixture tot he heat and cook, whisking constantly, until it comes back to a simmer. Don't let it boil!

4. Once simmering, pour the hot custard over the ganache and whisk well, until everything is shiny and smooth. Pour the mousse into six 6-oz ramekins, and chill for at least 4 hours, or overnight, until the mousse is firm. Top with whipped cream, a berry sauce, fresh fruit, or chocolate decorations.
Nutrition
Serving:
6
g
|
Calories:
402
kcal
|
Carbohydrates:
19
g
|
Protein:
5
g
|
Fat:
34
g
|
Saturated Fat:
19
g
|
Cholesterol:
363
mg
|
Sodium:
40
mg
|
Potassium:
82
mg
|
Sugar:
16
g
|
Vitamin A:
1455
IU
|
Vitamin C:
0.4
mg
|
Calcium:
80
mg
|
Iron:
0.6
mg
This post was sponsored by HP, but all opinions about the product (and the amazingness of ganache) are my own. This post also contains Amazon affiliate links. For more information, see my Affiliate and Advertising Policy.