This post may contain affiliate links. As an Amazon Associate I earn from qualifying purchases. Please see my disclosure policy for more information.
Thank you to HP for sponsoring this post.
Today's an extra-special day here at SugarHero HQ. For one thing, it's Friday (yesssssssss!) and for another, today I get to share not one, but four (actually, FIVE!) chocolate recipes with you. Stellar, right? So let's gorge ourselves on chocolate loveliness before collapsing slack-jawed in front of Netflix with a cozy blanket, because that's how this party animal does Friday nights. Be jealous!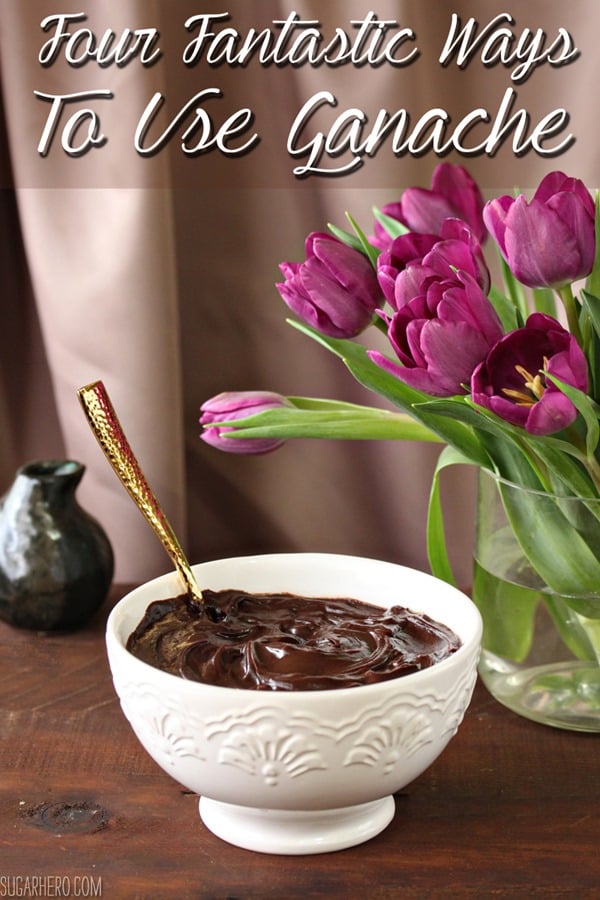 If you've done much baking or dessert blog reading, you're probably familiar with ganache (pronounced guh-NOSH, because it's just so noshable.) At its most basic, it's a mix of chocolate and cream melted together to form a smooth, silky mixture. It's the base of many chocolate truffle recipes, and it's an excellent all-purpose cake glaze. I've used it to cover my Chocolate Raspberry Mousse Cake, Chocolate-Covered Strawberry Cakes, and many others. So, to recap: love ganache, make it all the time, use it for everything, would eat it by the bowlful if it were socially acceptable.
However, this blog isn't about giving you the same old recipes that you could find anywhere else. I want to delight you, I want to inspire you, I want to make you buy pants in a larger size. (Sorry not sorry.) So when HP asked me to think outside the box, bend the rules, and come up with four unique food variations as part of their #BendTheRules campaign, I knew I wanted to feature my old fave, ganache, in four unexpected and exciting ways.
My inspiration for this post came from the HP Pavilion x360, which is a laptop-tablet hybrid. It has a responsive touchscreen like a tablet, but also an almost full-size keyboard, and—here comes the cool part—the hinges swing all the way around, so it can be used in 4 different modes: laptop, tablet, tent, and stand. It's really versatile (just like my BFF, ganache!) and has already become a beloved member of the family.
I believe I've mentioned this a time or two, but I'm actually a big TV watcher in the kitchen. My work often requires time-consuming and repetitive tasks (like dipping and decorating a million truffles!) and I can only listen to so many podcasts before I've run out of material and/or my mp3 player gives up in disgust. And be alone with my own thoughts?! To quote Cher Horowitz, As if!
So it's not unusual to find me, late at night, working in my kitchen in front of the warm glow of Law & Order or, lately, Empire. (Are you watching too? Can we talk about how amazingly crazy and awesome it is? Cookie Lyon is my spirit animal.) Anyhow, the HP x360 is a great kitchen companion. I can stream my favorite shows to keep me company, then switch to word processing mode to make notes about my recipes, then hop over and check one of the many e-cookbooks that I compulsively buy whenever they're on sale. And yes, that is my candy cookbook shown on the computer in the background of these pictures! You know, just in case I forget how to make ganache or truffles, the information is at my fingertips…literally. Love that touchscreen!
So, inspired by the versatility of the four modes of the HP x360, I'm sharing with you four ways to use ganache, beyond the basic truffles and chocolate glaze. And in the spirit of kitchen hacks, I also tried to keep the recipes fairly fast and simple. I want these to be secret weapons you can keep in your back pocket and whip out when you need an easy dessert with that "wow" factor.
First up, Salted Caramel Chocolate Tarts!
These are probably the most time-consuming recipe I'm sharing, just because you'll need to make and bake the tart shells. But if you buy pre-made shells, or decide to use a graham cracker crust instead, they can be made in just a few minutes! And for those minutes' worth of work, what do you get? A crispy, buttery shell, filled with gooey salted caramel and rich, luscious chocolate ganache. Need to see that sexy caramel in action? Yeah, I thought so:
I never know when enough is enough, so I topped my tarts with gold leaf, chocolate curls, and broken bits of pirouline cookies. They would also be great with whipped cream! They're screaming to be served at a fancy-pants dinner party, so go ahead and invite the boss over, then whip up a batch of ganache and wait for that raise offer to come. You're welcome.
Next up: Chocolate Mousse!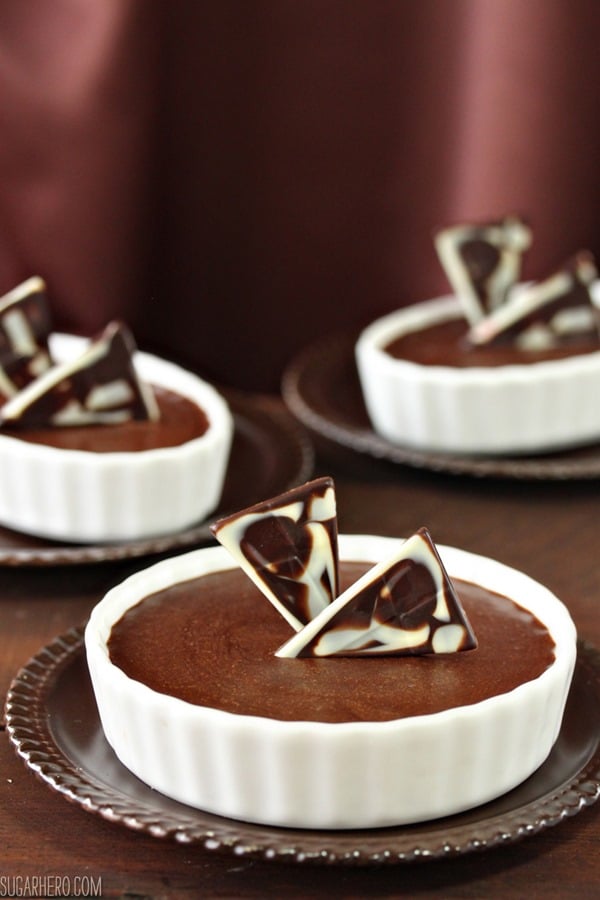 Chocolate mousse isn't exactly a revolutionary dessert, but I've never made it with a ganache base before. Usually, it requires separating eggs, whipping yolks, whites, and cream separately, and a lot of fiddly folding together. Thumbs DOWN to that. This recipe is just 4 ingredients (yolks, sugar, cream, ganache) and, aside from chilling time, takes about 10-15 minutes. I feel that!
The best part is the texture: it's creamy and dense–lighter than a pudding, but more substantial than some mousses that are nothing more than glorified whipped cream. I kept things simple and topped mine with some chocolate decorations, but I think a tart berry sauce to cut some of the chocolate flavor would also be exceptional.
Ready for your third chocolate dessert? Drumroll please….Easy Lava Cakes!
Lava cakes are the best kind of magic. Who cares about being able to pull a rabbit out of a hat? REAL magic is baking a cake with a molten chocolate filling inside that stays soft and liquidy. I'll take that over your dumb bunny trick any day. This recipe, again, has very few components (eggs, ganache, and brownie mix), and for about 15 minutes of work, you can have cute petite single-serving cakes, just waiting to erupt with chocolatey goodness. I mean, will you please look at this:
The center is a combination of undercooked cake and a melted chocolate truffle. It is, needless to say, total chocolate overload, and totally awesome. It is also RICH like Scrooge McDuck, so you'll definitely want to serve this with something to cut through all that. I paired mine with raspberries and raspberry whipped cream (just whipped cream mixed with crushed freeze-dried raspberries) but ice cream is always a good idea, especially since the cakes will be warm. Warm cake, cold ice cream….*Homer Simpson drool*
Finally, for our last recipe: Chocolate Milkshakes!
You probably know how to make chocolate milkshakes. But did you know you can make them 67.35% better by tossing some ganache in there before you blend? Fact! I tasted a lot of milkshakes to bring you that scientific figure. #hero
And of course, what milkshake would be complete without a big cloud of whipped cream and an artful drizzle of ganache on top? Beautiful pizelle cookie garnishes are optional but oh so fun.
And there you have it! One basic recipe for ganache, four different and outrageous desserts you can whip up. Happy Friday to us!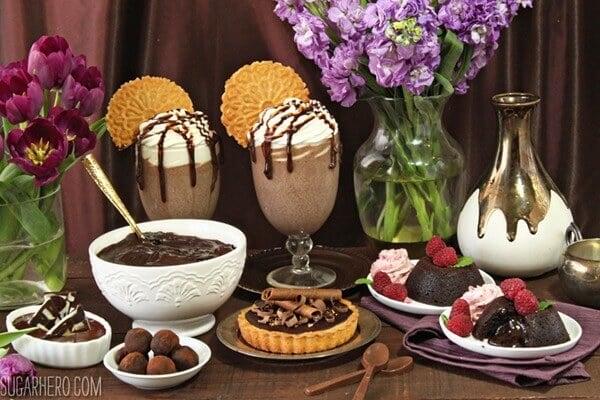 A big thank-you to HP for sponsoring this post and letting me test-drive the Pavilion x360. HP is partnering with Meghan Trainor's "That Bass Tour" (happening right now!) and is doing something really unique. In the spirit of bending the rules, they're inviting fans to participate in making a documentary by using their Twitter, Vine, and Instagram videos from the tour. Rad, right? You can visit the HP Meghan Trainor That Bass Tour page to follow along, and see the fan videos that are being compiled for the documentary!
Onward to chocolate, friends! Have a fantastic weekend.
This post was sponsored by HP, but all opinions about the product (and the amazingness of ganache) are my own. This post also contains Amazon affiliate links. For more information, see my Affiliate and Advertising Policy.