These Snickers Cupcakes transform plain chocolate cupcakes into decadent, candy-bar inspired creations, featuring a peanut caramel filling, fluffy peanut butter frosting, and LOTS of chocolate and candy bars.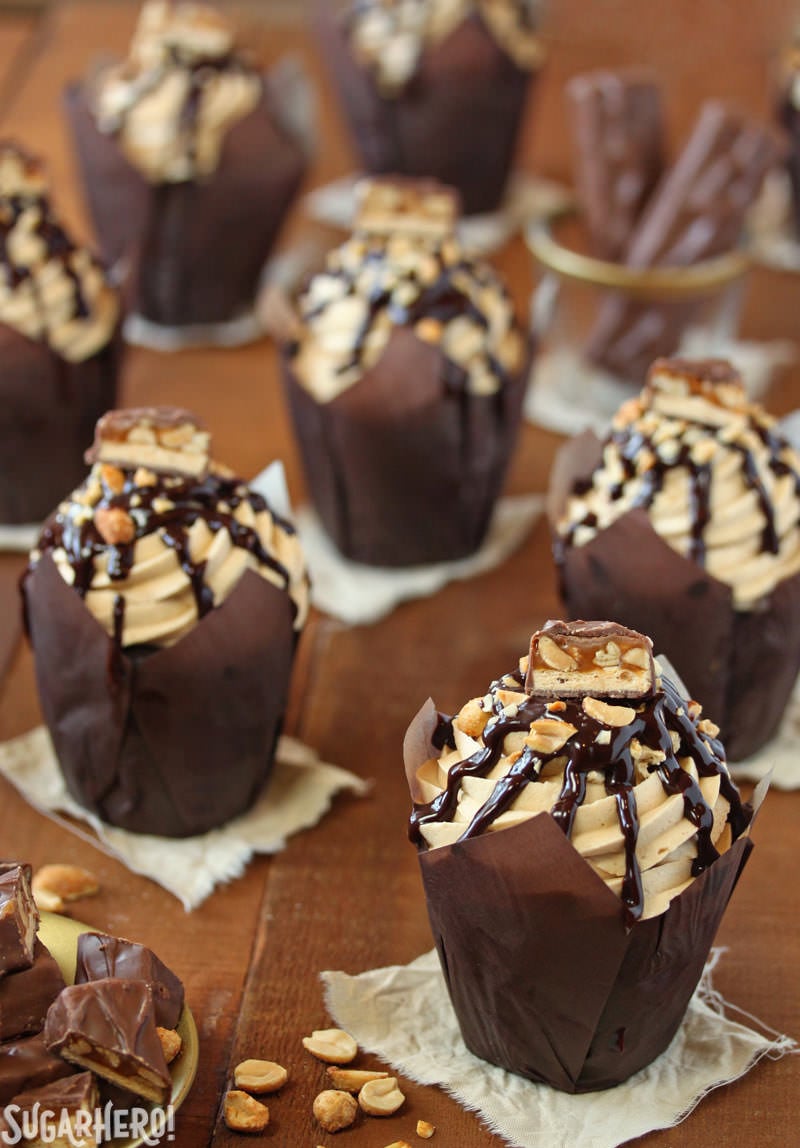 I have never understood the gourmet cupcake craze. Don't get me wrong—I understand the appeal of cupcakes themselves. Bite-sized cakes, with a 50/50 frosting ratio, adorably petite, so cute they're practically batting Disney princess eyes at you, and socially acceptable to eat as an afternoon snack? That I get.
What I don't get is paying upwards of $6.50 for said cupcake, and waiting in crazy long lines for them, and fetishizing the shops that sell them. It's just some cake in a cute paper wrapper. Maybe with a scattering of sprinkles or a fondant doodad on top. Let's all calm down now.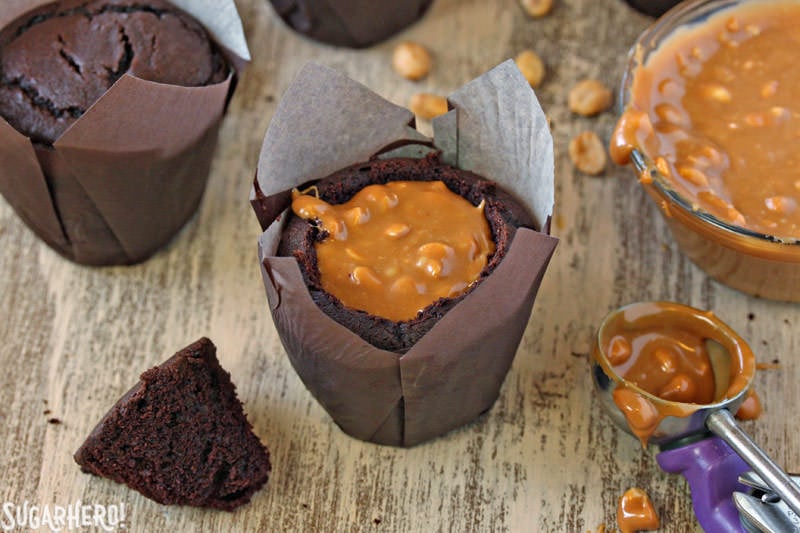 So here's whatcha do. Instead of spending $50 on a dozen fancy-shmancy cupcakes, take those two twenties and go to the store. Buy a bag of miniature Snickers, and some caramels, and some peanuts if you don't already have them. Take the remaining money, and buy yourself some slippers and a pair of loose sweatpants, or maybe a Slanket. You are going to want to get verrrrry comfortable when you enjoy these Snickers cupcakes.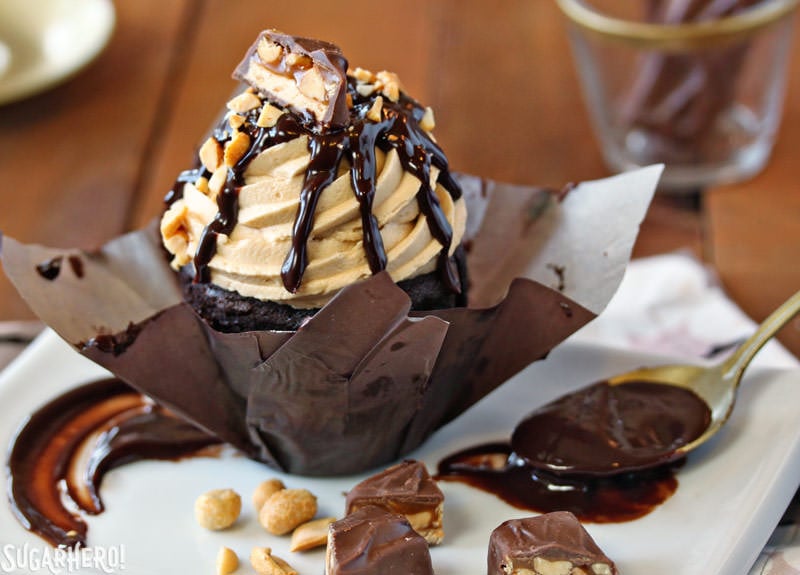 These beauties start with a moist, rich chocolate cupcake. Use the best cocoa you can find, please, because a cupcake made with pale, tasteless cocoa is no kind of cupcake at all. The cakes are hollowed out and filled with a peanut-studded caramel, then they're topped with peanut-marshmallow frosting that mimics the peanut nougat found in a Snickers bar.
Are we finished, you ask? Not remotely! Top them with a big drizzle of hot fudge sauce, a scattering of salted peanuts, and a chunk of a Snickers bar. Oh, you fancy thing. Resist the urge to sell them to your friends and coworkers for $6.50 apiece and instead bask in the knowledge that you created an edible masterpiece. Snuggle into your Slanket in triumph.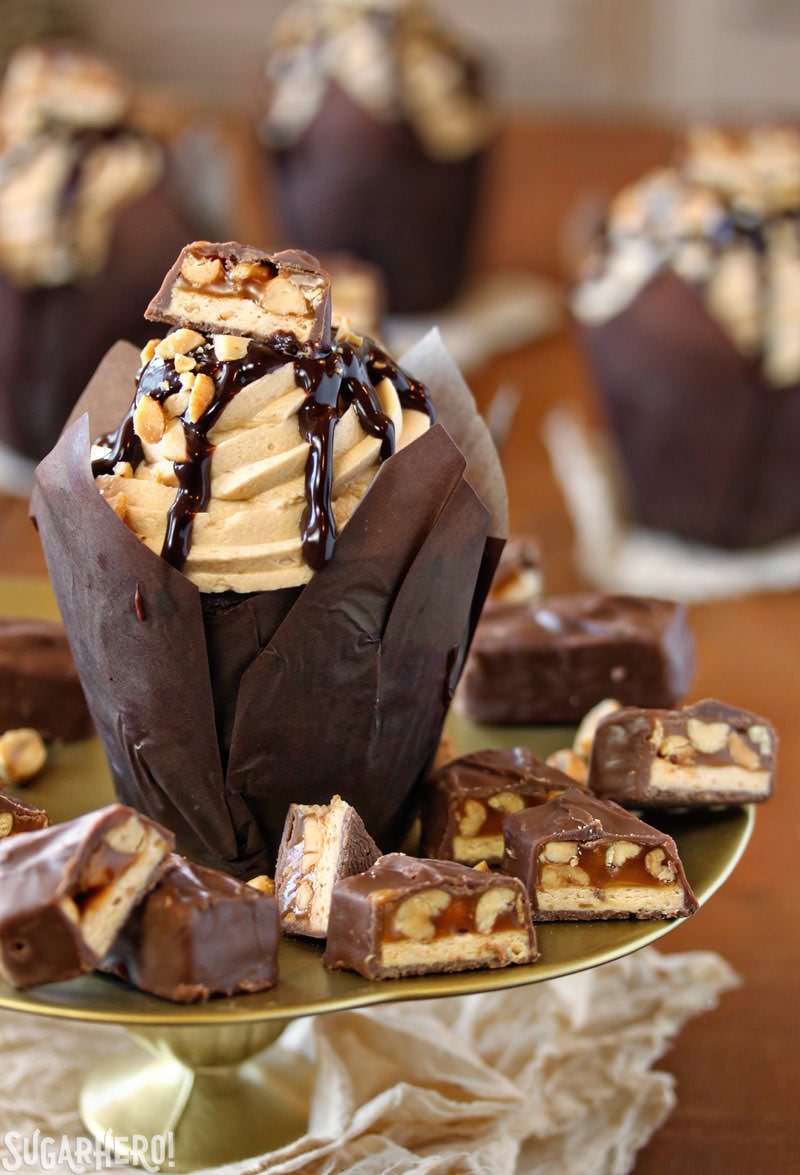 These beauties will win over even the most skeptical cupcake doubters. If you're a lover of candy bars, and a lover of excess, and a lover of cupcakes the size of your face, you are going to be a lover of this recipe.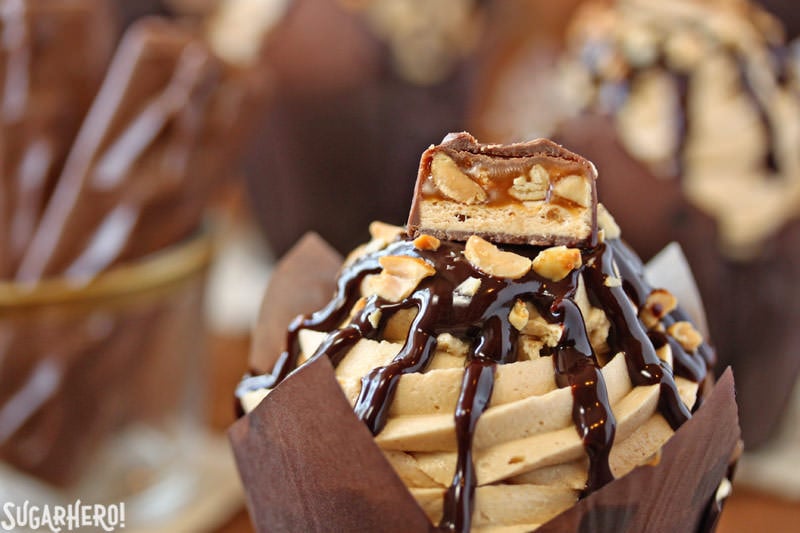 Recipe notes: If the store-bought caramels you're using are very stiff, you might want to increase the amount of cream to 1/2 cup to make sure that the filling is nice and soft. No one wants to chomp on a big hunk of hard caramel in their cupcake! The pretty cupcake wrappers I used are called tulip cups and can be purchased on Amazon.
🥜 More Peanut Recipes You'll Love
Chocolate Cupcakes
Looking for the PERFECT chocolate cupcake? Look
no further! This is the BEST chocolate cupcake recipe. It's got a strong
chocolate flavor, a beautifully moist texture, and pairs with just about any
frosting you can think of.
View Recipe
Cookie Dough Frosting
This easy Cookie Dough Frosting tastes just like chocolate chip cookie dough! Use it to frost your favorite cakes and cupcakes, as a filling for layer cakes, or even turn it into chocolate chip cookie dough dip!
View Recipe
Snickers Cupcakes
These Snickers Cupcakes are over-the-top, in the best way! They're chocolate caramels with a peanut-caramel filling, fluffy peanut butter frosting, and LOTS of chocolate and candy bars!
Ingredients
Instructions
To Make the Cupcakes:
Preheat the oven to 350 F. Line 20 cupcake cavities with paper liners.

In a bowl, sift together the flour, cocoa powder, baking soda, and salt. In a separate bowl or large mixing cup, whisk together the buttermilk, sour cream, and water (or coffee).

In the bowl of a large stand mixer fitted with a paddle attachment, beat together the butter and sugars until they're light and fluffy, about 3-5 minutes. Add the eggs one at a time, beating well after each addition, then add the vanilla extract.

With the mixer running on low speed, add a quarter of the dry ingredients. When it's mostly mixed in, add a third of the liquid ingredients. Continue to alternate adding drys and liquids, ending with the dry ingredients. When the drys are almost all mixed in and only a few streaks of flour remain, stop the mixer and finish mixing by hand with a spatula. Scrape down the bottom and sides of the bowl.

Scoop the batter into the lined cupcake pans. Bake in the preheated oven for 22-25 minutes, until the tops of the cupcakes spring back when lightly pressed. Cool completely.
To Make the Filling:
Don't make the filling until you're ready to fill the cupcakes. Combine the caramels, cream, and butter in a microwave-safe bowl. Microwave in 30-second increments, stirring well after every 30 seconds. They may resist melting and coming together at first, but continue to stir and heat until you have a smooth, fluid mixture. Add the chopped peanuts and stir them in.
To Make the Frosting:
Combine the butter and peanut butter in the bowl of a large stand mixer fitted with a whisk attachment, and beat on medium-high speed until light and fluffy. Add the vanilla, cream, and powdered sugar, and mix on low speed until the sugar is moistened. Raise the speed to medium, and continue to beat until the mixture lightens and becomes fluffy and smooth. Add the marshmallow cream and stir it in by hand using a rubber spatula, scraping the bottom and sides of the bowl well. Once the frosting is well-mixed, spoon it into a pastry bag fitted with a large star tip.
Assembly:
Use a sharp paring knife to cut a cone-shaped hole out of the top of the cupcakes. Scoop the caramel-peanut filling into the hole, coming almost all the way to the top. Cut the bottom off of the cupcake cone, and replace the top of the cupcake on top of the caramel. (The cupcake filling can be eaten or thrown away—I trust you will find something to do with it.) If the caramel starts to get a little hard to work with, microwave it briefly until it is fluid again.

Once all of the cupcakes are filled, pipe the frosting on top in one big decorative swirl. Add a drizzle of fudge sauce or chocolate ganache, a sprinkling of chopped peanuts, and half of a fun-sized Snickers bar on top. Store Snickers Cupcakes in an airtight container at room temperature, and enjoy within 3-4 days.
Video
Measuring Tips
Our recipes are developed using weight measurements, and we highly recommend using a kitchen scale for baking whenever possible. However, if you prefer to use cups, volume measurements are provided as well. PLEASE NOTE: the adage "8 oz = 1 cup" is NOT true when speaking about weight, so don't be concerned if the measurements don't fit this formula.
Want to learn more about baking measurements and conversion?
Nutrition
Calories:
786
kcal
|
Carbohydrates:
99
g
|
Protein:
12
g
|
Fat:
41
g
|
Saturated Fat:
18
g
|
Polyunsaturated Fat:
5
g
|
Monounsaturated Fat:
14
g
|
Trans Fat:
1
g
|
Cholesterol:
75
mg
|
Sodium:
408
mg
|
Potassium:
420
mg
|
Fiber:
4
g
|
Sugar:
75
g
|
Vitamin A:
705
IU
|
Vitamin C:
0.3
mg
|
Calcium:
114
mg
|
Iron:
2
mg
Tried this recipe?
Snap a pic and hashtag it #SugarHero. We love to see your creations on our Instagram @elabau.