If you love to nibble on cookie dough (and who doesn't?!) you HAVE to try this quick and easy cookie dough frosting! It's packed with mini chocolate chips and has that PERFECT brown sugar cookie dough taste. Best of all, unlike regular cookie dough, it's totally safe to eat raw, thanks to one little kitchen trick!
🍪 Cookie Dough Frosting for Cakes, Cupcakes, and More!
This thick and creamy cookie dough frosting tastes just like chocolate chip cookie dough! It's delicious on top of cakes and cupcakes, makes a killer layer cake filling, and can even be used as a dessert dip. It's made with heat-treated flour and no eggs, which means it's completely safe to eat raw–which is a huge bonus if you like to sneak giant spoonfuls like I do. And the best part? This easy recipe can be whipped up in a single bowl in a matter of minutes!
Once you've made a batch of this frosting, you can stuff it inside these adorable Cookie Monster Cupcakes to really complete the chocolate chip cookie love!
Ways to Enjoy Cookie Dough Frosting
Don't be put off by the thought of using "dough" to frost your desserts – this recipe is smooth, creamy, and spreads like a dream on brownies, cakes, and cupcakes. It's a little too chunky to pipe easily, but you can us an offset spatula (or even the back of a spoon) to give your desserts rustic, picture-perfect swirls.
It also makes a wonderful filling for layer cakes. You can tweak the texture by adding more or less liquid, so if you need a sturdier filling for carved or extra-tall cakes, add less cream to make it thicker.
If you want to go the opposite direction, add additional cream to make it thinner, and voila! Now you have a cookie dough dessert dip—perfect for serving with strawberries, vanilla wafers, or Ritz crackers.
Try pairing this chocolate chip cookie dough frosting with my ultra-moist chocolate cupcakes, Rocky Road Cake, Cookies & Cream Cake, or on top of my Ultimate Fudgy Chocolate Brownies!
Table of Contents
🧾 What You'll Need
Ingredients
This one-bowl cookie dough frosting recipe can be made with just a handful of pantry staples! You likely already have everything you need to get started. (Links are affiliate links and I earn a small commission from qualifying purchases.)
All-Purpose Flour:

Any flour will work in this recipe, but I typically use all-purpose flour. It should be heat-treated before you add it to your frosting–see instructions below for how to do this.
Butter: Unsalted, room temperature butter gives this frosting a creamy texture.
Sugars: A mixture of brown sugar and powdered sugar will give you that classic cookie dough flavor and perfect frosting consistency.
Heavy Cream: Cream adds additional richness, but you can swap in milk if you'd like.
Vanilla Extract: I think this Madagascar vanilla extract adds the best pure vanilla flavor!

Mini Chocolate Chips:

These tiny chocolate morsels add the perfect amount of chocolatey flavor without overwhelming the other ingredients. You can use larger chocolate chips if you'd like, but I think the minis are easier to work with.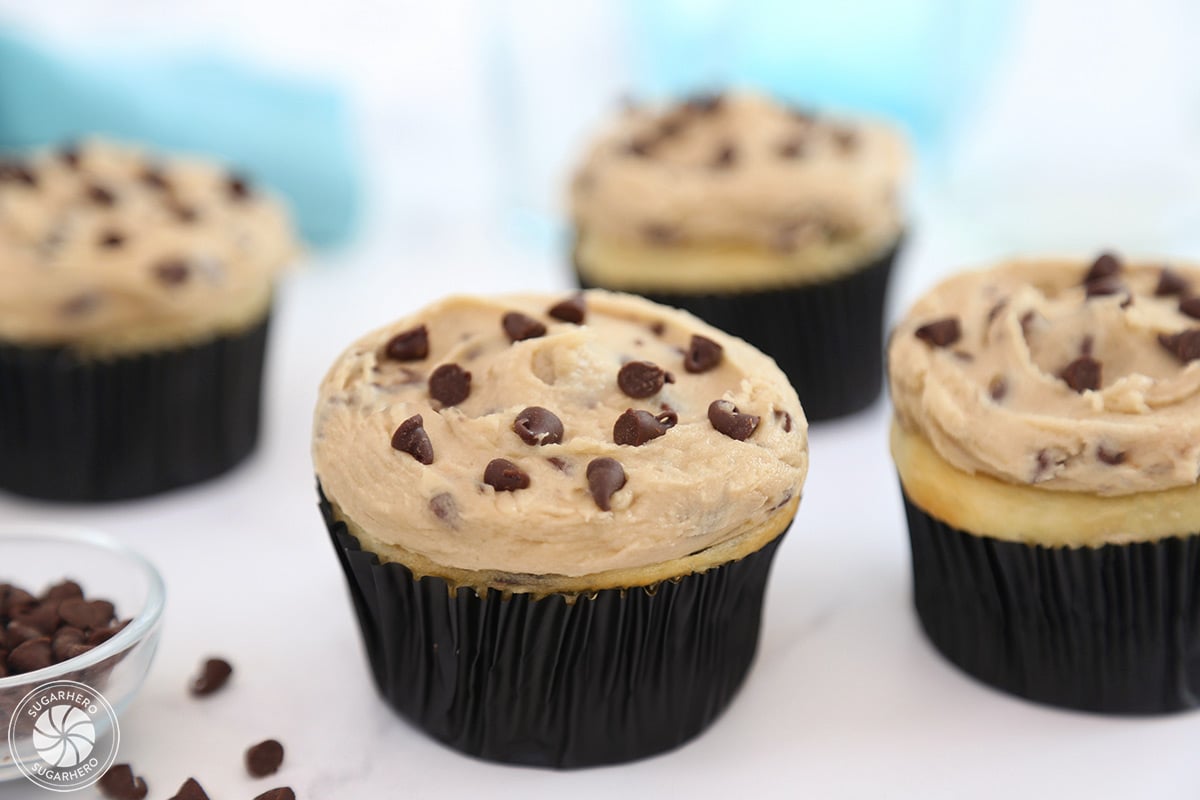 Equipment
You won't need any specialty pieces of equipment to make this chocolate chip cookie dough frosting! Just a few of your kitchen basics will do the trick. (Links are affiliate links and I earn a small commission from qualifying purchases.)
Electric Mixer:

Either a stand or hand mixer will do!

Sifter:

Super important since heat-treated flour tends to clump pretty badly, a sifter is great!
Mixing Bowl: You'll only need one bowl for this super simple recipe!
📋 Instructions
Here's a step-by-step photo tutorial of how to make this easy homemade chocolate chip cookie dough frosting! For a printable version, check out the recipe card below.
Heat treat the flour
Place the flour into a microwave-safe bowl. Heat on full power for 1 minute, then let it cool completely before using.
Heat treating flour in this way eliminates any concerns about consuming raw flour (which might contain potentially harmful bacteria) so this frosting can be enjoyed by everyone.
Mix the cookie dough frosting
In a large mixing bowl, beat together the butter and brown sugar until light and fluffy.
The flour can get quite clumpy after being heated, so you'll want to sift it over the butter mixture to eliminate any flour lumps.
Add the powdered sugar, salt, vanilla, and heavy cream.
Mix everything together until no lumps of dry ingredients remain, and your frosting is light, fluffy, and wonderfully creamy.
Use a rubber spatula to gently fold in the miniature chocolate chips.
Serve and Enjoy!
For the best results, use an offset spatula or the back of a spoon to spread the cookie dough frosting on cakes or cupcakes. I llike to finish my desserts off with a few more mini chips on top to complete the look!
💭 Variations
This chocolate chip flavored frosting is just the beginning when it comes to creating cookie-inspired spreads and fillings! You can use this basic recipe to create a whole bunch of different cookie dough treats.
Make snickerdoodle cookie dough frosting by omitting the chocolate chips and adding cinnamon or cinnamon chips instead.
Turn this frosting into cookie dough dip. Simply add an additional tablespoon or two of heavy cream. Serve it alongside some fresh fruit, graham crackers, or pretzels!
Have fun with extracts! Create the creamy cookie dough frosting of your choice by adding almond, lemon, coffee, or coconut extract.
Get creative with your mix-ins. Mini M&Ms, dried fruit, chopped nuts, milk or white chocolate chips, and caramel bits are a few of my favorites!
Create a homemade ice cream topping by freezing this frosting into small balls. Use it as a sundae topping or add it to your favorite homemade ice cream base.
💡 Tips and FAQs
How to Store Cookie Dough Frosting
Leftover chocolate chip cookie dough frosting can be stored in an airtight container in the fridge for up to 1 week or in the freezer for up to 3 months. To use it, allow the frosting to come back up to room temperature and stir well to restore the creamy texture before you attempt to spread it on anything.
❤️ More Fun Frosting Recipes