These unicorn milkshakes are pure MAGIC! A rich, thick strawberry milkshake is topped with a rainbow of different sprinkles and candies to make a delicious drink fit for a unicorn. Plus, learn how to make this cool polka dot glass effect!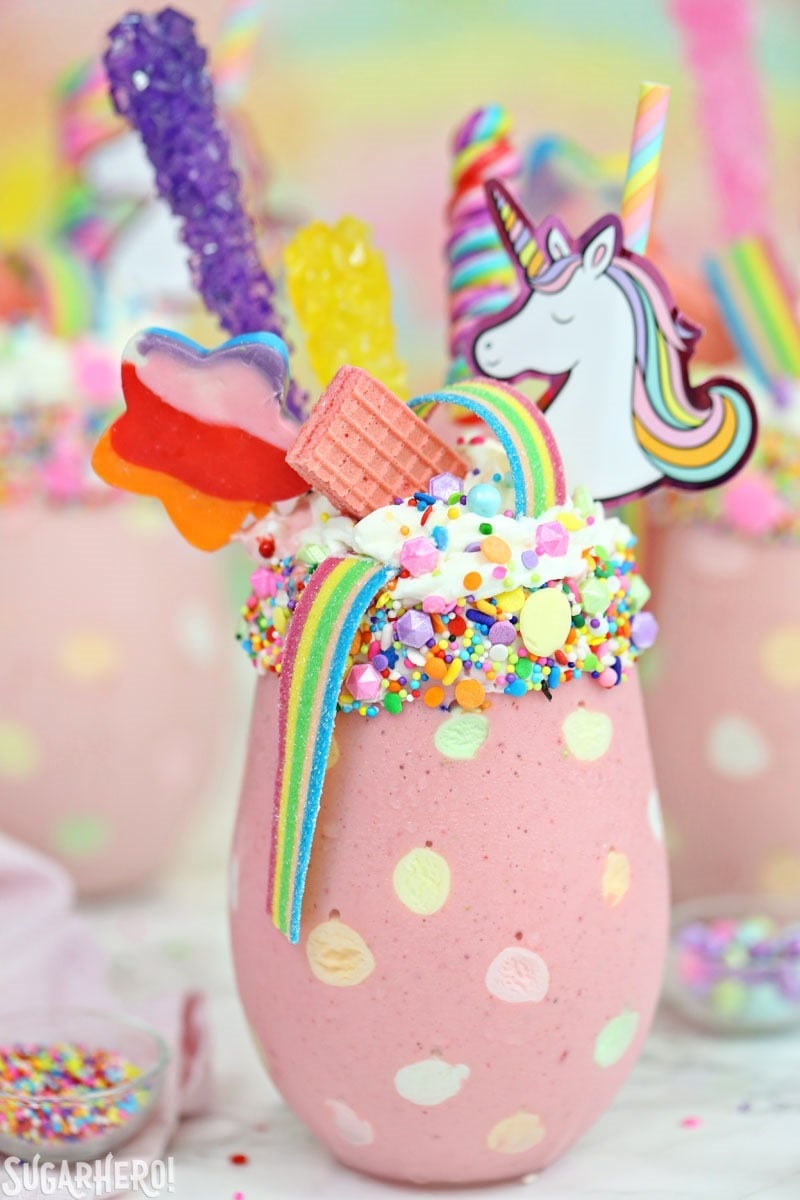 YOU GUYS! I know Starbucks came close to ruining the unicorn trend for all of us (I'm looking at you, weird sour powder on top of a mango drink…) but I need you to put that aside and stick with it for a little while longer. Because I haven't made one single unicorn dessert yet, and I have a serious case of FOMO, and I want you—no, I NEED you—to experience these super adorable Unicorn Milkshakes with me.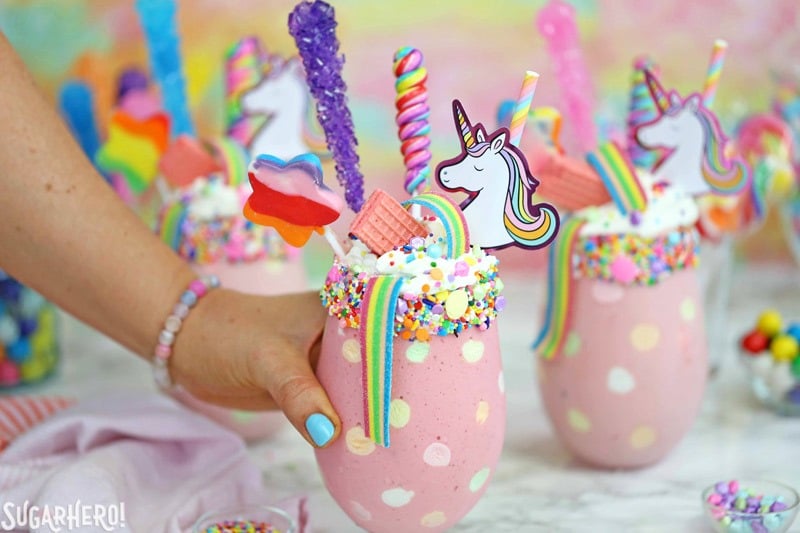 First of all, unicorn desserts are about the SugarHero-iest thing I can imagine. Whenever I think about new recipes, I ask myself, does it involve over-the-top decorations and bright colors and have the potential to look like a rainbow exploded all over the place? Yes? Then I am SO ON BOARD.
Secondly, I found these super cute unicorn straws, and if that wasn't kismet right there, I don't know what is. A unicorn in a unicorn drink! Perfection.
Thirdly, I was able to bust out SO MANY fun toppers on this milkshake! (And yes, we're getting to the actual shake in a second…but how can I concentrate on that when there are sparkly things to talk about?)
This baby is covered with all of my favorite things: lots of different sprinkles, including pearlescent gemstones, lollipops, rock candy, wafer cookies, and sour rainbow belts. All of them are optional—the icing on the cake, if you will—so you can use whatever you can dream up. Gumballs! Mini sprinkled doughnuts! Cotton candy! You get the idea.
Here's the last cute thing to mention about these: see the polka dot designs on the cups? Those are actually mini marshmallows! You can DIY your own polka dot milkshake cups just by sticking the cut ends of marshmallows to the glass on the inside! Totally unnecessary, totally cute. I used multi-colored marshmallows, because, you know, restraint is not in my vocabulary.
As for the drink itself? It's strawberry-based, but also has a touch of coconut. Be still my heart.
I used a really tasty coconut-strawberry swirl ice cream as the base. If you can't find something similar, I think regular strawberry ice cream with a dash of coconut extract would also be delicious!
So there you have it—these are kid-tested, SugarHero-approved. I hope you'll hop on the unicorn train with me, and give this milkshake a try!
Don't miss the step-by-step tutorial showing how to make Unicorn Milkshakes – check out the web story here!
💗More Drink Recipes You'll Love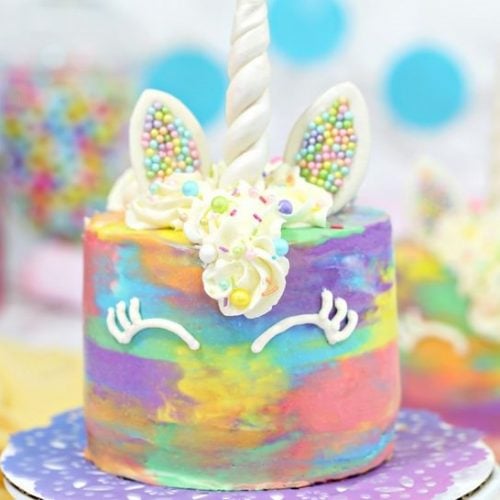 Colorful Unicorn Cakes
These bright mini Unicorn Cakes put a colorful spin on traditional unicorn cakes! The cake batter and the frosting are both swirled with a colorful watercolor effect, so these cheerful unicorns look magical, inside and out.
View Recipe
Polka Dot Cake
This Easter Polka Dot Cake is truly easy to make, don't let it's look be deceptive! Just combine a few simple steps and you'll end up with this beautifully whimsical cake.
View Recipe
Leave a Review!
If you make this recipe, let us know! Leave a ⭐️⭐️⭐️⭐️⭐️ rating on the recipe below, and leave a comment, take a photo and tag me on Instagram @elabau, or use #sugarhero on IG!
Unicorn Milkshakes
These Unicorn Milkshakes are pure MAGIC! A rich, thick strawberry milkshake is topped with a rainbow of different sprinkles and candies to make a delicious drink fit for a unicorn.
Ingredients
10

oz

strawberry-coconut ice cream

,

(5 large scoops)

1

cup

strawberries

,

fresh or frozen

½

cup

milk

¼

cup

vanilla frosting

½

cup

assorted sprinkles

Whipped cream

Assorted toppings

,

like lollipops, rock candy, wafer cookies, etc
Instructions
Combine the ice cream, strawberries, and milk in a blender, and blend until smooth and creamy.

Snip the miniature marshmallows in half. Press the cut half of one marshmallow on the inside of a 10-oz glass, pressing firmly so that it sticks. Continue to add marshmallow "polka dots" inside the glass, and repeat with a second cup until both are decorated.

Spread a thin layer of vanilla frosting around the top rim of each cup. Roll the frosting in sprinkles until the edge of the cup is entirely covered.

Divide the milkshake between the cups. Top each cup with whipped cream, and add a big pinch of sprinkles to the top of the whipped cream.

Now for the fun part…decorating! Add fun and colorful decorations like swirled lollipops, rock candy sticks, sour rainbow belts, wafer cookies, and unicorn straws. Enjoy immediately.
Video
Recipe Notes
This recipe has been updated from when it was originally published. You can find the original version of the recipe here.
This recipe yields about 18-20 oz of liquid, which is enough for two decent-sized milkshakes, or four mini milkshakes.
The nutrition facts were calculated using the ice cream, fruit, milk, and whipped cream only. Additional toppings will vary greatly depending on how you choose to decorate your milkshakes, and are thus not included in the nutritional calculation.
Measuring Tips
Our recipes are developed using weight measurements, and we highly recommend using a kitchen scale for baking whenever possible. However, if you prefer to use cups, volume measurements are provided as well. PLEASE NOTE: the adage "8 oz = 1 cup" is NOT true when speaking about weight, so don't be concerned if the measurements don't fit this formula.
Want to learn more about baking measurements and conversion?
Nutrition
Calories:
166
kcal
|
Carbohydrates:
28
g
|
Protein:
2
g
|
Fat:
5
g
|
Saturated Fat:
1
g
|
Polyunsaturated Fat:
2
g
|
Monounsaturated Fat:
2
g
|
Cholesterol:
3
mg
|
Sodium:
76
mg
|
Potassium:
214
mg
|
Fiber:
1
g
|
Sugar:
24
g
|
Vitamin A:
124
IU
|
Vitamin C:
42
mg
|
Calcium:
87
mg
|
Iron:
0.3
mg
Tried this recipe?
Snap a pic and hashtag it #SugarHero. We love to see your creations on our Instagram @elabau.