This post may contain affiliate links. Please see my disclosure policy for more information.
This Witch's Brew Halloween Punch will make all your goblins grin! It's an easy sparkling lime punch the whole family will love. Add dry ice to the punch bowl for an extra-spooky effect!
HAPPY HALLOWEEN!
FREE HALLOWEEN DESSERTS E-BOOK!
Subscribe to the SugarHero mailing list and get a free recipe book!
13 Scary Sweets and Creepy Candies the whole family will love!
I've written before about how my 4-year old son Asher is a Halloween maniac. He loves scary stories, spooky cartoons, and absolutely anything having to do with witches, vampires, mummies, Frankenstein, or skeletons. He started asking to decorate our house for Halloween in early September, and when I didn't decorate fast enough for his liking, he decorated his own room, by himself, about a month ago. It's full of pumpkins, some of my scarier photo props like skulls and coffins, and Halloween drawings he's made. (PS: it is adorable)
He has single-handedly reignited my childlike enthusiasm for Halloween. How could I NOT love it, when even the merest mention of Halloween makes his eyes sparkle and his whole being light up?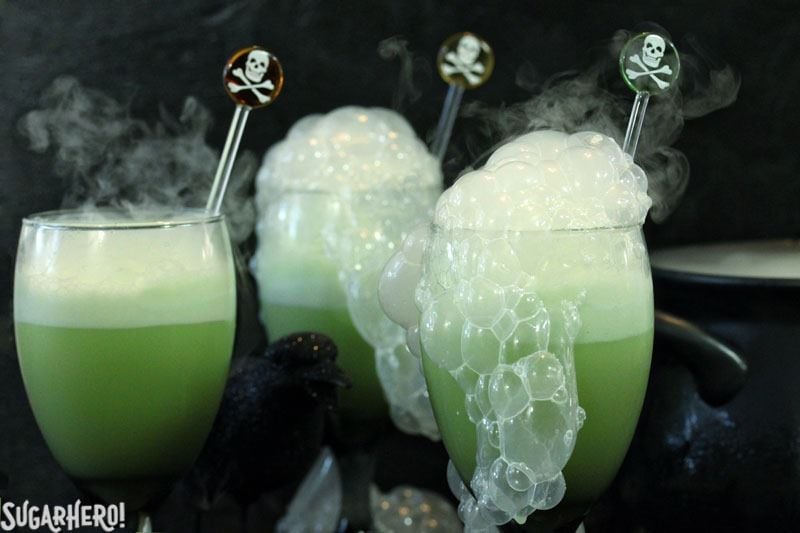 So when Asher asked to have a Halloween brunch for all of our friends, I was putty in his hands and agreed. (It may sound a little strange that a 4-year old requested brunch, but we have a tradition of having our friends over for brunch around the holidays, so to him, it's a normal way to celebrate special occasions.)
We invited a good mix of friends over a few Saturdays ago, and had the BEST time eating, drinking, and watching the kids run around. We provided a few hearty breakfast casseroles and beverages, and asked everyone to bring a side dish to share. It worked out perfectly, and I think we now have a new Halloween brunch tradition!

One of the drinks we served was this super easy Witch's Brew Halloween Punch. There are a million versions of this floating around the internet; this is just my particular twist on a classic. I make it with ginger ale, pineapple juice, fresh lemon juice (to keep it from being too sweet) and lime sherbet. The punch is a gorgeous, if slightly repulsive, green color, with chunks of melting sherbet that grossed out and delighted the kids when they were scooping it up.
The REAL genius of the drink, though, is that it's served in a punch bowl nestled in a cauldron. At the bottom of the cauldron is dry ice that belches steam, making the cauldron smoke just like a real witch's cauldron. It took a little trial and error to find a bowl + cauldron combo that worked, and to get the right mix of dry ice and water to produce a good smoking effect, but when it works, there is nothing cooler than a cauldron bubbling away!
For these blog pictures I used a smaller cauldron (it's much easier to photograph) but at the brunch, we used a big 18-incher so we could make plenty of punch for all our guests:
[
Pictured: my little Halloween maniac helping me mix up the punch, some of our gross-out brunch treats, and our family in character as members of the Scooby gang! Scooby Doo is a favorite cartoon around here, because of the mysteries and monsters, obviously
.]
For these pictures, I added some larger chunks of dry ice to the individual punch goblets. This is just for photographic effect–dry ice is so cold it can be dangerous to swallow, so it's not recommended to place it directly in the punch bowl or drinking glasses. Please do as I say and not as I do, and make sure to follow the recipe instructions and keep the dry ice separate from the punch!

Have a safe, happy, spooky, witch-y Halloween!
Print Recipe
Witch's Brew Halloween Punch
This Witch's Brew Halloween Punch will make all your goblins grin! It's an easy sparkling lime punch the whole family will love. Add dry ice to the punch bowl for an extra-spooky effect!
Ingredients
2

liters

ginger ale

chilled

4

cups

pineapple juice

chilled

1/3

cup

lemon juice

fresh (optional)

1

gallon

lime sherbet

1

block dry ice

(I used 5 lbs for a 3-hour party)

Large cauldron

punch bowl that fit inside cauldron
Instructions
Break the dry ice into large pieces using a mallet or other tool. Be careful that you use gloves when handling it, since it can cause burns if it comes into contact with your skin. Place some of the dry ice in the bottom of your cauldron. Put the remaining dry ice in a cooler nearby. Pour some hot water on top of the ice so that it starts to smoke.

Place the punch bowl on top of the dry ice inside the cauldron. Combine the ginger ale, pineapple juice, and lemon juice in the punch bowl, and stir to combine. Add scoops of lime sherbet, mix it for a few minutes until the sherbet starts to melt, then serve! Replenish the dry ice and hot water as necessary, to keep the smoke effect going.

Note: dry ice can be harmful if swallowed, so do not put it directly in the punch bowl or beverage cups.
Nutrition
Calories:
185
kcal
|
Carbohydrates:
41
g
|
Protein:
2
g
|
Sodium:
84
mg
|
Potassium:
43
mg
|
Fiber:
2
g
|
Sugar:
31
g
|
Vitamin C:
4.1
mg
|
Calcium:
6
mg
|
Iron:
0.2
mg