This three-tier Very Hungry Caterpillar Cake is absolutely delicious with its deep devil's food chocolate cake, fresh strawberry Swiss meringue buttercream and chunks of fresh strawberries throughout! It's the ultimate birthday celebration cake!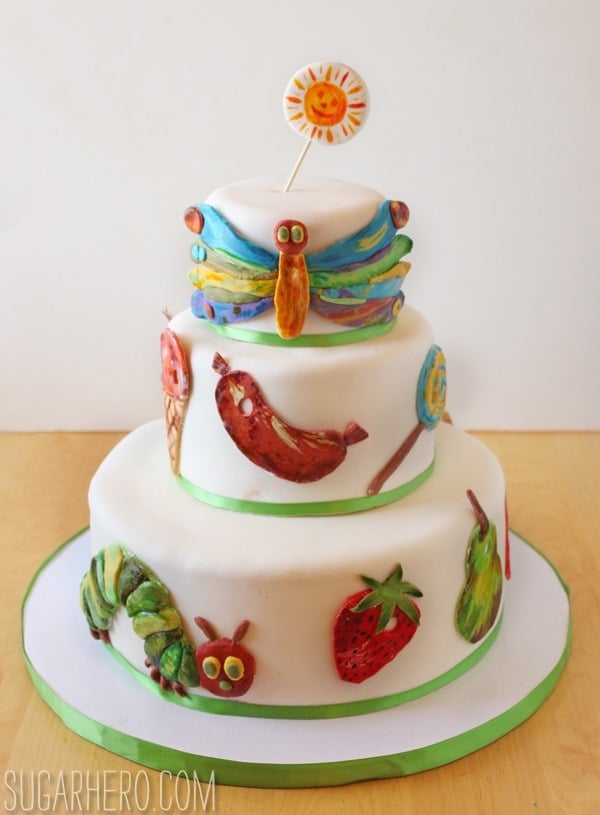 As regular readers of my blog might know, I have a young son named Asher. I don't write about him all that much because I don't want to turn my dessert blog into a mommy blog—okay, actually, sometimes I totally do. But I spent so long making fun of mommy blogs in my young, carefree, pre-child days, I'm afraid the gods of hypocrisy are just waiting to smite me with a really big lightning bolt if I stray in that direction. Anyhow.
Meet Asher: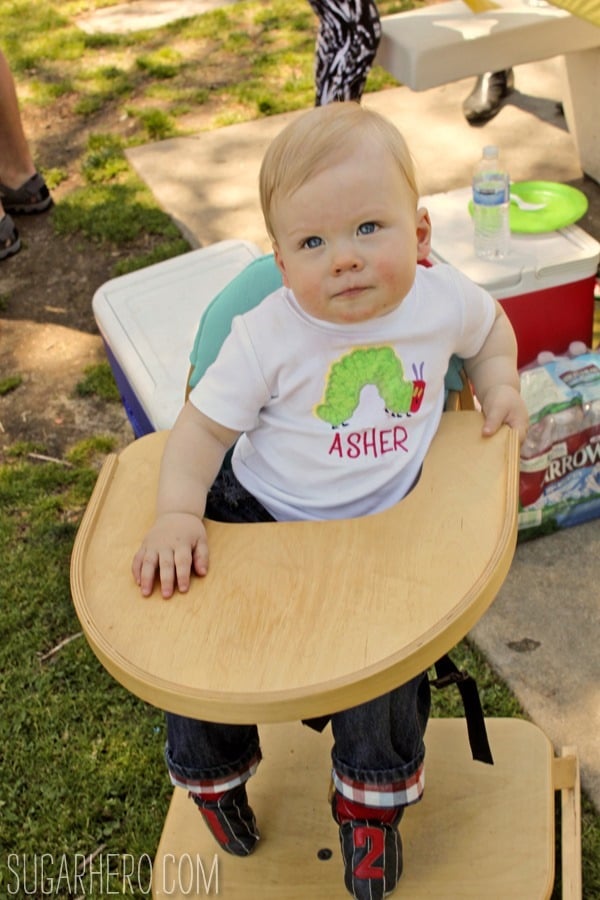 Did somebody call for a baby model?
He may not make frequent blog appearances, but he's obviously a huge part of my life—in addition to being adorable and wonderful and all those other mushy things, he's also the reason that most of my posts are published between the hours of 1 am and 3 am. Bless his ever-loving, time-consuming, little baby heart.
Sweet Asher turned one a few weeks ago, which could only mean one thing: TIME TO THROW A BIG PARTY! Because as regular readers of my blog might also know, I'm a bit of a psycho perfectionist, so even though I know he won't remember or appreciate this party, I still wanted it to be extra-special. We chose the theme The Very Hungry Caterpillar, based on the beloved Eric Carle book
, and coordinated the invitations, food, decorations, favors, and of course cake, to go along with it. This post is all about the cake, and you can read all about the other Very Hungry Caterpillar party details here.
Photograph by Adrea Scheidler
The Very Hungry Caterpillar theme was chosen months ago. During the first few weeks of Asher's life, we were worried about his weight, since he lost a great deal of his birth weight and was slow to gain it back. Once he started really gaining, though, there was no stopping him. This kid loves—no, lives—to eat. He's been chowing down on solid food for months, and at this point he'll eat anything and everything—and even better if it's something I'm trying to eat myself. We joke about how he will eat and eat, but still be hungry—he really is the very hungry caterpillar personified.
I'm going to write another post about all of the little birthday details that went into throwing a Very Hungry Caterpillar party, but for today, I want to concentrate on cake, glorious cake.
There were other desserts at the party—miniature lemon curd cupcakes, and a really epic candy buffet that is getting its own post on the OhNuts.com blog. But I wanted a showpiece, a stunner, a signature dessert, and nothing but a tiered cake would do. We had about 26 adults and 18 children at the party, so I made a cake with a 10" layer, a 6" layer, and a small 4" layer on top that would be Asher's smash cake.
The cake itself was a deep devil's food chocolate, with fresh strawberry Swiss meringue buttercream and chunks of fresh strawberries throughout. The cake is covered with homemade marshmallow fondant and fondant decorations.
You'd like way too many close-ups of the cake, and painstakingly detailed explanations, you say? Happy to oblige!
Side view
The cake sort of tells a story, with this caterpillar starting his journey along the side of the bottom tier.
This little guy was on the top tier. I thought it was fitting to have this be Asher's smash cake, since he's no longer a little caterpillar anymore—he's walking and talking and turning into a beautiful butterfly toddler.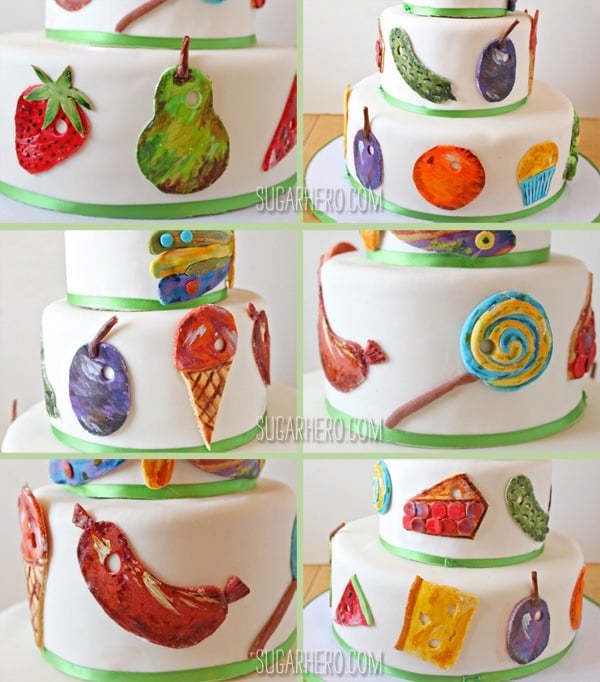 And then along the sides of the cake, between the caterpillar and the butterfly, are fondant replicas of many (but not quite all) of the foods the caterpillar ate. I love them all, but my favorite is probably the pear, or the pickle. Okay, I like the sausage too.
The decorations were really fun to make. I first decided approximately how large I wanted my food to be—I wanted the pieces pretty big!—and cut out a paper square about that size, then went around the sides of the cake with my template, counting how many pieces would fit on each tier. Then when I rolled my fondant out, I used the paper square as my guide and made sure that the pieces weren't larger than my square. Honestly, this was about the extent of my planning. There was a lot of winging it involved—the cake was made and decorated late at night, the night before the party—so I was thrilled that most things worked out the way I wanted them to. One day, friends, I might have my act together enough to take in-progress pictures of a cake. That day is probably not coming anytime soon.
Very Hungry Caterpillar Cake | SugarHero.com
Displayed at the party in the park
I worked with the book propped in front of me, and used it as my inspiration as I cut out the various food shapes freehand with an x-acto knife. While it was still soft I cut a hole in each food using a pastry tip, then put it on a baking sheet generously dusted with powdered sugar while I made the rest of the food. At first I just use one color per food, knowing that I would be painting them later, but by the end I had switched to marbling several colors together as I rolled the fondant out, and I think this technique gave the food a greater depth and more realistic look.
Once all of the foods were made, it was time to paint! Again using the book as a guide, I used food coloring and pastry brushes to paint the bold brush strokes and accents on the food. Eric Carle's illustration techniques are surprisingly easy to imitate in food form! It was really about being generous and a little haphazard with brush strokes, and layering colors on top of each other. (I think this is why the marbled fondant worked so well.)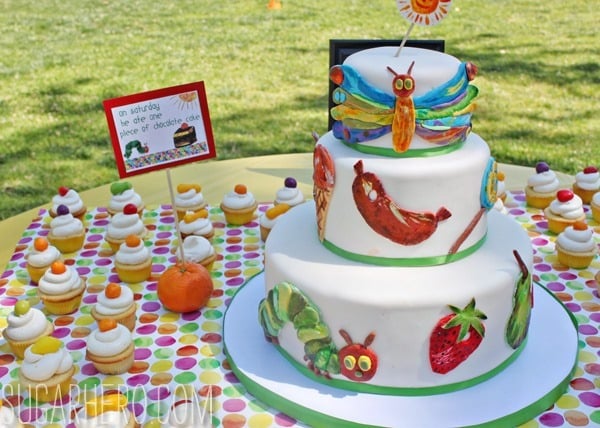 Here you can see the cake, along with the mini lemon cupcakes topped by fruit candies
I did the caterpillar and butterfly last, because by then I had gotten the hang of marbling and painting the fondant. From start to finish making the decorations probably took about 4 1/2 – 5 hours, which includes mixing all the different colors of fondant (which never seems like it should take very long but always takes for-freaking-ever). After everything was made I affixed the pieces to the cake using Tylose glue (more information on that here).
The final touch was done right before the party: stacking the cakes and adding ribbon along the bottom. The original plan was to do multicolored fondant dots, but it looked a little busy and crowded, and I ended up preferring the simplicity of the ribbon instead.
I found these great tie-dye candles and thought they were a good match for the colorful butterfly! Fun birthday shenanigans visible in the background.
"Oh, Mother, this cake is ever so beautiful!"
A rare glimpse of the woman behind the blog—usually heard but not seen
And how did Asher like the cake? Well, this might give you a clue…
Yep, he face-planted into it and wasn't dissuaded by the thick layer of fondant. Eventually he got tired of eating like a dog and decided to eat like a civilized person, by picking the cake up with both hands…

So this is how fancy folks eat…
It was his first real taste of sugar, and I think he's a fan! He still won't have desserts all that often, but living in this house it's likely he'll get a taste every now and then.
We had more than enough cake for our group, and were able to send slices home with friends and still have a bit left over for second dessert later that day! It was such a fun cake to make, and it added a lot to the party. I'm excited to share the rest of the party details on Monday!
I'll leave you with a shot of a cake slice, so you know what the interior looked like. The full, super-duper long recipe for making this 3-tiered cake is down below.
Oh hey, caterpillar head…