This post may contain affiliate links. Please see my disclosure policy for more information.
As regular readers of my blog might know, I have a young son named Asher. I don't write about him all that much because I don't want to turn my dessert blog into a mommy blog—okay, actually, sometimes I totally do. But I spent so long making fun of mommy blogs in my young, carefree, pre-child days, I'm afraid the gods of hypocrisy are just waiting to smite me with a really big lightning bolt if I stray in that direction. Anyhow.
Meet Asher: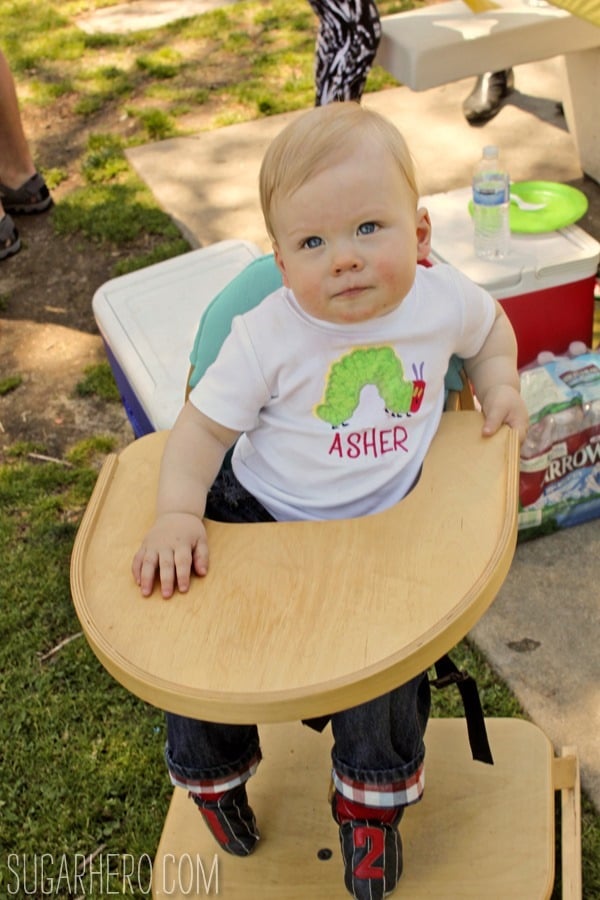 Did somebody call for a baby model?
He may not make frequent blog appearances, but he's obviously a huge part of my life—in addition to being adorable and wonderful and all those other mushy things, he's also the reason that most of my posts are published between the hours of 1 am and 3 am. Bless his ever-loving, time-consuming, little baby heart.
Sweet Asher turned one a few weeks ago, which could only mean one thing: TIME TO THROW A BIG PARTY! Because as regular readers of my blog might also know, I'm a bit of a psycho perfectionist, so even though I know he won't remember or appreciate this party, I still wanted it to be extra-special. We chose the theme The Very Hungry Caterpillar, based on the beloved Eric Carle book
, and coordinated the invitations, food, decorations, favors, and of course cake, to go along with it. This post is all about the cake, and you can read all about the other Very Hungry Caterpillar party details here.
Photograph by Adrea Scheidler
The Very Hungry Caterpillar theme was chosen months ago. During the first few weeks of Asher's life, we were worried about his weight, since he lost a great deal of his birth weight and was slow to gain it back. Once he started really gaining, though, there was no stopping him. This kid loves—no, lives—to eat. He's been chowing down on solid food for months, and at this point he'll eat anything and everything—and even better if it's something I'm trying to eat myself. We joke about how he will eat and eat, but still be hungry—he really is the very hungry caterpillar personified.
I'm going to write another post about all of the little birthday details that went into throwing a Very Hungry Caterpillar party, but for today, I want to concentrate on cake, glorious cake.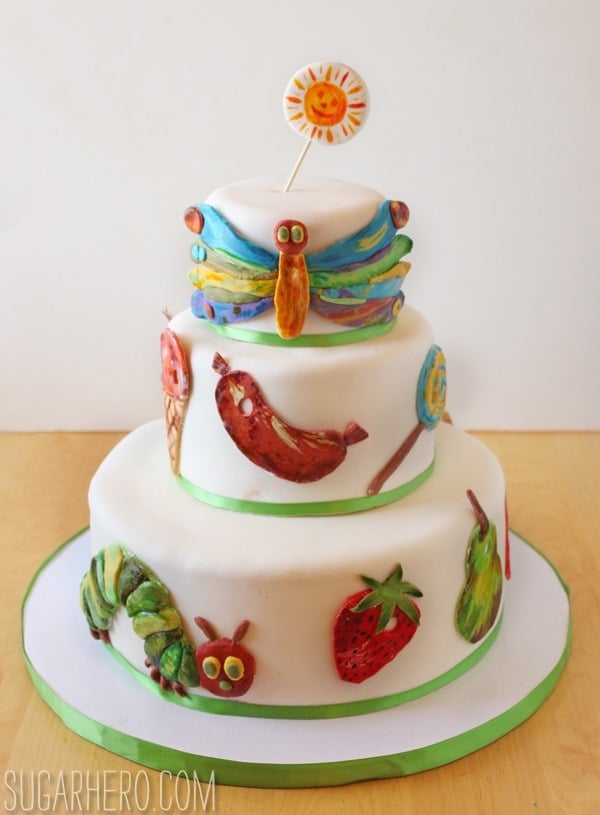 There were other desserts at the party—miniature lemon curd cupcakes, and a really epic candy buffet that is getting its own post on the OhNuts.com blog. But I wanted a showpiece, a stunner, a signature dessert, and nothing but a tiered cake would do. We had about 26 adults and 18 children at the party, so I made a cake with a 10" layer, a 6" layer, and a small 4" layer on top that would be Asher's smash cake.
The cake itself was a deep devil's food chocolate, with fresh strawberry Swiss meringue buttercream and chunks of fresh strawberries throughout. The cake is covered with homemade marshmallow fondant and fondant decorations.
You'd like way too many close-ups of the cake, and painstakingly detailed explanations, you say? Happy to oblige!
Side view
The cake sort of tells a story, with this caterpillar starting his journey along the side of the bottom tier.
This little guy was on the top tier. I thought it was fitting to have this be Asher's smash cake, since he's no longer a little caterpillar anymore—he's walking and talking and turning into a beautiful butterfly toddler.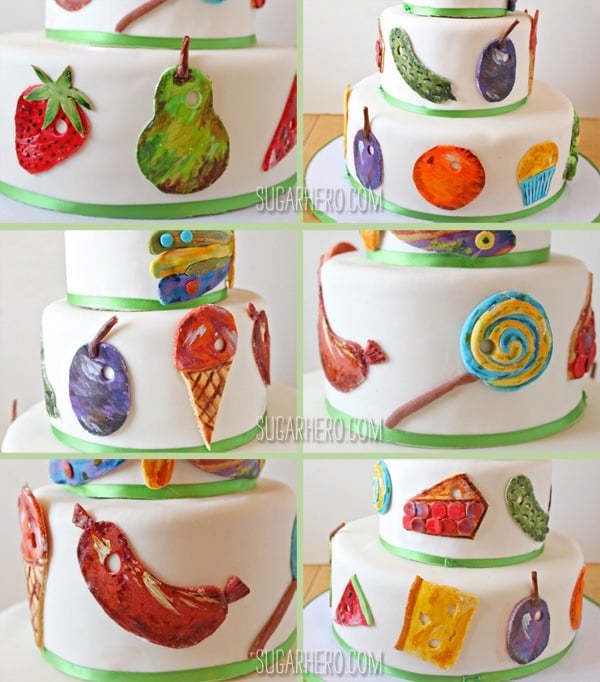 And then along the sides of the cake, between the caterpillar and the butterfly, are fondant replicas of many (but not quite all) of the foods the caterpillar ate. I love them all, but my favorite is probably the pear, or the pickle. Okay, I like the sausage too.
The decorations were really fun to make. I first decided approximately how large I wanted my food to be—I wanted the pieces pretty big!—and cut out a paper square about that size, then went around the sides of the cake with my template, counting how many pieces would fit on each tier. Then when I rolled my fondant out, I used the paper square as my guide and made sure that the pieces weren't larger than my square. Honestly, this was about the extent of my planning. There was a lot of winging it involved—the cake was made and decorated late at night, the night before the party—so I was thrilled that most things worked out the way I wanted them to. One day, friends, I might have my act together enough to take in-progress pictures of a cake. That day is probably not coming anytime soon.
Very Hungry Caterpillar Cake | SugarHero.com
Displayed at the party in the park
I worked with the book propped in front of me, and used it as my inspiration as I cut out the various food shapes freehand with an x-acto knife. While it was still soft I cut a hole in each food using a pastry tip, then put it on a baking sheet generously dusted with powdered sugar while I made the rest of the food. At first I just use one color per food, knowing that I would be painting them later, but by the end I had switched to marbling several colors together as I rolled the fondant out, and I think this technique gave the food a greater depth and more realistic look.
Once all of the foods were made, it was time to paint! Again using the book as a guide, I used food coloring and pastry brushes to paint the bold brush strokes and accents on the food. Eric Carle's illustration techniques are surprisingly easy to imitate in food form! It was really about being generous and a little haphazard with brush strokes, and layering colors on top of each other. (I think this is why the marbled fondant worked so well.)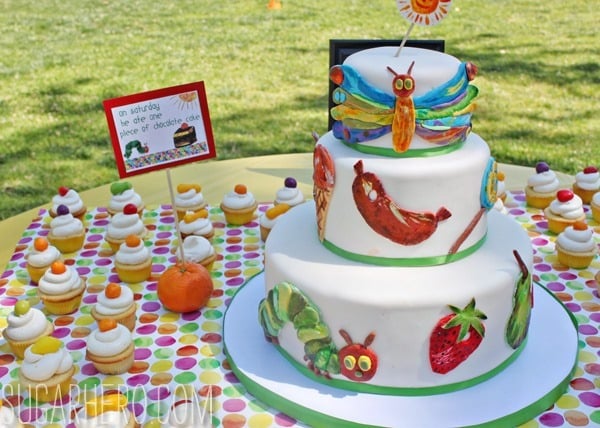 Here you can see the cake, along with the mini lemon cupcakes topped by fruit candies
I did the caterpillar and butterfly last, because by then I had gotten the hang of marbling and painting the fondant. From start to finish making the decorations probably took about 4 1/2 – 5 hours, which includes mixing all the different colors of fondant (which never seems like it should take very long but always takes for-freaking-ever). After everything was made I affixed the pieces to the cake using Tylose glue (more information on that here).
The final touch was done right before the party: stacking the cakes and adding ribbon along the bottom. The original plan was to do multicolored fondant dots, but it looked a little busy and crowded, and I ended up preferring the simplicity of the ribbon instead.
I found these great tie-dye candles and thought they were a good match for the colorful butterfly! Fun birthday shenanigans visible in the background.
"Oh, Mother, this cake is ever so beautiful!"
A rare glimpse of the woman behind the blog—usually heard but not seen
And how did Asher like the cake? Well, this might give you a clue…
Yep, he face-planted into it and wasn't dissuaded by the thick layer of fondant. Eventually he got tired of eating like a dog and decided to eat like a civilized person, by picking the cake up with both hands…

So this is how fancy folks eat…
It was his first real taste of sugar, and I think he's a fan! He still won't have desserts all that often, but living in this house it's likely he'll get a taste every now and then.
We had more than enough cake for our group, and were able to send slices home with friends and still have a bit left over for second dessert later that day! It was such a fun cake to make, and it added a lot to the party. I'm excited to share the rest of the party details on Monday!
I'll leave you with a shot of a cake slice, so you know what the interior looked like. The full, super-duper long recipe for making this 3-tiered cake is down below.
Oh hey, caterpillar head…
Three-Tier Chocolate Celebration Cake
This Three-Tier Chocolate Celebration Cake is absolutely delicious with its deep devil food chocolate, fresh strawberry Swiss meringue buttercream and chunks of fresh strawberries throughout! My mouth is watering just thinking about it!
Instructions
To Make the Cake:
Preheat the oven to 350 F (176 C). Line all of your cake pans with parchment rounds and spray the pans well with nonstick cooking spray.

Add the butter and both sugars to the bowl of a large stand mixer fitted with a paddle attachment. Beat them together on medium-high speed, until light and fluffy, about 5 minutes. Add the eggs one at a time, beating well after each addition. Add the vanilla extract and mix it in.

In a separate bowl, whisk together the buttermilk, sour cream, and water (or coffee, if using). In a different bowl, sift together the flour, cocoa powder, baking soda, and salt. With the mixer running on low, add a quarter of the sifted flour mixture. When the flour streaks have almost all disappeared, add a third of the liquid to the mixing bowl. When that's incorporated, continue to add the drys and wets in an alternating pattern, ending with the dry ingredients.

When the dry ingredients are nearly incorporated, stop the mixer. Scrape down the bottom and sides of the bowl with a rubber spatula, and finish mixing the cake by hand. After you have made both batches of batter, divide the cake between the six cake pans so that the batter comes up about 2/3 in each pan. If you have a kitchen scale, these are the weights I used for each cake round:

10" round: 2 lbs 3 oz

6" round: 14 oz

4" round: 5 oz

Bake the cakes until the tops spring back when lightly pressed, and a toothpick inserted into the center comes out clean, or with just a few crumbs. Use the following times as a guide:

10" round: about 28-30 minutes

6" round: about 25 minutes

4" round: about 22-24 minutes

Let the cakes cool on a wire rack for 10 minutes, then gently turn them out and let them cool completely. I find it's easiest to cut and stack cakes that have been chilled, so if you have time, wrap them with plastic wrap and put them in the freezer for at least 30 minutes, until they are firm but not frozen all the way through. If you are making these in advance, they can stay in the freezer for up to several weeks. Let them partially defrost, until they are firm but not rock-hard, before assembling.
Notes
I made this cake using a standard 5-quart KitchenAid mixer, which is not large enough to make all of the cake batter in one batch. I assume many home cooks have mixers of a similar size (ie, not industrial size) so I've written the recipe in two batches, of slightly different sizes. Making both batches will yield the total amount of cake batter needed for the three-tiered cake. Of course, if you do have a 10-quart or larger mixer, you are free to combine the batches and just make it once. The same principle holds for the buttercream recipe. For the fondant, I find it easiest to make several smaller batches—it doesn't take much extra time, and it's easier for me to knead smaller quantities until they're smooth than the try to tackle the whole giant batch of fondant at once. And finally, if this is your first time making a tiered cake, I highly recommend watching video tutorials of how to assemble a cake, instead of simply reading a recipe. It's a visual process, and you will learn more by watching someone else do it than by reading these instructions. I've included assembly instructions for the sake of completeness, but beginners should absolutely watch tutorials before attempting to assemble the cake.
Nutrition
Calories:
520
kcal
|
Carbohydrates:
64
g
|
Protein:
7
g
|
Fat:
29
g
|
Saturated Fat:
17
g
|
Cholesterol:
121
mg
|
Sodium:
749
mg
|
Potassium:
347
mg
|
Fiber:
4
g
|
Sugar:
45
g
|
Vitamin A:
910
IU
|
Vitamin C:
0.2
mg
|
Calcium:
114
mg
|
Iron:
3
mg
Strawberry Swiss Meringue Buttercream
This Three-Tier Chocolate Celebration Cake is absolutely delicious with its deep devil food chocolate, fresh strawberry Swiss meringue buttercream and chunks of fresh strawberries throughout! My mouth is watering just thinking about it!
Ingredients
9

egg whites

at room temperature

14

oz

granulated sugar

(2 cups)

1

lb

butter

slightly softened to the touch but still cool—not greasy or warm

pinch

salt

1

cup

strawberry puree

at room temperature (from about 12 oz berries, blended and strained)

2

drops pink gel food coloring

optional
Instructions
Combine the egg whites and the granulated sugar in the bowl of a large stand mixer, and whisk them together. Choose a small saucepan that lets you fit the base of the stand mixer snugly into the top of the saucepan—this is your makeshift hot water bath. (Alternately, you can use a different bowl or an actual bain marie and then transfer the mixture to a mixing bowl once it's heated.) Add an inch of water to the bottom of the saucepan, and bring the water to a simmer.

Place the mixing bowl on top of the saucepan, making sure that the bottom isn't in contact with the water, and heat the egg white mixture. Whisk frequently so that the egg whites don't cook. Continue to heat the whites until they are hot to the touch, and when you rub a bit between your fingers, you don't feel any grittiness from the sugar. Once the whites are hot, transfer the mixing bowl to your mixer and fit it with a whisk attachment.

Beat the whites on high speed until they are no longer warm to the touch—feel the outside of the bowl, and make sure that it is around room temperature. Depending on your mixer and the temperature of your environment, this may take 10-20 minutes, or more. Reduce the speed to medium-low and add the softened but cool butter in small chunks, a tablespoon at a time, making sure to wait in between additions. It may separate or look a little gloopy at this point—fear not. Once all of the butter is added, increase the speed again and whip until it comes together and is light and fluffy. If, after 5 minutes, it hasn't come together, refrigerate the mixing bowl for 5-7 minutes, to cool the mixture down, and whip it again.

Add the strawberry puree and pink gel food coloring, and mix until well-blended. The buttercream can be made in advance and kept at room temperature if you're going to use it the same day, or refrigerated. If it's been chilled, let it sit at room temperature until it softens, then re-whip it to get the fluffy texture back before you use it.
Nutrition
Calories:
500
kcal
|
Carbohydrates:
41
g
|
Protein:
3
g
|
Fat:
36
g
|
Saturated Fat:
23
g
|
Cholesterol:
97
mg
|
Sodium:
369
mg
|
Potassium:
90
mg
|
Sugar:
40
g
|
Vitamin A:
1135
IU
|
Vitamin C:
13.6
mg
|
Calcium:
16
mg
|
Iron:
0.1
mg
Marshmallow Fondant
This Three-Tier Chocolate Celebration Cake is absolutely delicious with its deep devil food chocolate, fresh strawberry Swiss meringue buttercream and chunks of fresh strawberries throughout! My mouth is watering just thinking about it!
Ingredients
8

ounces

miniature marshmallows

4 cups not packed, or half of a 16-ounce bag

2

tbsp

water

1

pound

powdered sugar

4 cups, plus extra for dusting
Instructions
In a large microwave-safe bowl, combine the marshmallows and water. Microwave them together for 1 minute, then stir with a rubber spatula until they are melted and smooth. If some unmelted marshmallow pieces remain, return to the microwave for 30-45 seconds, until the marshmallow mixture is entirely smooth and free of lumps.

Add the powdered sugar all at once to the bowl, and stir it in. It will be very sticky, and may seem way too dry at first. Continue to stir until it's too sticky and difficult to stir. Dust your work surface with powdered sugar, and turn the marshmallow/sugar mixture out onto the work surface. There will be a lot of excess sugar, and the marshmallow mixture will look rough and shaggy.

Start to knead everything together, dusting your hands generously with sugar whenever they start to get sticky. As you knead, the fondant will gradually start to take in more and more of the sugar and will smooth out and become less sticky. Continue to knead the fondant until it smoothes out and loses its stickiness. Add more sugar if necessary, but stop adding sugar once it is smooth--too much sugar will make it stiff and difficult to work with. Once the fondant is a smooth ball, it is ready. Wrap it well with cling wrap and store it in an airtight container at cool room temperature.

I prefer to make my fondant the day before I need it, and to let it sit overnight to firm up a bit. If well-wrapped, fondant can be made up to several weeks in advance. It will need to be kneaded until supple before later use.
To Assemble the Cake:
Supplies:

10" cardboard cake rounds

6" cardboard cake rounds

4" cardboard cake rounds (hard to find, you can cut larger ones down to size)

Dowels—I like to use boba tea straws

Pastry bag

Pastry tips

Cake turntable (optional but makes decorating easier)

Bench scraper

Offset spatula

2 lbs strawberries, washed, hulled, and coarsely chopped

Assemble the 10" tier first. Using a large serrated knife, cut each cake layer in half. Place one layer face-up on a cake cardboard.

Scoop some buttercream into a pastry bag fitted with a 1/2-inch round tip. Pipe a ring of buttercream all along the edge of the cake round to act as a barrier and make assembly neater. Scoop about 2/3 cup buttercream into the center, and spread it in an even layer until it covers the cake and reaches the buttercream ring. Scatter a generous handful of chopped strawberries on top, covering the surface evenly, but do not put strawberries on the outer ring of buttercream. Top the cake round with a second round, and repeat the process of piping a ring of buttercream, spreading the buttercream in the center, and add chopped strawberries.

Repeat with the remaining layers, until you have a 4-layer cake with 3 layers of buttercream. Spread buttercream along the sides and top of the cake in a very, very thin layer—this is just to hold the crumbs in. Refrigerate the layer while you assemble the 6" and 4" rounds in the same fashion. Refrigerate all the layers until they're firm, at least 45 minutes.

Once firm, go back and add another layer of buttercream on the outside of the cakes, this time trying to get it even and smooth. The smoother the buttercream is, the smoother the fondant coating will be. I like to use a bench scraper to go around the sides and get them very straight and clean. To do this, hold the bench scraper in your dominant hand, straight against the sides of the cake. With your other hand turn the cake turntable so the scraper removes any excess frosting from the sides. Use an offset spatula to smooth the frosting on the top of the cake. Once all of the cakes are frosted, refrigerate them again until they're very firm, at least 1 hour or more for the larger cakes.

To cover the cakes with fondant, I used these approximate amounts:

10" cake: about 2 1/4 lbs fondant

6" cake: about 1 lb fondant

4" cake: about 12 oz fondant

Dust your work surface with powdered sugar, and roll out the fondant until it is a round a little less than 1/4-inch thick. Drape it over the cake and smooth it evenly against the top and sides—if you are unfamiliar with covering a cake with fondant, there are many excellent video tutorials to demonstrate this step. Trim the excess fondant from the bottom, and refrigerate the cakes until you're ready to decorate and stack them.

Use excess fondant to make decorations of your choice. Glue them on with Tylose glue (preferred) or corn syrup.

To stack the rounds, insert a boba tea straw (or other type of dowel) into the center of the 10" cake. Hold scissors flush against the top of the cake, and cut off the top of the straw so that it is now even with the height of the cake. Add four more straws in a circle around the straw in the center, each about 2" from the center (so that they don't extend past a 6" radius) and cut those straws so that their height is the same as the cake. These straws will be used to support the 6" cake. Smear a generous amount of buttercream in the center of the 10" cake, and put the 6" cake on top, so it's secured by the buttercream and resting on the dowels. There should be no gap between the cakes.

Insert two straws, about an inch apart, in the center of the 6" cake, and cut off the tops. Smear some buttercream on the 6" cake to secure the 4" one, and place it on top. Finish your cake by piping buttercream or tying ribbon around the bottom of the cakes to make them look polished.
Nutrition
Calories:
1657
kcal
|
Carbohydrates:
424
g
|
Protein:
2
g
|
Sodium:
128
mg
|
Sugar:
382
g
|
Iron:
0.5
mg