This Piñata Cake is the ultimate party cake! Picture layers of moist, deep dark chocolate cake, stacked with rich chocolate buttercream, and filled to the brim with colorful chocolate candy that POURS out when you cut into it! And the best part? It's easier to make than you'd think! Read on to learn how to make your own piñata cake at home.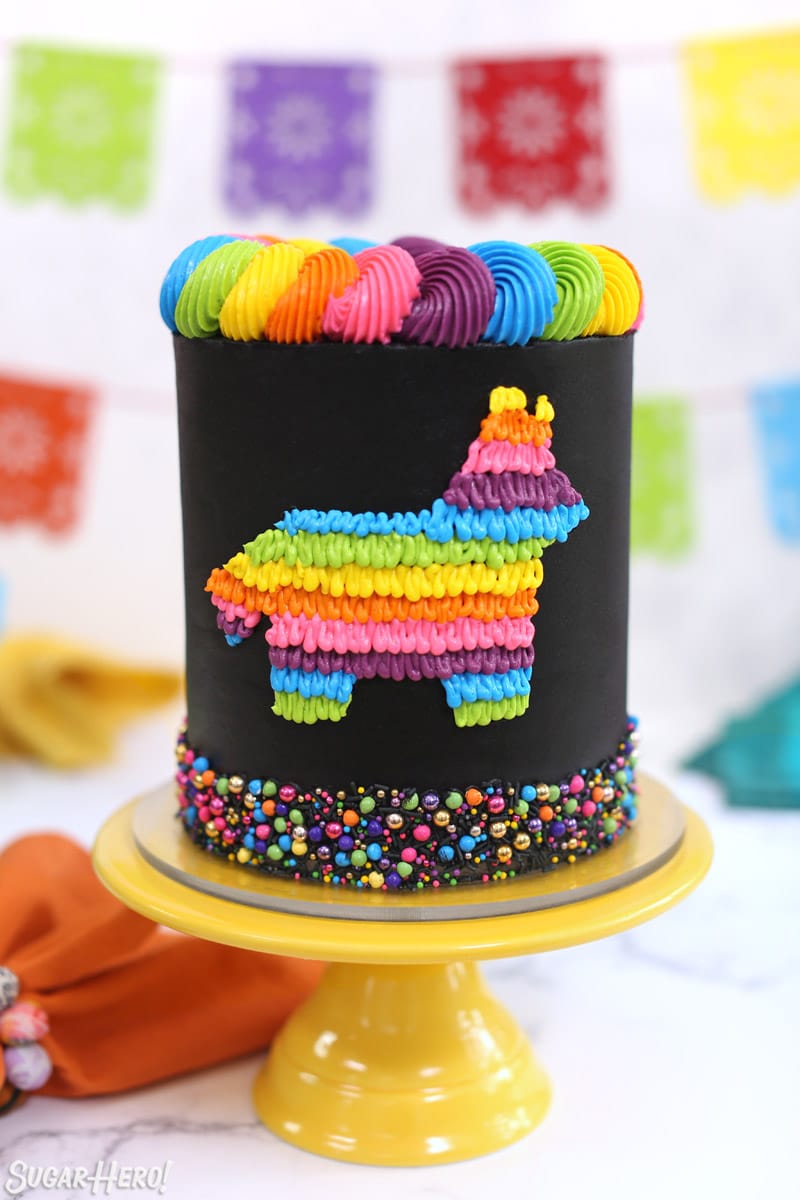 🎉 What IS a piñata cake?
What's the only thing better than a tall chocolate cake with rich chocolate buttercream? A tall chocolate cake, with rich chocolate buttercream, packed full of CANDY that comes pouring out when you cut into it!
Yep, piñata cakes are inspired by piñatas–you know, those cardboard and tissue paper characters that are filled with goodies and then attacked by sugar-crazed, bat-wielding children at birthday parties. But instead of whacking a cardboard princess to get at stale lollipops and toys, you just cut a slice from an innocent-looking cake, and candy pours out instead!
Piñata cakes are the best of both worlds – you get a delicious slice of cake, served with a side of candy! Kids love them, of course, but they're not just for kids. The spectacle of the candy pouring out turns any gathering from a ho-hum party into a par-tay!
🍬 The ultimate chocolate cake with candy inside!
It was important to me that this piñata cake not only look amazing, but taste amazing too. That's why it's made with eight (eight!!!) layers of tender homemade chocolate cake, an ultra-dark and rich black chocolate buttercream, vanilla buttercream for those bright neon colors, and–of course–glimmering candy-coated chocolate inside.
If you're looking for more amazing chocolate layer cakes, don't miss our Agate Cake, Mint Chocolate Chip Cake, or decadent Rocky Road Cake!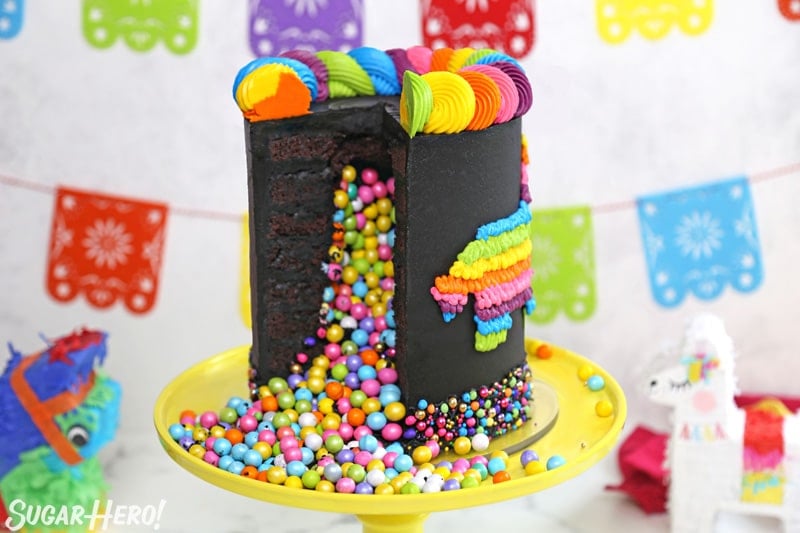 Table of Contents
🧾 What You'll Need
There are 3 main components to this cake:
chocolate cake
black (chocolate flavored) buttercream
vanilla buttercream
I'm providing all of the recipes for you down in the recipe card, so you can make it exactly as shown in the pictures and video!
However, if you have a favorite cake recipe, chocolate buttercream, or vanilla buttercream recipe, you are welcome to swap them in instead! The assembly and decorating tutorial will work with a variety of cake and frosting types.
Important: Just be sure that any cake you use is sturdy enough to be stacked into a tall layer cake (I don't recommend cake mixes for this reason), and that your frosting is medium to medium-stiff consistency.
Having said that, here are some specific notes about the ingredients and equipment used in this recipe! Whenever possible, I've linked the exact products I used to help you find them.
Ingredient Notes
🥄 Equipment
You will need some standard cake-decorating tools to make this cake, and I've also included a few optional tools that will make your cake life much easier! If you don't have all of these items, you can modify the assembly or design to work with what you have. (Links are affiliate links and I earn a small commission from qualifying purchases.)
Must-Haves
Nice-to-Haves
Acrylic Discs:

you'll see me using these discs to frost the cake in the video. These are definitely optional, but I LOVE mine–it makes getting smooth, straight sides and razor-sharp corners a breeze! I'm using 6.5″ discs from CakeSafe.

Super-tall scraper:

this 10″ straight edge is a lifesaver for extra-tall cakes! If you don't have one you can always use that metal spatula we talked about earlier, but if you'll be making a lot of cakes, it's worth it to invest in a tall scraper.
⏲ Let's Talk Timing
If it wasn't obvious from the 12-page recipe, this is a bit of a project! (I kid about the 12 pages…kinda.) It's a FUN project, and completely worth your time, but just know that it's not the kind of cake you bust out 45 minutes before company is due to arrive.
I strongly encourage you to break this cake assembly up into a few days, if possible. Here's why:
The frosting really needs at least a day to develop the best colors. You'll get a deeper, richer black, and brighter, more vivid neons, if you color the frosting and then let it sit overnight.
There are multiple long chilling times during the cake assembly. A cold cake is an easier cake to work with, and you don't want to cut corners, especially when cutting corners means your cake is tilting like the leaning tower of Pisa and sliding all over your turntable!
And finally, most importantly: you'll have more fun making it if you're not stressed, and you'll do your best decorating if you're not sweating the clock. Baking should be fun, so set yourself up for success from the start!
⏰ Recommended Schedule
Here is my ideal schedule for putting together this cake:
Day 1: bake the cake layers, wrap them well, and put them in the freezer. Make and color all frosting, wrap well, and leave at room temperature or in refrigerator.
Day 2: Assemble the cake layers, fill with candy, and crumb coat. Chill well, then do the final frosting coat.
Day 3: Decoration day!! Add the sprinkle border, pipe the piñata design, and finish with the thick rope border.
Do you have to do it this way? Of course not! But please read through the recipe before starting to figure out what kind of timing and schedule will work for you!
🐴 Get the Donkey Piñata Template
You can decorate this piñata cake however you'd like! But if you'd like to recreate this cake and do a donkey piñata design, you can download the pdf here.
Print this design out on cardstock and cut it out. Trace around it on your cake to create a cute donkey piñata shape.
💡 Tips
It's easiest to cut this cake when it is still chilled, but not straight from the refrigerator. (You want the stability of the cold to keep the slices intact, but straight from the fridge can make the frosting extremely hard.)
The candy will roll everywhere once it's cut, so put it on a rimmed cake stand or plate if you want to avoid that! Cut the cake into slices (don't forget to ooh and aah as the candy pours out) and serve with a few pieces of candy on the side of the plate!
For the best taste and texture, enjoy this cake at room temperature. Cold cake and frosting is great to cut, but mediocre to eat. Store leftovers, covered, at room temperature for 3 days or in the refrigerator for up to a week.
🎂 More Fun Party Cakes
If you like this piñata cake, I already know you love a good party cake! Try one of these fun ideas: