Happy Monday!
…Just kidding, there's no such thing as a happy Monday, but wishing everyone a "Middling Monday" just didn't have the same ring to it. At my house we're still recovering from a crazy weekend  that included my son's birthday party (yay) and yet another ear infection (boo). I have some fun Easter desserts in the pipeline, but before I get to those, I wanted-needed!-to share these Marbled Easter Egg Truffles with you.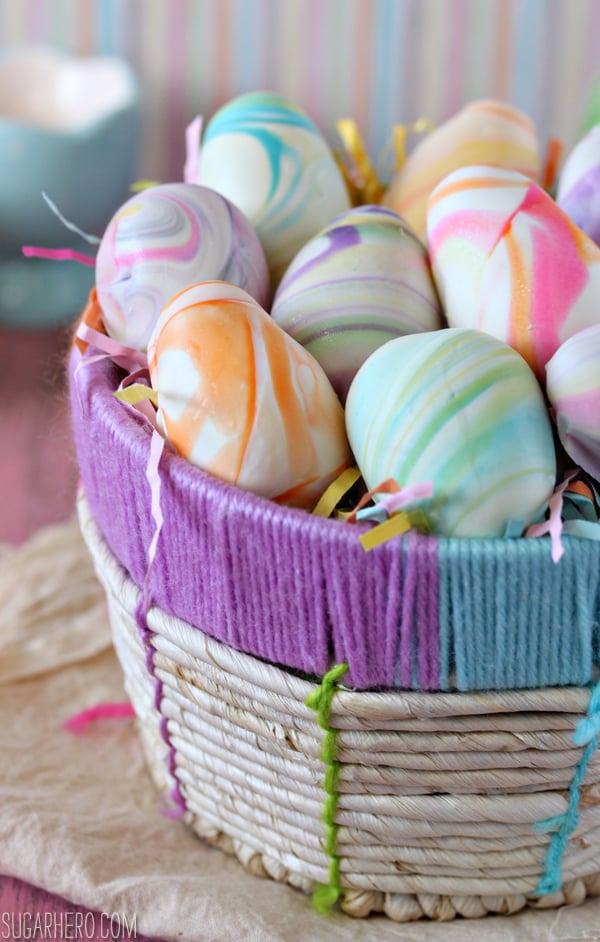 These truffles were one of a few projects that I recently did for the Better Homes & Gardens website. (I'll highlight the others soon!)  They asked for "pretty food" recipes and ideas, and I immediately thought of making some beautiful, Easter-themed truffles.
As a candyholic it's probably no surprise I'm obsessed with homemade Easter candy. I've never been a jelly bean girl, and let's be real–the vast majority of other "Easter candy" is just regular candy with a bunny slapped on the packaging. What's so special about that? I much prefer to go the DIY route and make my own Easter goodies.  (I'm not mad about buying Easter candy on clearance after the fact, though.) Here's another good thing about making your own: since eggs are basically wonky ovals, making egg-shaped candies is truly the easiest thing in the world. The less you worry about perfection, the better they turn out. Round truffles are hard to get right. Egg-shaped ones? Not so much!
These truffles start with a base of creamy white chocolate ganache–and no, it's not caramelized this time around. We want a pure white base so that the decorations can pop against a blank canvas! The filling is firm enough to roll and dip easily, but still smooth and supple when you eat it. The real focus of this dessert, though, is the marbling technique. It's another one of those "seems-more-complicated-than-it-is" maneuvers. It basically involves drizzling colors into a bowl, then dunking the truffles into it–so if you can drizzle and dunk with gleeful abandon, then you're good. The random nature of the marbling pattern works in your favor, because no two eggs will ever be alike.
These would make a beautiful addition to an Easter basket, or a nice dessert or hostess gift for Easter dinner! The full recipe, along with tutorial pictures, can be found here on the Better Homes & Gardens website.