This post may contain affiliate links. Please see my disclosure policy for more information.
With these Easter Basket Cupcakes, you can transform plain cupcakes into adorable miniature Easter baskets! They're cute, easy, and kids will love helping you decorate them!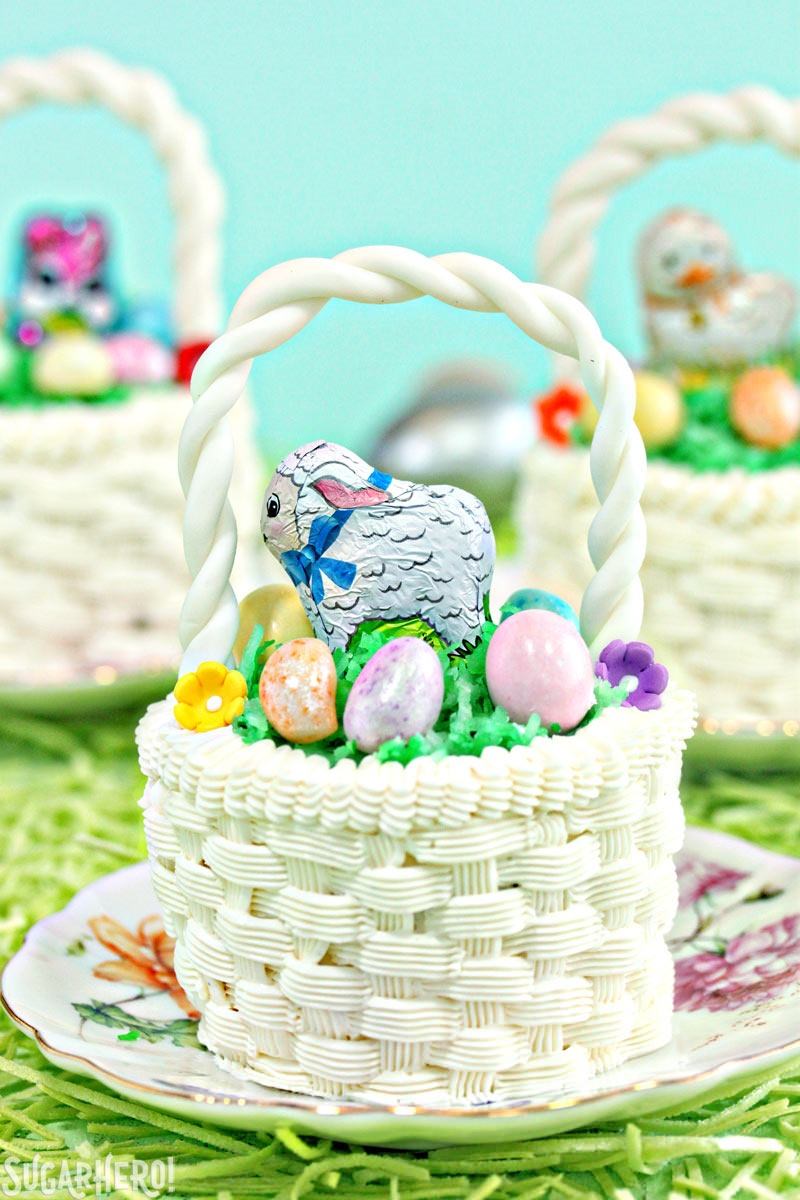 I don't know about you, but something strange happens to me when I walk down an aisle full of Easter candy. No matter what kind of mood I was in previously, or what my dinner/diet/spending intentions are, I am immediately in a good mood and want to buy ALL OF THE THINGS and make ALL OF THE TREATS. Is there some weird chemical, maybe a key component in pastel food coloring, that induces feelings of happiness and also possibly compulsive buying and baking? Because I think it's targeting me specifically.
Let me be clear: I have a huge box of Easter candy already. I DO NOT NEED MORE. If it has a bunny or a chick on it, or is made in an egg shape, chances are it is in my house right now. But I STILL can't resist walking down the aisles and seeing all of the candy choices in all of their cheerful glory, and dreaming about what desserts I want to make with them.
FREE EASTER RECIPES E-BOOK!
Subscribe to the SugarHero mailing list and get a free recipe book!
10 Easy, Cute, & Kid-Friendly Easter Treats!
So if you're an Easter candy addict like me, I'm happy to tell you that in the next few weeks, I'm going to be giving you some recipe ideas for what to do with all of those impulsively purchased goodies. (Besides eat them, of course!)
First up: Easter Basket Cupcakes!
These cuties start with jumbo chocolate cupcakes. (Theoretically, you could probably use regular-sized cupcakes, but that is a TINY decorating surface and you might be sad when it comes time to pipe the designs on the outside, so consider going jumbo to save yourself the headache.) They're filled with raspberry jam, just 'cause I think that's a pretty delicious combination, but you can skip it or use Nutella, lemon curd, etc.
Then, they're decorated with a fancy-pants technique I'm going to teach you in…oh, one paragraph or so…and finished with green coconut "grass," a bunch of your favorite Easter candies, and a fondant (or licorice) basket handle. Cute? Too cute! Let's do this.
So the basketweave design looks tough, but it's pretty simple once you understand the spacing of it all. You'll need a basketweave tip to create this look. They come in different sizes, and I used this small one (#46) for the cupcakes. So here's whatcha do:
1. Pipe a vertical line –if you're decorating the sides of a cake, it should go from the bottom all the way to the top.
2. Pipe horizontal lines across the vertical line. Space them so that the amount of negative space between each line is the same width as the horizontal lines. (You can use a ruler, or just use the width of your piping tip as a rough guide.) Start the lines before the vertical line, and drag them out past the end of the vertical line.
3. Pipe a second vertical line running next to the first, with just a bit of space in between them—leave enough space so that your piping tip can fit in between.
4. Now pipe more horizontal lines on top of the second vertical line, but this time, put them in the gaps where the first set of horizontal lines did not go. To make these lines, insert your piping tip between the two vertical lines, and pipe it over the second vertical line and beyond. The idea is to create the illusion that these strands of frosting were running under the vertical lines, and are just now coming out and peeking through.
5-8. Add a third vertical line, and then add more horizontal lines—this time, with the same spacing as the first set. As you continue the pattern, the illusion of the frosting "weaving" in and out of itself quickly becomes apparent. And that's it!
Easter Basket Cupcakes
With these Easter Basket Cupcakes, you can transform plain cupcakes into adorable miniature Easter baskets! They're made with chocolate cupcakes, vanilla buttercream, and all of your favorite Easter candies! A note about the handles: the fondant handles should be made a day in advance, to give them time to harden before assembly. If you don't have that time, or don't want to bother with them, you can substitute licorice handles instead, or skip the handles entirely.

Ingredients
For the Chocolate Cupcakes:
6

oz

butter

,

at room temperature

4.75

oz

granulated sugar

,

(2/3 cup)

5

oz

brown sugar

,

(2/3 cup)

2

eggs

,

at room temperature

2

tsp

vanilla extract

8

oz

buttermilk

,

(1 cup), at room temperature

4

oz

sour cream

,

(1/2 cup), at room temperature

2

tbsp

water

7.8

oz

all-purpose flour

,

(1¾ cups)

3

oz

unsweetened cocoa powder,

(1 cup)

1½

tsp

baking soda

½

tsp

salt
For the Swiss Meringue Buttercream:
9

egg whites

14

oz

granulated sugar

,

(2 cups)

1

lb

unsalted butter

,

soft but still cool

1

tbsp

vanilla extract

1/4

tsp

salt
Instructions
To Make the Fondant Handles:
Divide the fondant into 12 equal portions. Cover a baking sheet with waxed paper or parchment and dust it lightly with powdered sugar.

Dust your work surface with powdered sugar, and roll one fondant ball out into a long skinny snake. Fold it in half, so you have two fondant ropes next to each other, and twist them together. Arrange the fondant twist into a horseshoe shape, and set it on the prepared baking sheet. Repeat with the remaining fondant until you have 12 basket handles. Let them sit and harden for 24 hours before putting them on the cupcakes.
To Make the Chocolate Cupcakes:
Spray a jumbo muffin pan with nonstick cooking spray. Preheat the oven to 350 F.

Add the butter and both sugars to the bowl of a large stand mixer fitted with a paddle attachment. Beat them together on medium-high speed, until light and fluffy, about 5 minutes. Add the eggs one at a time, beating well after each addition. Add the vanilla extract and mix it in.

In a separate bowl, whisk together the buttermilk, sour cream, and water (or coffee, if using). In a different bowl, sift together the flour, cocoa powder, baking soda, and salt. With the mixer running on low, add a quarter of the sifted flour mixture. When the flour streaks have almost all disappeared, add a third of the liquid to the mixing bowl. When that's incorporated, continue to add the drys and wets in an alternating pattern, ending with the dry ingredients.

When the dry ingredients are nearly incorporated, stop the mixer. Scrape down the bottom and sides of the bowl with a rubber spatula, and finish mixing the cake by hand. Divide the batter into the jumbo muffin tin and bake at 350 F for 23-25 minutes, until a toothpick inserted into the center comes out with just a few moist crumbs attached. Cool the cupcakes completely before using.
To Make the Swiss Meringue Buttercream:
Combine the egg whites and the granulated sugar in the bowl of a large stand mixer, and whisk them together. Choose a small saucepan that lets you fit the base of the stand mixer snugly into the top of the saucepan—this is your makeshift hot water bath. (Alternately, you can use a different bowl or an actual bain marie and then transfer the mixture to a mixing bowl once it's heated.) Add an inch of water to the bottom of the saucepan, and bring the water to a simmer.

Place the mixing bowl on top of the saucepan, making sure that the bottom isn't in contact with the water, and heat the egg white mixture. Whisk frequently so that the egg whites don't cook. Continue to heat the whites until they are hot to the touch, and when you rub a bit between your fingers, you don't feel any grittiness from the sugar. Once the whites are hot, transfer the mixing bowl to your mixer and fit it with a whisk attachment.

Beat the whites on medium-high speed until they are a shiny, stiff, voluminous meringue, and are no longer warm to the touch—feel the outside of the bowl, and make sure that it is around room temperature. Depending on your mixer and the temperature of your environment, this may take 15-20 minutes, or more. Reduce the speed to medium-low and add the softened but cool butter in small chunks, a tablespoon at a time, making sure to wait in between additions. It may separate or look a little gloopy at this point—fear not. Once all of the butter is added, increase the speed again and whip until it comes together and is light and fluffy. If, after 5 minutes, it hasn't come together, refrigerate the mixing bowl for 5-7 minutes, to cool the mixture down, and whip it again until it has thickened and is smooth and silky. Add the vanilla extract and salt.

The buttercream can be made in advance and kept at room temperature if you're going to use it the same day, or refrigerated. If it has been chilled, let it sit at room temperature until completely soft, then re-whip it to get the smooth texture back before you use it.
To Assemble:
Remove the cupcakes from the muffin pan. Take a sharp knife and cut a cone-shaped portion from the center of each cupcake. Fill the hole with a scoop of raspberry jam, coming almost all the way to the top. Cut the bottom off of the cone, and replace the top of the cupcake on top of the jam.

Next, trim around the edges of the cupcakes to remove any overhang and make the sides straight. Place each cupcake on a small plate or cardboard round.

Use a small spatula to spread a thin layer of buttercream over the top and sides of all of the cupcakes. It doesn't have to be pretty or even, it's just to trap the crumbs in and give you a blank canvas for piping.

Fit a piping bag with a small basketweave tip, and fill it with buttercream. Pipe a basketweave design on the sides of the cupcakes, and pipe a zig-zag around the outer edge of the tops.

Place the coconut and a few drops of green food coloring together in a plastic bag, and rub them together until the coconut turns an even shade of green. Fill the inside of the cupcakes with green coconut, chocolate bunnies, and candy eggs. Finally, insert a fondant handle into the top of each cupcake, pressing down so it's firmly embedded in the cake.
MEASURING TIPS
Our recipes are developed using weight measurements, and we highly recommend using a kitchen scale for baking whenever possible. However, if you prefer to use cups, volume measurements are provided as well. PLEASE NOTE: the adage "8 oz = 1 cup" is NOT true when speaking about weight, so don't be concerned if the measurements don't fit this formula.
Click here to learn more about baking measurements and conversion.
Nutrition
Calories:
750
kcal
|
Carbohydrates:
85
g
|
Protein:
7
g
|
Fat:
46
g
|
Saturated Fat:
28
g
|
Cholesterol:
146
mg
|
Sodium:
493
mg
|
Potassium:
252
mg
|
Fiber:
3
g
|
Sugar:
64
g
|
Vitamin A:
1430
IU
|
Vitamin C:
1.3
mg
|
Calcium:
75
mg
|
Iron:
2.2
mg
Share by Email
Share on Facebook
Share on Pinterest
About Elizabeth LaBau
I'm Elizabeth, but you can call me SugarHero! I'm a former pastry chef turned blogger, cookbook author, and baking instructor, and I consider myself sugar's #1 fan. Learn more from my About page, or connect with me on social media: