Culinary Lavender for cooking and baking
The lavender plant has a lot going for it. It's beloved by gardeners (and bees!) for its bold purple flowers, and its delicate scent is a common room freshener and perfume ingredient.
But around here, we love lavender for a different reason: it is a DELICIOUS addition to all kinds of desserts! When used correctly, lavender imparts a unique floral flavor that can turn ordinary baked goods into extraordinary treats.
This guide will tell you everything you need to know about baking with lavender, including the right kind of lavender to use, where to get it, and how to add lavender to your favorite recipes.
Table of Contents
What is the best lavender for eating?
Not all lavender is created equal – there are many different varieties of lavender plants, and some are better for baking than others. The lavender species that are best suited for cooking are colloquially called "culinary lavender."
The best lavender for eating is from the species Lavandula Angustifolia, commonly known as "English Lavender." These plants have a sweet floral flavor that works beautifully in all kinds of desserts.
Can you eat non-culinary lavender?
Yes, all lavender is technically edible. But other species of lavender work better as ornamental plants and not kitchen ingredients. Non-culinary lavender has a higher camphor content which can make your baked goods taste soapy, wooden, or slightly bitter. It's not dangerous to eat, but you will probably be unhappy with the flavor of your dish.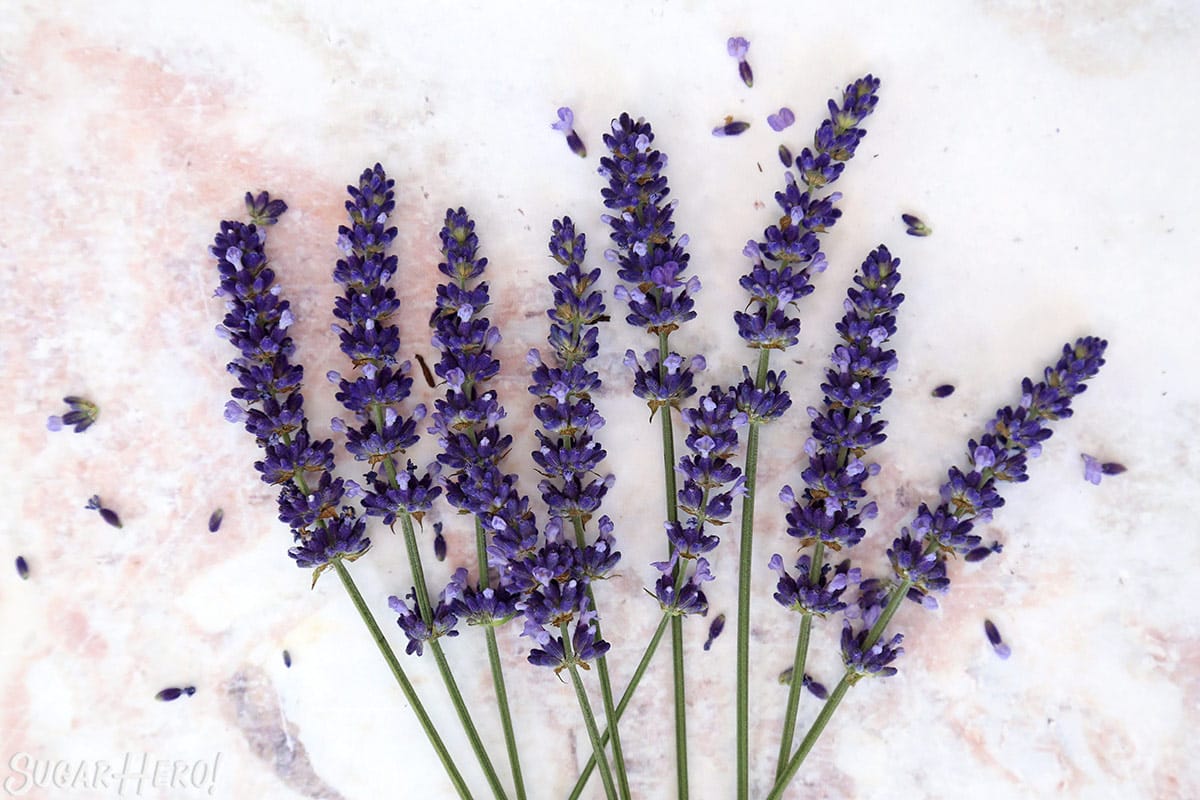 Where to buy culinary lavender
When it comes to culinary lavender, you have two options: buying dried lavender buds, or buying live lavender plants.
Choosing dried lavender
Dried lavender can be found in a variety of places. Check specialty spice shops, gourmet cooking stores, health food stores, or even your local grocery store – some large supermarkets stock it in near the spices in the baking aisle. I have also had good luck finding cheap culinary lavender at Cost Plus World Market, if you have one of those nearby.
Can't find it in stores? No problem – dried culinary lavender is easy to find and purchase online.
When choosing dried culinary lavender, ensure that it is labeled for culinary use. Look for vibrant purple buds with a strong, aromatic scent. Avoid lavender that appears dull brown or gray, as it may have lost its flavor and potency.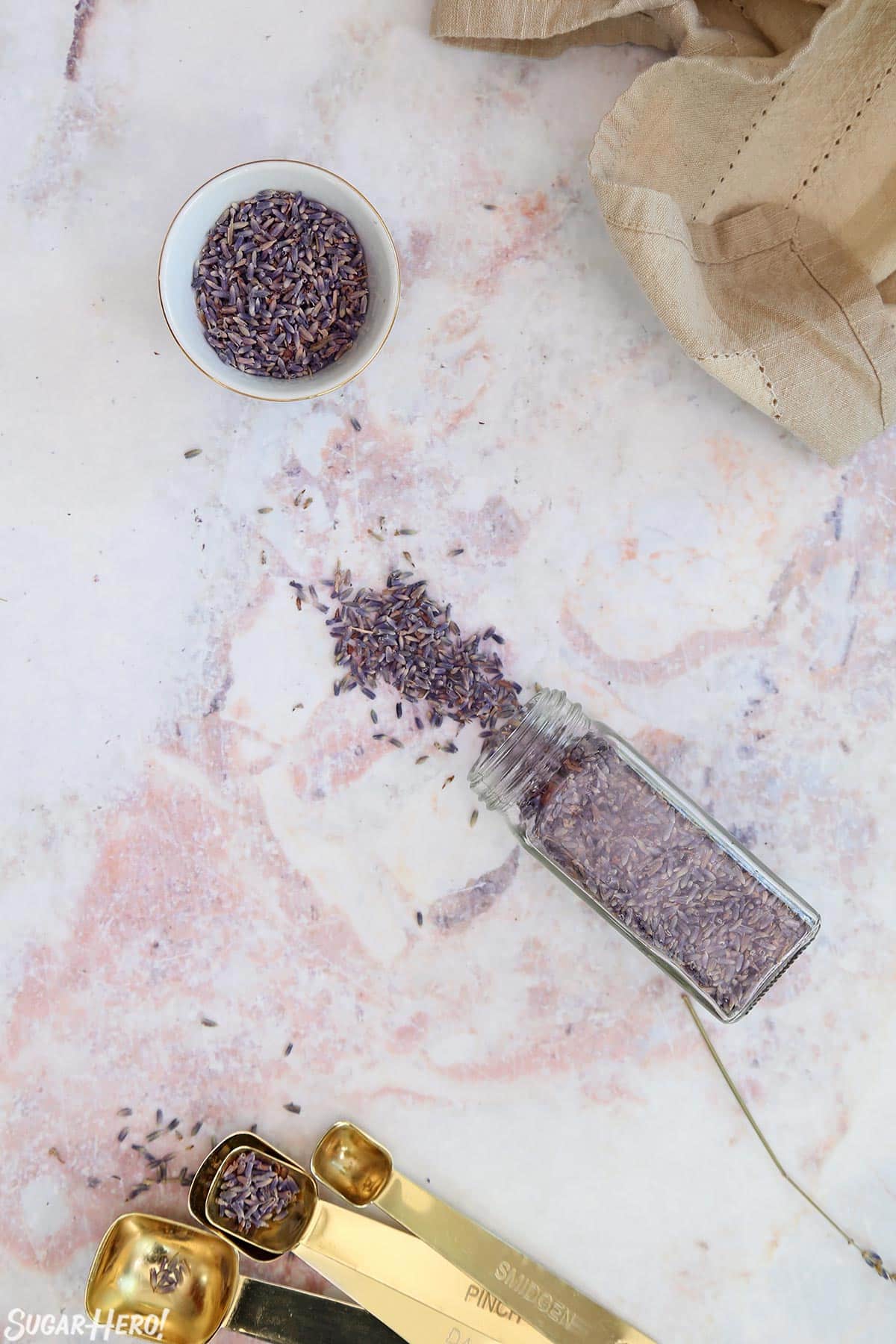 Choosing Fresh Lavender
If you have a green thumb (or a purple thumb?) you might be more inclined to purchase a fresh lavender plant, so your taste buds and your garden can both benefit.
This is when it is especially important to be sure you are getting the correct lavender species (Lavandula Angustifolia!). Home improvement stores and nurseries often stock different varieties, and you don't want to end up with non-culinary lavender by mistake.
Be sure that your lavender plant is free from any pesticides or chemicals. Whole Foods and Trader Joe's can be good sources of potted culinary lavender plants.
Harvest your fresh lavender just before it reaches full bloom for the best flavor. Rinse the flowers gently and pat them dry before using. Fresh lavender is more potent than dried, so use it sparingly to avoid overwhelming your baked goods.
How to add lavender flavor to food
Ready for some flower power in the kitchen? The most common ways to add lavender flavor to your baked goods are either infusing a liquid with lavender, or incorporating the dried buds directly into the recipe. (You can also use lavender flavoring extract, but for our purposes we're sticking with real lavender plants.)
Infusing lavender
This method works best if your recipe includes a fair amount of a liquid, like water or milk. Pour a bit more liquid than the recipe calls for into a saucepan, and bring it to a simmer. Once simmering, add the fresh or dried lavender, remove the pan from the heat, cover it, and let it steep, to infuse the liquid with lavender flavor. Strain the lavender buds out before using the liquid in the recipe.
The amount of lavender and the length of time really depend on the recipe, quantity of liquid, and how strong you want the flavor to be. A good starting point is 2 TBSP dried lavender, or 1 TBSP fresh, to 1 cup of water or milk. Let it sit for 15 minutes and then taste it to check the flavor, and let it sit longer if you want a more intense taste.
Try it: check out my recipe for Lavender Syrup. This easy simple syrup adds a fresh lavender taste to all kinds of drinks, from coffee to lemonade!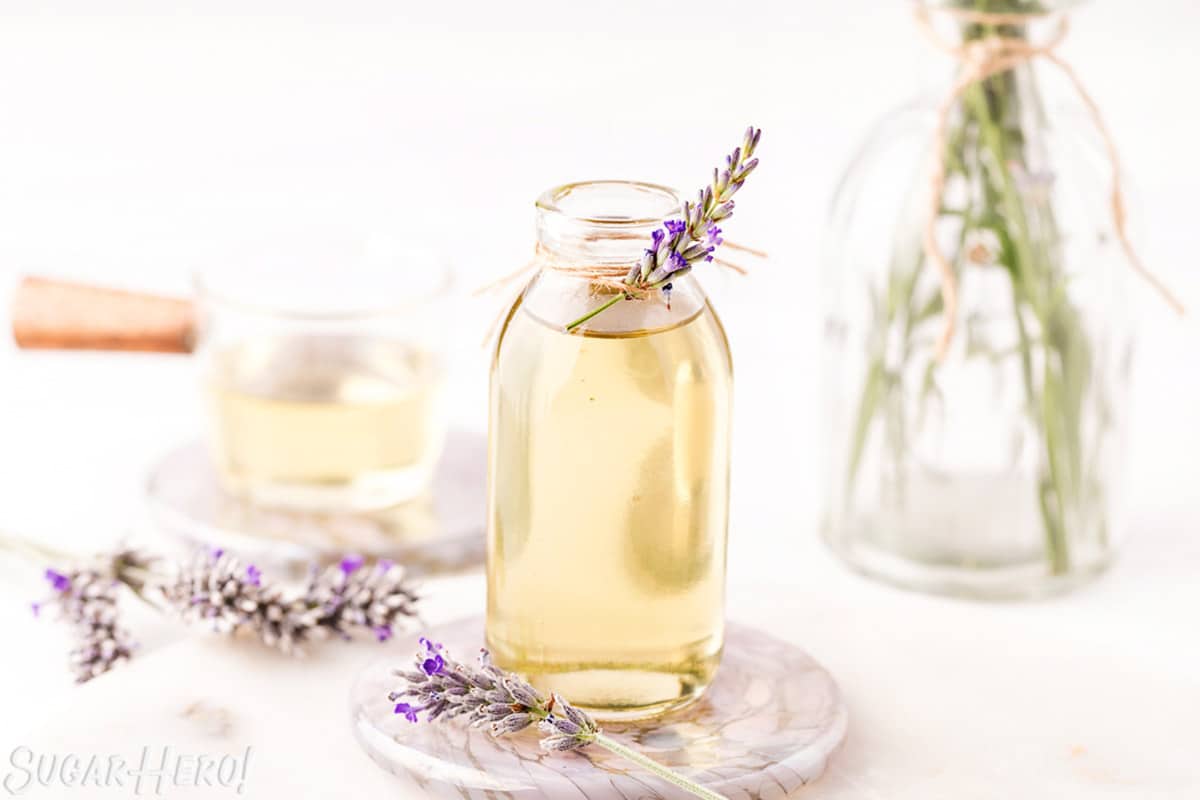 Adding lavender directly to food
My favorite way to incorporate lavender in food is via lavender sugar. It's easy to make: just grind dried lavender buds with granulated sugar, and use it in place of sugar in your favorite baking recipes.
Using lavender sugar ensures that the lavender flavor is evenly distributed throughout the recipe, and you don't have to worry about the texture dried lavender buds might add to your baked goods.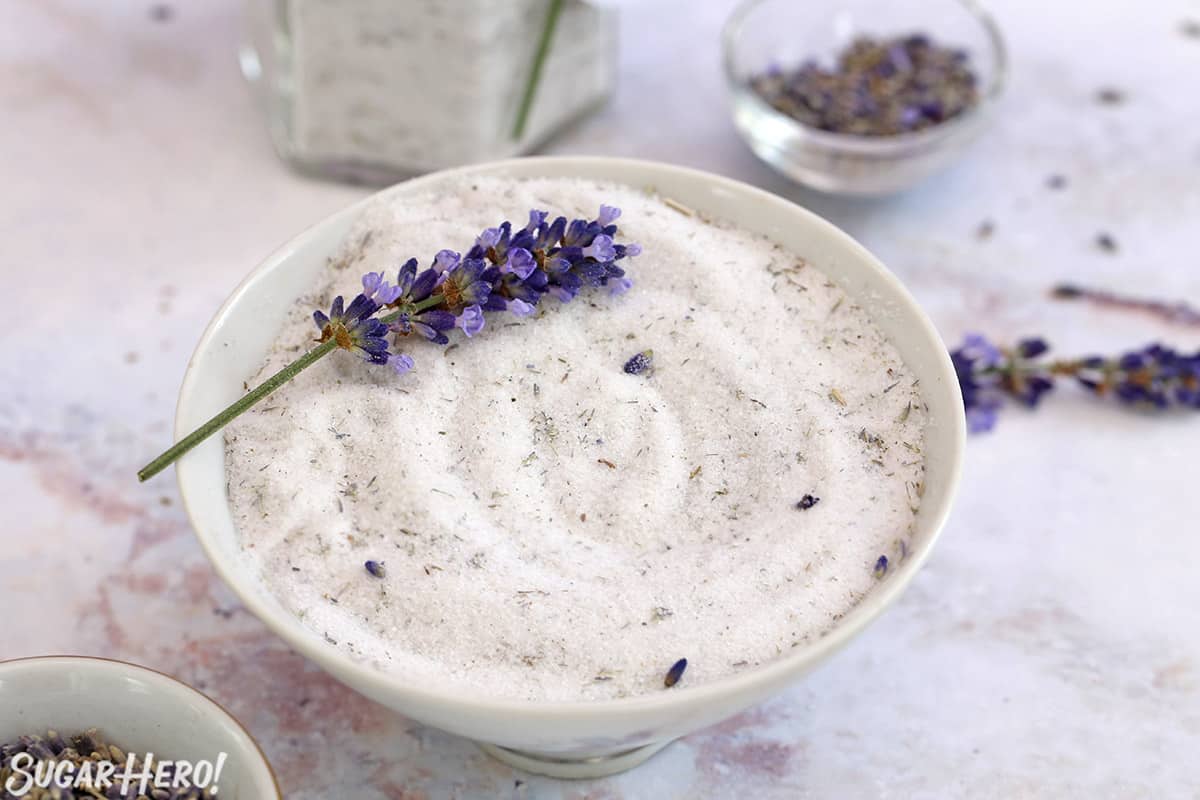 💡 Tips for baking with lavender
Use culinary lavender sparingly, as its flavor can be overpowering if used excessively.
Start with a small amount of lavender and gradually increase the quantity to suit your taste preferences.
When using fresh lavender, remember that it is stronger than dried lavender, so use about half, or even one-third, the amount in the recipe.
Choose recipes with more subtle flavors, so the delicate lavender flavor can really shine. Sugar cookies, pie crusts, and shortbread are all great options.
If you want to add lavender flavor to drinks, use the infusion method, or make lavender simple syrup
Store your dried lavender buds in an airtight container in a cool, dark place away from direct sunlight. When stored properly, lavender can retain its flavor for up to six months.