This post may contain affiliate links. As an Amazon Associate I earn from qualifying purchases. Please see my disclosure policy for more information.
This Lavender Rose Ice Cream is so delicate, light, and ethereal. The floral tones melt in your mouth in perfect unity.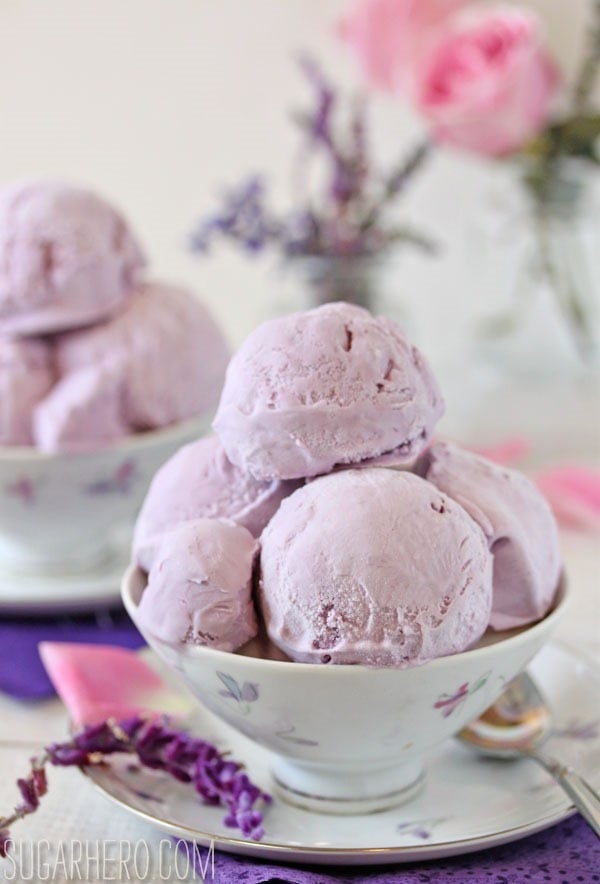 With this recipe, my transition into Official Old Lady is complete.
The truth is, I've had old lady tendencies my whole life. One of my favorite hobbies is talking scornfully about kids these days, and I've been yelling at (proverbial) punks to get off my (proverbial) lawn for at least the last decade. I'm basically one Matlock episode shy of a nursing home. However, nothing says "little old lady" like a fondness for food that tastes like lotion smells.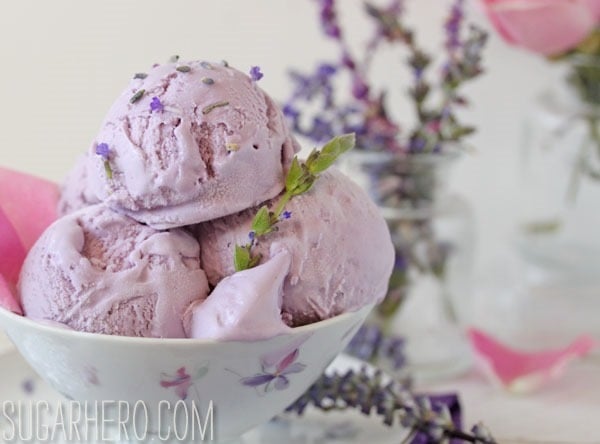 I used to be staunchly anti-floral anything. But gradually—I don't know when this shift occurred—I changed my mind. I think it started when I made a batch of raspberry-rose truffles. "These aren't so bad," I thought. "In fact…they're quite good. They're delicious." In retrospect, those truffles were obviously trouble, and I should have known raspberry was a gateway food.
Pretty soon I was infusing lavender into chocolate pies and adding rose whipped cream to pistachio tarts with wild abandon. With this recipe, though, I've given up all pretense of the floral flavor being a supporting player and put it front and center, with not one but TWO flowers lending this smooth ice cream their light, spring-y flavor.
Your enjoyment of this ice cream will depend on whether you have Old Person Tastebuds like me, but if you do—watch out! I couldn't stop eating this. It's so delicate, so light, so ethereal, it's easy to chow down and demolish a bowl without realizing it. (Don't worry—it's nothing a little mall walking in my most stylish sweat suit can't fix.)
This ice cream is perfect plain, or you could serve it with buttery shortbread cookies, berry desserts, or perhaps some kind of pistachio or almond cake. Maybe scoop yourself a big bowl while watching a Murder, She Wrote marathon? Just a thought.
More Floral Desserts🌸
Lavender Simple Syrup
Lavender simple syrup is the secret to making amazing lavender-scented cocktails, coffee, lemonade, and much more! All you need are three ingredients and a few minutes to make this versatile floral sugar syrup.
Get the recipe!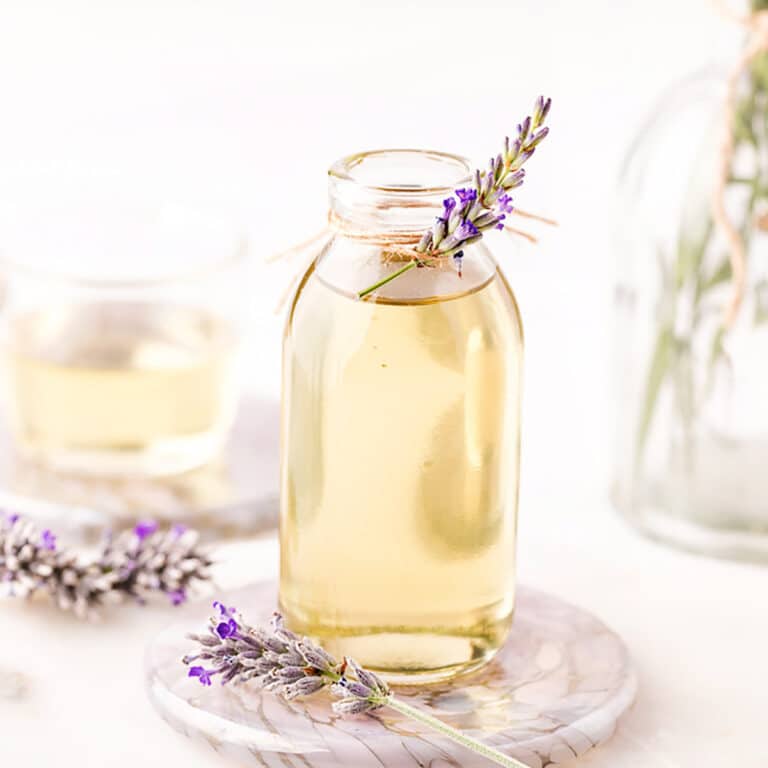 Raspberry-Rose Cake
This Raspberry-Rose Cake is a light cake layered with bright raspberries and soft, rose-scented whipped cream. It's easy to make, flavorful, and stays moist for days!
Get the recipe!
Lavender Rose Ice Cream
This Lavender Rose Ice Cream is so delicate, light, and ethereal. The floral tones melt in your mouth in perfect unity.
Instructions
Combine the cream, milk, and lavender in a medium saucepan over medium heat. Bring the cream to a simmer, then remove the pan from the heat and cover it with a lid. Let it sit at room temperature for 30 minutes, to infuse the cream with lavender flavor.

After 30 minutes, add the sugar and salt to the bowl of cream and whisk them together, then put the cream back on medium heat. Put the egg yolks in a medium bowl nearby and whisk them gently. Bring the milk/cream mixture to a simmer, then when it just starts to come to a boil, remove the pan from the heat. Whisk the egg yolks while you slowly pour in about a third of the hot cream mixture, whisking constantly so the eggs heat up but don't cook during the process.

Now return the saucepan to the heat and start whisking the cream while you pour in the hot egg mixture. Continue to whisk as the custard cooks, and cook it until it thickens slightly and coats the back of a spoon. If you want to use a candy thermometer, you're shooting for 175 F (80C).

Take the pan from the heat and strain the ice cream custard through a fine mesh strainer into a bowl, to strain out the lavender and any bits of cooked egg. Whisk in the rose water, and a drop or two of purple food coloring, if desired. (Depending on the shade of your coloring, you might want to add a drop or two of pink as well, to give it more of a lavender-rose shade.) Continue to whisk occasionally as it cools.

Once at room temperature, press a layer of cling wrap on top of the custard and refrigerate it until it's completely chilled. (To speed up the process, you can place the bowl over an ice bath and whisk it as it cools down.)

Once the custard is fully chilled, churn the ice cream according to your ice cream maker's instructions.
Recipe Notes
Recipe Notes: Rose water is a culinary ingredient that is used to add a light rose flavor to dishes. It can sometimes be found in well-stocked supermarkets (look near the Middle Eastern foods or the baking section) or it can also be found on many websites. Amazon also sells rose water here.
MEASURING TIPS
Our recipes are developed using weight measurements, and we highly recommend using a kitchen scale for baking whenever possible. However, if you prefer to use cups, volume measurements are provided as well. PLEASE NOTE: the adage "8 oz = 1 cup" is NOT true when speaking about weight, so don't be concerned if the measurements don't fit this formula.
Click here to learn more about baking measurements and conversion.
Nutrition
Calories:
352
kcal
|
Carbohydrates:
28
g
|
Protein:
4
g
|
Fat:
25
g
|
Saturated Fat:
14
g
|
Cholesterol:
205
mg
|
Sodium:
41
mg
|
Potassium:
101
mg
|
Sugar:
26
g
|
Vitamin A:
1105
IU
|
Vitamin C:
0.8
mg
|
Calcium:
98
mg
|
Iron:
0.4
mg
Share by Email
Share on Facebook
Share on Pinterest

This post contains Amazon affiliate links. For more information, see my Affiliate and Advertising Policy.