These Butterscotch Pots de Creme are an easy and elegant dessert. They're silky smooth and have a deep caramelized sugar flavor that contrasts perfectly with a pinch of crunchy salt on the top.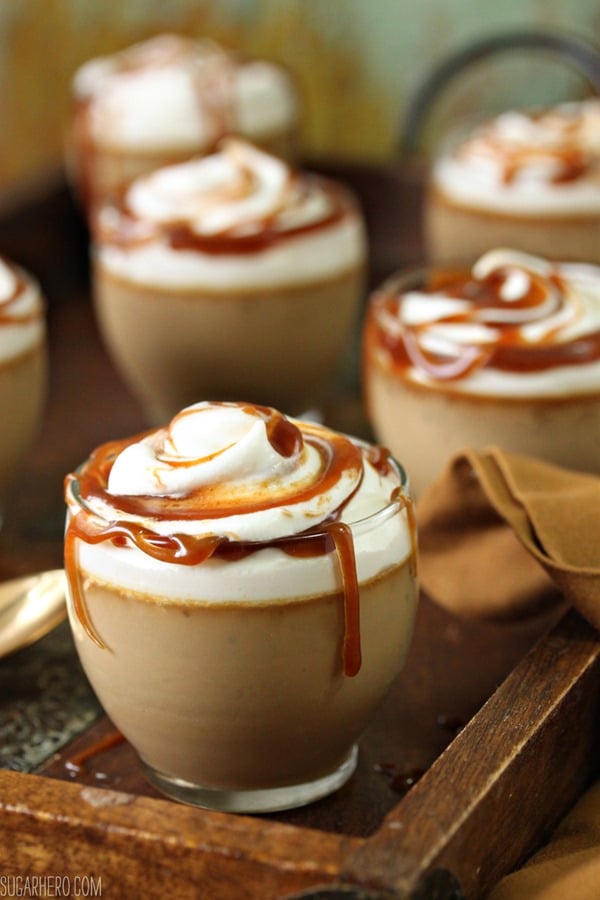 Helloooo, long-lost friends! Things have been a bit quiet around here lately, and I've missed you! I've had a crazy confluence of work and life stuff going on, and unfortunately it seems like it's going to continue for the next few weeks, so SugarHero might not be updated as frequently as I'd like. But I'm hopeful that I'll be back to my regular posting schedule very soon, so please stick with me!
Enough boring scheduling talk. Let's get to the real reason you're here: the sugar!
My friend Shauna Sever published her third book, Real Sweet, last month. It is a gorgeous cookbook full of recipes using natural sugars like coconut sugar, muscovado, turbinado, honey, and much more! I may fancy myself a sugar hero, but the truth is I often (unintentionally) limit myself to standard processed sugars like granulated, brown, and powdered. There's a whole wide world of other sugars out there, and Shauna's book does an amazing job of demystifying them, explaining each sugar's strengths and properties, and featuring them in some seriously mouth-watering recipes.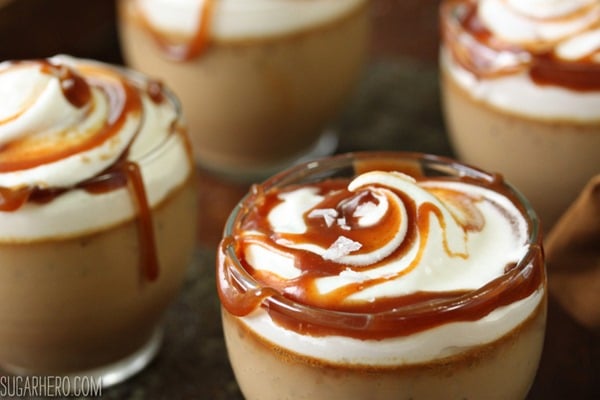 As I was flipping through the book, I had a hard time deciding which Real Sweet recipe I wanted to make first. Dark, fudgy brownies? A towering layer cake? A Toblerone tart? Just when I had decided to make the Caramelized Praline Spread, my eyes fell on the photo for Butterscotch Pots de Crème, and it was love at first sight.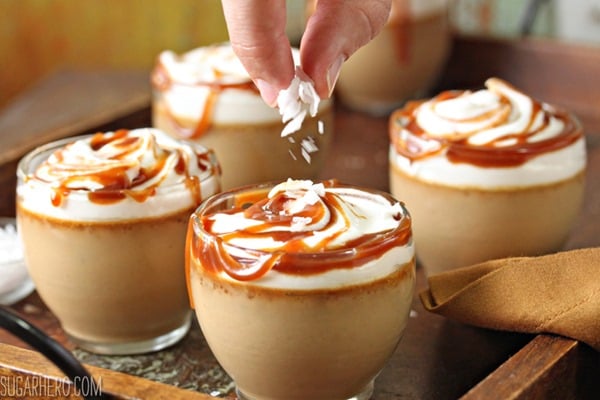 In the recipe's headnote, Shauna explains that her version is based off a dessert from a Los Angeles restaurant called Gjelina. *Record scratch* Hold up! I love Gjelina! I have forced friends to trek all the way to Venice for a meal at Gjelina, which is no small feat if you consider how many dang freeways exist between my house and the outer reaches of Venice. I have made many an inappropriate noise while eating dessert there, and I have regretted none of them. And if she'd cracked the code to recreating their butterscotch pot de crème, then GET OUT OF MY WAY, because I needed to start cooking this dessert immediately.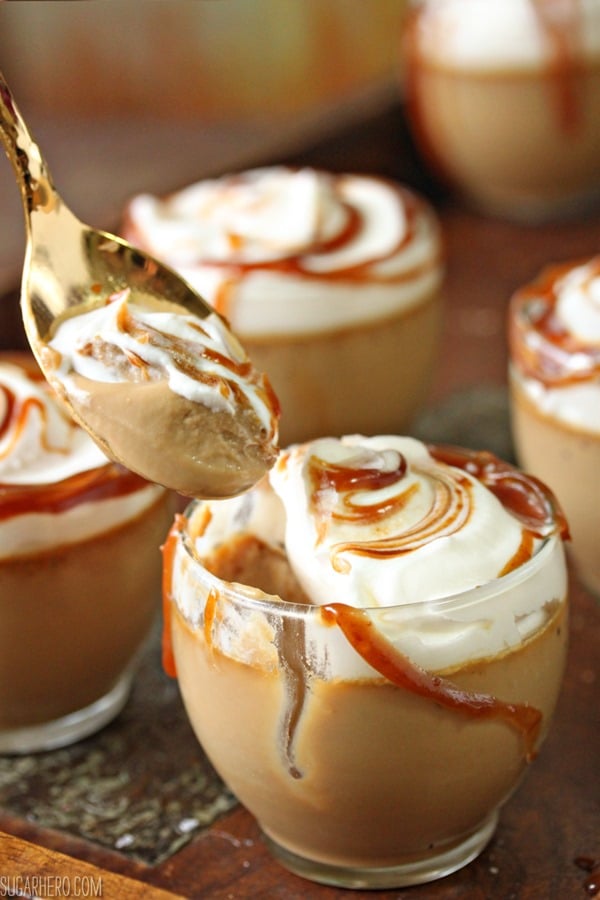 Friends, these pots de crème did NOT disappoint. They're made with muscovado sugar, which is what brown sugar wishes it could be when it grows up. It's super moist and has a strong, dark, earthy molasses flavor that perfumes the whole kitchen. The custards are cooked in a water bath and have a beautiful silky smooth texture that absolutely melts in the mouth. As per her recommendation, I topped them with softly whipped cream, big spoonfuls of buttermilk caramel sauce, and a pinch of crunchy, flaky sea salt. For a fun twist, try serving them in an edible Chocolate Bowl.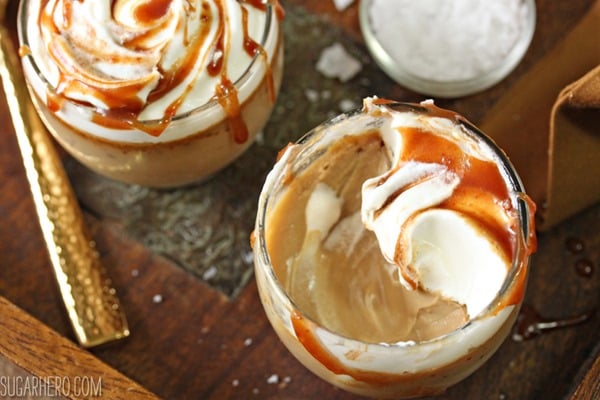 The buttermilk caramel sauce is marvelous, too. It's made with turbinado sugar and a mix of buttermilk and heavy cream, so it has a tangy flavor that keeps it from being too sweet and makes it more interesting than most salted caramel sauces out there. I cooked mine a little longer than recommended, because I like a thick caramel sauce with a lot of body, and it worked out beautifully.
❤️ More Creamy Desserts You'll Love