This Chocolate Pound Cake has a really deep cocoa flavor! This is my perfect pound cake: soft and plush inside, with a crackly top and a dark chocolate taste.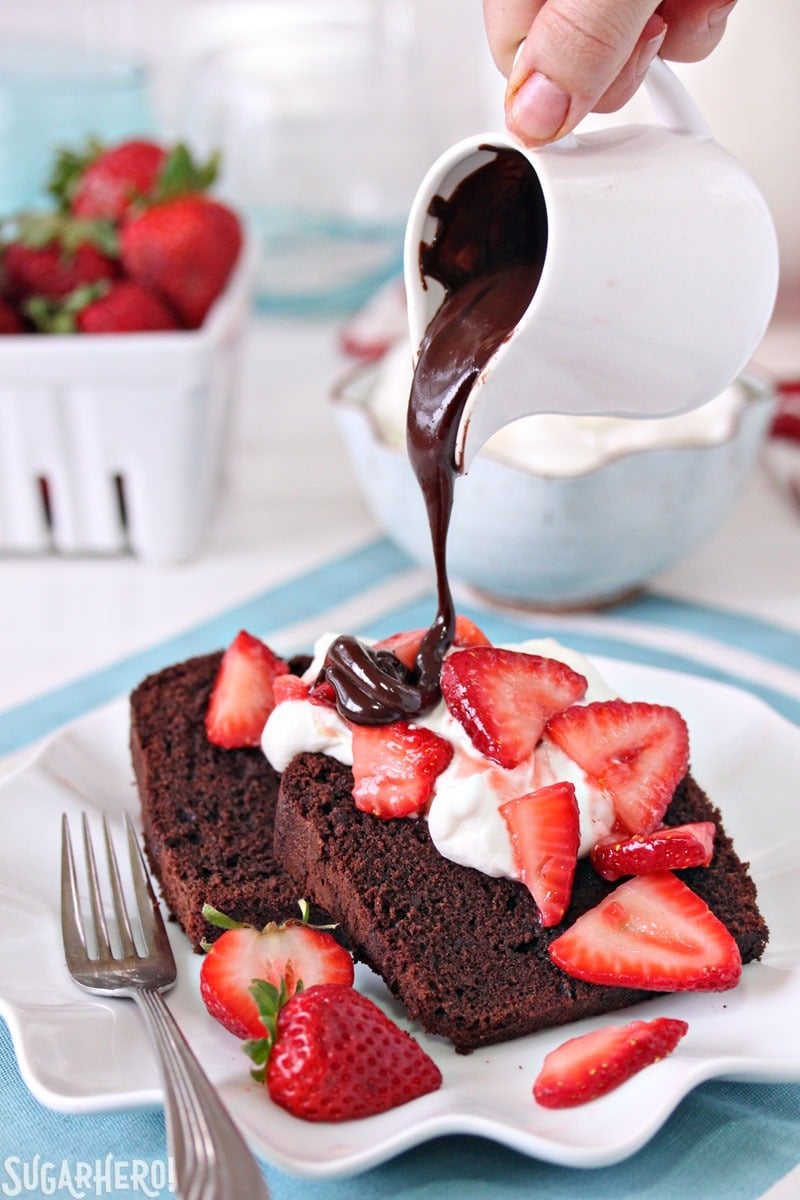 Whew! I'm back. We took a family vacation for a week and a half and I had the best of intentions. I brought my laptop + notebooks. I had a mile-long to-do list. I thought, "Asher still naps during the day. He goes to bed early every night. I'll have TONS of time to get great work done on our trip!"
Smash cut to me various scenes of me napping, reading, vegging, and doing everything in my power to avoid any sort of work. Whoops. No regrets because: vacation, but I do wish I was the type to schedule blog posts to go up in advance. (I'm not.) At any rate, absence has made the heart grow fonder and I am so very fond of SugarHero now. Let's do this thing! On with the show!
Today's recipe is deceptively simple. Chocolate pound cake isn't a tall, sexy layer cake or an ooey, gooey Pinterest-bait concoction, but it's still one of my favorites. Pound cake is like the little black dress of the dessert world: always in style, always appropriate, always delicious. You can serve it in slices like a quick bread and eat it from your hand, or you can fancy it up with berries, cream, or chocolate sauce and make it a proper dessert.
I actually made this recipe four different times before I found a version that I loved. I wanted it moist, moist, moist, so it would keep for days, in case there are crazies out there who manage to not eat all of their cake in one sitting. I also wanted it to have a really deep cocoa flavor—not one of those light brown chocolate-ish cakes that I've been disappointed by in the past.
Threading the needle between good texture and great flavor took a bit of tweaking, but I'm so happy with the end result! This is my perfect pound cake: soft and plush inside, with a crackly top and a dark chocolate taste.
I won't judge you if you want to eat it plain—one of the great things about pound cake is that it's a perfect snackin' cake! Cut off a sliver here or there, cart it around in your palm, take a nibble in between typing emails—it's tidy, perfectly satisfying on its own, and doesn't feel like a gut-bomb.
HOWEVER. Want to take your pound cake experience up a level? Get yourself some strawberries, chop them coarsely, then mix them with a bit of sugar. Mash everything together and let them sit until they're a gloriously syrupy mess. Then dollop a big pile of softly whipped cream onto a slice of pound cake, pour on those strawberries, and finish with some chocolate sauce or ganache. Yessssssss.
I know strawberry shortcake is the more traditional summer dessert, but there's no reason we can't switch out the boring old shortcakes for some chocolate pound cake instead. Let's make the most of summer strawberries by having this all day, erryday, okay? Okay.