This Cranberry Orange Trifle is a deliciously light dessert. It has layers of sweet orange flavored pound cake, fruity cranberry-orange compote, and light vanilla bean whipped cream.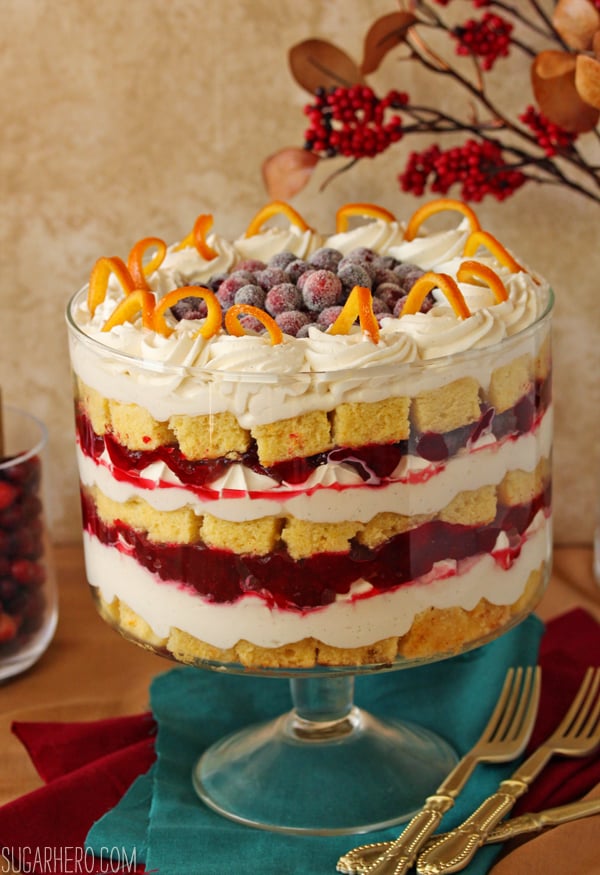 It's no secret that I'm a huge fan of trifles. They have all of the benefits of a layer cake—Big portions! Robust cake-to-frosting ratio! Gorgeous presentation!—without most of the actual work of assembling and frosting a layer cake. They're the lazy cook's best friend and the busy host's secret weapon.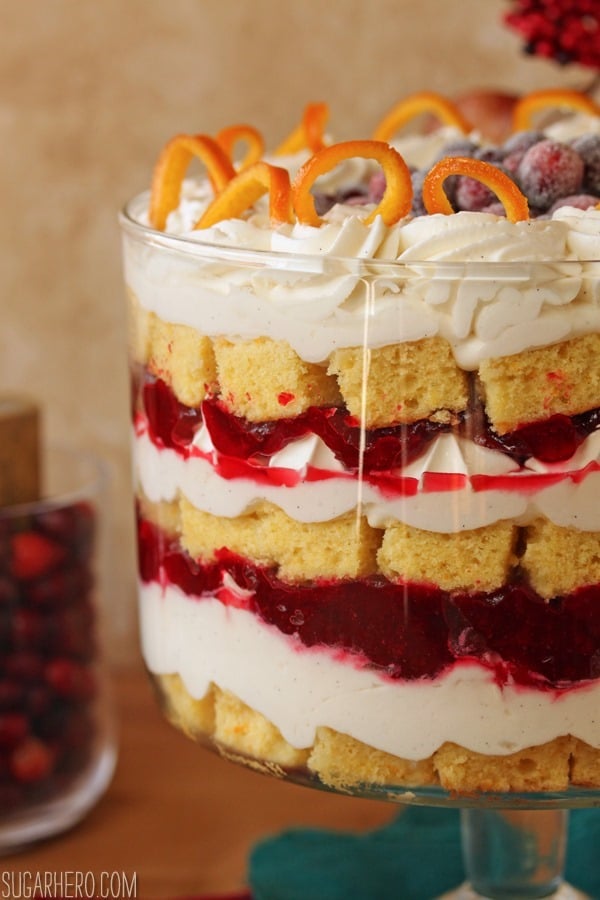 Now, I am definitely not accusing any of you of being lazy. You've probably already run 10 miles, replied to a dozen emails, and traded 3 stocks before breakfast this morning, you hard worker, you. But with Thanksgiving approaching (a.k.a. the start of the holiday party season) we could all use a show-stopping dessert recipe that's easy to throw together and full of big, bold seasonal flavors.
This trifle is made of layers of moist orange pound cake, cranberry-orange compote, vanilla meringues, and vanilla bean whipped cream. The cake and compote can both be made days in advance, so the actual work of assembling the trifle happens quickly. Can you throw ingredients into a bowl and smother them with whipped cream? Then you, my friend, can make a trifle.
I headed to the store to pick up the ingredients I needed. I was so excited to buy my first cranberries of the season—that's definitely one of my personal signs that it's finally fall! (As you all know—because I complain about it endlessly—weather is not a reliable indicator of season here in southern California.) I also bought a bag of organic oranges. I don't buy exclusively organic produce, but when I know I'll be using the outer peel of the orange in my recipes, I try to make sure those oranges are organic.
I also treated myself to some Madagascar vanilla bean paste, which is one of my favorite ingredients. Just a spoonful added to desserts gives them a strong vanilla flavor, with thousands of little specks of vanilla seeds. It's perfect for making vanilla bean whipped cream or vanilla bean ice cream, when you really need the vanilla flavor to shine.
Finally, I picked up some vanilla meringue cookies. The meringues add such a fun texture to the trifle! Soon after it's assembled they start absorbing some of the moisture, so they're a mix of crunchy cookie and pillowy marshmallow. As the trifle sits, the meringues continue to soften and eventually blend into the other layers, but they still add a nice vanilla sweetness that balances out the tart cranberry-orange compote.
If you've made the cake and compote in advance, all you need to do is whip the cream and chop the meringues, then it's as easy as getting your layering on.
I topped the trifle with sugar-coated cranberries and candied orange peel. Both of these are completely optional, and the trifle would look just as lovely with a blanket of whipped cream covering the top. But if you do decide to get a little fancy, the sugared cranberries take only a few minutes to put together. They have a bold sweet-tart taste, and when you bite down, they literally "pop!" in your mouth as the sugar crust and berry skin burst open. You can also make the candied orange peel yourself (here's a recipe!) but it is a little more time-consuming—fortunately candied peel is pretty easy to find in stores around the holidays!
Sure, pies are traditional for Thanksgiving. But I think there's room on the dessert table for the classics, like pumpkin pie, and for new twists on Thanksgiving flavors, like this trifle. Give it a try—I think you'll love it!
Click Here to Print or Email this Recipe!
Lemon Blackberry Trifle
This Lemon Blackberry Trifle is like a greatest hits collection of many of my favorite things: ultra-moist cake, tangy lemon curd, softly whipped sweet cream, juicy berries, and a hint of fresh mint. So basically this is a must-make!
View Recipe
Raspberry Lemon Meringue Trifle
This giant trifle is perfect for feeding a crowd! Full of moist pound cake, tart lemon curd, fruity jam, and soft vanilla meringue, everyone is sure to love it!
View Recipe
Cranberry Orange Trifle
This Cranberry Orange Trifle is a deliciously light dessert. It has layers of sweet orange flavored pound cake, fruity cranberry-orange compote, and light vanilla bean whipped cream.
Ingredients
Instructions
To Make the Orange Pound Cake:
Preheat the oven to 350 F. Line a 13×18″ rimmed baking sheet with parchment, and spray the pan and parchment well with nonstick cooking spray. In a small bowl, whisk together the flour, baking powder, and salt, and set aside.

Finely zest the oranges. Place the zest and the sugar in the bowl of a large stand mixer, and rub them together between your fingers until the sugar is fragrant and has the texture of wet sand. Add the butter and cream cheese to the bowl. Fit the mixer with a paddle attachment, and mix on low speed until combined, then raise the speed to medium and beat until light and fluffy, about 3-4 minutes.

Add the eggs one at a time, beating well after each addition, then add the vanilla and orange extracts. Finally, turn the mixer to low, and slowly add the dry ingredients. Stop when just a few streaks of flour remain. Finish mixing the cake by hand, using a spatula to scrape the bottom and sides of the bowl well.

Scrape the cake batter out into the prepared pan and spread it into an even layer. Bake the cake for about 20 minutes, until it is a light golden color, the top springs back when lightly pressed, and a toothpick inserted into the center comes out clean. Cool completely on a wire rack. The cake can be made several days in advance and kept, well-wrapped, at room temperature or in the freezer. If freezing, defrost before using.
To Make the Cranberry-Orange Compote:
Finely zest the orange, then cut the orange in half and squeeze the juice into a measuring cup. Measure out 1/2 cup of fresh orange juice—if you don't have enough, add enough water to make 1/2 cup.

Combine the orange zest, orange juice, cranberries, and sugar in a medium saucepan over medium-low heat. Cook the mixture, stirring frequently, until the cranberries pop and the mixture thickens. Once most of the cranberries have popped, remove the pan from the heat and let it cool completely before using. The cranberry compote can be made up to a week in advance and stored in an airtight container in the refrigerator until ready to use.
To Make the Vanilla Bean Whipped Cream:
Combine the cream, powdered sugar, and vanilla bean paste (or extract) in the bowl of a large stand mixer fitted with the whisk attachment. Turn the mixer to low, then gradually raise the speed to medium-high and whip until peaks form. Make the whipped cream right before you're ready to assemble your trifle.
To Assemble:
Make the glazed cranberries, if using: Lightly whisk the egg white until frothy. Use a fork to dip a few cranberries into the white, then roll them in the granulated sugar. Set them on a baking sheet, then continue until all of the cranberries are coated with sugar. Set them aside while you assemble the rest of the trifle.

Cut the cake into small cubes, about 1 1/2-inches wide. Place a single layer of cake cubes in the bottom of a large (4-quart) trifle dish or regular bowl. Cover the cake cubes with a generous layer of whipped cream. Add half of the chopped meringues on top of the whipped cream, then spread half of the cranberry compote on top of the meringues.

Add another layer of cake cubes, then repeat the layering process. Finish by adding a final layer of cake cubes on top of the cranberry compote. Spread a layer of whipped cream on top of the cake, then put the remaining whipped cream in a pastry bag fitted with a large star tip. Pipe a circle of rosettes along the outer edge of the trifle. Fill the center with glazed cranberries, and if you're using the candied orange peel, add it on top of the whipped cream rosettes.
Recipe Notes
Components of the trifle can be made several days in advance, and the finished trifle itself can be made up to 2 days in advance.
Measuring Tips
Our recipes are developed using weight measurements, and we highly recommend using a kitchen scale for baking whenever possible. However, if you prefer to use cups, volume measurements are provided as well. PLEASE NOTE: the adage "8 oz = 1 cup" is NOT true when speaking about weight, so don't be concerned if the measurements don't fit this formula.
Want to learn more about baking measurements and conversion?
Nutrition
Calories:
574
kcal
|
Carbohydrates:
73
g
|
Protein:
4
g
|
Fat:
30
g
|
Saturated Fat:
16
g
|
Cholesterol:
112
mg
|
Sodium:
243
mg
|
Potassium:
176
mg
|
Fiber:
2
g
|
Sugar:
53
g
|
Vitamin A:
1045
IU
|
Vitamin C:
13.5
mg
|
Calcium:
71
mg
|
Iron:
1.3
mg
Tried this recipe?
Snap a pic and hashtag it #SugarHero. We love to see your creations on our Instagram @elabau.